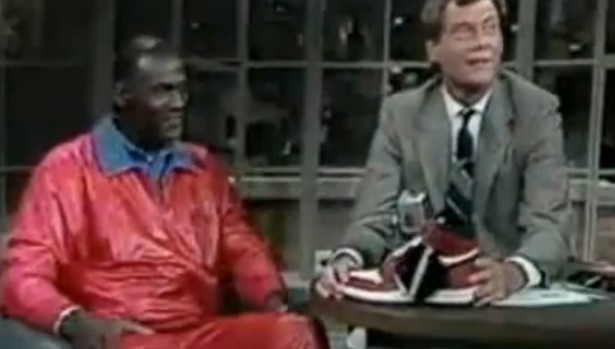 by Brandon Richard
Back in 1986, a second-year star by the name of Michael Jordan was slowly working his way toward becoming a household name. After missing majority of his sophomore campaign with a broken foot, 'Money' returned to help the Bulls make a playoff push. In his return, he sealed his status as a legend in the making with a signature 63-point performance against the Boston Celtics in the NBA Playoffs, a record that still stands today.
In addition to being the best young player in the NBA, Michael's name was turning up on a wide variety of products, ranging from sneakers to basketballs to jewelry. After Chicago's season came to an end, he stopped by Late Night with David Letterman to discuss a little hoops, as well as some of the new products he was endorsing. About 5 minutes into the clip (4:48 to be exact), Dave and MJ discuss the Air Jordan 1 and the controversy that surrounded the shoe at the time. Michael even co-signs Letterman's statement about the shoes being ugly, something you'd never see from today's more business savvy Jordan.
Celebrating Letterman's final episode, which will air on CBS tonight, check out the interview below and prepare to drool over the 'fresh out the box' Air Jordan Is that Dave pulls out.