by Justin Tejada
As big of a story as it was, Rick Telander still didn't know if it was going to be on the cover.
"They'd change their minds at the last hour. If there was some big news that popped up, it could've gotten pushed aside," Telander remembers. "That happened many times."
Twenty-five years ago this week, Sports Illustrated published a cover showing an illustration of man in a satin Starter jacket, a pair of Nike Air Jordan Vs dangling over his shoulder—with a revolver pointed squarely in his back. Alongside the image were the words, "Your Sneakers Or Your Life." Inside the issue was Telander's 4,000-word story titled "Senseless" (in SI parlance, these longform pieces were called "Bonus stories") that detailed the rising violence over sneakers and athletic apparel taking place in America's inner cities during the '90s.
The story detailed the muggings and killings that were taking place across the country, most of it involving teenagers, and explored the roles that gangs, drug dealers, sneaker companies, sneaker stores, and Michael Jordan himself played in the crisis. No one was spared. The story sent shockwaves throughout the sports world and beyond; and the issues that it exposed a quarter century ago about life in America's underclass still percolate today in Ferguson, in Baltimore, in New York, and in Telander's home of Chicago.
"This is not something that the shoe companies wanted."
***
In talking to Telander recently about the story, it's clear that while 1990 doesn't seem that long ago. In many ways, it's a lifetime ago—especially technologically. This was before the Internet, before an incident in a tiny corner of the world could spread to millions of people instantly.
At the time, Telander was a senior writer for SI based in Chicago. He read (and continues to read) three newspapers a day. While perusing the papers, he came across a few articles about kids being mugged and killed for their sneakers and jackets. He started trying to flesh out the story with SI's NBA editor during the numerous phone calls the two would have each week. (Remember, no email and IM.)
One story of a 19-year-old from Chicago being shot through the "A" in his Cincinnati Bengals jacket after he refused to give it up to a pair of muggers stuck with Telander, prompting a gallows humor, "What does a guy do with a jacket with a bullet hole that he just stole from a kid?"
Telander has always been drawn to stories that are more than just game analysis, where real life intersects with sports and this story had all of those elements. "It was like, 'What the hell is going on here?' You just robbed or beat or killed a kid for his shoes. What if they were the wrong size?" Telander says. "This was something that was about way more than just the apparel. It had to do with a lot of issues that here in Chicago, or Chiraq as we rightfully call it, are still bubbling up."
Telander recognized that the sneaker violence had little to do with the sneakers themselves. It had to do with status. For people who might not have a legitimate way to elevate their actual status, owning the right sneakers or jacket (by whatever means necessary), allowed them to at least change their perceived status.
One of the biggest advantages that Telander had in his reporting was access to the Sports Illustrated news bureau. SI had stringers and reporters in every city and writers could submit a list of questions that they wanted an athlete, for example, to answer and within a few days the responses would come in. "It was Sports Illustrated's Google and nobody else had that."
The news bureau helped Telander gather many of the tales of violence related to sneakers and athletic apparel in a way that no one had done before. At the time, an article about a sneaker mugging in a newspaper wouldn't spread much beyond that paper's city. Telander gathered the cases together in a way that revealed them to be more than a string of isolated incidents—this was an epidemic—and examined the common thread that ran between them.
"I could get the big fish. I could reel that in. That was Jordan."
***
Telander knew his job was about more than aggregation. "I could get the big fish. I could reel that in. That was Jordan."
Jordan understood the media perhaps better than any athlete before or since and knew all the important sportswriters. Not that he was especially forthcoming with most of them. "He wouldn't talk to a lot of people in private, but we had a relationship that he would."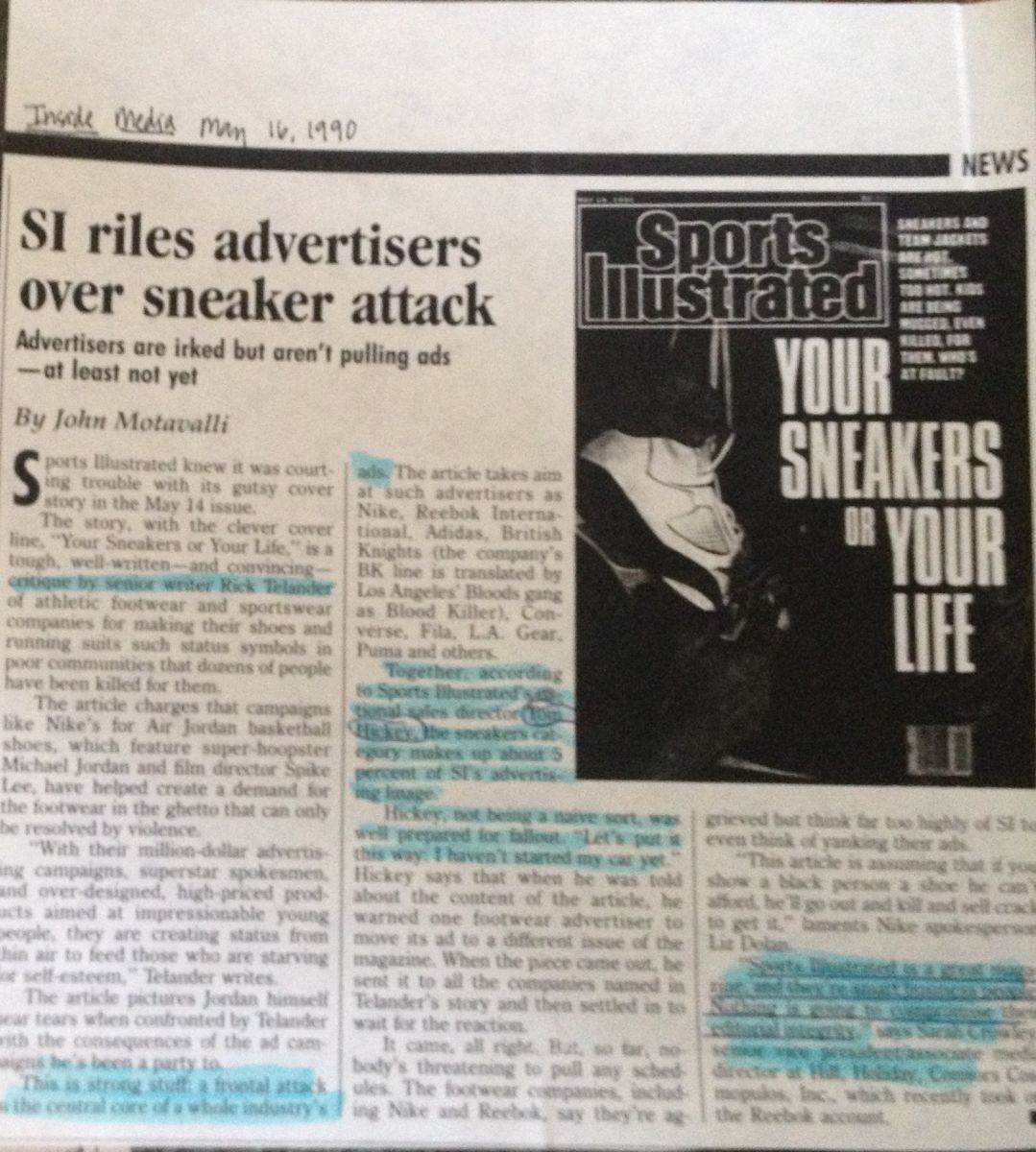 Telander was able to sit one-on-one with Jordan in a room at the Bulls practice facility in Deerfield, Illinois that was basically just a public health club with a single court, a far cry from the modern facilities that NBA players enjoy today. As Telander outlined all the incidents of violence over Jordan's products, he could tell that the superstar was moved. "I could see it in his face and his response. I had all the facts and I'm dumping them on him. Even the most jaded guy who tried to stay away from social issues, you can't have somebody say, 'Do you feel responsible in any for kids getting killed?' [and not react.]"
The power of the moment is reflected in Jordan's uncharacteristically reflective quote:
''I thought I'd be helping out others and everything would be positive,'' Jordan said. ''I thought people would try to emulate the good things I do, they'd try to achieve, to be better. Nothing bad. I never thought because of my endorsement of a shoe, or any product, that people would harm each other. Everyone likes to be admired, but when it comes to kids actually killing each other'' -- he pauses --''then you have to reevaluate things.''
For the sneaker and apparel brands, the story was equally troubling. They had always prided themselves on making the best equipment for athletes. But now their products were being viewed as status symbols prized by drug dealers and gang members. They were so coveted that people were willing to commit crimes to obtain them.
"It's kind of the point of any writer. You want to write things that people notice and help change things for the better."
***
Telander spent about two weeks working on the story, the majority of which involved interviews and other reporting. Then he wrote the entire piece in a three-day frenzy.
Not everyone was excited to see what he came up with. "This is not something that the shoe companies wanted," Telander remembers. But Mark Mulvoy, who was managing editor of Sports Illustrated at the time had his back. "He really stood up for me. He didn't make it any kind of deal for me. 'Write the story, Rick. You do what you gotta do and I'll take care of it up at this end.' There was a backlash, as I recall, in some form from shoe companies. They were huge advertisers."
But Mulvoy understood why the story needed to run. "We were the only conscience in the world of sports," Mulvoy says. "The networks were all in bed with everybody, the leagues, the advertisers, the whole bit. We had one partnership and it was with out readers."
As for the backlash from companies, Mulvoy says he never heard from anyone at Nike. "I knew Phil Knight. I put him on the cover of the magazine. Never did I hear from Phil, never did I hear from their chief marketing people who we knew very well. I never heard one word from Nike about anything after the story. Whether our ad guys did is another matter, but it was never related to me."
No one could ignore that there was a real issue after the story came out. "Senseless" was discussed on the network news and in the pages of The New York Times and Los Angeles Times. Telander received personal letters of support for his piece from diverse corners, ranging from a National PTA vice president to an Advertising Age editor.
"You have to understand the importance of being on the cover of Sports Illustrated at that time. That was a statement about whatever was going on in sports in the entire United States," Telander says. "So when Sports Illustrated said something, it had a lot of weight."
It's open to debate whether things have changed for the better in the ensuing 25 years. There is still too much violence over sneakers (any violence, to be honest, is too much). But, so the awareness to these issues have become much more widespread thanks to the digitization of media. Not only that, there are also stories of hope like North Carolina high school student who gave a pair of Air Jordans 11 concord lows to a bullied classmate that lead to cautious optimism.
That's exactly what Telander wanted—bring awareness.
He didn't see the issue until it showed up in the mail like everyone else. (Again, this was before you could email a .pdf.) But once he saw that cover, he knew he'd hit his mark. "I wanted it to be as devastating as possible. I wanted people to not be able to ignore this," Telander says. "It's kind of the point of any writer. You want to write things that people notice and help change things for the better. And if you can't change for the better at least you get the facts out there and get rid of hypocrisy."