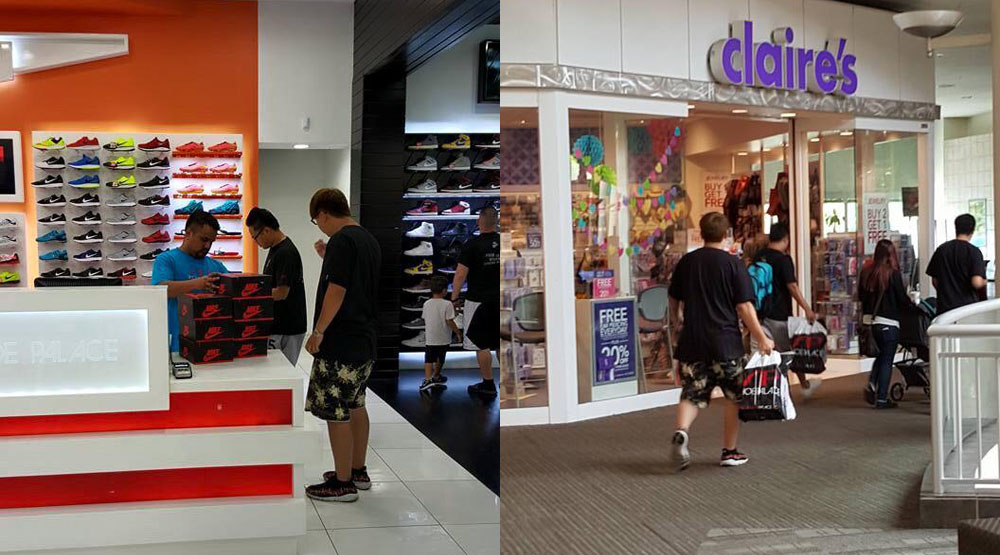 by Brandon Richard
Buying Air Jordans is a seemingly impossible task these days. Especially for purists who just want a pair to rock. Our own Marvin Barias told the story of how he had to enter 35 different raffles just to have a decent chance to secure the 'Chicago' Air Jordan 1 he genuinely wanted for his personal collection. And he's not alone, so it's not surprising to see outrage when employees at retailers with Jordan accounts are caught engaging in shady business for a quick buck.
Today, Twitter is circulating the above photos, which reportedly show a Montebello, CA Shoe Palace employee hooking up two customers with a sizable run of 'Chicago' Air Jordan 1s after the launch. Even worse, some people are claiming that employees from the same store told customers that they wouldn't have 'Chicago' 1s in stock over the phone.
This story hasn't been confirmed, and a different colorway could have been in those boxes, but the damage has been done. And it wouldn't be an incredibly shocking revelation — Shoe Palace has been accused of the same thing on more than one occasion and even sells Air Jordans at hiked up prices on its website. By the looks of these tweets, it seems like sneakerheads have had enough of "the jig."
UPDATE: Shoe Palace issued the following statement regarding the Montebello incident:
Shoe Palace is aware of an incident at our Montebello location. It's a matter of concern to us & we are handling it internally at this time.

— ShoePalace.com (@ShoePalace) May 30, 2015
Wtf is going on @ShoePalace this is bullshit @Nike @Jumpman23 pic.twitter.com/wC9pzLKyrz

— xfranky98 (@Reckless_Franky) May 30, 2015
tf is this @ShoePalace montebello THIS IS WHY I HATE THE SHOE GAME NOW ! Got me fucked up! @nikestore @Jumpman23 pic.twitter.com/eUYY6qj6bg

— FEB 13. ?? (@itsALLANgee) May 30, 2015
So you guys back door all the 1s in montebello ca they said they don't have the release @ShoePalace #SHOEPALACE pic.twitter.com/HcfQxeL5Mj

— CHAMPS COME SEE US (@SeahawkValdez) May 30, 2015
@SeahawkValdez @ShoePalace every single shoepalace is back doored

— $#@#F (@feez19xx) May 30, 2015
@SeahawkValdez @ShoePalace shoe palace only cares about making an extra buck, we all know this

— . (@G_stacker) May 30, 2015
@SeahawkValdez @CopThese @ShoePalace you should report there ass to nike

— Dee Willard (@_Flyguy20_) May 30, 2015
Forget college. I'll go work at @ShoePalace and make 6 figures backdooring Js every weekend

— SoleSupply (@SoleSupply) May 30, 2015