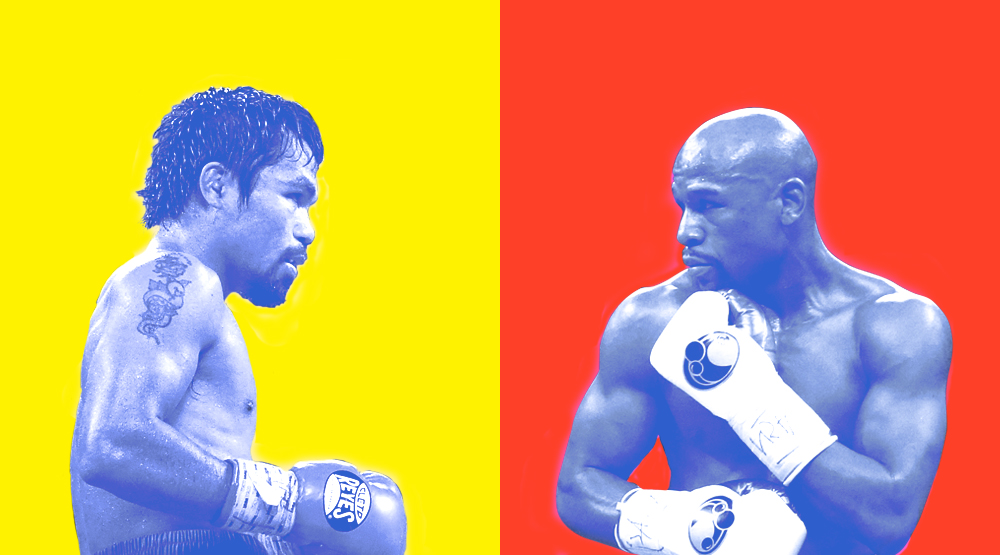 by Brandon Richard
Six years after first sitting at the table for negotiations, Manny Pacquiao and Floyd Mayweather will finally step in the ring for their long-awaited megafight at the MGM Grand in Las Vegas tonight. Pacquiao, known for his knockout power and variety of punching angles, will attempt to add a blemish to the undefeated record of Mayweather, a highly skilled ring general with perhaps the sport's greatest defense of all-time. The clash of styles between boxing's two top-ranked fighters has made the bout a spectacle unseen since the days of Mike Tyson's dominance.
With the event nearing, the next most important issue needs to be addressed — the sneaker acumen of both fighters. Pacquiao is more of a known commodity in the game. He has a long-running relationship with Nike and a long list of collectible trainers bearing his logo. Mayweather is a connoisseur of expensive high-fashion sneakers, living up to his 'Money' moniker. But which fighter is the better sneakerhead? To find out, we've put together Pacquiao and Mayweather's greatest sneaker moments, judged round-by-round. Read on to see who comes out on top.
Round 1: Endorsements
In 2009, Reebok brought in Mayweather as one of the faces of its ZigTech runners, but the two have since parted ways. Prior to that, Pacquiao became an official endorser of Nike. That partnership, for better or worse, is still intact. The longevity of the Pacquiao/Nike deal, his superior training line, and the fact that ZigTech is something we'd all like to forget gives Pac Man the edge here.
Round: Pacquiao
Score: Pacquiao 1, Mayweather 0
---
Round 2: At Home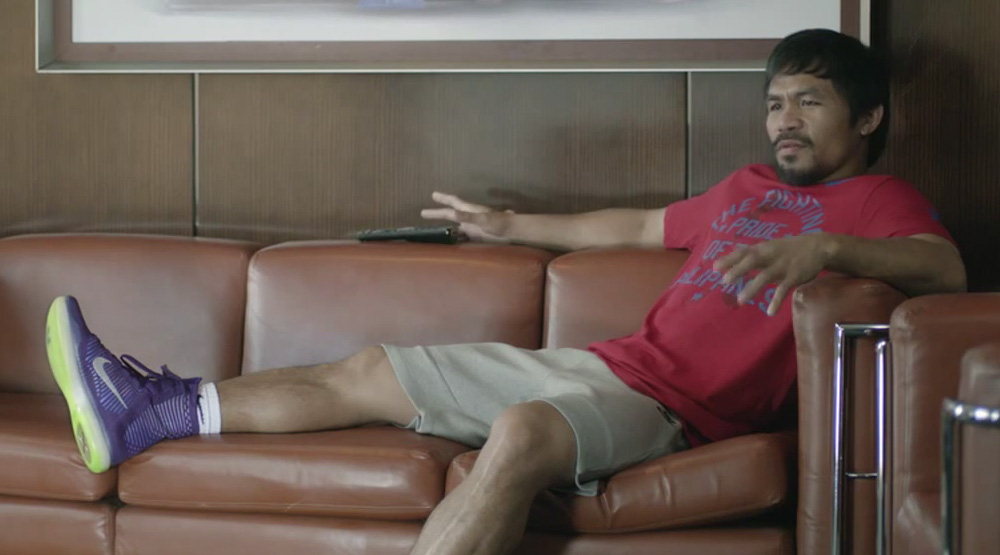 At first glimpse, this probably seems like a no-brainer. But how much credit can Pacquiao really get for the Kobe 10 Elite? Kobe Bryant never wore it, it's visually pretty much the same shoe as the Kobe 9 Elite, and it's probably heading straight for outlets. Mayweather's Louboutin Spike Naza boots (retail $2,000) became a popular internet meme and were dubbed "Mary J. Blige No More Drama Boots." That's gotta count for a late-round rally.
Round: Mayweather
Score: Pacquiao 1, Mayweather 1
---
Round 3: Sneaker Closet
Pacquiao's closet, which he shares with his wife Jinkee, is mostly lined with sneakers from his friends at Nike. Mayweather, on the other hand, has no fewer than 80 pairs of Christian Louboutin red bottoms, which range from $1,000 to $3,000 a pair. And the best thing is that Floyd probably cares about how much he spent on the shoes more than how they actually look. Round to Mayweather because he showed off a minimum of $80,000 in sneakers which weren't seeded by the brand.
Round: Mayweather
Score: Pacquiao 1, Mayweather 2
---
Round 4: The Plug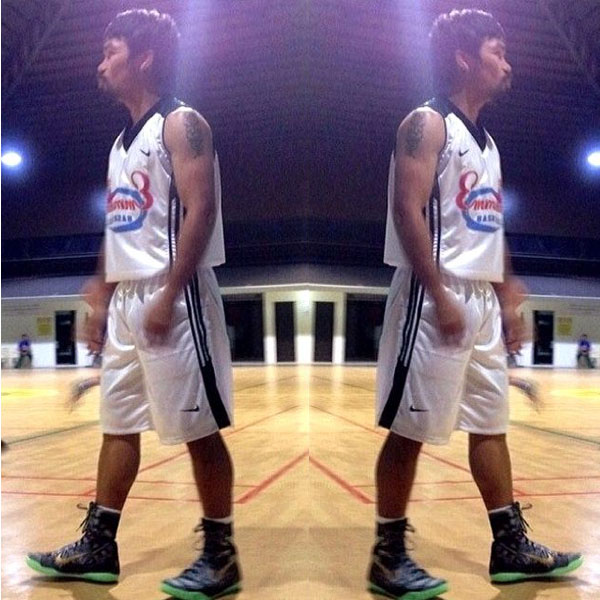 We know Mayweather likes his kicks expensive, but there's always a few freebies coming his way. He has friends over at Athletic Propulsion Labs, who hooked him up with the 'BCA' Concept 3 a few years back. Pacquiao's friend just happens to be one of the greatest basketball players of all-time, meaning free Kobes whenever. See: "At Home." A good round for Manny.
Round: Pacquiao
Score: Pacquiao 2, Mayweather 2
---
Round 5: Car Shot
Having your own pair of Solarsoft slides isn't bad, but white-on-whites are damn near untouchable. And Mayweather did a much better job of stunting his Ferrari, so point to the champ.
Round: Mayweather
Score: Pacquiao 2, Mayweather 3
---
Round 6: Working Out
Because of his relationship with Nike, Pacquiao is always laced up in the brand's latest performance models. Mayweather, a sneaker free agent, also enjoys hitting the gym in Nike, and favors classic Air Max runners. Modern performance vs. classics? This round is a wash.
Round: Even
Score: Pacquiao 2, Mayweather 3
---
Round 7: Running
Mayweather takes his daily 6-8 mile run very seriously. So much so that he refuses to wear anything other than his favorite running shoe — the Mizuno Wave Prophecy 2. Equally serious about running, Pacquiao hits the pavement in the latest runners by Nike. Mizuno makes great runners, but in a style debate, we'll give this one to Manny.
Round: Pacquiao
Score: Pacquiao 3, Mayweather 3
---
Round 8: Entourage
Both Pacquiao and Mayweather are known for traveling with large groups of supporters. In this case, Manny is getting ready for the big fight in Nike's Zoom Elite 7, while Floyd and his crew pulled out Shell Toes for last year's Halloween costume. Easy round for Money.
Round: Mayweather
Score: Pacquiao 3, Mayweather 4
---
Round 9: On-Court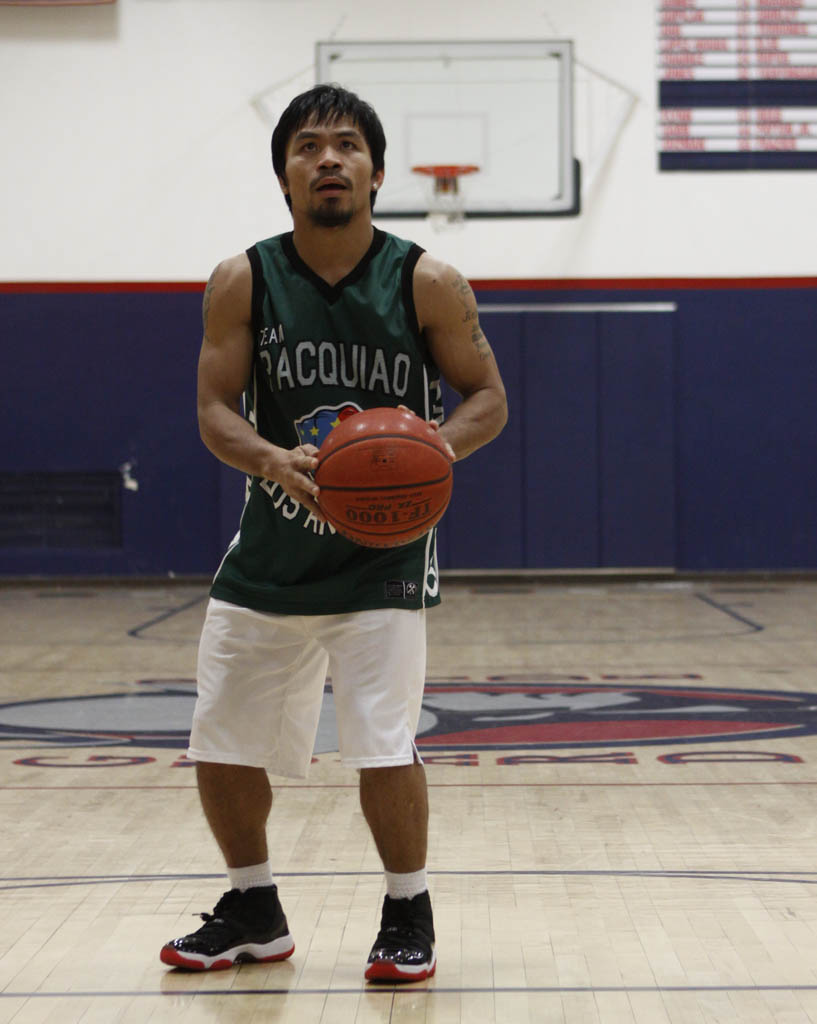 Pacquiao briefly played in the Philippine Basketball Association, so he's technically a professional basketball player. Mayweather? A regular in celebrity All-Star games. The volt-based 'Brazil' Hyperfuse 2012 is flashy enough for the man who calls himself 'Money,' but it's hard to beat out the Air Jordan 11.
Round: Pacquiao
Score: Pacquiao 4, Mayweather 4
---
Round 10: Day Off
A day off isn't really a day off for either of these fighters. When they're not in the ring, they're hard at work with promo and side ventures. What we see is that they may have a little more in common than they realized, both opting for the Nike Air Max 1, when handling business. A toe-to-toe round scored even.
Round: Even
Score: Pacquiao 4, Mayweather 4
---
Round 11: Courtside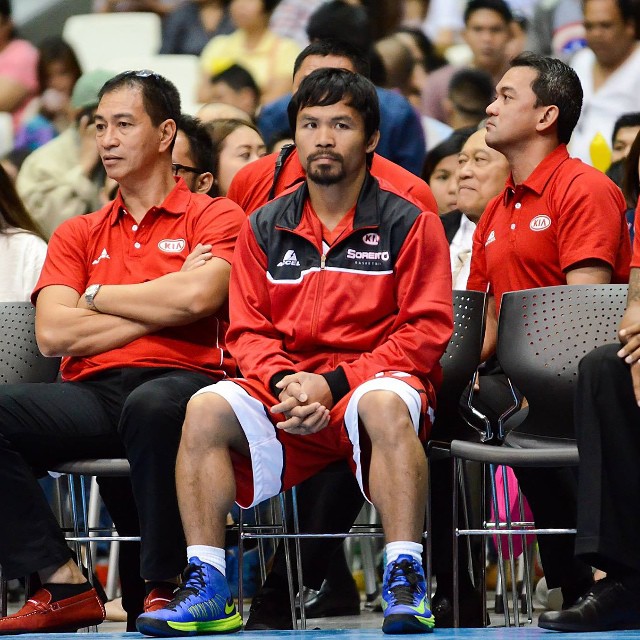 Pacquiao, wearing the 'Neon Pack' Nike Lunar Hyperdunk 2012, is riding the pine in a PBA game. Mayweather, laced up in the Nike ACG Stasis, is enjoying a relaxing day off at an NBA game in Miami. Point Mayweather.
Round: Mayweather
Score: Pacquiao 4, Mayweather 5
---
Round 12: Ring Boots
Despite no longer being an official member of the Reebok family, Mayweather has stuck with his custom Vector-branded boots since his fight against Juan Manuel Marquez in 2009. And considering the way he's performed while wearing them, they're probably a practical, comfortable option. However, Pacquiao steps in the ring with boots inspired by Nike trainers. The latest, the Nike HyperKO, is a Flywire supported style based on the Trainer 1.2. Mayweather's Reeboks aren't bad, but Nike clearly has the superior (looking) product here.
Round: Pacquiao
Score: Pacquiao 5, Mayweather 5
---
So, after 12 grueling rounds of hard-hitting sneaker warfare, this battle has been scored 5 rounds for Pacquiao, 5 rounds for Mayweather and 2 even — a draw. Pacquiao probably wears the more exciting sneakers, but Floyd is superior in presentation. Interestingly, that observation is also true of their fighting styles — Manny, a more exciting volume puncher, while Floyd is the ultimate tactician. Is a draw a little anticlimactic? Sure. A bit of a cop-out? Absolutely. But the good news is that the actual conflict will be resolved tonight — so we hope.