by Gerald Flores
"They call it the Dream Hotel for a reason," Vaughn Davis said from the balcony of the New York hotel's renovated guesthouse. "We can make anything happen."
Vaughn, who's the director of guest services at the swanky downtown NYC hotspot, is the gatekeeper of every accommodation the hotel offers. So if you want to make sure that party you're throwing has the right DJ? Vaughn can take care of that. Need a reservation at the city's most exclusive restaurant? Vaughn can take care of that. And if you need a pair of sold-out adidas Yeezy 750 Boosts at a decent price, Vaughn can take care of that too.
"It's just an extension of our service," the self-purported sneaker expert said. "At first this sneaker concierge program was just meant for the guesthouse only. But, due to popular culture and all the exposure we received, it became more widely known."
When the Dream Downtown unveiled the $1 million renovation to its guesthouse this past February, it also rolled a few offerings exclusive to the two-floor suite. For example, guests of the 2,500 square-foot room, which starts at $5,000 a night, can get access to a private barista, a personal barber, and a sneaker concierge that will have whatever sneaker you want waiting in the wardrobe upon arrival. Davis says that the program has grown so popular that even non-guests of the hotel are hitting him up to find sneakers for them.
Everyone from celebrities to CEOs of Fortune 500 companies (the hotel's confidentiality policy prevents these names from being made public) have stayed at the Dream Downtown's guesthouse, most of which have hit up Vaughn to get hard-to-obtain kicks. So how does the hotel industry's first sneaker concierge procure his clients incalculable requests? We spoke to him to find out.
This is the first time a hotel has ever offered a sneaker concierge service. Was this something that guests were asking for?
It all came to play when the managing director and vice president of our brand Michael Lindenbaum wanted sneakers. In actuality, he was our first client.
Do you remember what they were?
We bought him up to five pairs of sneakers. Off the top of my head, I think they were the Tiffany Dunk Highs, Bred Air Jordan 4s, Cement Air Jordan 4s, and the Infrared 6s. Those were the first pairs that we had.
When did you guys decide that this was something you wanted to offer to the guests?
Our vice president allowed employees to wear sneakers around certain areas of the hotel and every 30 seconds guests would break their neck and ask us, "Why is everyone on staff in the coolest pair of sneakers?"
With those questions came us facilitating our connections with people in the sneaker industry to our guests and then we decided, "Why not include this program in the rollout of our $1 million renovation of the guest house?" So we added that, as well as things like a vibes curator, personal barista, and personal stylist.
How often are guests hitting you up for sneakers?
At first this sneaker concierge program was just meant for the guest penthouse only. Due to popular culture and all the exposure we received for the program, it became widely known and we've been getting contacted by upwards of 20 people per day—non-guests especially and guests. We've been continuing to roll out the program and we'll move forward to ensure that it's a staple across the brand as well. It's extremely popular.
We'll never it extend to anyone that's not staying in the guesthouse, unless they ask. If you're in the guesthouse, this is exclusive solely to you. Once you book the room, our sneaker stylist will contact you and then start building your sneaker profile. Once we build your profile, we can have anything you decide in your room upon arrival waiting in the walk-in closet.
You're not just going to Foot Locker to pick up a pair of white Air Force 1s, right? You're talking ANYTHING?
Only the exclusives. It's extremely easy for us to get them. Due to the clientele we have staying here — brands that are leading the industry, some of the top artists in the entertainment industry who have sneaker deals and so on, those connections make it far easier for us to find sneakers.
Also, I have upwards of 20 years of sneaker collecting expertise myself. I worked for Nike when I was in college. My sneaker knowledge is quite large. It's very easy. I just make one phone call to a specific individual. It just depends on the kind of sneaker and the brand. I have my high-end guys, my mid-tier guys, and my low-end guys, and my OG deadstock and rare guys. That's easy.
What we do is a service to our guest and we try to ensure that we get them the lowest possible price. Because these suppliers are friends of ours and connections we've had for a very long time.
So how does the process work exactly?
We have a team of three sneaker stylists. I guess I'm the senior. We have a process that lines up with our pre-arrival service.
A part of the hotel industry is being able to know the individual before they arrive. If you don't know someone, then you can't really cater anything to their needs. What we do is build a profile for all of our guests. It can happen anywhere from a month before your booking or a day in advance. It all just depends on when you decide to book.
With that, you'll be contacted by every single tier of the services we offer. Our vibes curator will contact you to set the mood and the lighting and the sound and music and every single aspect of the room to your liking.
They'll ask you a few questions like "Who's your favorite artist of all time? What's your favorite color?" And that's pretty much all we need to move on from there.
It might be a little more in-depth than that, but this is just a little taste of how it works. After our guest services team has gathered what time you'll arrive and if you use the sneaker concierge, your sneaker will be in the room when you check in. Unless you want it at a later time.
What questions do you ask when you're building a guest's sneaker profile?
First question we ask is, "What's your favorite pair of sneakers?" Then "What's your size and preference of color?" Not all of our guests are into grandiose gold sneakers or bright colors. They kind of have to keep a low-profile because of who they are.
With that being said, a majority of the colors that people ask for is all-black everything. Cool grey is also pretty popular. Any type of black and red combo is something that every guest wants. You have a little bit of pop, but you can keep it classy at the same time.
What've been some of the most requested sneakers?
The Air Mags have been the most popular request at the time, besides the Buscemi 100MMs. In regards to Jordans, the Infrared 6s have been a big hit as well as the Space Jam 11s. We get a few Balenciagas in there. A lot of Tom Fords for some upper echelon type CEOs that stay in the room but don't have the time to go out and wear a pair of Air Jordan 1s. The Bred 3s have been popular as well.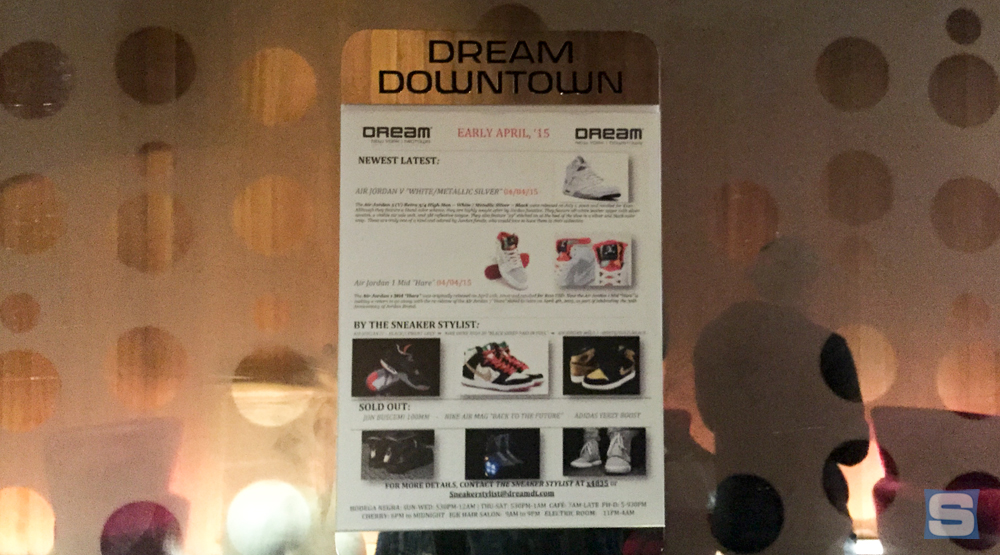 Was there ever a pair that you couldn't find?
No. We're batting 1000. We're on fire and we'll continue to be so. If it's created, we can find it. Once the company makes the sneaker, it has to exist. Even if it's not in pristine condition, some folks are willing to take refurbs. And some refurbs look really good. We do bring it to the guest's attention if we can't find a deadstock pair. The majority of our guests do not care. They just need the sneaker because they've been trying to attain the sneaker for a while. All they have to do is contact us and we'll find it for them.
What's the hardest pair that you've had to find?
The Air Mags was the most difficult because we were trying to stay within a comfortable pricepoint for one of our clients. The pricepoint that I wanted for the customer was between $5,000 and $7,000. Maybe I was a little too optimistic. Unfortunately we weren't able to get the size we needed for that customer at that pricepoint, but we were able to get it for them at $9,000. Otherwise, they can go to Flight Club and get it for $10,000.
Is that the most a guest has ever paid for a pair?
Currently, right now. It's only going to get bigger.
So when it comes to rare sneakers like a Nike Mag, how do you go about finding them?
I'll give you a little insider tip on how I got those Air Mags. I had a good friend who purchased three pairs in Bermuda. I golfed with him and I remember he bought three pairs in all different sizes four years ago. When the request for the Mags came in, I called him. He had two pairs left and he sold one to the client for what we thought was a reasonable price - fully charged and everything.
The contacts I have are from every single city I've visited or lived. I lived in Florida for a little and California as well. I can pull from either of those two sources for sneakers.
Have you ever had any clients that you were surprised were big sneakerheads?
To be honest with you, any of the CEOs of any Fortune 500 company that you know that potentially could've stayed here are the biggest sneakerheads out of the entire sneaker stylist program. Even more so than musicians, artists, or bloggers. I did not expect that. I expected them to ask for some limited edition loafers from Seville Row in London, not a pair of Jordan 1s.
Think of it this way. The majority of individuals running the companies now, Michael Jordan was most likely their favorite athlete growing up. With that explosion of Nike in popular culture, it caught on to a lot of young kids who are now running a lot of big companies here in the world and they don't have a lot of time to chase those sneakers down themselves. Their wives don't want them finding the time to find them either. We make it very easy for them.
How do you expand the program from here?
With the multitude of high profile guests we have and so on, we have the ability to add on new programs just through a simple conversation. For example, I had a conversation with one of Kanye's guys in regards to the adidas Yeezy Boost. We had a conversation about possibly adding the sneakers into the hot tub program.
If you wanted to, you can have the imprint of the Yeezy Boost on the glass bottom of the hot tub as a way of getting guests that come in to be interested in the sneakers. We also tailor the room and the program itself with PHD, which is the number one nightclub in New York City. We have programs on top of programs that we're working on. I can't really tell you too much, but just stay tuned for the future.