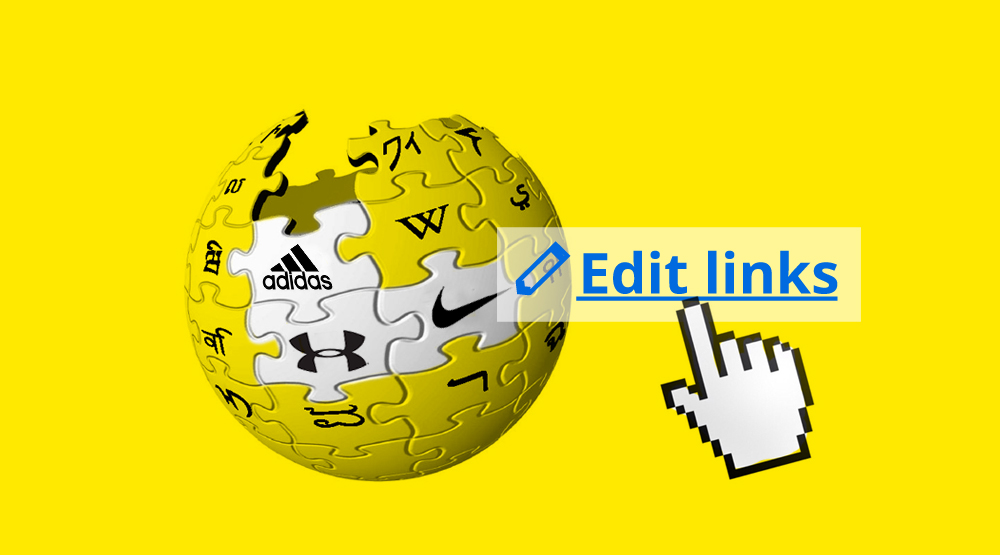 by Brendan Dunne
Sneaker and sportswear companies are heavily invested in controlling their images. Brands like Nike, adidas, and Under Armour spend millions of dollars every year in marketing efforts that shape how they present themselves to customers around the world.
There are, of course, big flashy ad campaigns, and sponsorships with individual athletes, teams, and leagues that are huge. Those invested in sneaker media are witness to an endless flurry of neatly devised socially-driven material too.
However, sometimes brand protection takes more clandestine paths. For instance, employees of three major sportswear brands have spent some time anonymously editing Wikipedia pages relating to the brands' histories, prominent employees, and controversial actions.
When a Wikipedia user makes a change to a page on the site, it logs what was changed, as well as the time and date of the edit. The site also tracks who made the changes — in the case of edits not made through an account, Wikipedia logs the IP address of the user that altered the information. A number of edits to Wikipedia pages can be linked back to these companies via the IP addresses associated with them.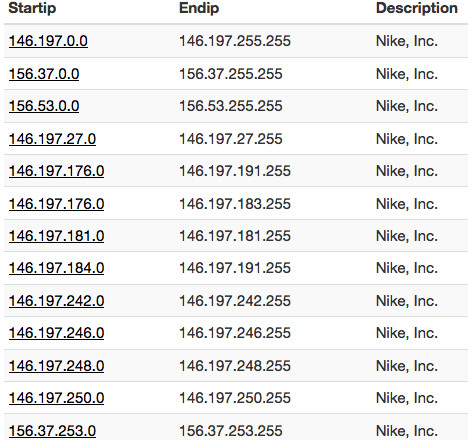 We used the website TCP/IP Utils to get a listing of IP addresses associated with various sneaker brands. From there, IP address ranges were searched via Wikipedia's contributions page to see what sort of activity was coming from which brands. Many of the results showed edits made on a wide range of seemingly random topics — Crayola crayons, Nihilism, and the Military of Bulgaria — but a couple of brands have spent time on their own pages as well.
Nike had more Wikipedia edits relating to its own business than any other sneaker brand.
Some of Nike's edits focus on people key to the company's success, like Steve Prefontaine, Mark Parker, Bill Bowerman, and Phil Knight.
In an early version of Phil Knight's Wikipedia page, one of these edits attempted to clean up his image. Following a paragraph where Knight is criticized for Nike's labor policy, a user added a paragraph that reads, "Knight pledged in 1998 to impose more stringent standards for the factories that Nike hires to make its goods, including minimum age standards, factory monitoring and greater external access to Nike's practices."
Below is a screenshot from Wikipedia capturing these changes. In these screenshots, the original version appears on the left, and the edited version appears on the right. Text in the left column highlighted represents what was deleted and text in the right column highlighted represents what was added. Separate paragraphs added appear on in the right column marked off by plus signs. Dates of the edits appear at the top of the screenshots.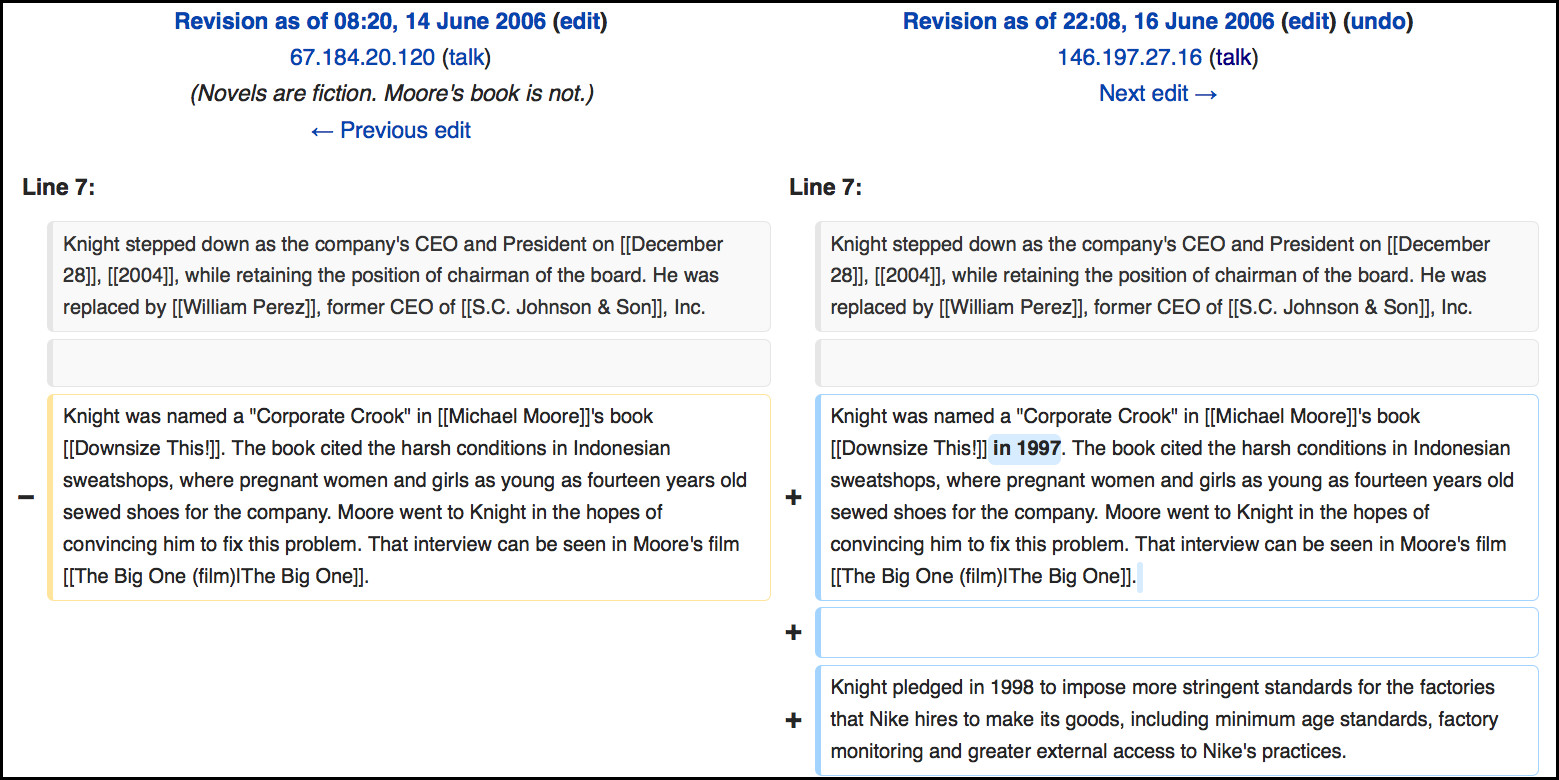 Another edit relating to Nike's labor policies appears in the entry for the Beatles song "Revolution," which Nike famously used for a 1987 ad of the same name.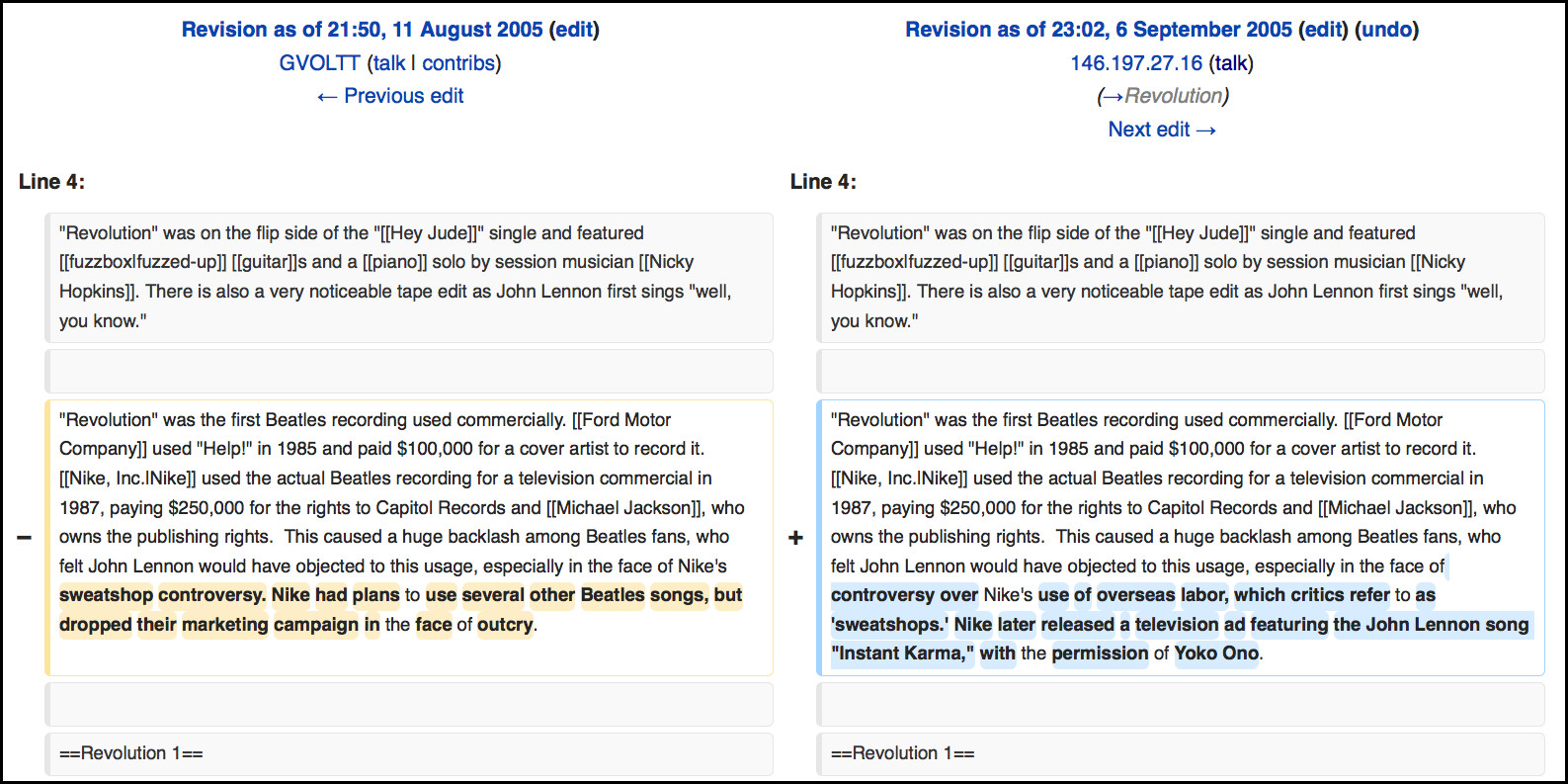 Here the user changes the mention of "sweatshop controversy" to "controversy over Nike's use of overseas labor, which critics refer to as 'sweatshops.'" The user also mentions Nike's later use of a John Lennon song used in a Nike ad with full permission. Nike users made a handful of edits that take some heat off the brand for its controversial use of "Revolution" in its 1987 ad of the same name. In another edit, a Nike user added that the brand "reportedly" paid for the rights to use the song for a year. Edits also removed mention of complaints that Nike's use of the song deviated from its original meaning and added a couple of paragraphs explaining how the lawsuit over its usage played out.
One edit on behalf of Nike comes on the entry for the Nike Air Force 1.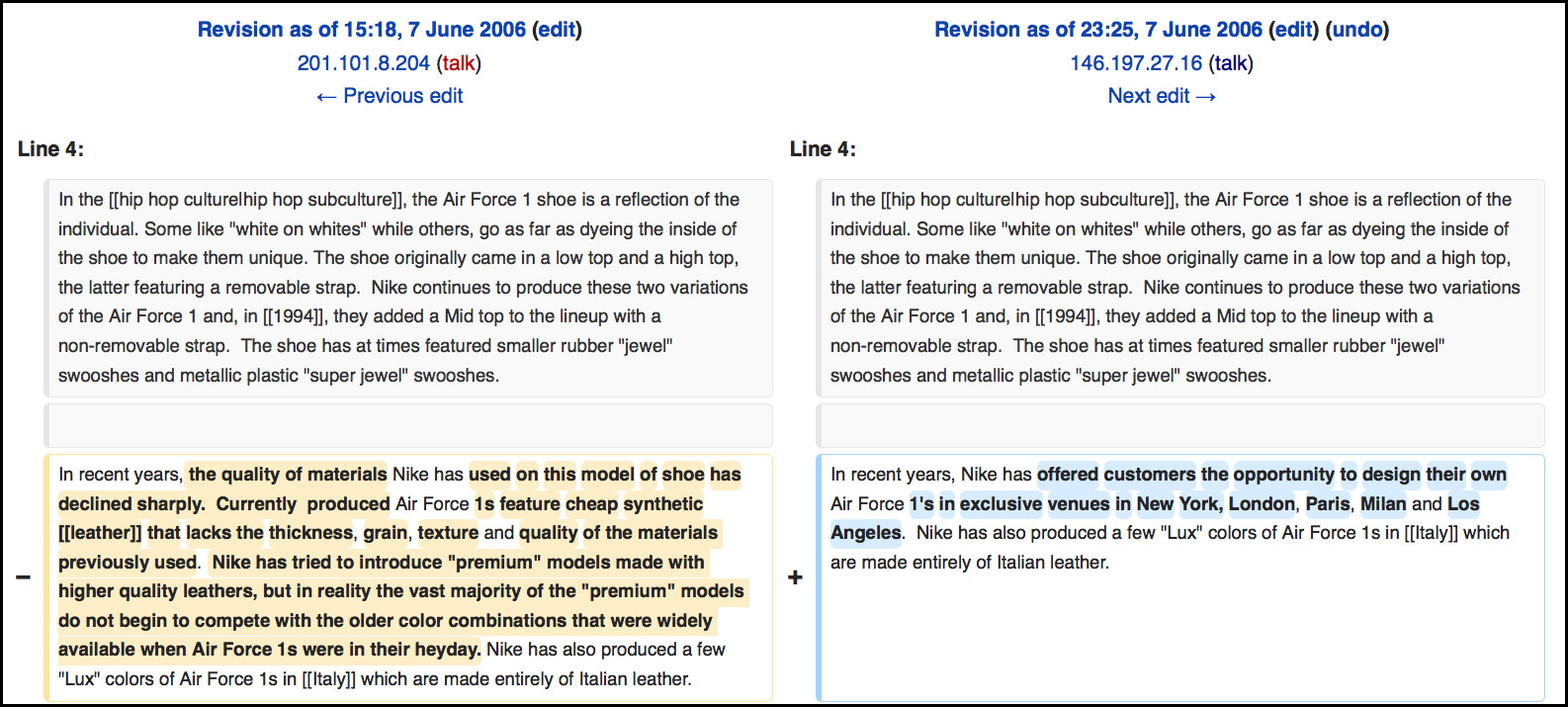 The original text, on the left above, disparages the state of quality in retro Air Force 1s, saying that it has "declined sharply." A user from Nike deleted this whole complaint and replaced it with a more positive comment on the custom Air Force 1 iD platforms available around the world. The initial complaint is maybe outside of Wikipedia's tone, but it's still interesting to see Nike employees actively, and anonymously, erasing complaints of poor sneaker quality on the Internet.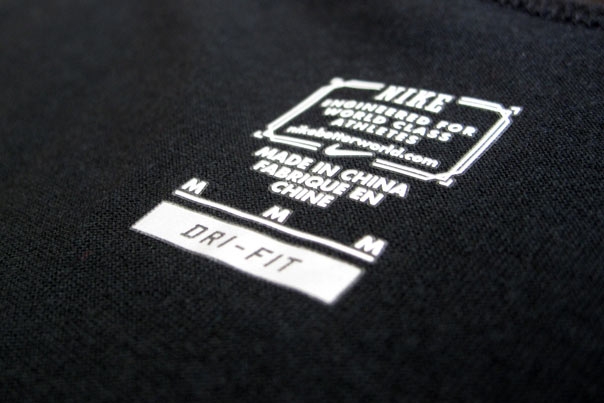 A Nike user even made a brief edit on Under Armour's page, which insisted that "Nike Dri-FIT Significantly Pre-Dates Under Armour."
In addition to these edits, users connected to Nike via their IP addresses also wrote large portions of the "Nike Inc." and "Swoosh" pages on Wikipedia. It's likely that these users, if they are Nike employees, have the benefit of a deeper knowledge of the company's history than most. But there are still ethical questions about their input.
Nike doesn't appear to be engaging in this kind of anonymous editing anymore. The bulk of these edits happened around 2005-07, and many of the changes have since been erased.
How has adidas spent time editing Wikipedia pages?
Adidas' edits relating to the brand itself aren't as numerous as Nike's, but there are some examples of activity that can be traced to the brand. One of the bigger campaigns edit-wise was the changing of instances of "Adidas" to "adidas," bringing copy inline with the brand's lowercase presentation of itself.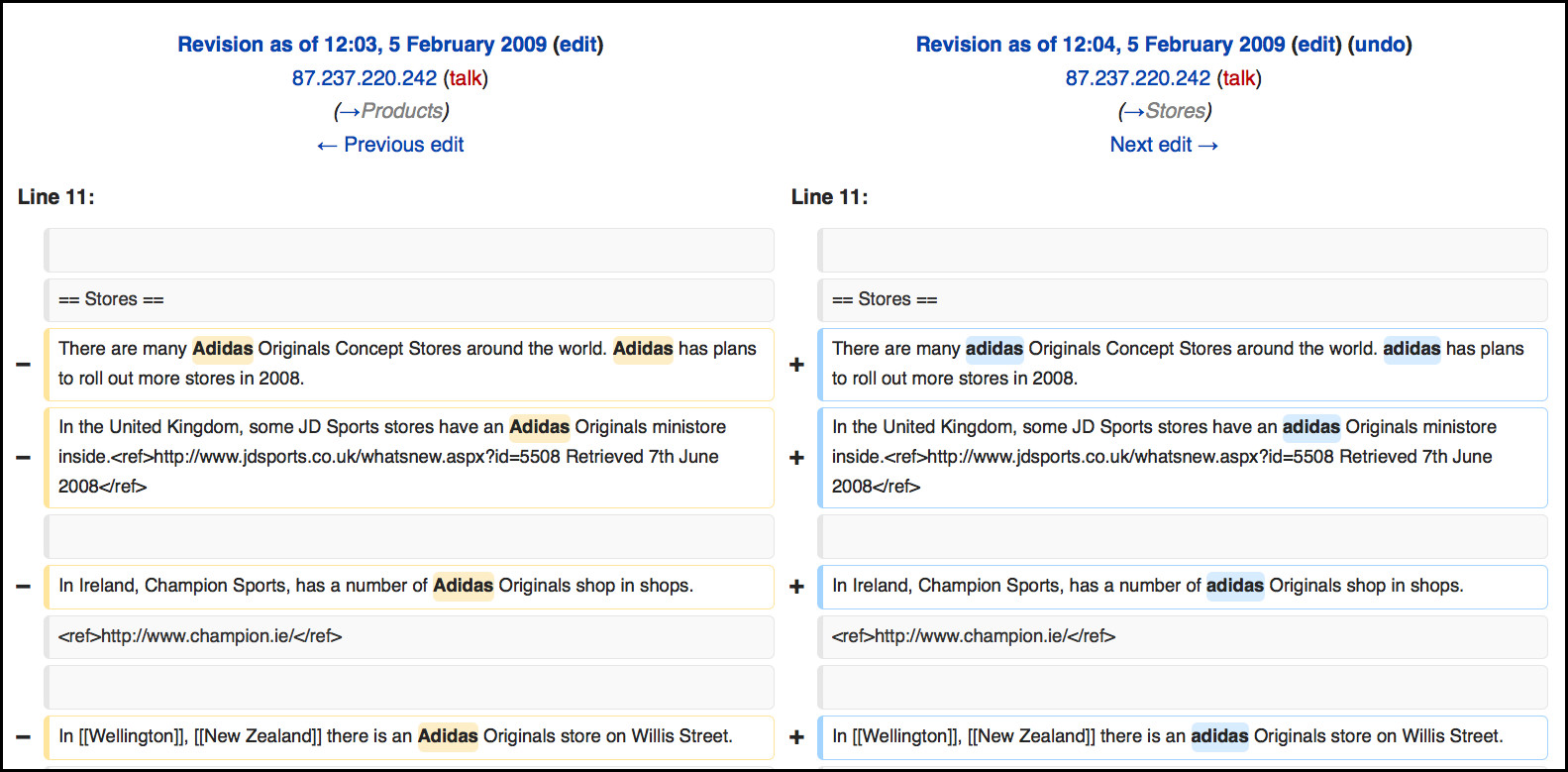 The brand made more edits to its own page, adding bits in regarding its history, specifically with respect to adidas' separation into three main groups. IP addresses connected to the brand wrote that in 1996, adidas "separated the brand into 3 main groups, each with its own focus." A later edit from the same day clarified this split. "During the mid to late 1990's [sic] Adidas divided the brand into three main groups with each a separate focus," the edit reads. "Adidas performance was designed to maintain their devotion to the athlete; Adidas originals with its focus on fashion and life style; and Style essentials with the main group within this one being Y-3."
IP addresses connected to adidas also made edits to Reebok's page. It's unclear whether these edits could have actually come from Reebok employees, as the brand is owned by adidas. The edits added info on Reebok technology and the YourReebok custom platform.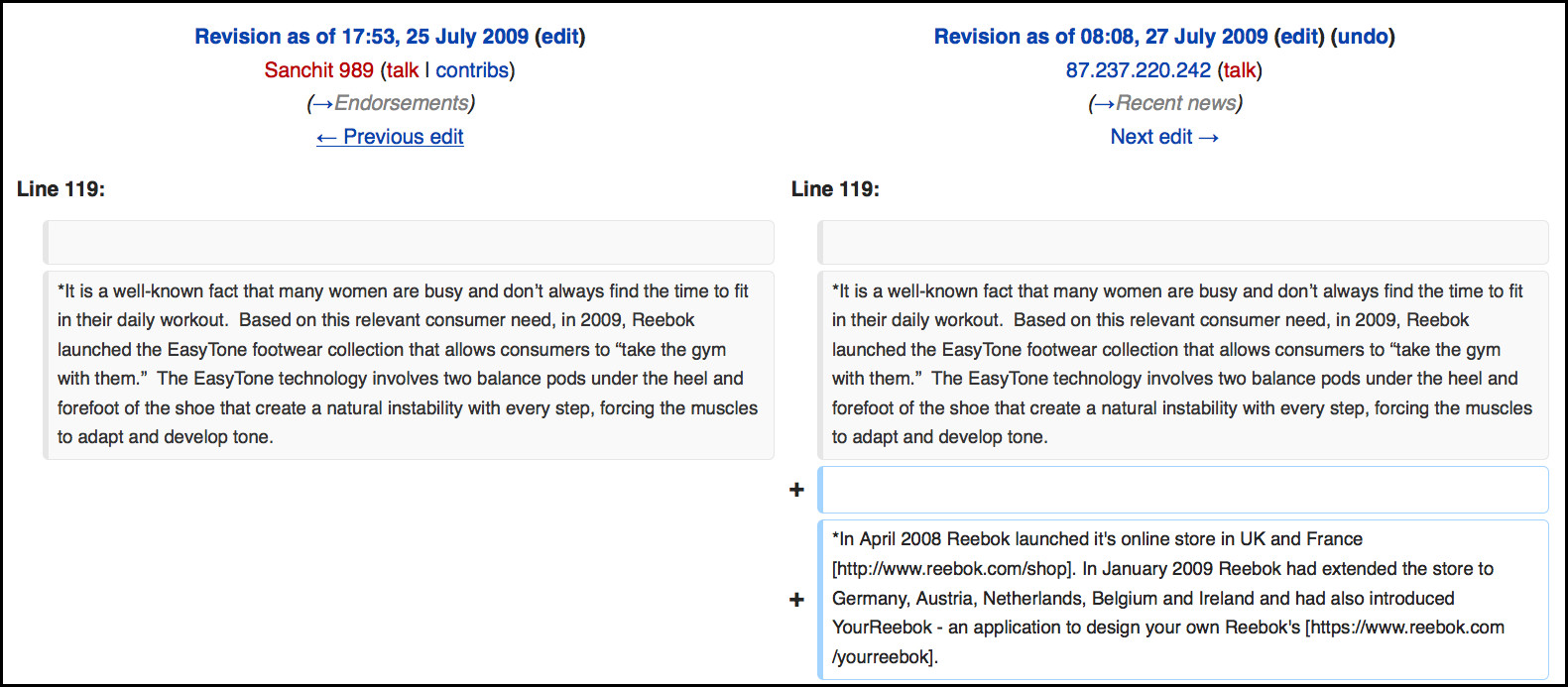 After those two brands, Wikipedia activity drops off severely.
The only other edits we found where a sneaker/sportswear company edited pages relating to its own business came from Under Armour.
Edits pertaining to its own business included an update to Andy Murray's entry reflecting his status as an Under Armour athlete, as well as the removal of athletes Patrick Willis and Bob Sanders from the brand's "Sponsorship" section on its own page. An Under Armour IP address also made an edit to the "List of Puma Sponsorships" article, adding soccer player Yaya Toure to Puma's roster.
What's at stake in editing Wikipedia pages?
In many cases, edits made by sneaker brands are innocuous. Many of the edits concern strictly factual matters, and it makes sense that people within these companies would have the best knowledge of their histories and minutiae.
But, it sets a dangerous precedent to allow the sneaker companies themselves to dictate how they are being presented on a site like Wikipedia, which strives for an objective, neutral presentation. The site defines conflict of interest editing on its pages as "contributing to Wikipedia to promote your own interests, including your business or financial interests, or those of your external relationships, such as with family, friends or employers."
There's no doubt that some of these edits would qualify as such. "A company editing its own page on Wikipedia would generally be considered a conflict of interest by the Wikipedia community," Juliet Barber, a representative for the Wikimedia Foundation, the non-profit that supports Wikipedia, wrote to us via e-mail.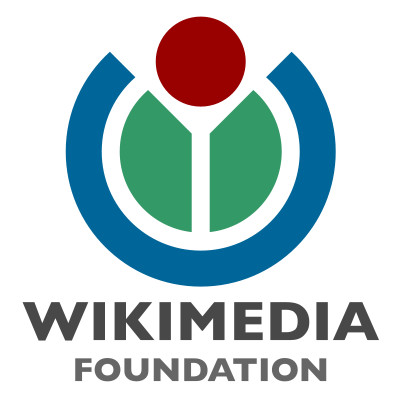 Barber cites community policing and the sort of logs presented here as safe-keepers of Wikipedia's neutral tone. "Every change to an article is public information," she wrote. "Wikipedia's public record means that anyone, anywhere can assess how an article has been created and maintained, identify issues when they arise, and take action to maintain its neutrality and accuracy."
Wikipedia's community has taken issue with edits on Nike pages before. On the talk page for Nike, Inc., which features discussions about edits and suggested changes, one user came to the conclusion in 2005 that "the timeline given in this article is clearly written by the corporation and is not simply a factual account of the company's development but is clearly biased to CELEBRATE the business, rather than simply provide information."
Rather than make anonymous edits, employees of companies wanting to edit their own pages are supposed to request changes via these talk pages, as laid out in Wikipedia's conflict of interest policy.
Tiffany Gallicano, an associate professor of public relations at the School of Journalism and Communication at the University of Oregon, asserts that companies should be transparent about these changes. "It's much worse to do it anonymously because then it looks like you're trying to hide something," Gallicano said. "That's definitely a bad move to make. I think it's important to be transparent about your identity no matter what you're doing online, because an important part of the message is who's posting it."
Gallicano has been trained in editing Wikipedia articles, and is familiar with the community's guidelines on companies editing their own pages.
She suggested that the better approach would be for employees to request these edits via talk pages. "Public relations people and professional communicators are supposed to use the talk pages to let Wikipedia editors know that changes need to be made for accuracy," Gallicano said.
It turns out that Nike employees appear to have used the talk pages, as well as actual accounts, to make and discuss changes.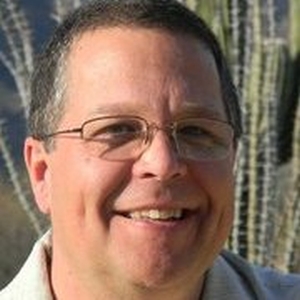 Coming to the defense of the tone and edits made on Nike pages is user NikeHistorian, who claims to be a Nike employee, and the company's historian. Nike created the company historian role in 2005, appointing longtime employee Scott Reames to the position. The user NikeHistorian first appeared on Wikipedia in 2005.
There is more defending of edits and overall tone on a later version of the Nike Inc. talk page. There, a user explains that they used to make edits under the account Sammitch6453 but have since switched to the account Scotthistory, the latter suggesting that the person behind the accounts is indeed Scott Reames. In 2012, the user was very upfront about their identity, writing, "I am Nike's historian and have been for seven years...you are welcome to contact me."
We contacted Reames to talk about Nike's Wikipedia edits, but he didn't respond to our request for comment. Neither did Nike.
The user states that Nike isn't actively interested in monitoring its reputation on Wikipedia. "As a Nike employee," they wrote, "I can assure you that Nike PR people have other things to do than try to turn a wikipedia entry into an advertisement for the company."
Contrary to this, public relations teams at companies are often aware of how they are presented on Wikipedia. In a 2013 study by Marcia W. DiStaso, Ph.D. that appeared in the Public Relations Journal, 28 percent of public relations professionals surveyed said that their companies have had a "potentially reputation-harming error" on their Wikipedia page.
These errors are often addressed by public relations and communications teams handling them directly. Of those surveyed in the same study, 42.5 percent attempted to edit the offending error themselves.
The accounts NikeHistorian, Sammitch6453, and Scotthistory, which appear to be those of Nike historian Reames, have all made edits relating to Nike's own business. These edits would constitute violations of Wikipedia's conflict of interest policies if the user is, as they claim, a Nike employee.
User Sammitch6453 added a sort of celebratory comment about the company's rising revenues in the face of criticism over labor policies.

The same user made edits disputing a claim about who Nike co-founder Bill Bowerman made the first pair of his famous waffle runners for. Ironically, this edit charges that the claim is unlikely due to conflicting info listed on nikeinc.com. If the user is Nike's historian, it's possible that he is merely pointing back to some of his own copywriting for Nike as a source.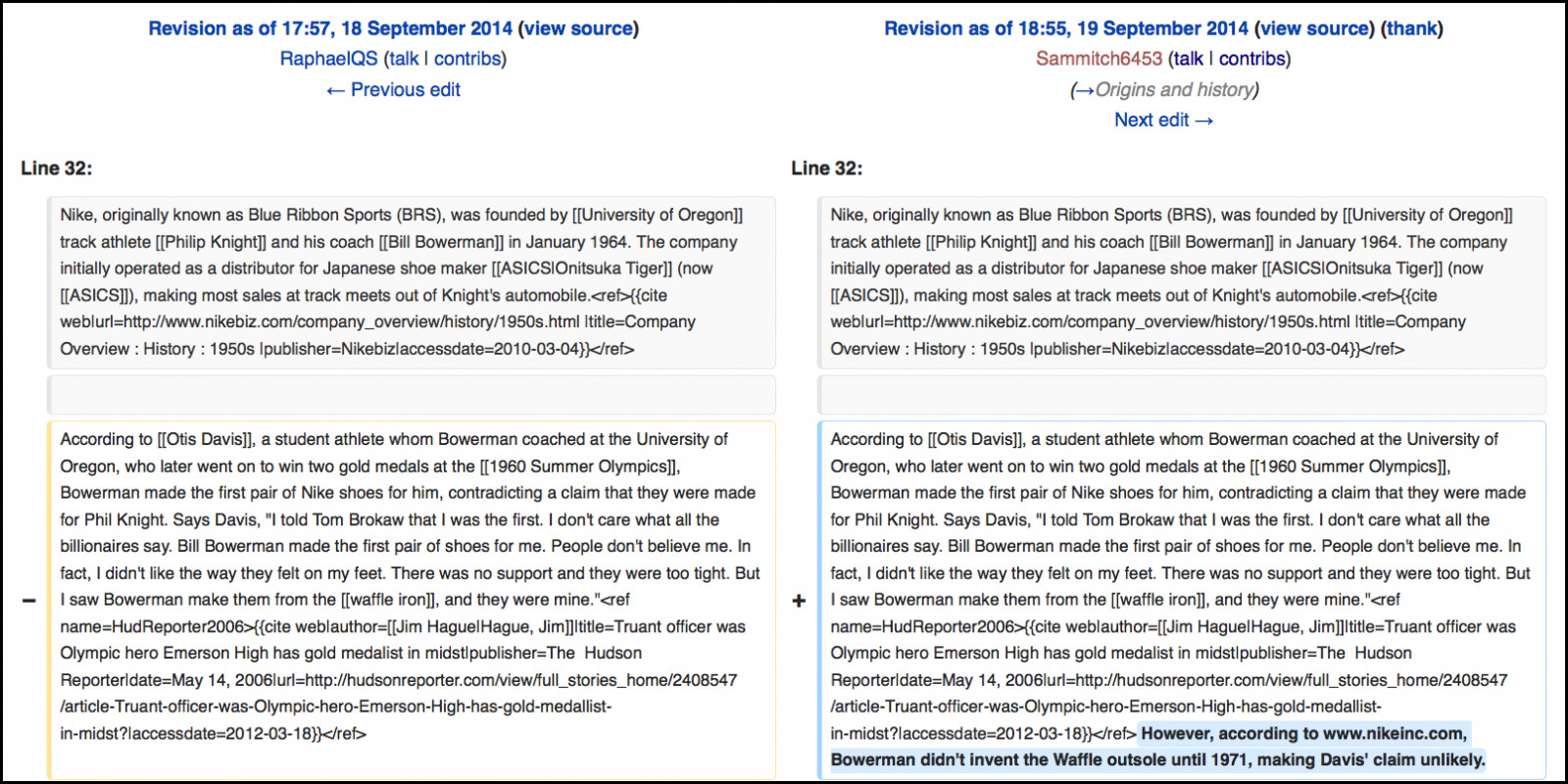 Under the handle Scotthistory, the user continued on this campaign to clarify who Bowerman made his first sneakers for. Nike's official line on the story is that the first pair of shoes Bowerman produced was given to Phil Knight, but Otis Davis, who ran track at the University of Oregon where Bowerman coached, claims that the first pair was produced for him. Edits on Wikipedia by user Scotthistory called Davis' claims "suspect" and said that they "cannot possibly be true."
Scotthistory made more edits on pages like those on Wieden+Kennedy and Carolyn Davidson (the designer of Nike's Swoosh logo), and spent some time clarifying Nike's stance and decisions surrounding Joe Paterno and the Penn State sexual abuse scandal, as shown in the screenshot below.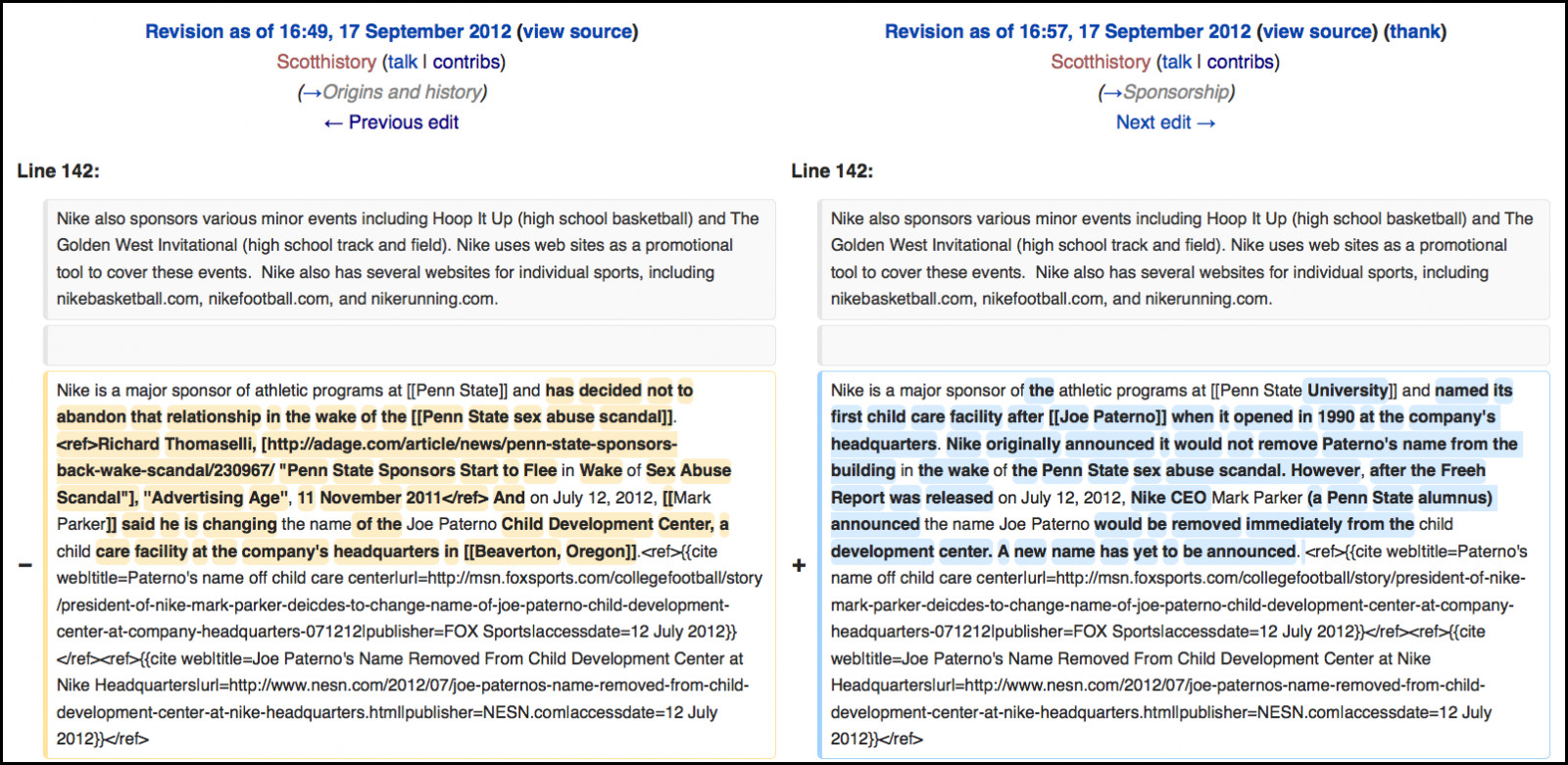 It's clear that sneaker companies are aware of how they are presented on various online channels. Most of these channels, their official social media accounts and websites, can be controlled by the brands themselves. This history of Wikipedia edits connected to companies like adidas, Nike, and Under Armour suggests that brands aren't content with that, and aren't afraid to take more unconventional measures to sculpt their identities online.