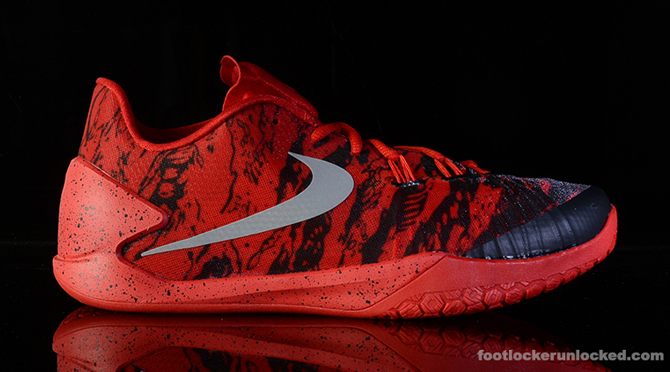 by Brendan Dunne
Remember the rumors about a James Harden signature shoe that were floating around? That talk has stopped now with the arrival of the Nike Hyperchase, which acts as a de-facto sig for Harden, kind of like the Run the One did last year.
The shoe is back rocking the James Harden logo, and this time has a color scheme that makes more sense given Harden's current spot on the Houston Rockets roster. The palette here is a red and black that mixes in camo graphics on the upper and speckles for the soles. While the Hyperchase hasn't been around very long, the sneaker has already had a bunch of different logos across the tongue (this JH one, fragment, Net Collectors Society, etc.).
Sole Collector will provide info on the sneaker release date on this James Harden Hyperchase as it's available.
UPDATE 4/17: Foot Locker locations are now stocking this James Harden Nike Hyperchase. Participating retailers are listed via the launch locator.