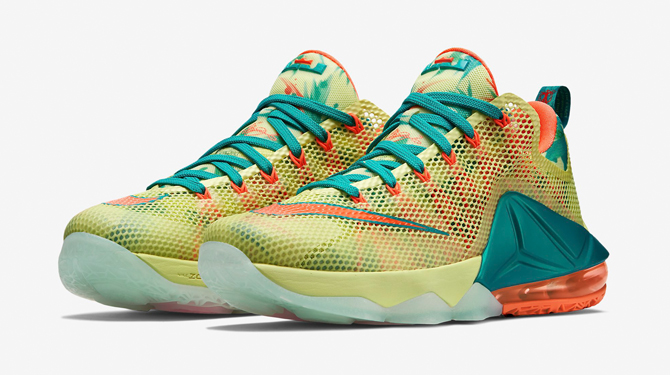 by Brendan Dunne
The much-delayed "LeBronold Palmer" Nike LeBron 12 is hitting at some Foot Locker stores in the U.S. today.
The footwear retailer just announced that limited pairs of the hotly anticipated shoe are available now. Remember that neither Nike or any independent retailers stateside have made recent mention of the sneaker's release. So for now, it appears that Foot Locker has the lead on them. Unfortunately, the list of Foot Locker locations getting the sneakers is a small one.
UPDATE 4/13: Footaction released the Nike LeBron 12 Low "LeBronold Palmer" today. Its distribution for the shoe was more widespread than Foot Locker's. A full listing of retail locations can be found here. Finish Line also released the sneakers this morning via a surprise release online.
Foot Locker promises that more shops will be stocking the sneakers, but for now, the list below is all of the U.S. locations stocking the LeBronold Palmers.
Nike LeBron 12 Low "LeBronold Palmer"
Style #: 776652-383
Price: $200
Foot Locker RIVERCHASE GALLERIA

2000-143 RIVERCHASE GLRI

BIRMINGHAM, AL 35244

(205)987-1314

Foot Locker KENWOOD TOWNE CENTRE

7875 MONTGOMERY RD

CINCINNATI, OH 45236

(513)793-9099

Foot Locker EASTON TOWN CENTER

170 EASTON TOWN CENTER

COLUMBUS, OH 43219

(614)475-7842

Foot Locker OAKWOOD CENTER

197 WESTBANK EXP

GRETNA, LA 70053

(504)376-2377

Foot Locker CANAL STREET

801 CANAL STREET

NEW ORLEANS, LA 70112

(504)529-1309

Foot Locker MALL OF LOUISIANA

6401 BLUEBONNET BLVD

BATON ROUGE, LA 70836

(225)766-5365

Foot Locker ST CLAIRE SQUARE

295 ST CLAIRE SQUARE

FAIRVIEW HEIGHTS, IL 62208

(618)632-2579

Foot Locker SAINT LOUIS GALLERIA

2476 SAINT LOUIS GALLERI

ST. LOUIS, MO 63117

(314)862-9321

Foot Locker THE GALLERIA

5015 WESTHEIMER ROAD

HOUSTON, TX 77056

(713)621-7238