by Brandon Richard
A top-tier NBA official may referee between 60 and 70 games per season. That means they log more than 3,000 minutes running up and down basketball courts with little rest in between. Like any profession that requires that much running, sneakers play a key role in officiating, but some of the NBA's top guys in stripes are having a tough time finding the right shoe.
League rules forbid refs to sign endorsement deals, meaning they're responsible for buying their own sneakers, which must be completely black with any logos blacked out or removed. The challenge they face is finding an affordable shoe suited for running, but also capable of supporting basketball moves.
"There is no manufacturer that specializes or makes a sneaker for basketball officiating," NBA referee told Sports Illustrated in a recent interview. "Guys wear different brands, but we are all scrambling for all black."
Not only are they scrambling for black — they're scrambling for pairs. Davis says he switches out his shoes every 30 days, going through about 10 pairs per season.
As for what he's wearing, Davis favors an unspecified blacked out Nike Air Max runner (possibly the 2009), which he buys 25 pairs of at a time. Or at least he did — his preferred model has been unavailable for the last three years and he's on his last pair. When asked what he's going to do next, Davis simply said, "Good damn question."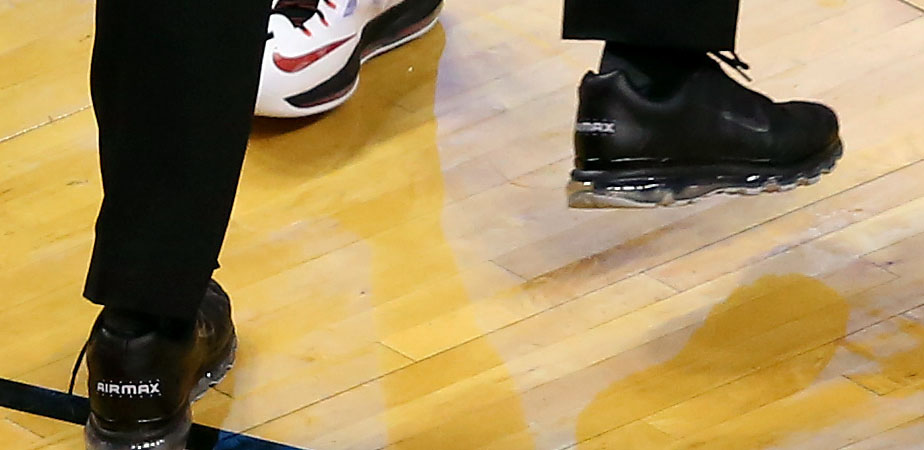 Another NBA referee, Brian Forte, has moved on from the Air Max to the New Balance M990.
"I just bought one (to start)," he says. "I wanted to give it a shot. It has been great. I see going back and buying five at a time."
The plus side to having no endorsement contract? When refs do find a shoe they like, they can stock up without having to worry about any changes.
Read more about the difficulty NBA referees have finding sneakers at Sports Illustrated.