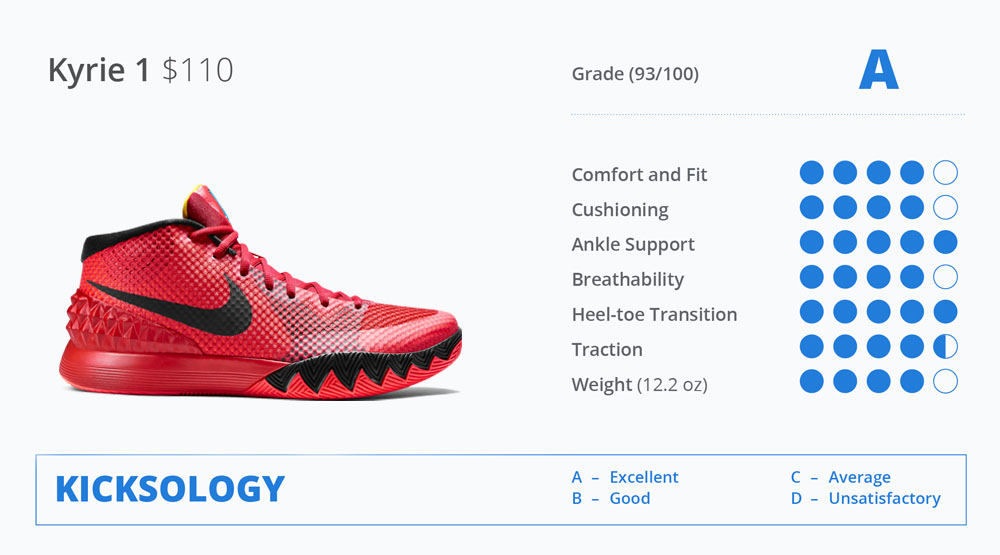 Life is good right now for Kyrie Irving. He was just named NBA Eastern Conference Player of the Week. He's had scoring games of 55 and 57 less than two months apart. He's on his first winning team and is set for his first trip to the postseason of his NBA career. And today, he's even celebrating his birthday.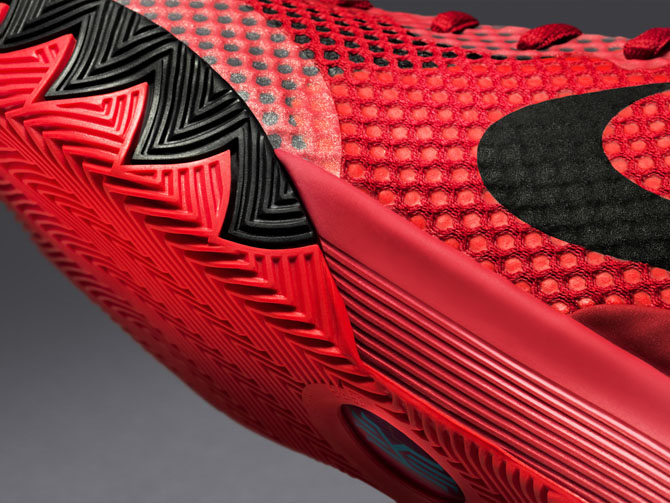 There's one more thing too: he now has his own signature line. Nike introduced Irving as its latest signature athlete – an exclusive club – this past winter.
Irving's signature line falls into the spot left open by KD's shoes creeping into higher price points each year, making it the most affordable signature model in Nike's signature sneaker lineup. Ironically, the less expensive shoes in the KD line have been some of my favorites from Nike Basketball from a performance perspective. Could Kyrie's line follow suit?
I can understand and appreciate the need for gimmicks, visible technology and so-called innovation from a marketing perspective. It's a challenge to excite consumers each year to buy something new. And if that's the type of shoe you're into, then the Kyrie 1 might not be for you. All things considered, there's nothing that exciting about it. It primary technologies, Zoom Air and Hyperfuse construction, have been around for 20 and 7 years, respectively. Zoom, the longtime benchmark in impact protection, lost its top spot when Flight Plate was introduced in the Air Jordan XX8. I've always found Fuse to be stable, yet not always the most comfortable construction.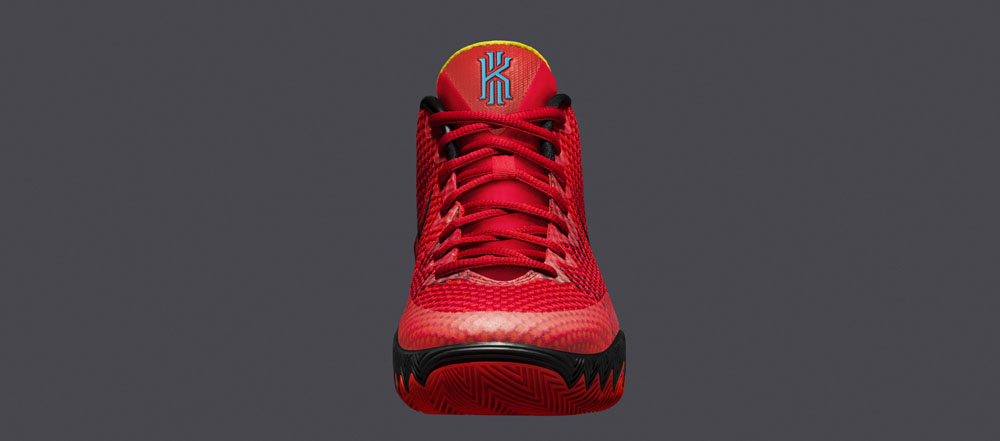 Yet despite the lack of glitz, glamour, and semi-outdated tech, the Kyrie 1 is my favorite shoe out of Nike's Basketball category in years. I've had major issues with technology like Dynamic Flywire and Hyperposite getting in the way rather than helping, so I found it refreshing to play in such a stripped down sneaker.
If you're considering a pair of Kyrie 1s, the first thing you'll want to know is that they run a bit narrow through the forefoot. If you have the opportunity to try a pair on before buying, I'd recommend doing so. If not, consider going a half size up. Unable to find a 13.5, I went with my standard size 13. I personally prefer my shoes to be tight rather than loose to play in, so I didn't have an issue, but I've heard others say they found them too tight in their standard size.
From a flexibility standpoint, Fuse construction isn't my favorite for an upper. It just doesn't typically move organically enough with the foot. I don't find it to be as comfortable as leather, for example. It does however do an exemplary job of supporting the foot, while providing reasonably good breathability. The Kyrie 1 delivers in both of those areas.
The Fused upper, in conjunction with the external heel counter provided for reassuring cuts no matter how hard I planted. The collar features precise sculpting, reminiscent of the Kobe line, which held my heel firmly in place. This is key to ankle support on a lower cut shoe like this, to provide stability, while allowing for greater range of motion.
From my first step, the transition could be described in a single word: smooth. It did improve over the first few wearings, but even fresh out of the box, the flexibility made the shoe feel even lighter than its 12.2 oz weight would imply. As far as cushioning goes, the forefoot Zoom and heel Phylon setup is great, it's just not the best anymore. Second best behind Flight Plate isn't bad, though. Based on the $110 price, I can't complain.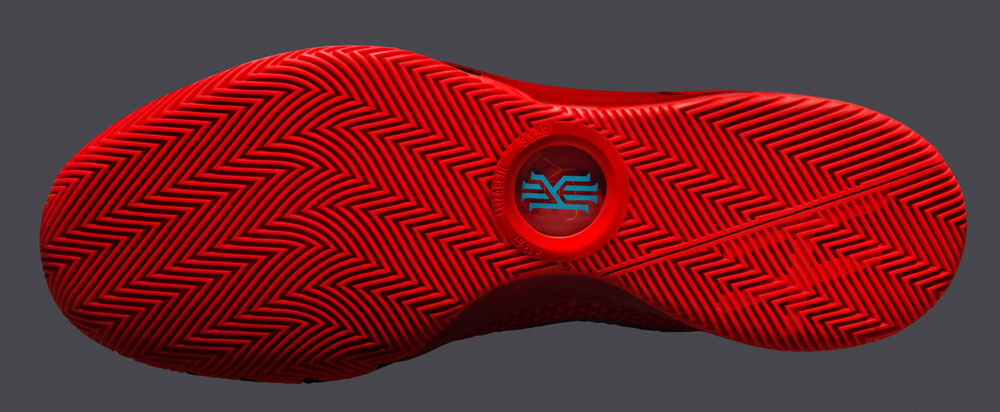 It was still responsive and protective, just not quite as much as it could be. Traction was also solid. It required a bit more swiping than I would like, but the basic herringbone pattern made for dependable footing.
There's not a lot to criticize on the Kyrie 1, considering its price. Scratch that. There's not a lot to criticize on the Kyrie 1, period.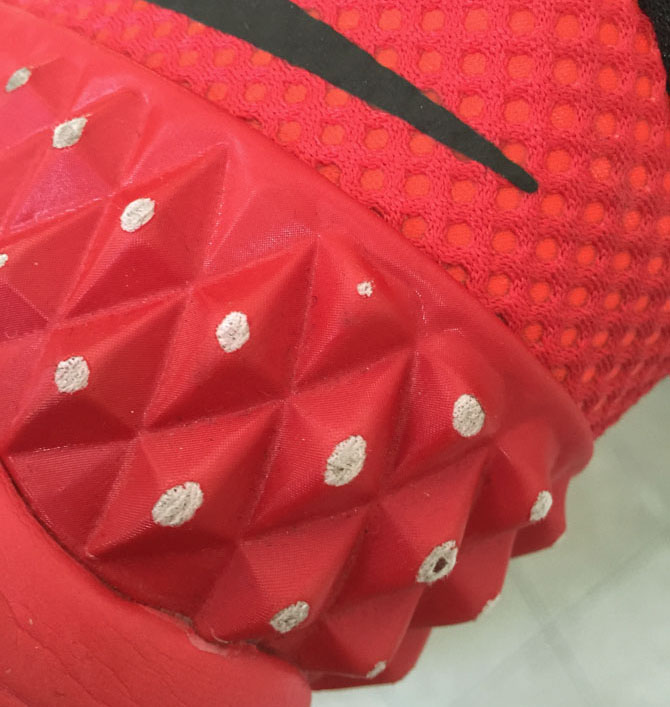 In fact, my biggest issue with the shoe was aesthetic (and to be fair, probably related to its relatively low price.) By the end of my first run in the sneaker, the thick layer of paint covering the textured heel counter was already beginning to come off. By my fourth run, practically every point was bare. While this will be more noticeable on some colorways than others, and is purely aesthetic, it's not ideal durability even at only $110. After playing in them for a solid month, they looked downright bad. On the bright side, the shoe was structurally intact still, and I'd been enjoying every run in them.
The fact that the Kyrie 1 strips most of Nike's latest tech like Flywire, Flyknit, and Hyperposite from the shoe, and its performance improved rather than suffered, speaks volumes about the value.
Innovation for the sake of innovation doesn't make for better basketball shoes. Sometimes all you need is a simple design with tried and true features with the right athlete to promote it. Add to that the fact that it's affordable, and it becomes one of the easiest recommendations I could ever make.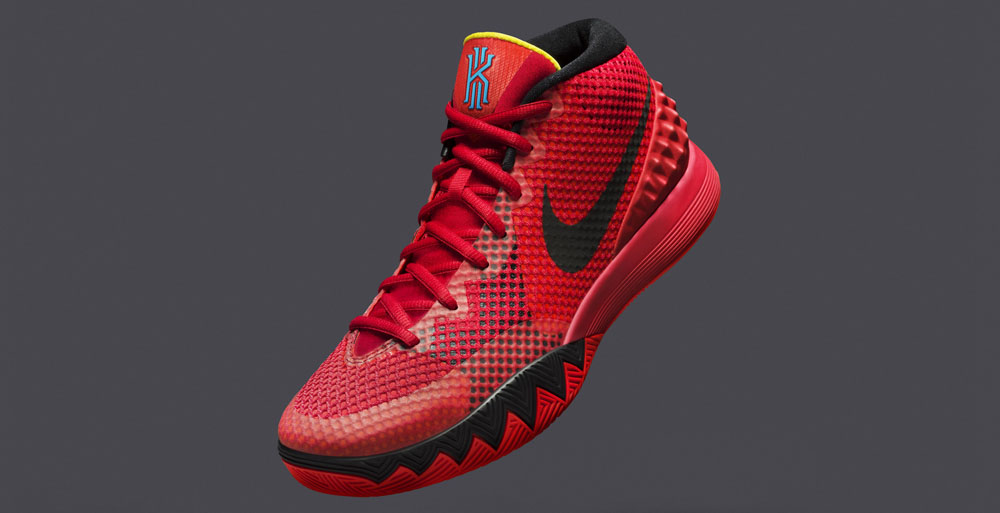 Grade Breakout
Best For: players who value performance over frills.
Key Tech: forefoot Zoom Air, Hyperfuse construction, forefoot stability frame, external heel counter
Pros: transition, stability
Cons: aesthetic durability
Improvements: thinner Fuse upper, similar to the Hyperdunk 2011, would allow better flexibility and comfort
Buying Advice: For $110, there's almost nothing not to like about Kyrie Irving's first signature shoe. It's not the most comfortable shoe I've ever put my foot in, and a 13.5 probably would have fit better, but it's one of the best shoes of the season, regardless of price. It lacks the bells and whistles of some of other signature sneakers, but is a better shoe because of that fact, not in spite of it.