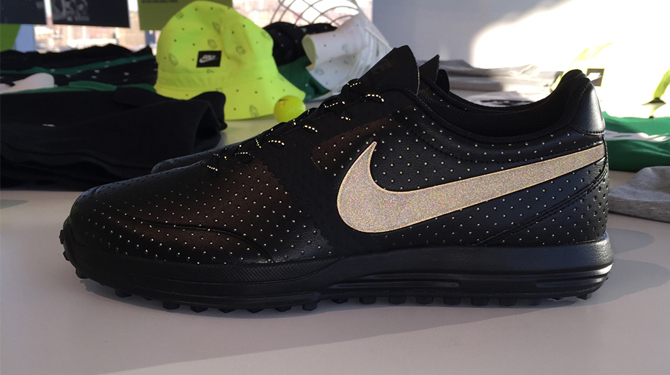 by Brendan Dunne
Nike Golf is hoping to extend its reach beyond the course and the clubhouse.
Key in the brand's efforts is the new Nike Golf Club collection, a more lifestyle leaning set that seeks to modernize the slightly stuffy world of traditional golf wear. There are transitional sneakers meant for wear both on and off the course in the Nike Lunar Mont Royal and the Nike Lunar Waverly, both pictured here in blackout colorways with reflective accenting.
There's also a new set of apparel that seems to lean younger in its aim. The line's branding takes the form of a golf clap/emoji looking logo that shows up on bucket hats, five panel caps, and more.
The approach seeks to borrow the best of what Nike does on a brand level in terms of innovation and story-telling and translate it to the golf category. "There's a lot we can take from the brand and bring it to golf that makes it new for the category," said Kelly Sweeden, the VP/Category Creative Director for Nike Golf. "If we can make people say 'I don't golf but I would wear that' then we've done our job, because then it transcends the sport."
The new Nike Golf Club collection will launch at select retailers on March 23.