While Nick Young was out with an ankle sprain, #SoleWatch clubhouse leader PJ Tucker had one of his strongest sneaker weeks of the season. Once again, Tucker made noise by breaking out a random pair of older Air Jordan Player Exclusives. In the same game, he switched to the 'Motorsports' Air Jordan 6 and an iD make-up of the Nike Kyrie 1.
Elsewhere, the Toronto Raptors duo of Lou Williams and Amir Johnson cracked the list after wearing 'OVO' Air Jordan samples with their Military Appreciation alternate uniforms. DeMar DeRozan also had a solid lineup of red-based Nikes.
Kawhi Leonard finally debuted his 'Ring Night' Air Jordan 6 PE after missing the home opener due to an illness. It was the second new PE he's worn since returning to the Spurs lineup.
Lastly, there was some movement from Kyrie Irving, whose week was highlighted by a 55-point performance against the Portland Trail Blazers.
See how they all stack up below.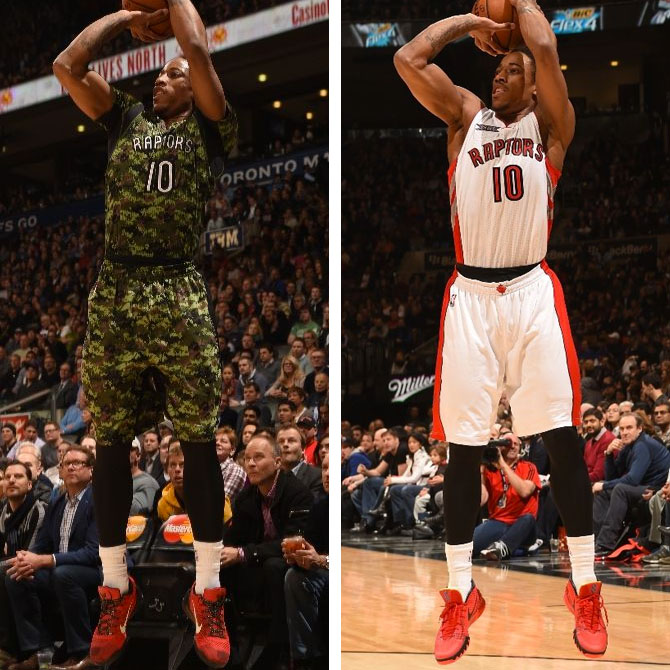 Rank: 10
Last Week: 7
Player: DeMar DeRozan
Team: Toronto Raptors
Season Stats: 18.3 PPG, 4.3 RPG, 3.0 APG
Notable Sneakers: Nike Kobe 9 Elite Low 'University Red,' Nike Kobe 9 Elite 'Christmas,' Nike Kyrie 1 'Deceptive Red'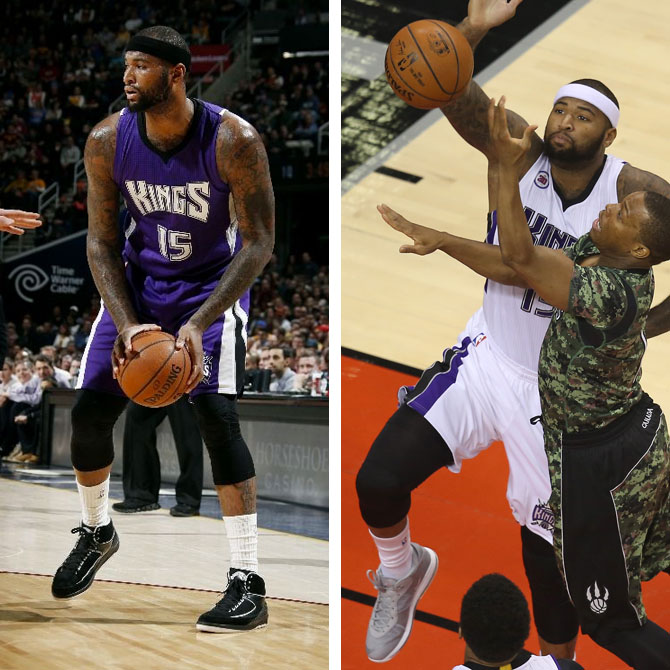 Rank: 9
Last Week: 9
Player: DeMarcus Cousins
Team: Sacramento Kings
Season Stats: 23.6 PPG, 12.6 RPG, 3.2 APG
Notable Sneakers: Air Jordan 2 Retro 'Oreo,' Nike LeBron 8 V/2 Low 'Metallic Silver,' Nike Zoom Soldier 8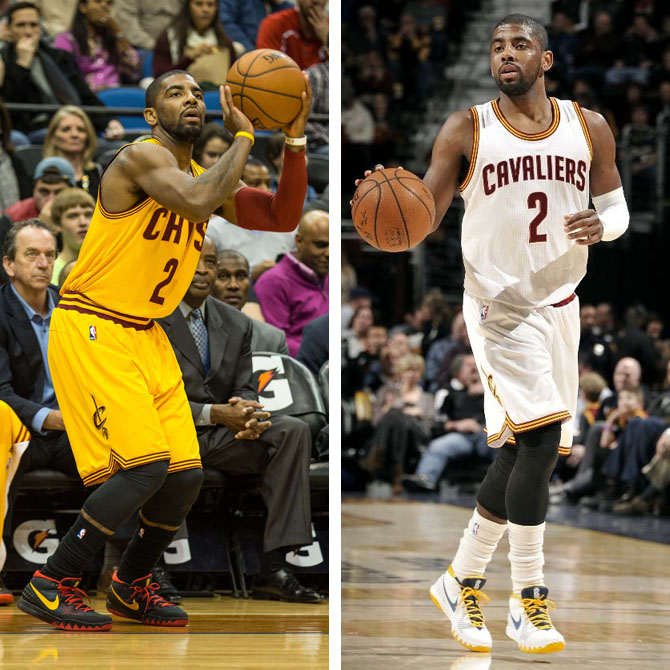 Rank: 8
Last Week: 10
Player: Kyrie Irving
Team: Cleveland Cavaliers
Season Stats: 21.8 PPG, 3.2 RPG, 5.2 APG
Notable Sneakers: Black/Red-Yellow, White/Blue-Yellow, White/Red-Yellow, Yellow/Blue-Red Nike Kyrie 1 PEs
Rank: 7
Last Week: Not Ranked
Player: Amir Johnson
Team: Toronto Raptors
Season Stats: 10.1 PPG, 5.8 RPG, 1.5 APG
Notable Sneakers: Air Jordan 12 'OVO,' Air Jordan XX9 'Team Orange'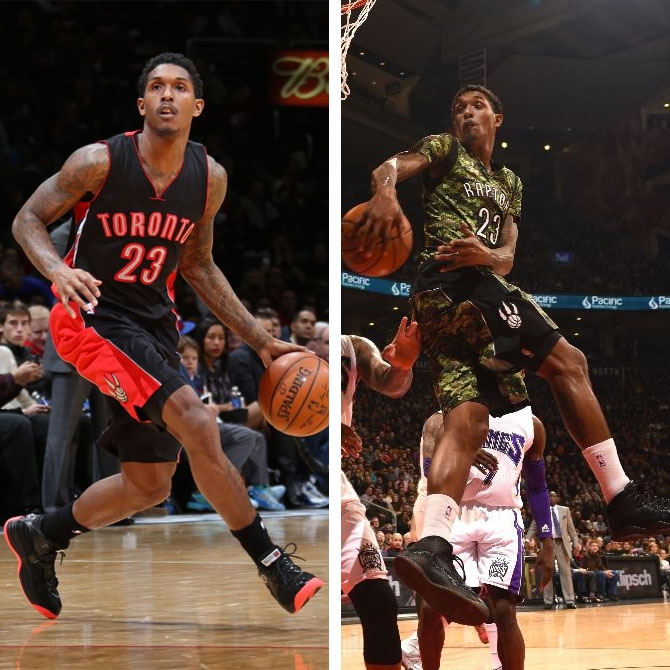 Rank: 6
Last Week: Not Ranked
Player: Lou Williams
Team: Toronto Raptors
Season Stats: 15.5 PPG, 1.8 RPG, 1.8 APG
Notable Sneakers: Air Jordan 10 'OVO,' Jordan Jumpman Team 1 'Infrared 23,' Nike Zoom Soldier 8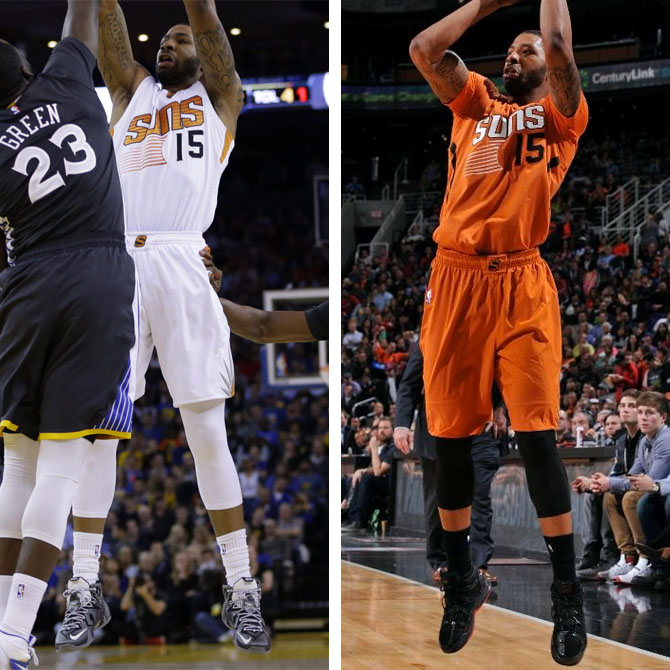 Rank: 5
Last Week: Not Ranked
Player: Marcus Morris
Team: Phoenix Suns
Season Stats: 9.7 PPG, 3.7 RPG, 1.4 APG
Notable Sneakers: Air Jordan 12 'Taxi,' Nike Zoom LeBron 3, Nike LeBron 12 'BHM'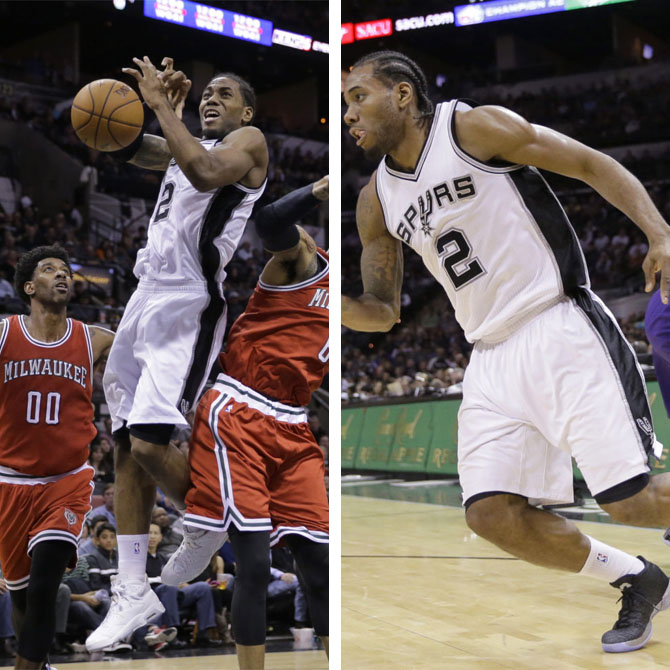 Rank: 4
Last Week: Not Ranked
Player: Kawhi Leonard
Team: San Antonio Spurs
Season Stats: 15.6 PPG, 7.9 RPG, 2.4 APG
Notable Sneakers: Air Jordan 6 PE, Air Jordan XX9 'Blackout,' Air Jordan XX9 'Away' PE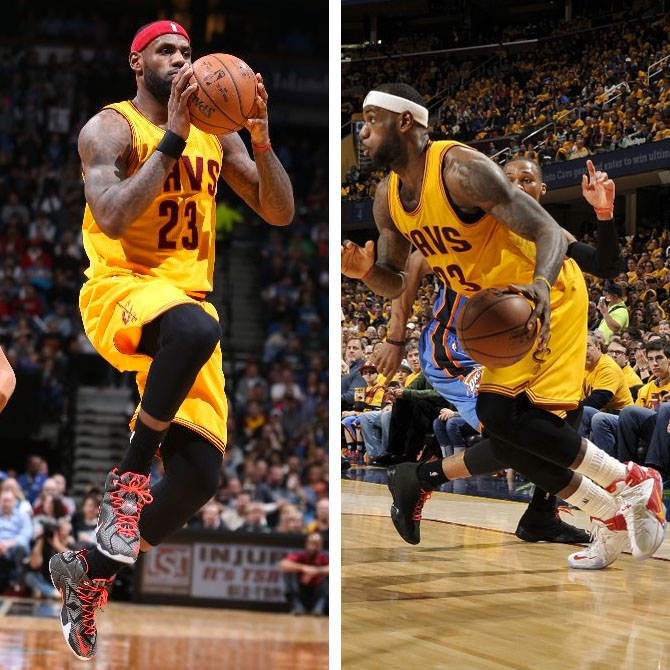 Rank: 3
Last Week: 3
Player: LeBron James
Team: Cleveland Cavaliers
Season Stats: 26.4 PPG, 5.5 RPG, 7.3 APG
Notable Sneakers: 'Court Vision,' White/Yellow-Red, Black/Yellow, White/Red Yellow Nike LeBron 12 PEs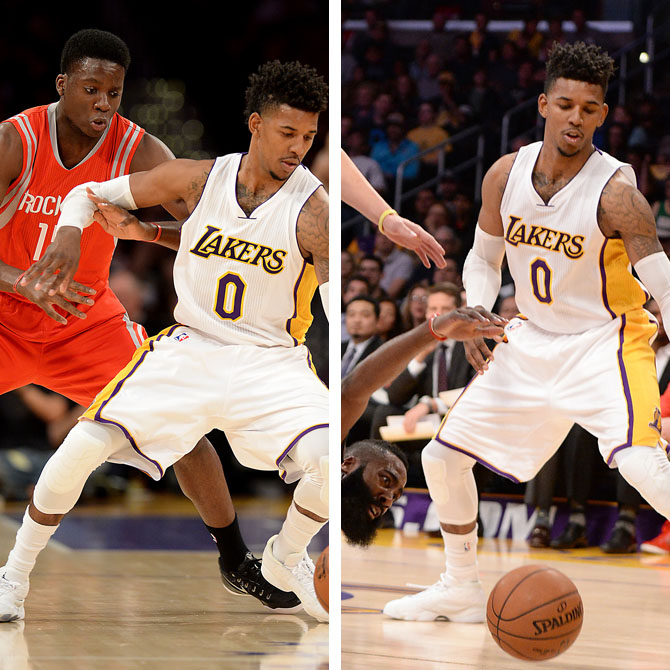 Rank: 2
Last Week: 2
Player: Nick Young
Team: Los Angeles Lakers
Season Stats: 14.1 PPG, 2.3 RPG, 1.0 APG
Notable Sneakers: Air Jordan 13 Retro Low 'White'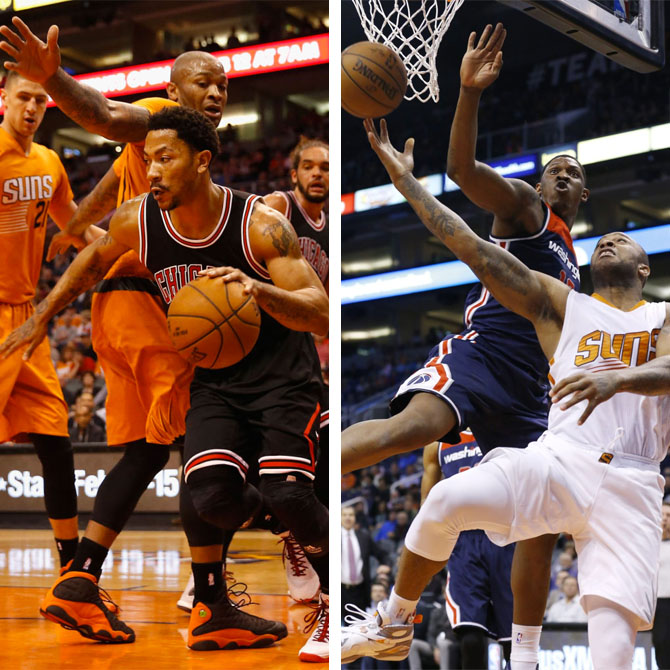 Rank: 1
Last Week: 1
Player: P.J. Tucker
Team: Phoenix Suns
Season Stats: 7.7 PPG, 6.0 RPG, 1.6 APG
Notable Sneakers: Air Jordan 6 Retro 'Motorsports,' Air Jordan 8 Retro 'Orange Blaze,' Air Jordan 13 Gerald Wallace 'Bobcats' PE, Nike Kobe 9 Elite 'What The,' Nike Kyrie 1 iD