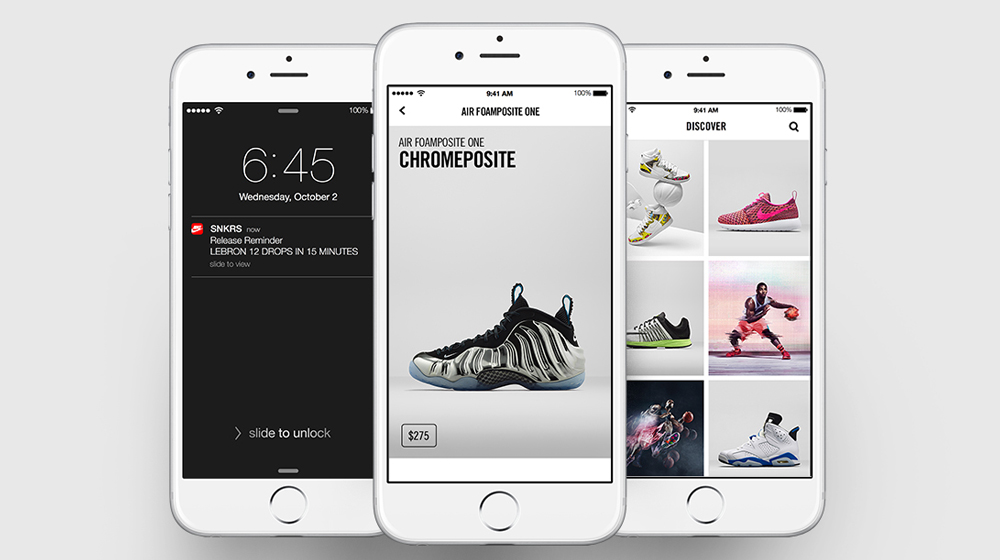 by Brendan Dunne
This week Nike is launching the SNKRS app, a new platform for purchasing what the brand is calling "the most premium sneakers."
The app lets users follow specific Nike franchises and receive notifications on upcoming releases. The Nike SNKRS app will also have a historical perspective that offers background and exclusive content on storied Nike lines.
The purchasing part is obviously the biggest upside of the app. Users' size, billing, and shipping information can all be stored to allow quicker checkout. Nike doesn't say so much in its official introduction of SNKRS, but it seems like the app could eventually be the home for hyped releases that are prone to being exploited on Nike's typical online purchasing programs. Recent releases like the "Mirror" Foamposites are included in the screenshots as possible future releases for the app.
The Nike SNKRS app will launch this later this spring. Beginning tomorrow, Feb. 12 at 8 am EST, select consumers will be granted access. More on the app here.
via Nike:
Here's how to get early access to SNRKS:
Zoom City SNKRS Station: Consumers in New York City Feb.12-15 can register for access to the Zoom City SNKRS Station at the corner of 348 Bowery and Great Jones to get SNKRS installed on an iOS device. Please visit www.nike.com/nyc for more information and details.
Twitter Questions and Clues: Follow @nikeNYC for questions and clues regarding sneaker culture and popular Nike franchises. Questions will point consumers to a specific New York City location where Nike ambassadors will hand out early access codes to Nike SNKRS.
NIke.com/SNKRS: Consumers not in the New York City area can visit www.Nike.com/snkrs to sign up for early access to Nike SNKRS.