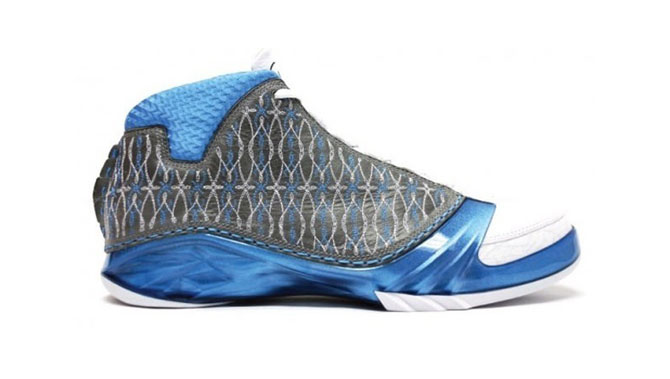 Shoe: Air Jordan XX3 Premier – White / Titanium / University Blue
Retail Price: $230
Release Date: 01/25/2008
#1 Movie: Meet The Spartans
#1 Song: Flo Rida (Ft. T-Pain) - Low
Current Average Selling Price: $1,150
For the launch of the 23rd edition of the Air Jordan line, Jordan Brand knew it had to do something special. It came in the form of a limited edition Air Jordan XX3, which was released only at the top 23 Air Jordan accounts both stateside and overseas. Each account received 23 pairs, which were individually numbered on their hang tags, for a total of 1,058 pairs.
The sneakers came packaged with wooden shoe trees, and a DVD detailing the process of its design. It was the first colorway of the XX3 to release and had been firmly kept under wraps without leaking to the Internet.
As expected, the release was met with worldwide campouts, and sold out immediately. Resale prices hit new levels for this Air Jordan, and although they've fallen some since their peak in the $2,500 range, remain high to this day with resale prices still ranging over $1,000.
As rare as the shoe is, a few different versions exist that are even more exclusive. For the 2008 NBA All-Star Game, Team Jordan members wore slightly altered pairs of the Titanium colorway, and Tinker Hatfield has been spotted in a pair featuring his initials lasered into the side.