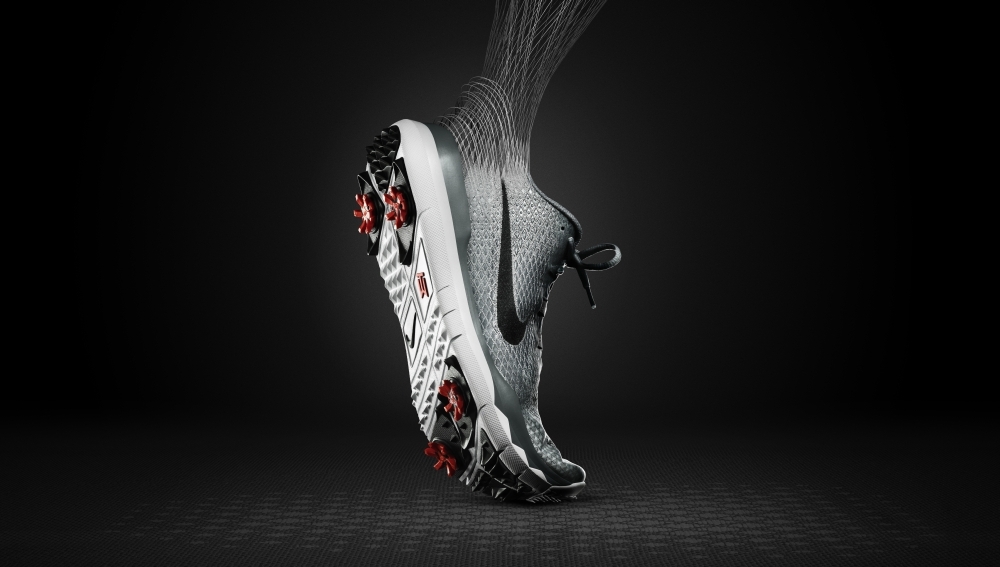 The new Nike TW '15 for Tiger Woods, designed by Tobie Hatfield
by Brendan Dunne
It was a quick call from Tiger Woods to Nike CEO Phil Knight that would set a new course for the pro golfer's signature Nike line.
Tiger, who trains in Nike Frees, wanted to know if he could incorporate the natural motion tech into his own golf shoes. Knight put Tobie Hatfield, brother to legendary Nike designer Tinker Hatfield and creator of the Nike Free, on the job and on a plane to Florida to meet with Tiger within a few days.
That was nearly five years ago, and from there, the two went on to have a design partnership that's consisted of three signature shoes and shows the promise of synergetic Nike athlete/designer combos like Michael Jordan/Tinker, Kobe Bryant/Eric Avar, Kevin Durant/ Leo Chang.
Now the Tiger and Tobie are bringing a new innovation from the Air Jordan line into golf— Flyweave. Think of it as a more stable take on the much celebrated Flyknit, but one that's more strong and supportive yet still incredibly light. The tech, which was debuted in the Jordan XX9 by Tinker, has quickly proven its cross-categorical application in Tiger's latest signature, the TW '15.
Here, the legendary golfer and designer break down what went into making the TW '15, which will be out on March 5 for $250.
Tiger and Tobie, you've been working together for a couple of years now on the TW line. How did you first get connected at Nike?
Tiger Woods: It started with me calling Phil Knight on a whim on a Saturday saying "I've had a few issues with my shoes and I had a few injuries because of them so I need your help." He says hold on one second I'm going to make a call. He calls Tobie, Tobie gets in touch with me. We have a conversation Sunday and then he flies down shortly thereafter and the whole process starts right from there.
Did you know about Tobie's resume with Nike beforehand?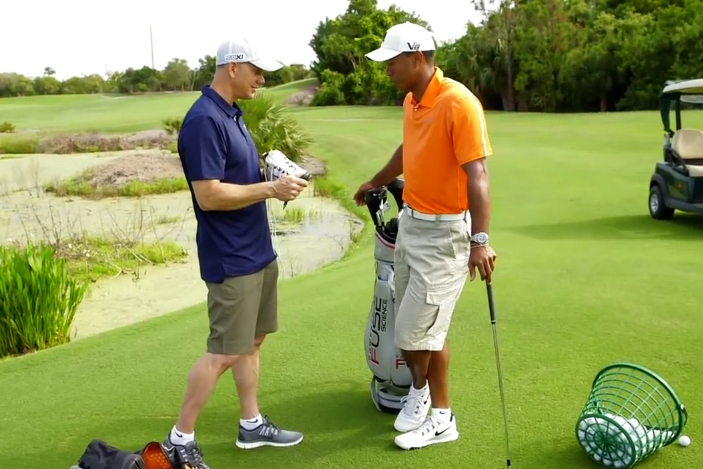 TW: I knew Tobie's resume, I also knew Tinker's resume. I knew about his brother and what he's done with MJ. Honestly I knew of Tobie just because I wore the Frees a lot in training and I knew he created that. That's the direction I wanted to move into with my golf shoe to not have it so rigid. I found I was practicing in my Frees a lot, for about 60 yards on end, and anything above that it was too free and it wasn't stable enough. After Tobie came down he explained he also created the Special Forces Boot—that boot obviously has a little more stability in it. Tobie explains that we can start from there and make a cobbled version into a golf shoe. From there let's make our adjustments.
What was the most challenging part about working on this project?
The hardest part about the whole process was that I was competing in the season and he was trying to make these adjustments on the fly, while I'm still trying to compete during my season.
Tobie, the TW line has been billed as Nike Free-inspired. What is it about the outsole that separates and makes it not a true Nike Free build?
Tobie Hatfield: Nike Free first started out as being about barefoot training on grass, except obviously with your foot inside a shoe. So when Tiger said he was training in Frees and he wanted a golf shoe that was more like a Free. I knew that meant not exactly a Free. There's a Free 5.0, 4.0, 3.0, those are very, very flexible, and he had been in the 7.0, which is obviously closer to what he's ultimately was going to need in his golf shoe. I knew he didn't want to be training his feet while he was competing, that wouldn't make sense, so it was more about Free-inspired. Like Tiger just said with the Nike Special Forces Boot that actually was 8.0 on the scale, so going from the 7.0 up to an 8.0 wasn't that big of a stretch for him.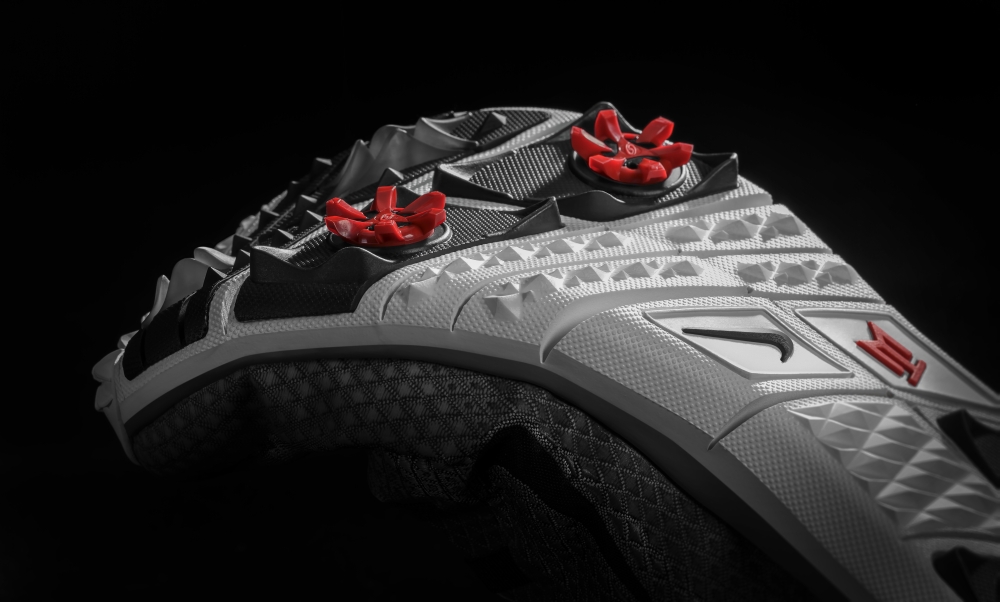 The Free-inspired outsole of the Nike TW '15
We hear a lot about the Nike Sports Research Lab and how much it's utilized for the design process. Is a golf shoe like this tested in the NSRL? Is Tiger in there with a camera on him the same way that a LeBron or a KD is?
TH: It first starts understanding his foot morphology, so scanning his feet and getting to know the shape of his foot and how that can relate to the certain lasts that we use to build the shoes around. So we certainty utilize that last from there to start with. Then we start the design process and it is a matter of him getting out on the fairway, and the tee boxes, and the greens to give me his feedback from there.
TW: What's great about Tobie he came down to Florida here and we went to work in the backyard hitting shots or we would go to Medalist, my home course, and we work with the shoes. To be honest with you, some of the versions weren't very good, and we had to make adjustments and me being specific enough with "I need adjustments here, here, and here." Within weeks, we would have a shoe cobbled together and I would test it saying "It's a lot better," and say "Hey I need to go play a tournament this week." So I would play in a tournament and give him immediate feedback after every round on my feet points. Were my feet sore? How can they improve? And then from there he's created another batch of shoes and we kept doing that again, again, and again. It's been a great relationship because it's been brutally honest in both directions and we've been able to create something so unique and different in the marketplace that now people are trying to copy it but they can't.
The TW '13 had the Free-inspired outsole and then you brought in the Dynamic Flywire with the TW '14. The TW '15 here has the major innovation of the Flyweave. Can you talk about that?
TH: The Flyweave is Nike's latest step in the taking a design and taking it in a new direction especially for golf. It allows you to have a monolithic one-piece upper without a lot of extra pieces. But yet it still specifically puts the stability where Tiger needs it and the mobility where Tiger needs it, and does the that all in one piece. That's pretty futuristic. The future is now and that's really cool for golf.
Usually that sort of tech takes a while to move from bigger categories like Running and Basketball over into Golf. Was it exciting to get your hands on the tech right away and bring it to a new category?
TH: As soon as I saw it and knowing that we were getting ready to embark on this design and iterative process with the TW '15, in hearing the things Tiger wanted to continue to do better from the '13 and '14, the FlyWeave was a natural technology that really played into what Tiger wanted to do.
Tiger what was your first reaction to seeing this new Flyweave upper?
TW: Seeing it was interesting because it was so light. Losing just a couple ounces means a lot. The first versions were actually too free and my ankle was rolling all over the end of the shoe. So the neat thing about this Flyweave is that he was able to tighten up different parts of the shoe without adding weight. In years past that was the problem—you could tighten up different areas and add stability but it would add more weight as well. There was no weight loss. I was able to get the stability I wanted in the different places I needed it. And still generate the forces I'm generating and having the stability, but without sacrificing any of the weight. Trust me, when you're out there on the golf course walking 18 holes, some days you're walking 36, you're on your feet for close to 12 or 15 hours. It makes a big difference.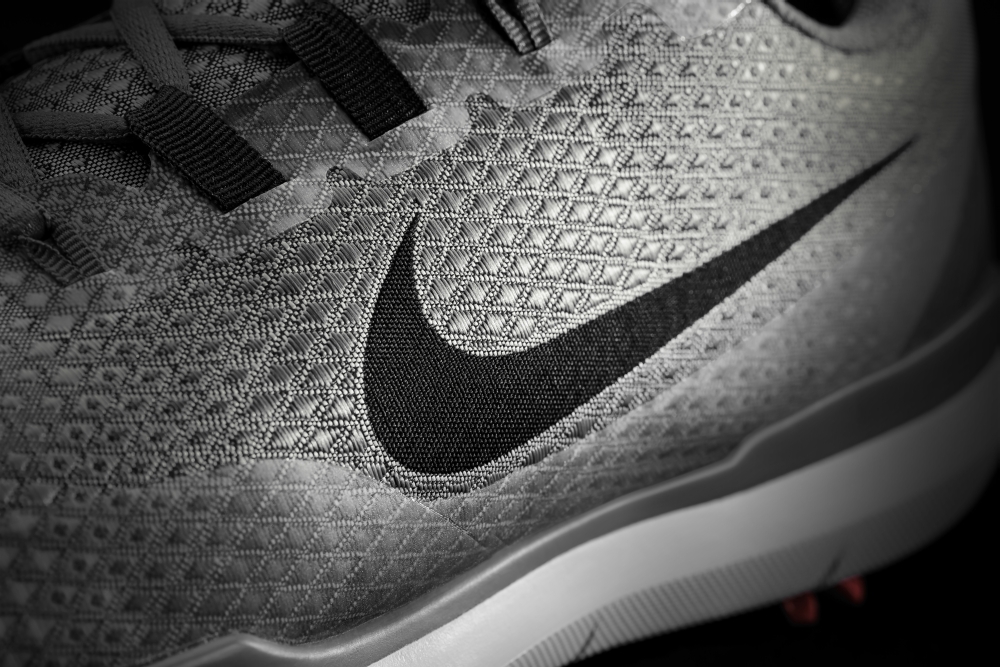 Tiger you're obviously the big man on campus at Nike when it comes to golf, but have you seen the stuff that Jordan Brand is doing with Keegan Bradley?
TW: The one that Keegan is wearing suits him and his dynamics and his golf swing. It doesn't suit me and my dynamics of my golf swing. He came from Oakley golf shoes and he's use to having a much higher foot placement and he puts with that belly putter. So anytime you lower his foot to the ground it changes the point of his belly putter, so he needed to have a shoe that was similar to that in height. If it's not exactly the same it would compromise his putting significantly.
Signature shoes in golf are still relatively new in the grand scheme of Nike. Tiger are there any other signature shoe lines that you're a big fan of?
TW: I do wear a Koston shoe every now and again, especially when I'm out back trying teach my son Sam how to skateboard. It's actually kind of fun to do. You gotta start somewhere.
I still wear the Special Forces Boot quite a bit. A lot of my friends are in the special forces, Delta, Seals or Green Berets. They're still operating all over the world at a pretty intense tempo. A few of them are definitely wearing them because of the lightness and stability. More importantly for when they're walking on [explosives] to have the shoe move a little bit more for them. That adds a little bit more stability to their movement, making them a little more silent. Obviously at that level is slightly important.