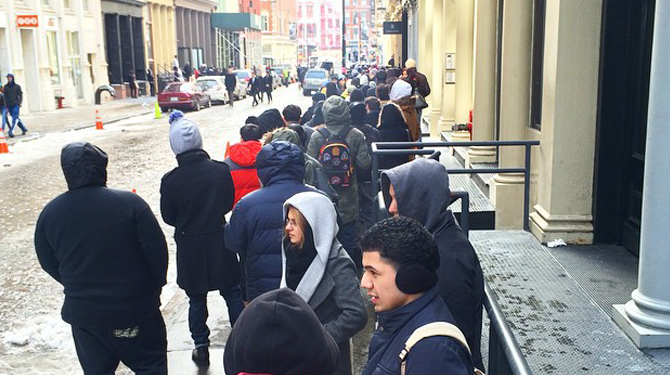 by Brendan Dunne
The line-up for the Just Don x Air Jordan 2 got serious today in the SoHo section of New York City.
NikeLab announced yesterday that raffle tickets for the sneakers would be given out a the 21 Mercer location today from 11AM to 5PM— an announcement that had tons of eager customers lined up early this morning. Apparently there were a bit too many people lined up, as the NYPD eventually showed up and shut things down, as seen in the clip below from topshelfkicks.
According to social media chatter, the store was open till about 1PM. It appears that those who got inside by then were able to get raffle tickets. Phone calls to the store went un-answered, so it's unclear whether more tickets will be distributed.
This isn't an unprecedented event–just last year a similar situation went down for the release of the Supreme Foamposites in NYC.
JUS DON Line 21 Mercer pic.twitter.com/cIn04AI96o

— Keyser Söze (@MrRalphLaurenQC) January 29, 2015