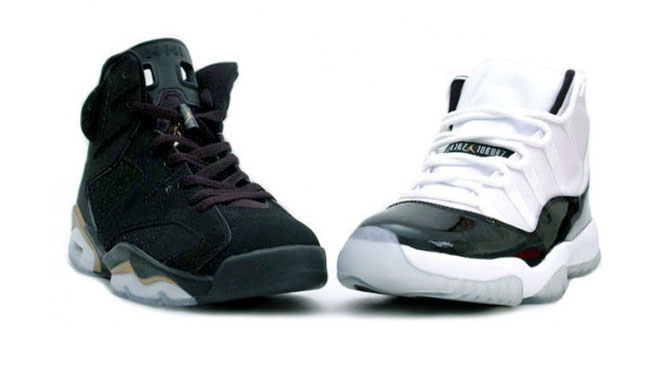 Shoe: Jordan LE – Multi / Multi
Retail Price:$295
Release Date: 1/28/2006
#1 Movie: Big Mamma's House 2
#1 Song:Nelly (Ft. Paul Wall, Ali & Gipp) - Grillz
Current Average Selling Price: $1,488
Multi-shoe packs have become commonplace in the sneaker world. In the past year alone, we saw four between Jordan Brand and Nike, highlighted by the $500 Ultimate Gift of Flight Pack last month. If you've ever wondered where this phenomenon started, look no further than 2006's Defining Moments Pack.
The first multi-shoe pack from Jordan Brand honored the sneakers worn by MJ during the first championship of his two three-peats. Gold was added to the traditional colorways to celebrate the accomplishments. The shoes each came with dog tags referencing the title won in that shoe, and were accompanied with a booklet. All of this was housed in a two-tier golden box, with an inner box sliding out and opening like a book to reveal the sneakers. It was available for, what now seems like a steal, price of $295.
The 11s included in the pack features standard 11-style eyelets, however that was not the original plan. The intention was for the letters J-O-R-D-A-N to run up the eyelets. But color-bleeding issues forced a last minute change, which even caused the release date to be delayed. Despite that, a handful of these original pairs made their way out, and have become one of the most rare of all Air Jordans.
By 2008, monthly Countdown Packs were hitting, and the concept of multi-shoe releases has been here to stay ever since.