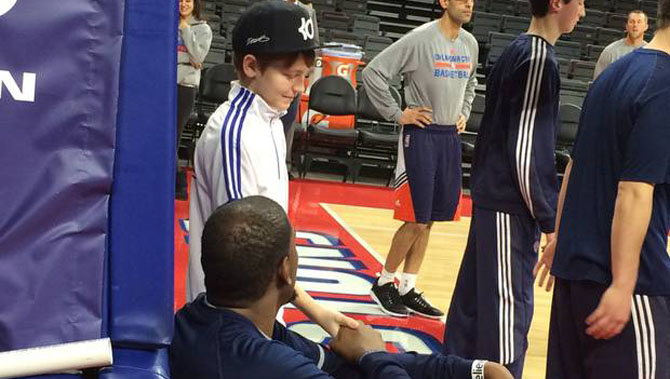 by Zac Dubasik
Despite being from the Detroit area, 13-year-old Anthony Cupp's favorite professional athlete plays for the Oklahoma City Thunder. And that athlete, Kevin Durant, took an opportunity before today's game against the Pistons to help Cupp recover from an unfortunate incident relating to his signature shoes.
Cupp's family is experiencing tough times, with much of their income going towards his mother Janiesa's post-tumor removal therapy. But this past summer, he put his lawnmowing money towads a pair of KDs. A week before Thanksgiving however, they were stolen right off his feet, forcing him to walk home shoeless, in the snow.
"It was horrifying," his mother told NewsOK. "He's such a good kid. All the teachers tell me what a good kid he is in a school that struggles with discipline. What he worked so hard for was stolen for him. It was heartbreaking."
As the news spread, the Pistons were made aware of the situation, and took the story to Durant - who just happened to be coming to town today. A meeting was set up between Cupp and Durant prior to today's game, where KD presented him with two pairs of KD 7s - one in KD's size, as well as one in Anthony's, along with a KD jacket and backpack.
"We got such a big platform, man, and kids look up to us," Durant explained following their talk. "To set a good example, we just have to show them that we're human, too. They look at us as superheroes sometimes. So just to sit and talk to them, ask them how their day went, ask them where they're from, make them feel like they are where they belong. We may seem untouchable, but we aren't. That's the biggest thing I wanted to show him. I'm a human just like you. I go through things just like you. Even though I play in the NBA, I'm here for you."
images via OKC Thunder