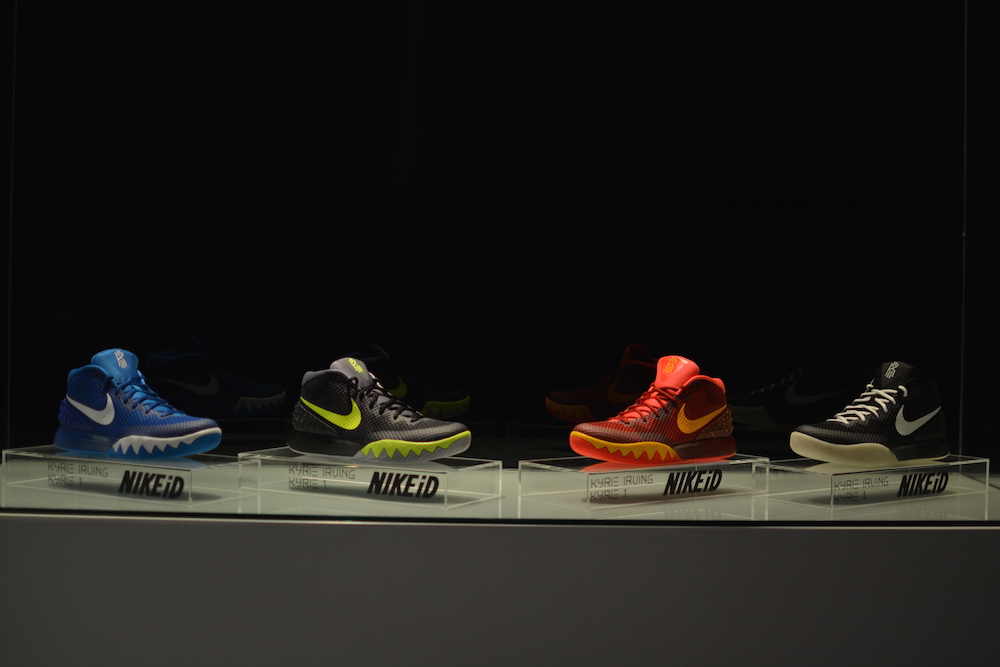 by Gerald Flores
(images by Liz Barclay and Joseph Sherman)
He's the latest member of an elite club. Kyrie Irving and Nike officially debuted the the NBA All-Star's first signature shoe - the Nike Kyrie 1 this week. As with all signature Nike shoes, there's a ton of personal details hidden in the design. Here, Kyrie and his lead designer Leo Chang break down what you need to know.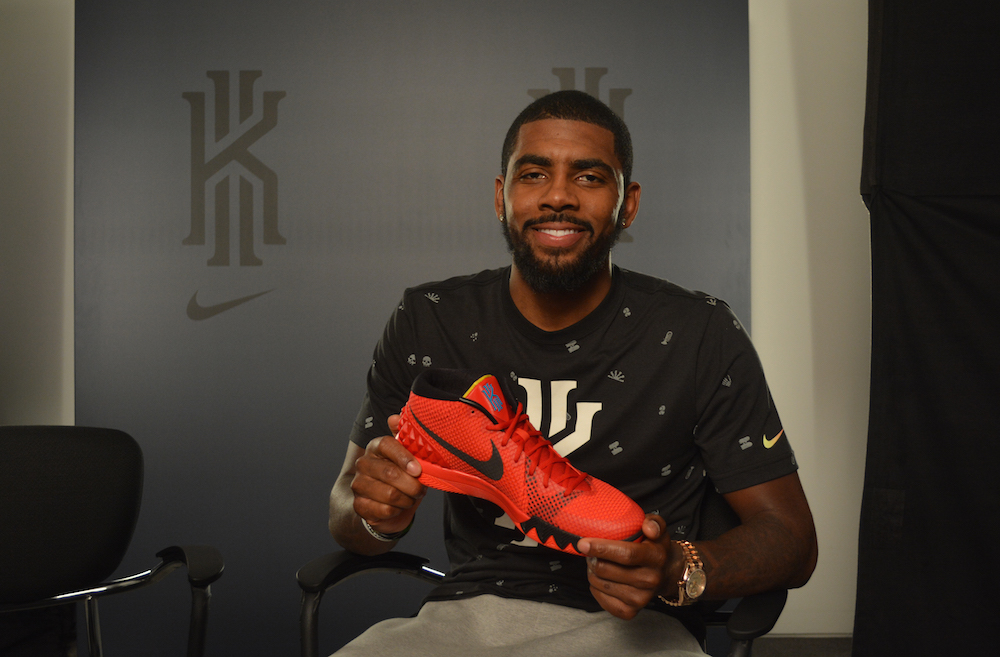 Kyrie Irving is the first Nike athlete to get a signature sneaker in six years.
The last player to get a sig was Kevin Durant. There have been only 19 basketball athletes in Nike's 42-year history have gotten the honor.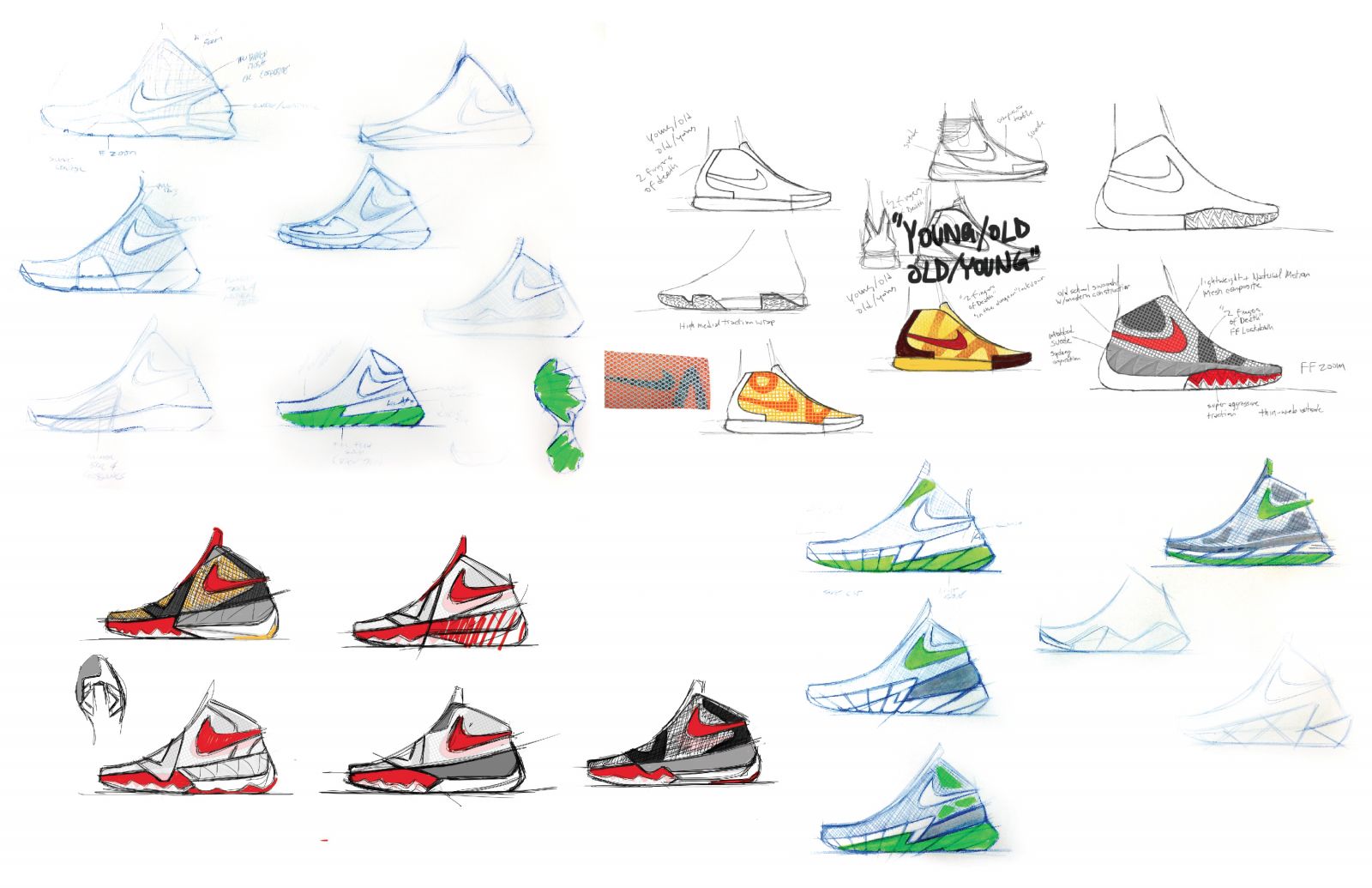 Leo Chang, lead designer of the Nike KD line, headed up the design of the Kyrie 1 with the help of..
Jason Petrie, designer of the the Nike LeBron line, and now retired designer Peter Fogg, who designed the Hyperdunk. The way it worked out, those other designers started working on the Kyrie, while Leo finished the final product. "I just wanted to bring them all together and get a fresh point of view," Leo said. "I didn't want to be caught drawing KD lines or whatever."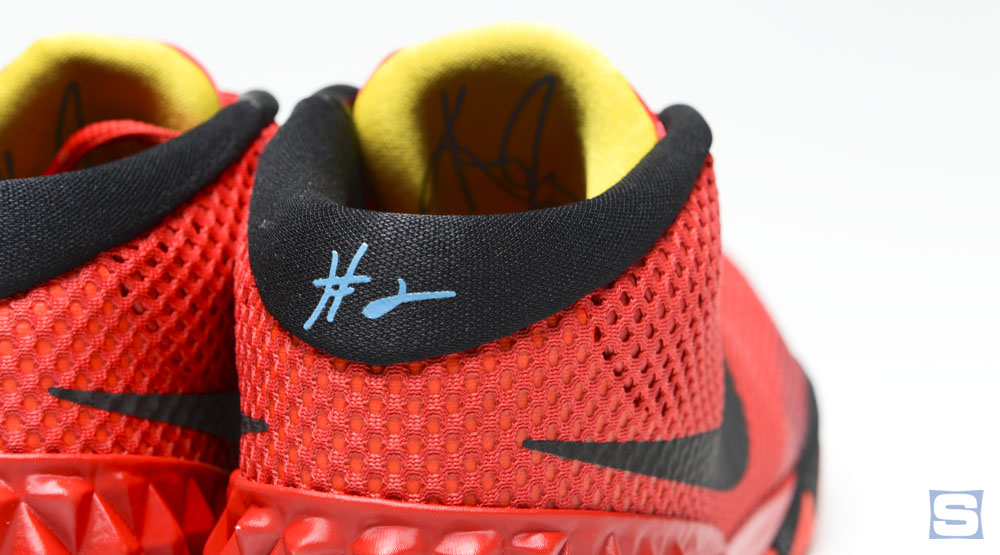 The height of the Nike Kyrie 1 was slightly influenced by LeBron James and Kobe Bryant.
"We were doing research. LeBron is high, Kobe's is really high right now," Kyrie said of the Nike sneaker lines. "I thought for me, I should go between those and go three-quarter. I like something covering my ankle, but not too high."
The sneaker's designer also said: "He wasn't too keen on highs, so the chukka height was a nice sweet spot for that."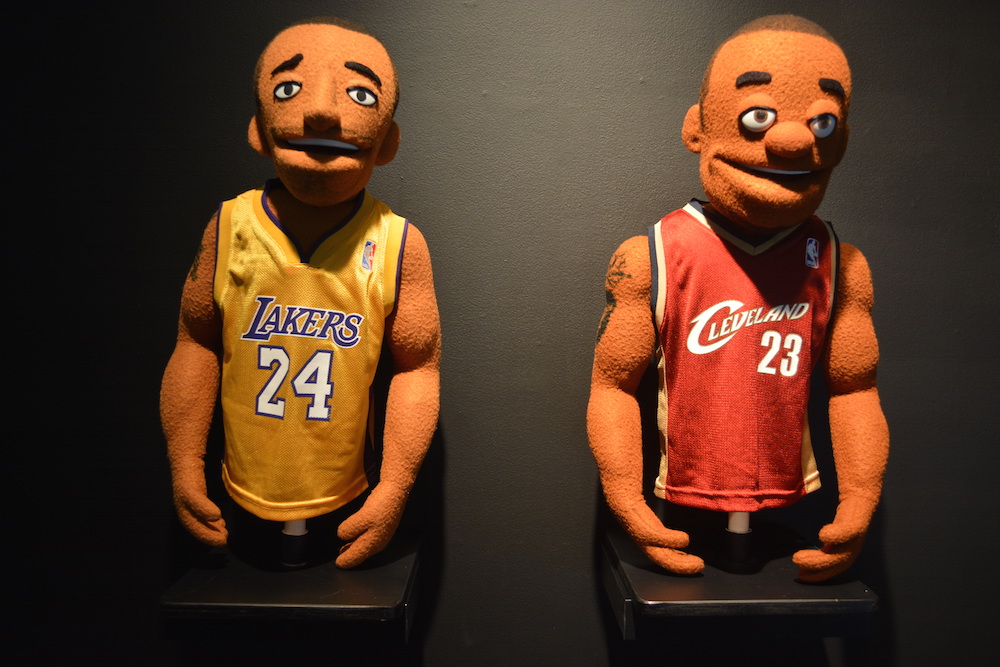 Although Kyrie's was a fan of LeBron James and Kobe Bryant's sneaker lines before he went pro, he was bullish about NOT asking them for advice when it came to designing a sneaker.
"I just wanted to do it my way. In every meeting [with Nike] we had, I just wanted to give them as much input as far as what I wanted," Kyrie said. "It has to be what I wanted to wear, but I also gave input on what I think the younger generation and the other generation ahead of me would respond to."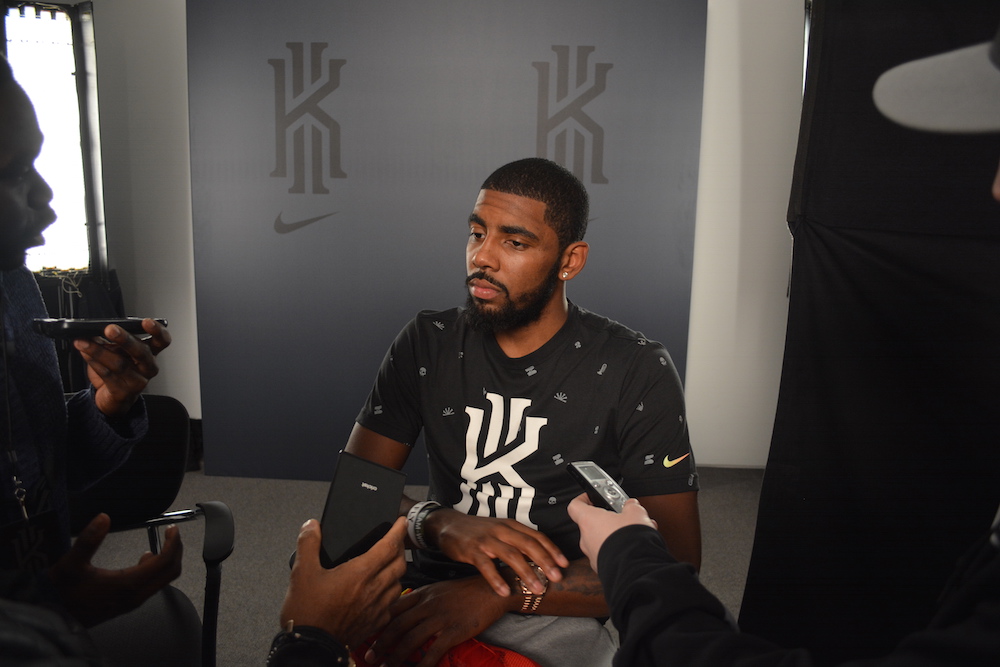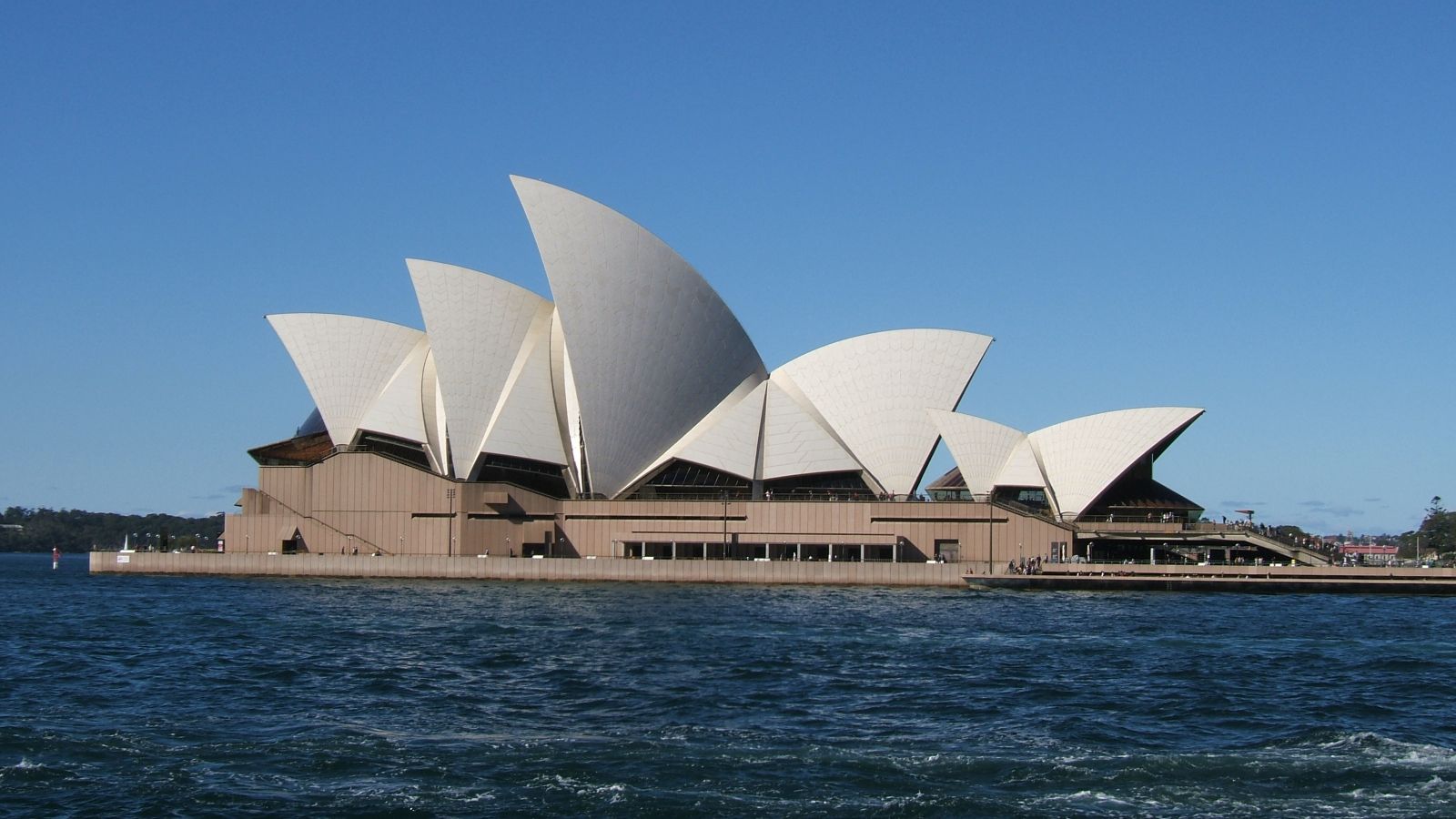 The jagged design on the sidewalls is a nod to Kyrie Irving's time in Australia.
"The teeth was inspired by the Sydney Opera House. Not only was that something we wanted to focus on – aggressive traction, but we didn't want to just have plain herring bone on there," Leo Chang said.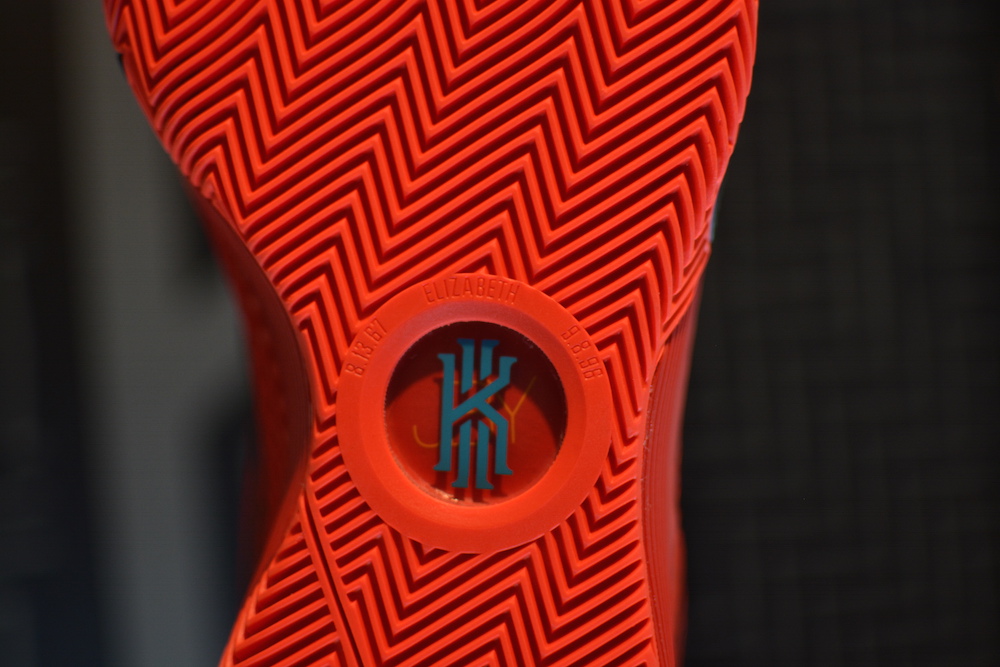 Paying homage to Kyrie's family was important to the design of the shoe.
The birth date and death date of Kyrie's late mother Elizabeth is on the outsoles of the Nike Kyrie 1. JBY sits behind the Kyrie logo which stands for his motto - "Just Be You."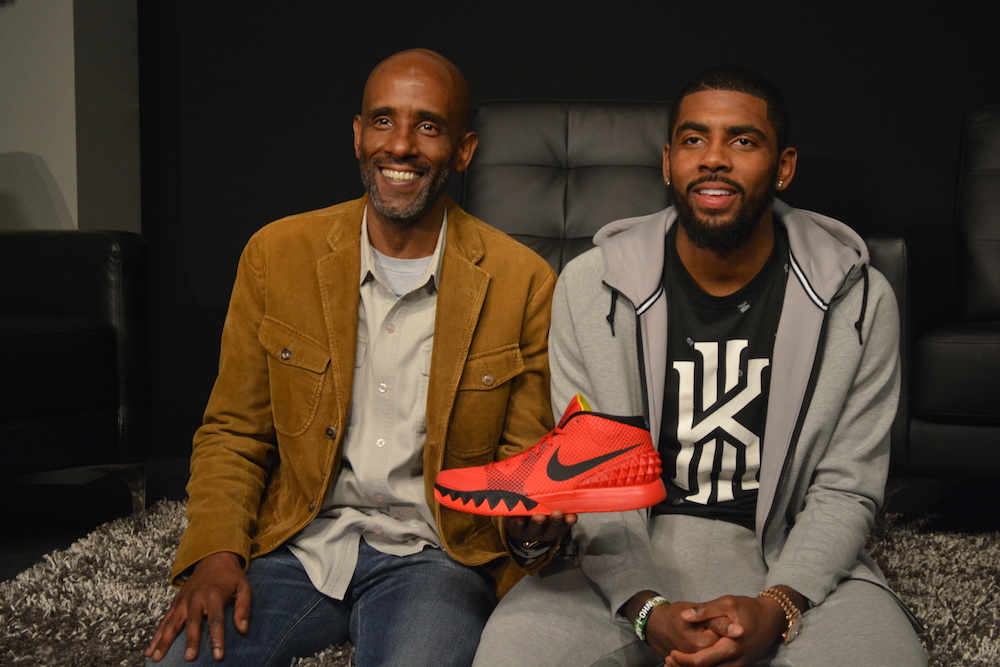 The lockdown function on the forefoot is a nod to Kyrie's time in the "Dungeon."
Its no secret that Kyrie and his father Drederick have a very close bond. Back when Kyrie was a rambunctious youngster, his father would punish him by sending him to his room (which Kyrie referred to as the "Dungeon") and make him lean against the wall with only two fingers. When Chang heard the story in design meetings, he thought it would be a cool acknowledgement to Kyrie and his father's relationship by shaping the tooling like the two fingers, while also serving a functional purpose of locking Kyrie's foot down in the shoe.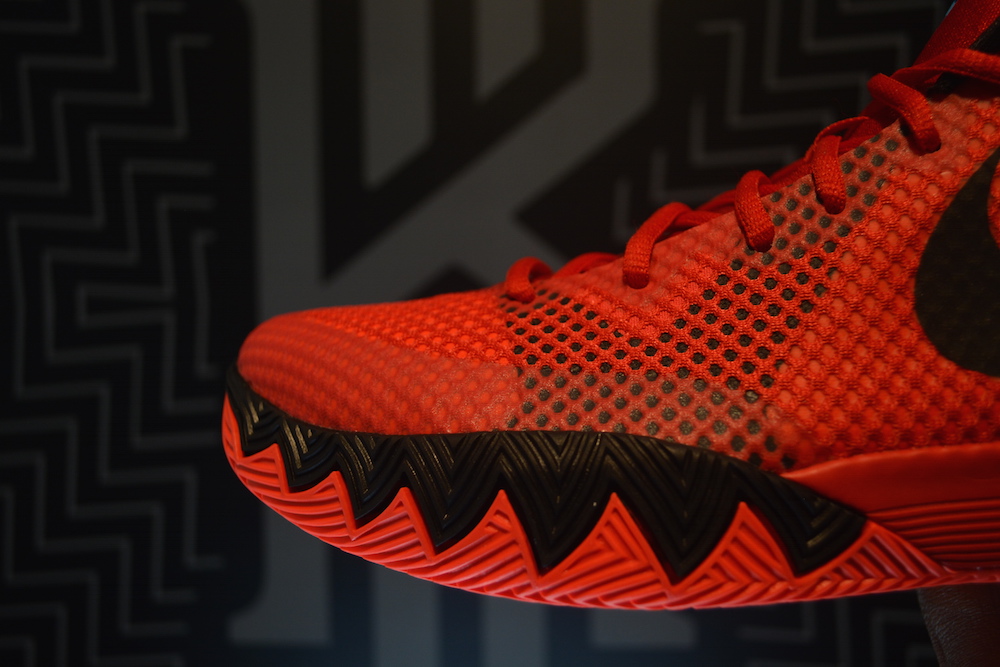 "It was a fun story that I wanted to throw in there," Leo said. "I was telling him, 'Remember that story you told me? We found a way to incorporate it in there subliminally.'"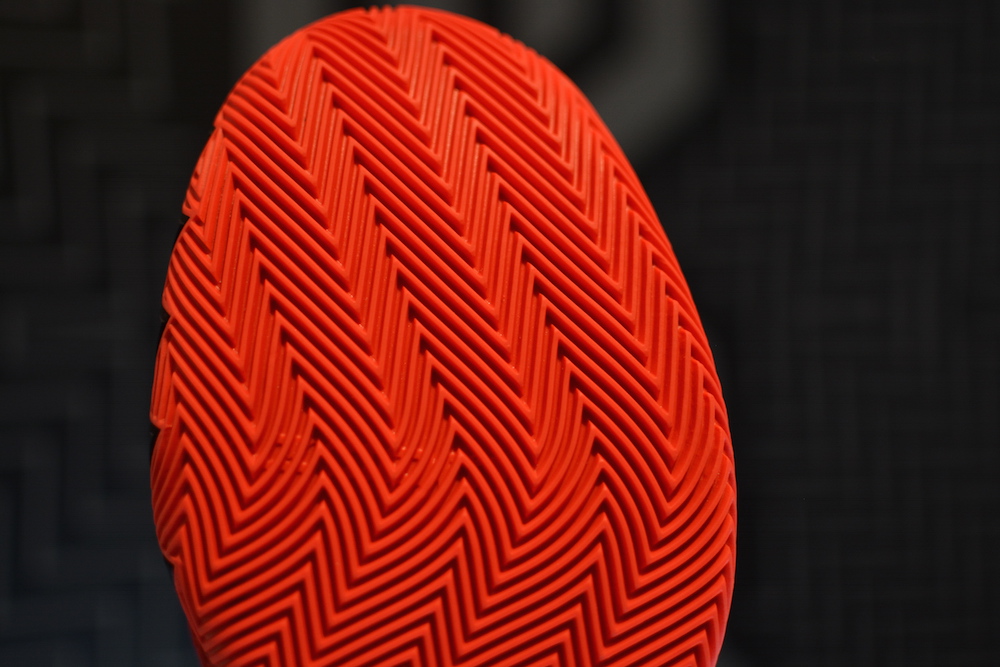 Speaking of tech, the key Nike innovations in the Kyrie 1 are…
Hyperfuse and Zoom Air.
"We're using a lot more meshes in the composite layering. Meshes are great because they're softer, not like heavy thick synthetics that can feel crusty on the foot sometimes," Leo said. "Zoom Air is in the front. There's a nice thick zoom bag that really gives that nice pop and bounce."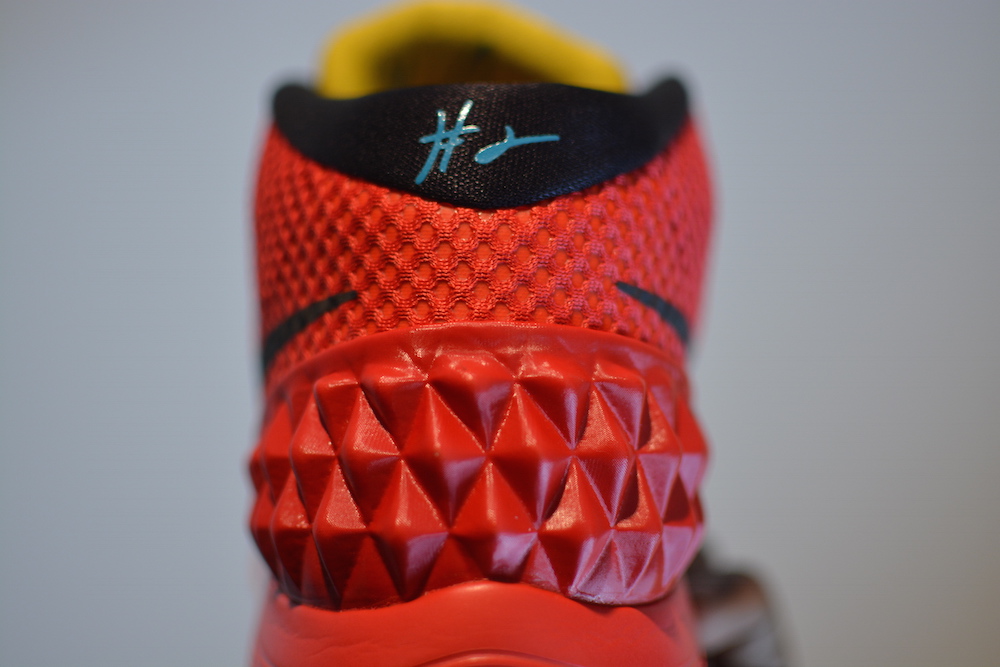 The studded look on the heel counter was inspired by Kyrie's love for luxury fashion accessories.
"The architecture on the back comes from different inspirations, like the rocky back on Christian Louboutins," Kyrie said. It was also one of the last features to be added to the shoe, as there were several versions of the sneaker that were made: one without, one with just a simple spine, and one with even larger spikes. "This is where we ultimately landed because he felt good about it," Leo said.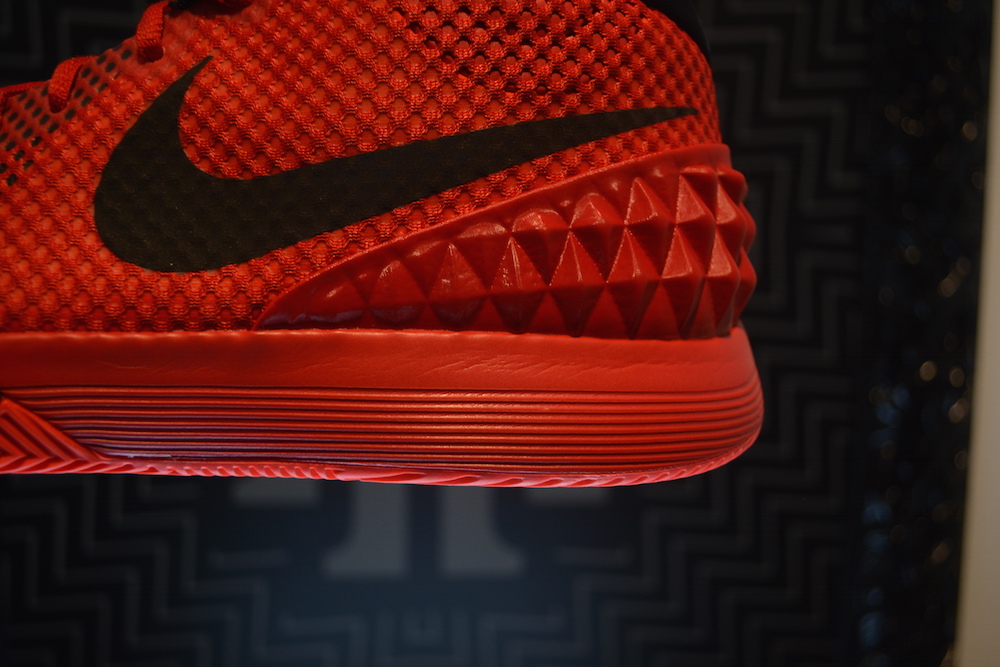 References for the design of the midsole came from skate shoes.
Kyrie actually grew up skateboarding and even hurt his leg in the sixth grade in a pair of Nike Janoskis. His love for skate became a design cue for the midsoles of the Nike Kyrie 1, which was inspired by the clean lines of skate shoes. "From a styling standpoint, we started looking at a lot more skate shoes," Leo said. "He grew up skating, so even the way the midsole is a lot cleaner, is a nod to some of the vulc that those skate shoes had."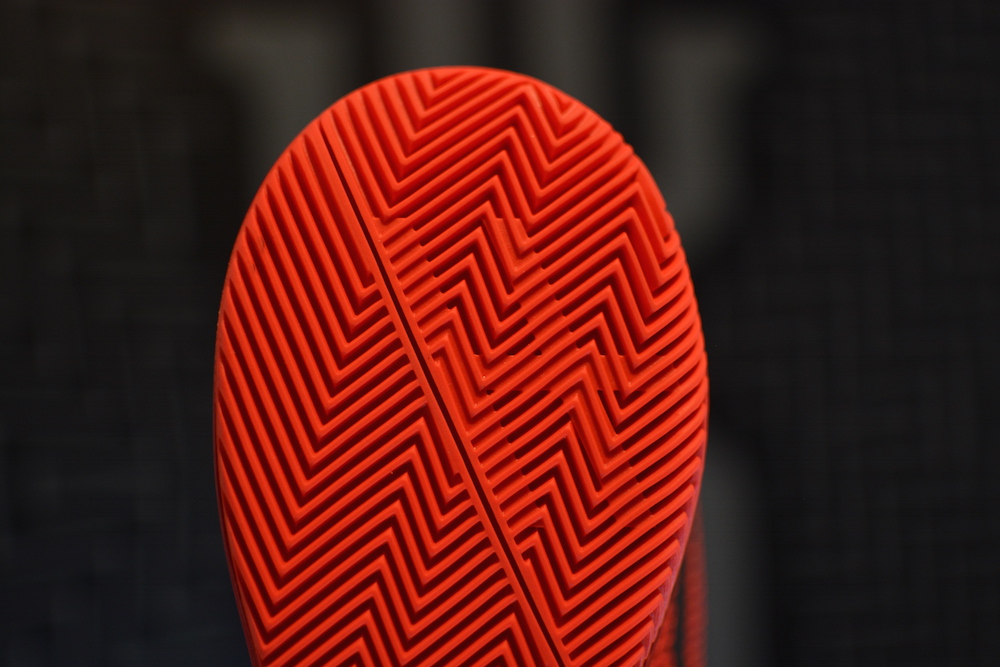 There's a hidden message on the outsoles.
"The H and H on the bottom of the shoe kind of goes unnoticed on the shoes," Kyrie said. "It stands for hungry and humble."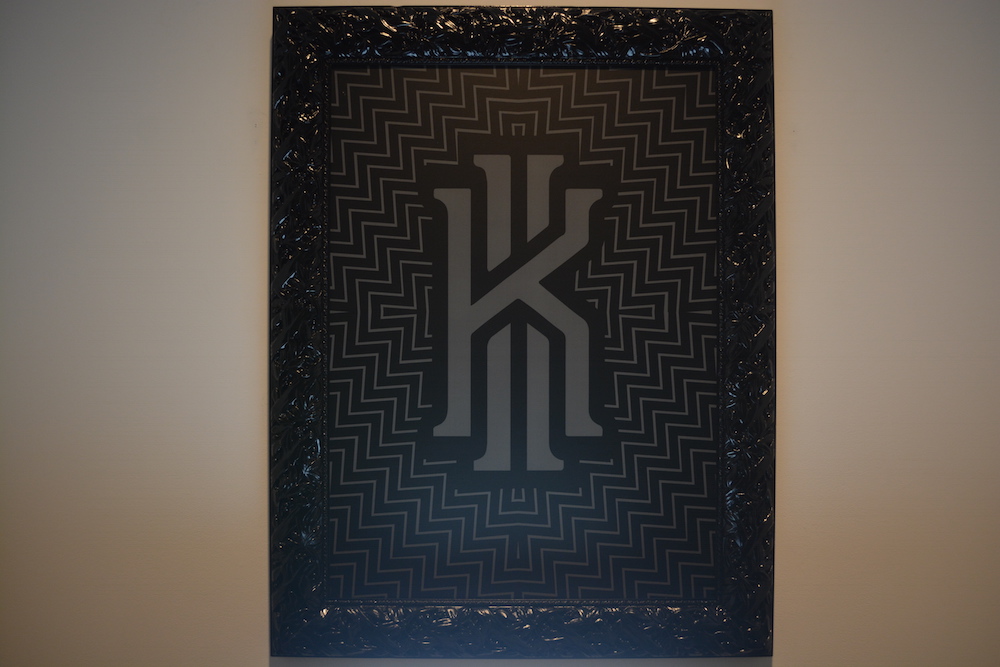 The reason for the updated Kyrie Irving Logo is:
"We have a whole brand design team that creates logos, so for us we wanted his shoe to have a bit more sophistication from his previous logo," Leo said. "It has to be a logo that carries itself over time. The new one has that."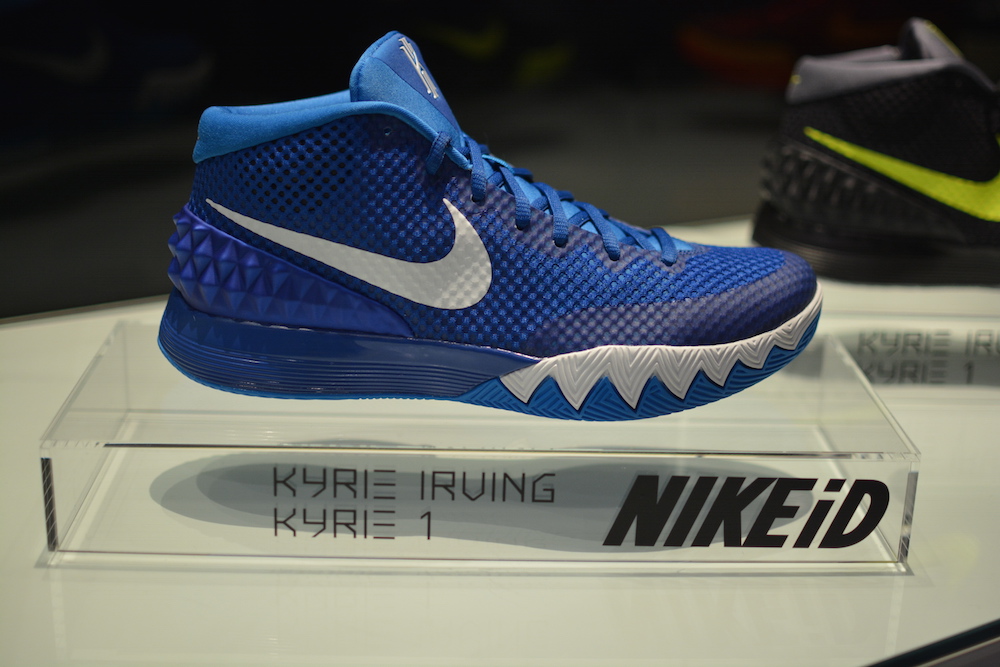 As we've seen in the Nike Kobe, LeBron, and KD line, upcoming colorways of the Kyrie 1 will all have some story behind them.
"I think kids really respond to having a connection with someone," Kyrie said. "I have so many stories to tell through all my colorways."
Gerald Flores is the Editor-In-Chief of Sole Collector and you can see his Instagrams about sneakers here.