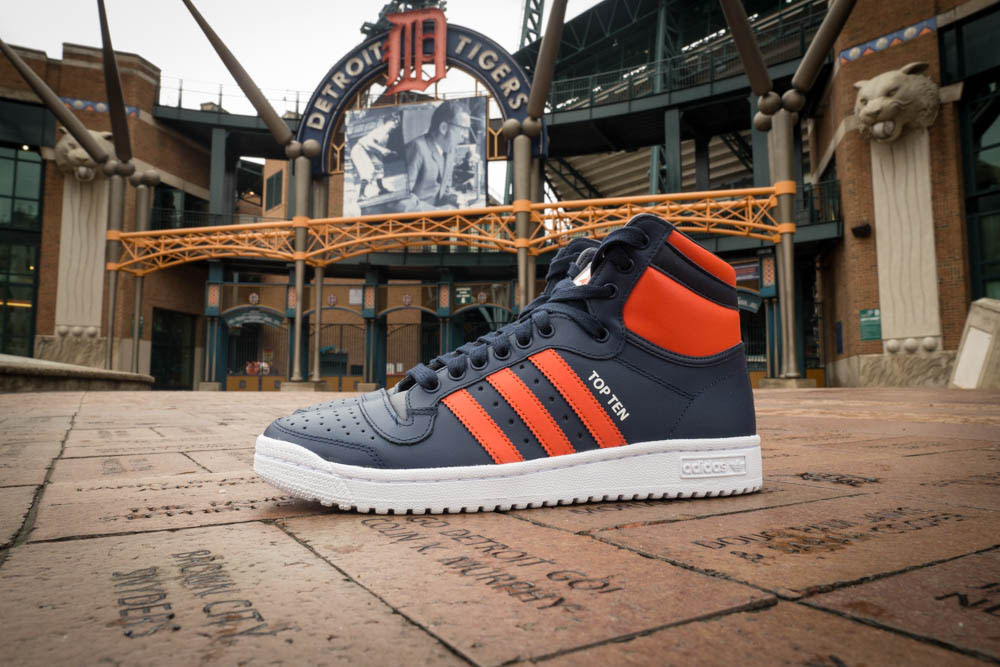 by Brandon Richard
After celebrating their 25th Anniversary with the 'Final Draft' collaboration this past summer, retailer VILLA links up with adidas Originals for another exclusive colorway of the Top Ten.
Dubbed 'Triple Crown,' the upcoming release is a nod to the city of Detroit, highlighting its reputation as a successful, hard-working blue collar city. To make the connection, VILLA employed a scheme inspired by the home baseball team — the Detroit Tigers.
Bright orange overlays grace a navy leather base, with a white rubber outsole offsetting the look below. The shoe's name is tied to Tigers players Miguel Cabrera and Ty Cobb, who each won MLB's Triple Crown (highest batting average, home run and RBI totals in a single season) as members of the team.
"We use the Triple Crown as a symbol to represent Detroit's larger success story. Ever since VILLA expanded into Detroit in 2012, the city has immensely embraced us as one of its own. We are excited to partner with adidas Originals in honoring Detroit's past and its bright future," says Patrick Walsh Chief Marketing Officer, VILLA.
VILLA will release the 'Triple Crown' Top Ten on Saturday, November 22. The shoes will be packaged in a special edition box for $90 at ruvilla.com and select VILLA locations nationwide.
The release is part of VILLA's 'Perfect Week,' a twelve day celebration from November 20 to December 1 that will feature events, grand openings, appreciation sales and collaborations.