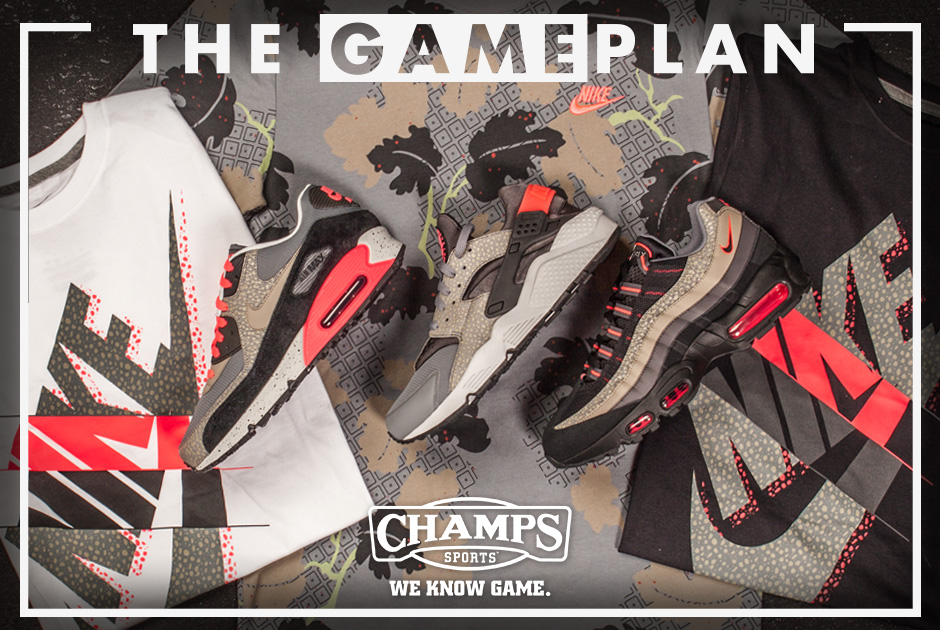 by Gurvinder Singh Gandu
Sneakers come and go with the seasons, but there are three silhouettes that always seem to transcend the bounds of time: the Nike Air Max 90, Nike Air Max 95, and Nike Huarache. The brainchilds of none other than legendary footwear designer Tinker Hatfield, these three iconic shoes were introduced to the world back in the early '90s. Yet decades later, they continue to receive the royalty treatment from the Swoosh as far as special editions and colorways are concerned, and are still some of the most sought-after models amongst the sneaker community. Well, just when you think you've seen every version of the Huarache, Air Max 90, or Air Max 95 possible, Nike rolls out something totally new that captivates the minds of sneakerheads. This time around, that something is the "Bamboo" pack.
Perhaps a distant relative of the "Safari" pack that has graced retail shelves in past years, the "Bamboo" takes sneakerheads on yet another journey across terra firma. The design scheme for the collection includes earth-tone colors like browns and greys, adding some contrast with pops of Infrafed. Part of The Game Plan from Champs Sports, the "Bamboo" pack, complete with accompanying tees, will be available the week of Black Friday—just in time to make it onto your holiday shopping list.
Check out the Champs Sports store locator to find your nearest retailer and cop the collection today.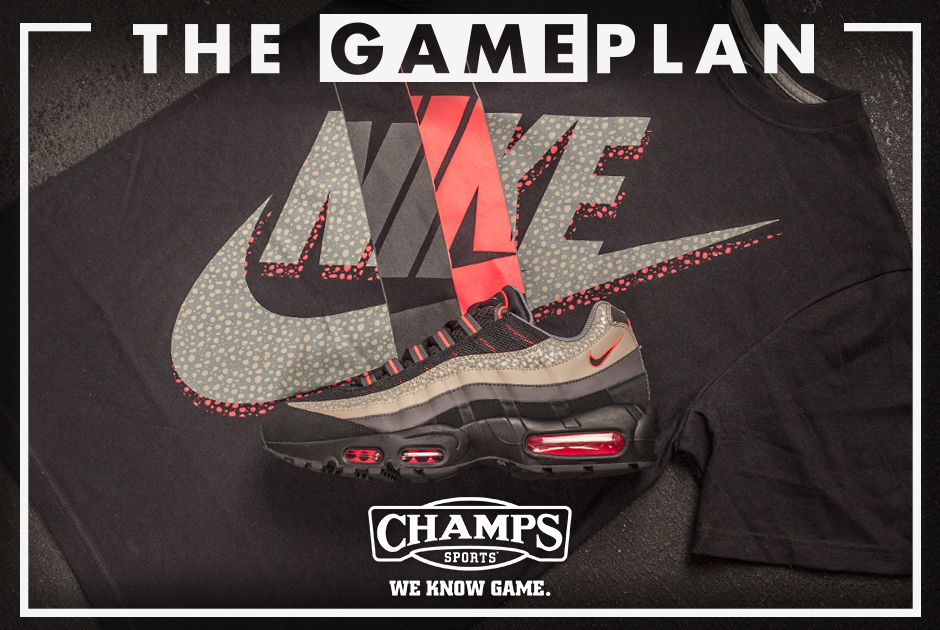 NIKE AIR MAX 95
One of the most highly touted running shoes of the '90s makes is return as a sportswear staple in this "Bamboo" treatment that hits on all cylinders. Seriously—with the liberal use of organic hues on the upper and the eye-popping Infrared Air units, what's not to like? Throw the black "Bamboo" shirt in the mix and you're in the game.
NIKE AIR MAX 95- $159.99
NIKE BLACK/MULT BAMBOO FUTURA TEE- $28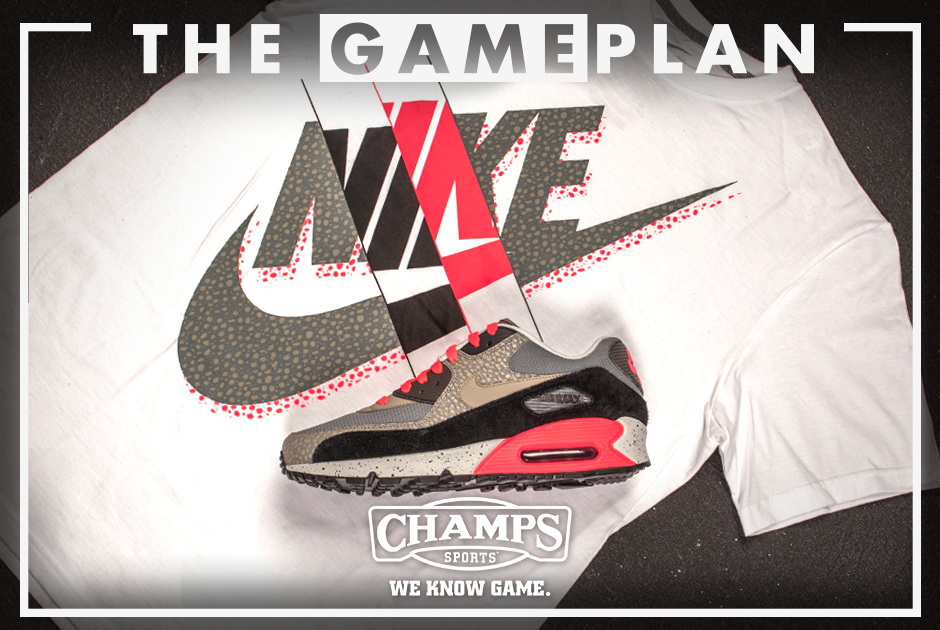 NIKE AIR MAX 90
The Air Max 90 is no stranger to being decked out for the holidays. This time around, the shoe sports a neutral color palette that screams "Bamboo," and of course, the Infrared detailing sets it off that much more. We recommend a white Futura tee with this one.
NIKE AIR MAX 90- $109.99
NIKE WHITE/MULT BAMBOO FUTURA TEE- $28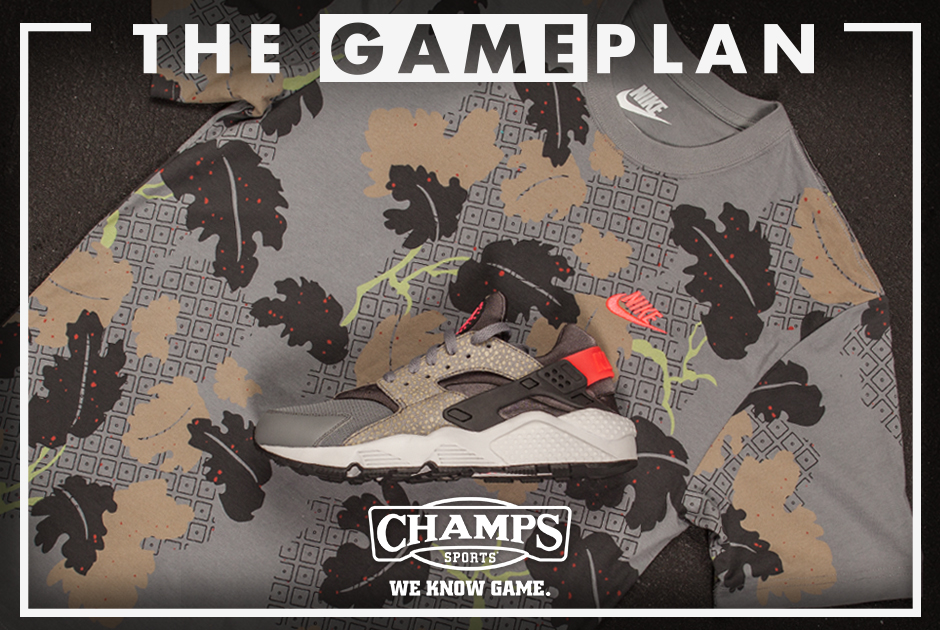 NIKE HUARACHE
The year 2014 has been good to the Huarache. All year long we've witnessed various editions of the popular shoe make their way onto the feet of sneaker enthusiasts. And while the year may be winding down, this is one shoe that just refuses to go out of style, meaning that you have the green light to rock these throughout '15 as well. Oh, don't forget the matching NIKE tee, too—this time in a dope camo print.
NIKE HUARACHE- $100
NIKE GRY/GRN/CRM AOP WAFFLE CAMO TEE- $35