by Zac Dubasik
With "In Context," we'll be taking a look at a different Air Jordan each week, examining its release, checking out what else was hot at the time, and taking a look at the shoe's current status.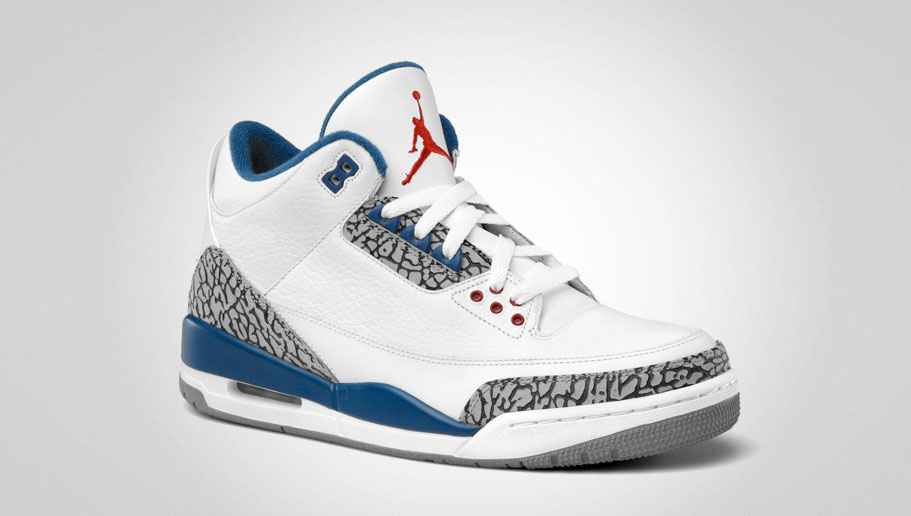 Shoe: Air Jordan III – White / Cement Grey / True Blue
Original Retail Price: $100
Original Release: 1988
#1 Movie: Rain Man
#1 Song: George Michael - Faith
Times Retroed: 3 - 2001, 2009 (Europe only), 2011
Current Average Retro Selling Price: $267
The Air Jordan 3 may have only released in four original colorways, but unlike today's signature lines, every one was memorable, and has stood the test of time. The True Blue 3s are a perfect example of this, although ironically, it was during MJ's second comeback – with the Wizards – where the True Blues are most remembered on-court, following their first retro release. This release also carries the somewhat infamous distinction of being the first original colorway to feature the highly debated Jumpman on the heel. The shoe's other big on-court moment came from another unlikely source: Kobe Bryant, in his year as a sneaker free agent, during the 2003 All-Star Game. Since that original retro, we've seen two more, including a 2009 drop exclusive to Europe, and most recently in 2011. Check out both of these moments below, as well as some of our other favorite memories of the True Blue 3.