by Brandon Richard
There's no need to ignore the elephant in the room. No matter how illogical the thinking is, adidas Basketball has a stigma for creating sneakers that 'cause injuries.' This mainly exists for two reasons. First, Nike stans (not fans - there's a difference) will hop aboard any train to cover up their irrational disdain for anything that lacks Swoosh branding. The second reason is the tweet Nike designer Jason Petrie sent out shortly after Derrick Rose tore his ACL in 2012, saying that the former MVP 'chose poorly' by not signing with Nike. Petrie has rarely been active on social media or seen in public since, but the impact of his message is still being felt today.
On today's broadcast of ESPN's hour-long debate show His & Hers, anchor Sarah Spain connected Rose's latest injury, a hamstring strain, to his adidas sneakers.
"My conspiracy theory, which I've been fighting off because I've got no issues with adidas and I don't know how they're made, but those shoes advertise as 'lighter than yours,' lightest shoes on the market," said Spain. "And ever since he started that big adidas deal and changing shoes all the time, things started happening."
Spain also said that Rose's shoe, the adidas D Rose 5 Boost, looked 'loose' when he planted before going down with the injury last night.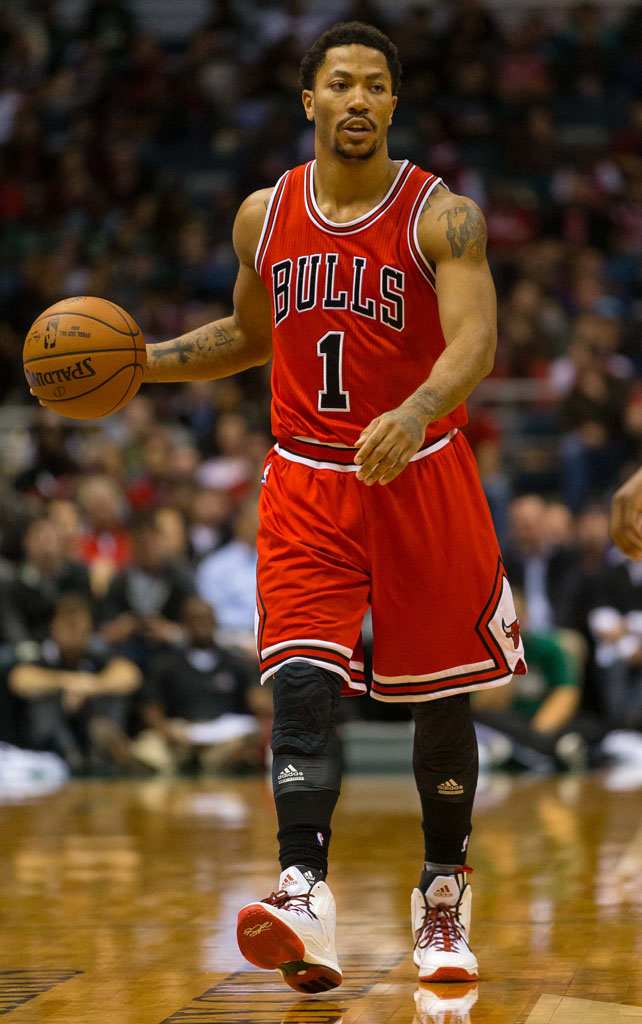 Where do we start? First, while maybe not to the extent of adidas, all sneaker companies promote and advertise lightweight footwear today. Adidas has also moved away from that campaign and the D Rose 5 Boost is one of the heavier signature models on the market this season.
Additionally, there's the issue of the shoe looking 'loose' on the plant. Years ago, ESPN ran a Sports Science segment highlighting Rose's speed and cuts. In the segment, host John Brenkus stated that the force of Rose's cuts could pile about three-times a player's bodyweight on an ankle. There's a good chance your shoes are going to show some movement when you're playing at that level. Rose has his ankles taped, wears tights, socks, custom SpeedWrap ankle braces and has extra padding in the collar of his sneakers. How much more protected can he be?
At what point do we stop with the finger pointing and just look at Rose, who has been injury prone since he was an AAU star in Chicago. There seemed to be a weekly injury report on his ankles when he played high school ball at Simeon, and the trend has continued throughout his career. Maybe, just maybe, he's another tremendous talent that just can't stay healthy, following Penny Hardaway, Grant Hill, Tracy McGrady, Brandon Roy and countless others.
If switching brands is the answer, where does Rose go? Most will say Nike, but they're not exactly injury-proof. Kevin Durant broke his foot last month and we didn't hear a peep about Nike being responsible. On the flipside, Stephen Curry left Nike for Under Armour last September, and has been mostly healthy after a series of frustrating ankle sprains while wearing Nike threatened to derail his career.
Enough is enough. Adidas isn't some run-of-the-mill upstart with no experience in dealing with elite athletes, but a world renown manufacturer of sportswear with more than 65 years of innovation and history. Players get hurt in sports — some more than others. Rose, unfortunately, appears to fall into the category of the latter.
What do you think about Sarah Spain's comments and adidas Basketball's reputation? Sound off below.