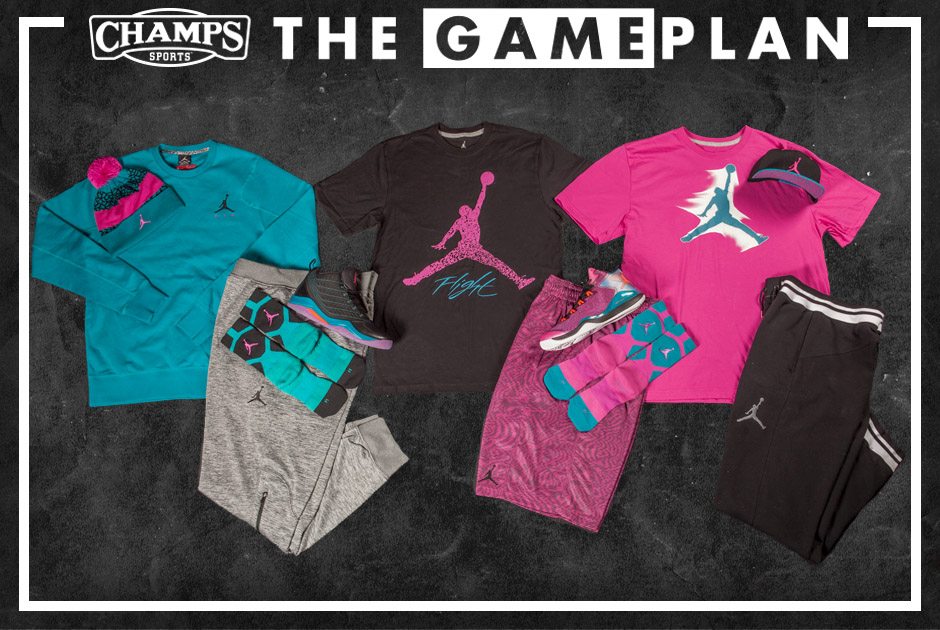 words // Gurvinder Singh Gandu
From his iconic free-throw line dunk to the "Flu Shot," Michael Jordan—a guy who was an 11-time NBA All-Star and won six championships during his playing days—had many memorable moments throughout his career, so it would be absurd to place his appearance at the 1996 All-Star game in San Antonio in that same elite company. However that February day at center court in the Alamodome remains permanently embedded in our minds for another reason—it marked the first time that MJ appeared in and won MVP at an All-Star game following his initial retirement, and it was also the moment when he wore what's perhaps the greatest All-Star jersey of all time. Ok so maybe that's two reasons, but that's beside the point.
Worn by Penny Hardaway, Patrick Ewing, Shaquille O'Neal, and the entire Eastern Conference All-Star roster, but made legendary by his Airness, the likes of that vivid teal uniform will probably never be seen again in the NBA, which undoubtedly makes it all that more special. And while you'll likely never get a chance to get your hands on the classic jersey either, thanks to the Jordan "River Walk" Pack from Champs Sports and The Game Plan, you can settle for the next best thing.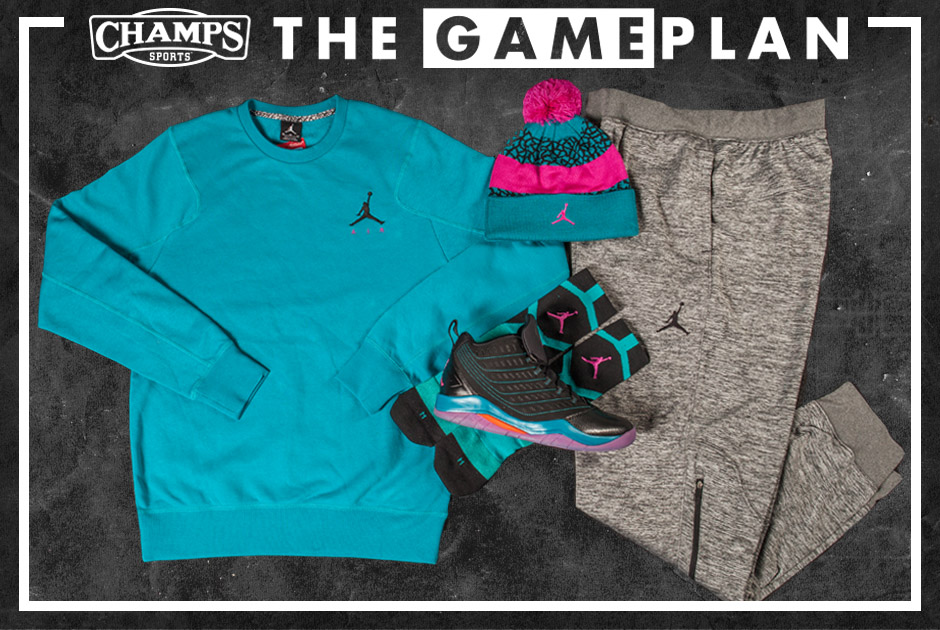 The Fleece:
While MJ rocked San Antonio in a teal jersey, you can do so in a crew sweatshirt that features the iconic Jumpman logo. Sure, that won't be enough to make you feel like MJ, but you'll definitely look fresh. The legendary River Walk in the Alamo City is all about comfort and relaxation, so why not top your look off with some cuffed sweatpants and a pair of the Jordan Velocity in a special Black/Teal/Pink treatment. Don't forget the Jumpman Dri-Fit socks, too.
MJ X TEA/PNK LC JUMPMAN CREW- $60
MJ GRY/GRY HEATHERED CUFF PANT- $85
JORDAN VELOCITY- $120
JORDAN JUMPMAN DRI-FIT CREW SOCKS- $16
JORDAN KNIT- $25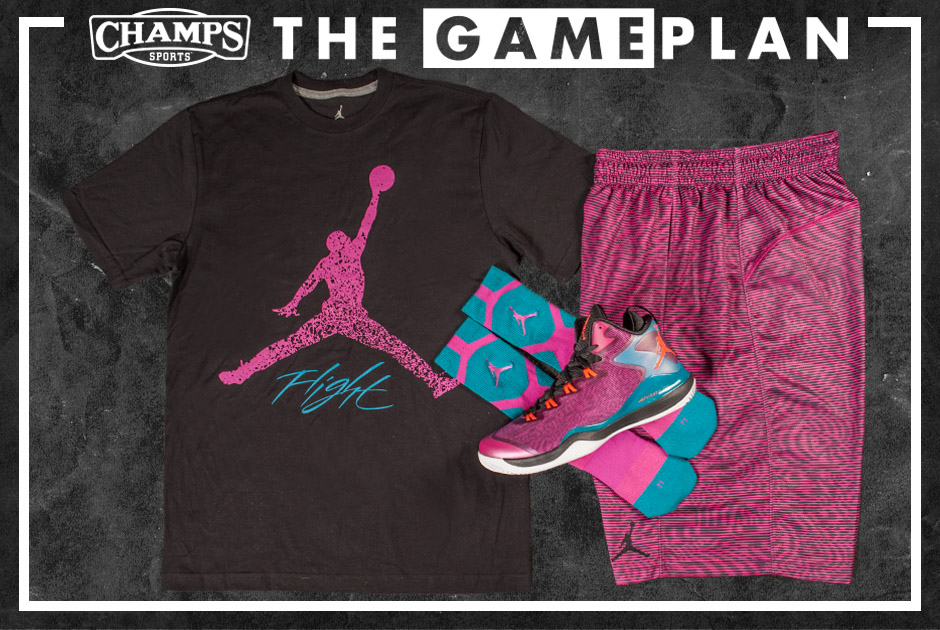 The On-Court:
In terms of technology, a lot has changed from the basketball shoes that MJ played in and the ones that are available for players today. Although the Jordan Super.Fly 3 will compliment a more Blake Griffin-type game than MJ's, the shoe is still reserved for greatness, since, of course, it has that Jumpman logo on it. Staying on par with the rest of the collection, the Super.Fly 3 "River Walk" is a thing of beauty. Throw the matching Jordan Flight tee and patterned basketball shorts in the mix and you'll be ballin' hard in no time.
BLK/TEA/PNK FLIGHT JUMPMAN TEE- $30
MJ PNK/BLK/BLK SONIC PRINT SHORT- $50
JORDAN SUPER.FLY 3- $140
JORDAN JUMPMAN DRI-FIT CREW SOCKS- $16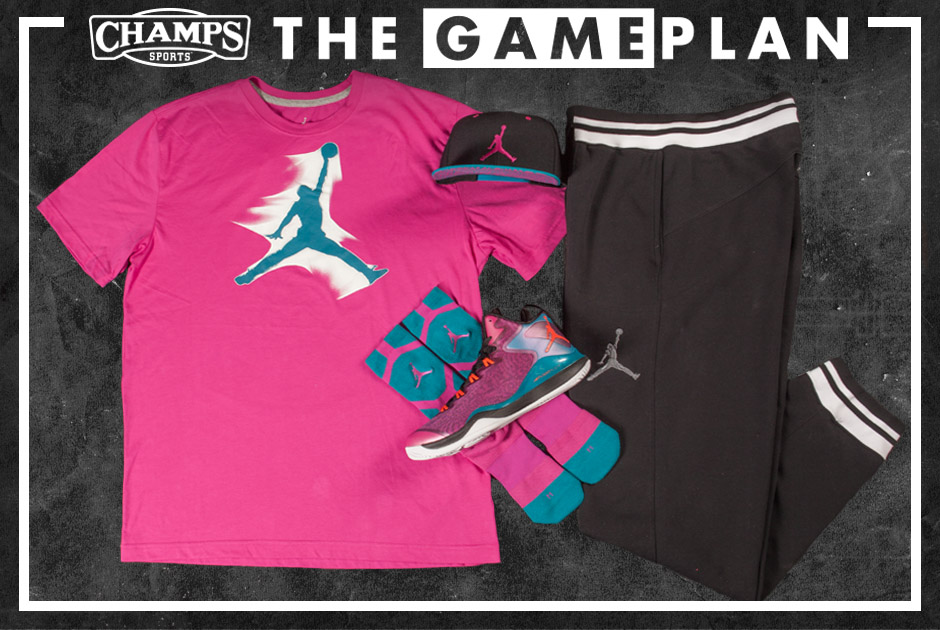 The Kick Back:
No baller should have to rock the same après gear that he just got done working up a sweat in on the court. That's where this outfit comes in. When you're ready for the post-game kick back, opt for a more vibrant pink Jumpman tee and some relaxed Varsity warm-up pants. In the kicks department, you'll want to go with the Jordan Velocity, which, with their teal and pink highlights, will compliment that knitted hat and the rest of the look with perfection.
MJ PNK/TEA ULTRASONIC JUMPMAN TEE- $35
MJ BLK/WHT VARSITY PANT 2- $75
JORDAN SUPER.FLY 3- $140
JORDAN JUMPMAN DRI-FIT CREW SOCKS- $16