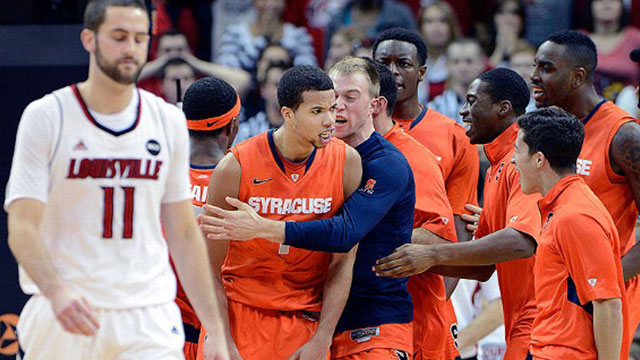 It's tough to get an athlete who's come up in the high school ranks wearing Nike to sign to an adidas school. Just ask Louisville coach Rick Pitino. "I think we need to deal with," Pitino told Inside the Ville today. "What I personally don't like is I can't recruit a kid because he wears Nike on the AAU circuit. I've never heard of such a thing but it's happening in our world. I never thought that shoes would be the reason that you recruit players but it's a factor."
Nike owns the majority of the nation's top basketballrecruits through the company's AAU basketball programs, which include Nike EYBL. Antonio Blakeney, who plays for Nike-sponsored E1T1, took back a verbal commitment to play for Louisville and Inside the Ville reported that the prospect is now considering Nike-sponsored schools Kentucky, Missouri, and LSU.
"I think we need to get the shoe companies out of the lives of the athletes. I think we need to get it back to where parents and coaches have more of a say than peripheral people, but that's easier said than done," the coach said. Despite the Pitino's comments, Louiville recently re-upped in partnership with adidas. Whether that has an effect on the school's ability to sign top prospects is yet to be seen.
What do you think? Do brands have to much power in the recruitment process?
via Inside the Ville