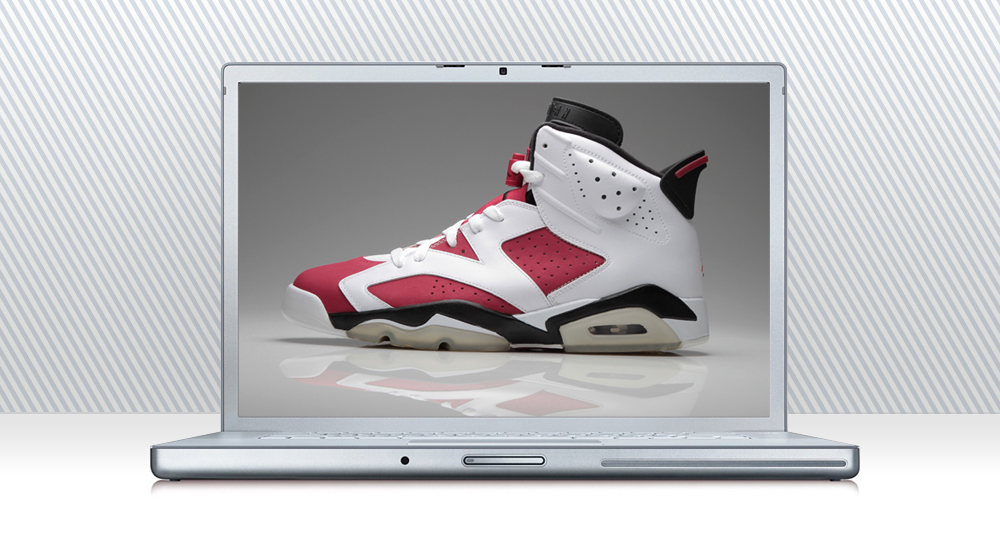 by Gerald Flores
Reporting about sneakers may not be considered intrepid journalism, but it pays the bills. I never actually thought I could make a living doing something that began as just a personal hobby of mine, but somehow my entire career's been built off of sneakers.
I didn't come into this business like most of my other colleagues did. Unlike the esteemed people I work with on the daily, who boldly followed their passion for kicks and spinned it into a full-time gig, I got into this via a more traditional route. I studied media communications in college, spent three years reporting on the footwear industry for a trade publications after I graduated, and came to Complex to eventually work on Sole Collector. I may not be an expert, but I think I at least have a working knowledge of how sneaker media works.
When so-called experts (who ironically have a Complex branded photo in their Twitter avatar) disparage what I and others like me do for a living, I feel a responsibility to defend sneaker publications and the people behind them.
No, we're not writing about serious matters like the racial tension in Ferguson, MO or the deadly threat of an Ebola virus epidemic, but what we do is important to somebody. As banal as the sneakers Michael Jordan was wearing in 1988 might be to the uninitiated reader, the information we provide is, at the very least, useful to a niche group of sneaker enthusiasts that grows wider with each new generation.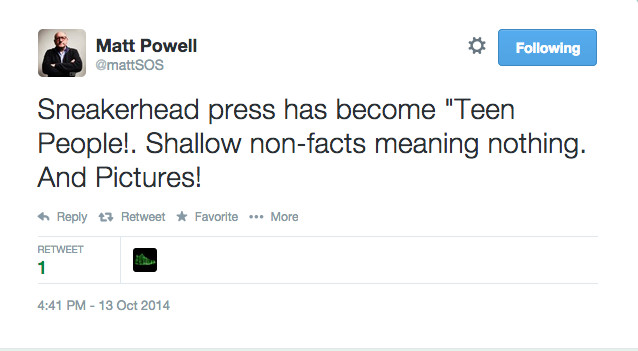 The reason you see sneaker release dates and certain brands covered more than half of the time on all of the major sneaker blogs is because it's what most of the readers are looking for. I'm not here to give a lesson on how the Internet works, but some context. Nike and Jordan Brand are the clear cut top brands in terms of sales, so doesn't it make sense that their products get written about the most? If we're talking market share, our coverage is probably far too diverse.
If a majority of sneaker enthusiasts were searching for Skechers on the web, then we'd be doing a full editorial feature on the latest GoWalk every year. But for better or worse, that's just not how it is.
We're never going to write about the Monarch, but that Jordan retro model that inevitably is a top seller month on month is our bread and butter. Every publication exists because there's an audience interested in looking at the content.
We serve an audience of sneaker collectors that don't refer to their favorite brands as stock symbols and could probably care less about market share. They just like the sneakers that they like.
Speaking specifically for Sole Collector, it's not like we haven't championed lesser known sneaker brands we felt were deserving of the coverage either. Just this past month we published features on Brooks Heritage, le coq sportif, and AND1.
Among the ranks of our staff, each of us have a very specific notion of what sneaker culture is. We've got guys on staff who have extensive archives of every Air Jordan that was ever created, and others who are really into Made-In-the-USA New Balances. There's a very singular version of sneaker culture in the public eye that allows a specific Air Jordan to sell close to 500k pairs. But it is also nuanced, and we support a forum where people can theoretically argue the merits of an Diadora n9000 versus a Reebok gl6000.
Maybe sneaker publications have turned into a version of Teen People, but that's not necessarily a bad thing. I mean teenagers are a part of sneaker culture too, and there's probably more people in that demographic that are into sneakers than people my age. Just look around any Sneaker Con event.
Simply put, the reason that people don't understand sneaker publications or are turned off by it, or used to be into, but aren't anymore, is because they're not the audience. And there's an easy solution to free yourself from reading the shallow facts that mean nothing to you: Check out some blogs that cover topics you're interested in.
Gerald Flores is the Editor-in-Chief of Sole Collector and you can follow him on Twitter here.