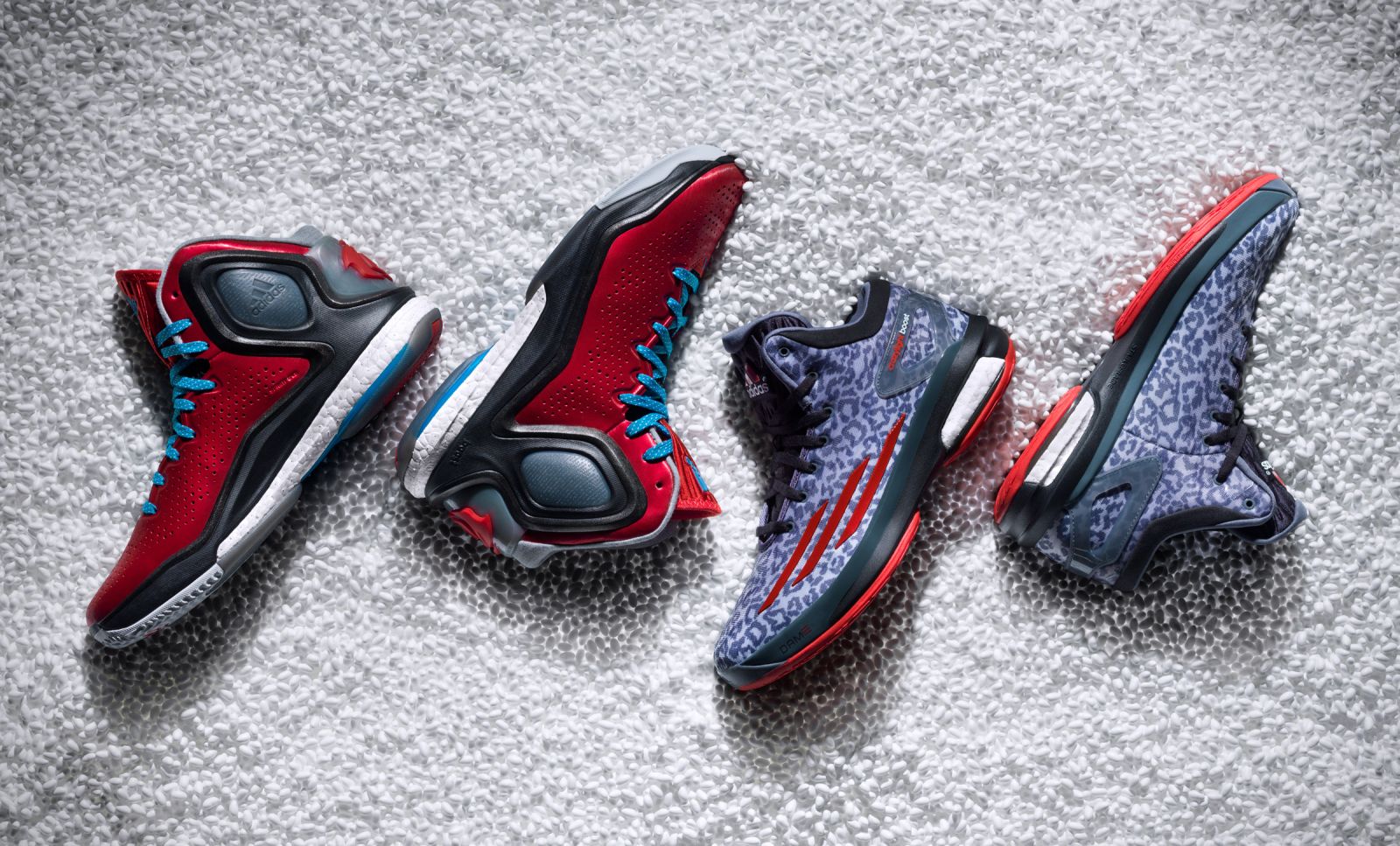 by Zac Dubasik
The start of the 2014-15 NBA season is just days away, and for adidas, with its Boost technology finally hitting basketball, and roster of young returning, and fresh rookie talent, a lot is on the line. Can this updated lineup of talent succeed on court? And can its new cushioning transform the perceptions of adidas basketball?
Along with the cornerstones in its roster, in DRose and Dwight Howard, and established players in Mike Conley, Jrue Holiday, Ricky Rubio, convert John Wall, breakout star Damian Lillard, adidas signed four of the 2014 Draft's top six picks: Andrew Wiggins, Joel Embid, Dante Exum and Marcus Smart. While unproven, it's as impressive an array of players that you'll find for the next generation.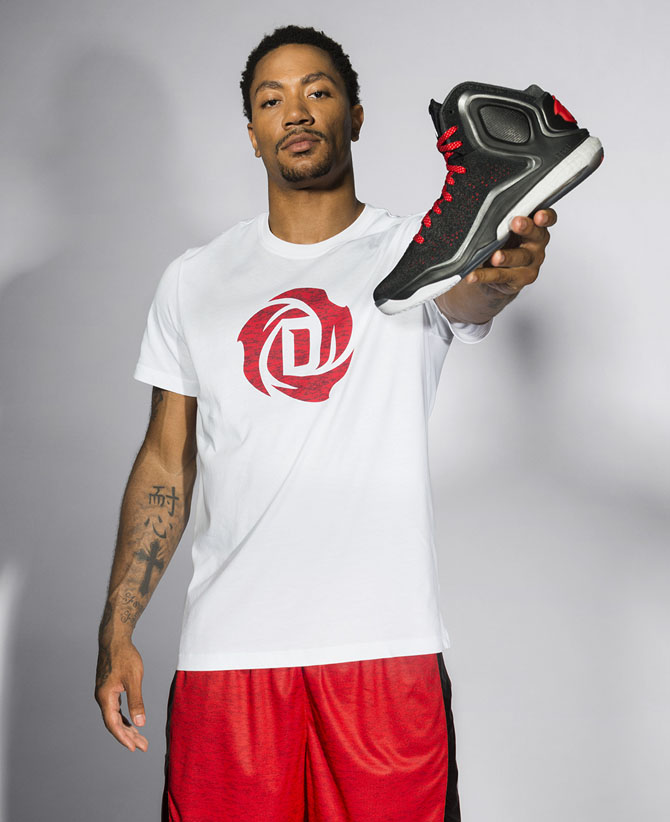 With a full stable of talent, adidas then launched the next phase of its strategy in basketball. Boost had proven a winner in running, where it debuted back in early 2013. But with the help of and Damian Lillard and Derrick Rose, it was launched in basketball this past summer. It was an important next step for the brand. "Looking back at what I achieved, and where I started with adidas, and everything we've done, like commercials and photoshoots – it's paying off," said Rose. "But we're not satisfied. We're still trying to improve in every area. And Boost technology is one of those improvements."
Execs within adidas are also bullish about Boost crossing over into basketball. According to Chris Grancio, general manager of adidas global basketball, new tech and having the right athletes behind them need to go hand-in-hand in order to make a difference in culture.
"You can have the best products in the world, but if you don't have athletes that inspire kids, it's not going to be as relevant. And the same thing is true if you have great athletes, but the product isn't any good: it doesn't work," Grancio said. "That's one of the reasons we are so excited. We really feel like we are about to break out, with the combination of the great players we have in the brand, and the way that they're performing, as well as bringing a great new technology like Boost in."
It's an important time for adidas Basketball, almost reminiscent of the 1979 introduction of the Top Ten. At the time, the Top Ten was the most advanced hoops sneaker adidas had designed, and it was to be worn by adidas' 10 best players. But back then, the market had yet to become so lopsided in terms of market share. And combined with its emerging popularity in the hip-hop community, adidas had a strong presence in popular culture. That success continued through the '80s, when the brand nearly signed Michael Jordan away from Nike.
But despite adidas' endorsement of a few high profile names like Patrick Ewing, Nike began to pull away in the next decade, fueled largely by Michael Jordan's rising popularity, and his growing collection of championship rings.
The next major push for adidas basketball wouldn't come until the mid-to-late-'90s, following the signing of Kobe Bryant, and with the successful Feet You Wear technology. Similar to Boost today, it was featured on multiple shoes, from Kobe's signature line, to more team based models, like the Top Ten 2000. And while Kobe would leave shortly after the beginning of the decade, Tracy McGrady was next in line to carry the adidas Basketball torch.
With TMac's career hampered by injuries, and its next signature star, Gilbert Arenas hampered by, well, being Gilbert Arenas (as well as injuries), adidas abandoned the signature concept, albeit briefly, during the late 2000s. Instead, the brand adopted a "Team Signature" concept, worn by players like TMac (when healthy), then-signed Kevin Garnett, and two emerging stars, in Dwight Howard and Derrick Rose.
As Rose and Howard began to break out, it wasn't long before adidas got back in the signature game, giving each their own lines. But while these models may have been packed with performance features, the designs lacked the "wow-factor" present in the competition. Whether or not SPRINTFRAME and SPRINTWEB were useful tech, they didn't make the shoes stand out on store shelves.
Howard and Rose proved an interesting study in if that even matters though, as their performance and personalities led them in two different directions. As Dwight got involved in a lengthy power play to leave Orlando, his line never took off. At the same time, Rose quietly worked his way towards an MVP trophy, and saw his line grow in popularity every year, until his career came to an injury-induced screeching halt, followed by two more years worth of injuries.
Adidas may have re-signed Rose to a massive contract, but they didn't stop there and call it a day. The building of this roster has been slow and steady, and it's placed an emphasis, at least positionally, on players who closely follow in the mold of Rose.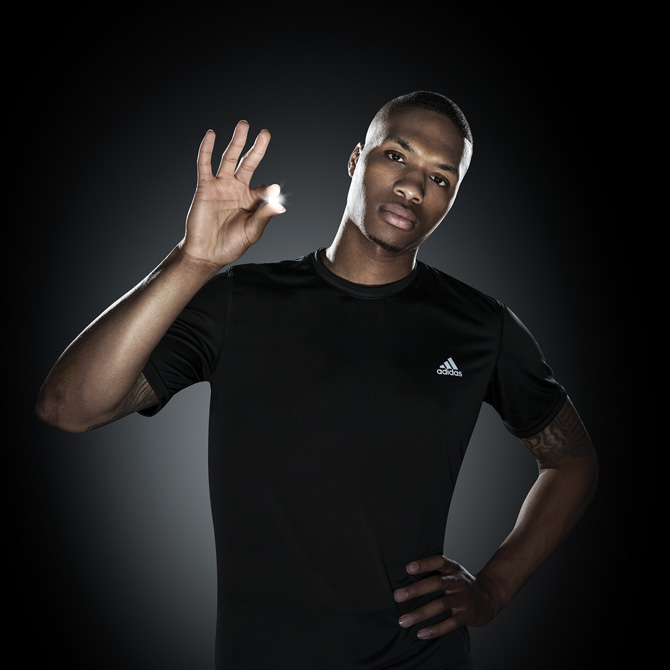 "We have a great lineup, starting with a lot of great young point guards," said Trailblazer Damian Lillard and latest adi player up for a signature sneaker, shortly after the draft haul.
But can this finely tuned lineup, combined with its latest innovation, really make an impact? That's easier said than done, and will likely hinge on a number of factors.
If Derrick Rose can stay healthy, and the Bulls can win on the court, the sky would appear to be the limit. With his health and winning in place, Rose has already proven he can sell shoes, even without a visible new technology. But that's only if he can stay on the court.
Lillard may have helped launch Boost in basketball, but it's his star power, along with John Wall's, which will be counted on to sell their respective signature lines. These will be added to adidas' lineup during the season, though are noticeably absent of Boost (Lillard's due to price point, and Wall's because of personal preference). Following three quickly forgotten signature shoes with Reebok, this will be Wall's first with adidas. It will be Lillard's first signature shoe period. Though despite gaining a reputation in Portland as a clutch player, he's hardly the household name that former League MVP Rose is or even former No. 1 NBA draft pick Wall is.
What about the rest of the roster? It's hard to think of a time when a brand had as many players with such high ceilings, and low floors. Andrew Wiggins was one of the most closely followed high school players since LeBron James, but not everyone is convinced he's NBA ready. Playing on the Minnesota Timberwolves will also be an uphill battle in terms of exposure. Dante Exum's size has been praised, but his skills were largely untested by top talent, while playing in Australia. Even Damian Lillard presents somewhat of a question mark. Coming into the league older than the average superstar rookie, has he reached his peak sooner than his peers, or will he continue to improve?
One thing is for sure: if there was ever a time for adidas to unleash a new technology, along with a fresh and promising young team, it's now.
Beginning with Kanye West's highly publicized jump to adidas, the brand has been enjoying the most attention it's seen in many years. Timing has been solid on the product side too, with shoes like the ZX Flux and prior Boost silhouettes being widely considered as some of the brand's best in recent years. And with Kanye's product yet to even hit, and more from Pharrell on the way, we'll continue to see a lot of attention on adidas in the coming months.
It's been a long time in the making, but adidas Basketball has positioned itself to have a breakthrough season. "It's an incredibly exciting time for us," explained Grancino. "Just looking back as far as All-Star Weekend where we saw John Wall and Damian Lillard really on that big stage for the first time, going through the season and having Duncan win another championship, a great draft class this year with four out of the top six picks, there's a tremendous amount of momentum."