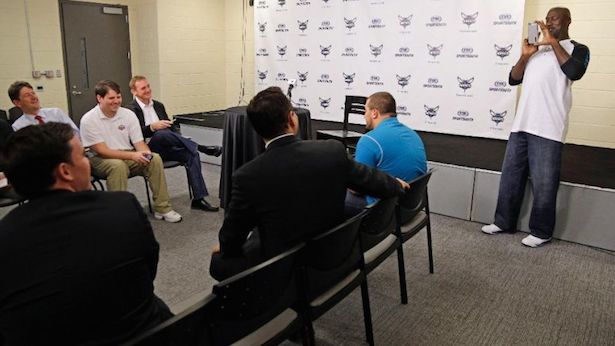 by Gerald Flores
Michael Jordan. The man former NBA commissioner David Stern once called, "the standard by which excellence should be measured."
Yesterday, a living legend did something I thought I'd never see: use "LOL," "SMH," and yes, take a selfie. MJ was the talk of the Internet for a few hours, when he, for the first time ever, tweeted. Albeit, it wasn't from his personal handle, and a bulk of Jordan's tweets were in promotion of the return of the Charlotte Hornets, but it was still a moment for sports, pop culture, and sneakers.
So I thought, what if Michael Jordan actually had a Twitter? How would his social presence affect sneaker culture?
Jordan is more than 10 years removed from playing the game of basketball. We obviously can't see MJ in his natural element—the NBA court, let alone debut his latest and greatest shoes on the hardwood as he did decades ago. In this Internet age, where everyone is always connected, social media is the next best thing.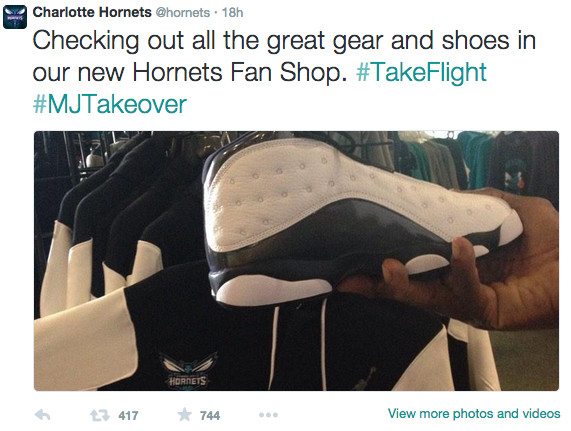 Just earlier this month, we saw Damian Lillard unveil his first signature sneaker via Instagram. It was picked up by every (credible) sneaker blog and shared all over social media.
Imagine the frenzy Michael Jordan would inspire had he debuted the Air Jordan XXX on his Instagram?
Imagine the rapid reaction following Michael Jordan snapping a #WDYWT pic of his latest one-of-one?
Imagine the excitement of Michael Jordan sharing a behind-the-scenes look into his production meetings within Jordan Brand?
It's inevitable that photos of upcoming sneakers are going to leak months in advance of when they're supposed to be seen. I'd rather see them shown by the man who's on the logo, rather than some factory worker in China.
#MJTakeover was the number 1 trending topic for a day, imagine how much farther an official Michael Jordan social media handle account would go over a well-planned media buy?
No offense to Hall-of-Famers already on social media, like Magic Johnson or Hakeem Olajuwon, but none of those legends have the gravitas of a Michael Jordan-type personality where everyone hangs on to each and every 140 character message they send out on the Internet.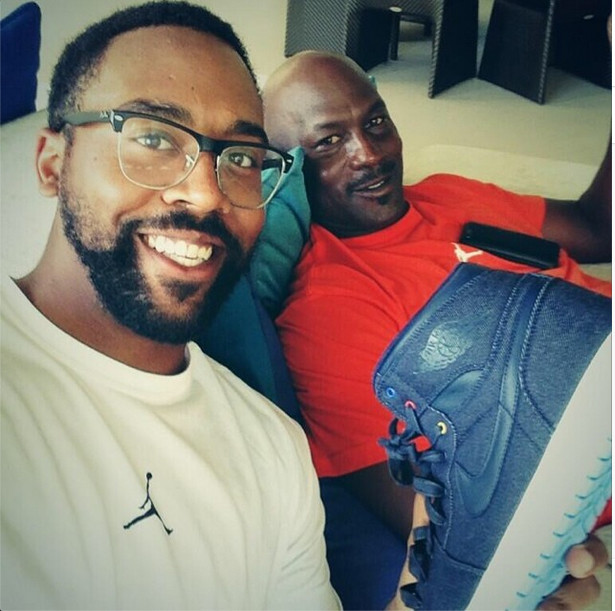 Not saying that I'm such a fanboy that I want to read tweets about the Wheaties Jordan had for breakfast or whatever inane thing that people share on the web. Think of Twitter personalities like Jay Z or Kanye West, who rarely tweet, but on that rare occasion when they do, people pay attention.
Maybe it's because we're not used to hearing from Jordan publicly very often. In a world where there's so many useless things to see on social media, he's one of the rare personalities that people are intrigued by.
And we know Jordan can sell anything—from sneakers to Gatorade. If that track record over the past 30 years is indication, social media is just another avenue for him to flex his pitchman skills.
The only difference is that on social media is that people talk back and everyone can see it. Just scroll through the @hornets mentions yesterday. But who cares if people clown Jordan's awful jeans or re-hash photos of His Airness in compromising positions. He's still the G.O.A.T. and people will still buy his sneakers.
So c'mon, Mike. Your fellow Hall-of-Famers are Twitter. Your son is on Twitter. Your brand is on Twitter. Even Oprah is on Twitter. Join in and you could possibly be the standard by which promotional tweets are measured.
Gerald Flores is the Editor-In-Chief of Sole Collector and you can follow him on Twitter here.