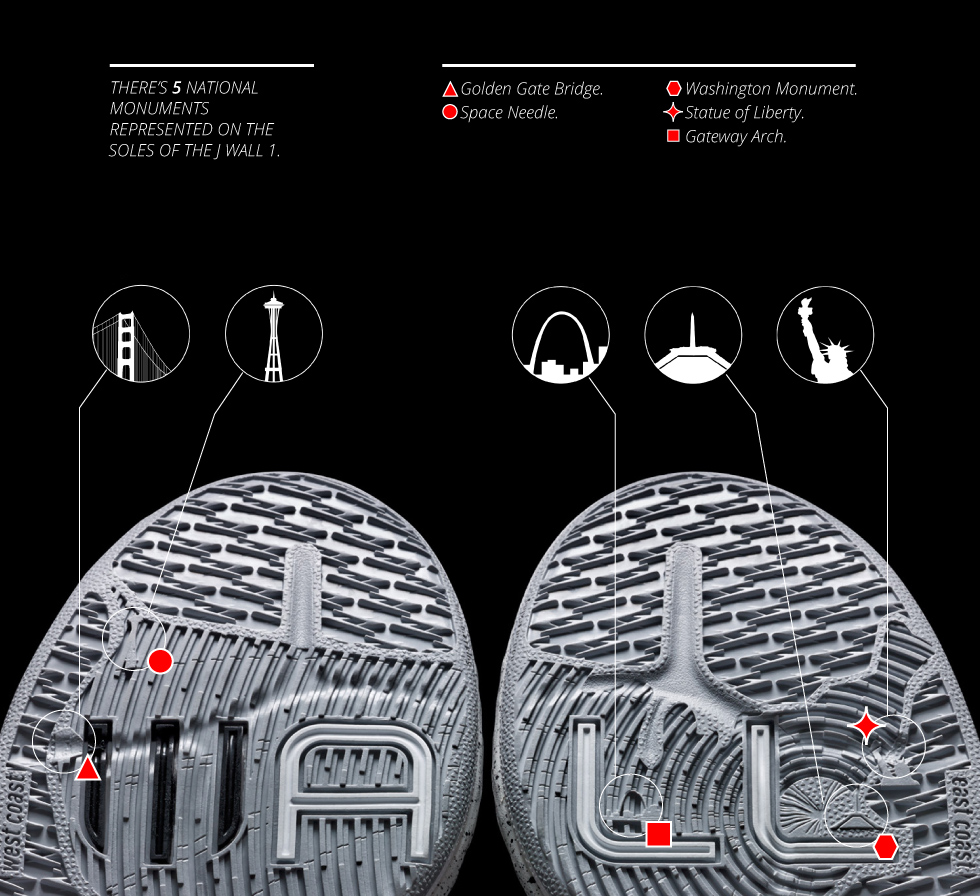 by Gerald Flores
Layout by TeamYulia
After a short-lived run with Reebok at the beginning of his career, Washington Wizard John Wall is back in the signature sneaker game. Now rocking with with adidas and its new roster of young and exciting point guards, Wall's first flagship shoe with the brand – the adidas J Wall 1 drops this Friday. Here, the sneaker's designer Robbie Fuller breaks down the creation of the shoe, design inspirations, and what's next for adidas and John Wall.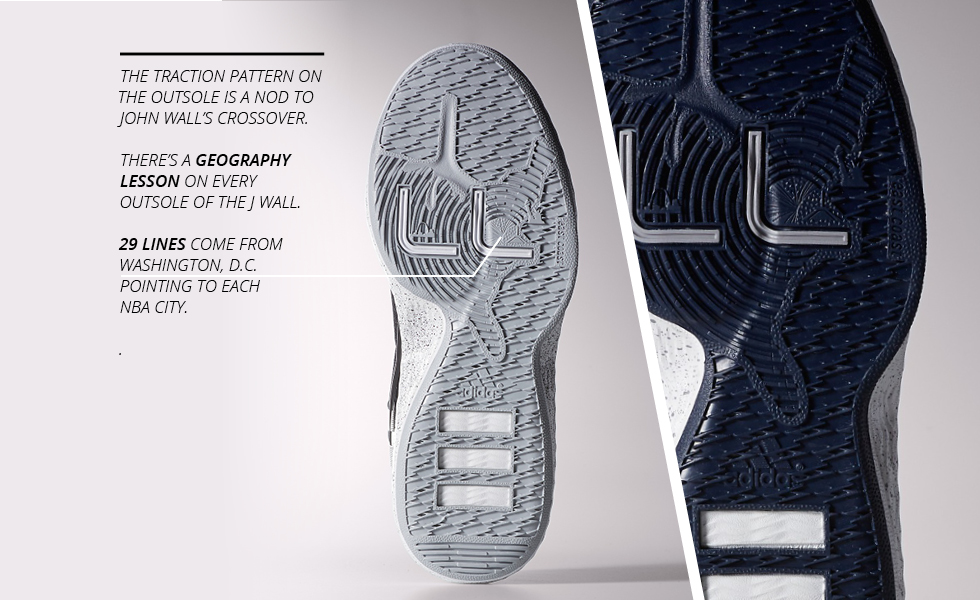 This is John Wall's first signature sneaker with adidas. Describe what the design process was like.
RF: The designs starts with the athlete getting to know them. I like getting the vibe of what he's into, what he's excited about, and his needs and making sure we meet those needs into the shoe. Starting with that, we started to really get an understanding of what he wanted. He let us see some of the things that he is wearing, things that are in his in closet and started to kind of go from there. We planned that with the performance features, and some of the designs that we have done. We started to see a really cool theme that started to evolve and that ended up being the first shoe.
What were some things you learned about his personal style and how'd that influence the final design?
RF: His styles worked regional. He's like the I-95. He wasn't only into one kind of shoes, and he had everything in the closet. That's inspired when you look at the bottom of the shoes you see a whole map of the U.S. Then I put out little lines that went out from DC to 29 other NBA cities. The idea behind that was "give love, get love" or "give style and get style." So as he's out during the season to all of these places, he's' digging up some of his flare there and thinking about some of the things he sees. He's buying things and bringing them back and we got this really cool mash up of things that keep him fresh.
From a performance standpoint, what were some things John was looking for in a basketball sneaker?
RF: He's definitely not into lows, he wanted something a little higher cut. He definitely felt a little more secure, moving quicker on the court. He loved the Crazyquick technology, and he definitely had a break out season wearing that shoe, so we knew we wanted to incorporate that. If you notice the grooves at the bottom follow similar line that are on the Crazyquick. We were also looking to do something new for him, so we decided to go full adiprene +. We filled the toe so every single cut he makes is energized, which is to his liking. Also in the upper, the critical part of being quick is being locked down on top of the platform. So you'll see in the mid foot there is really supportive kind of dual synthetic that provides critical amount of lockdown that keeps him on top of those platforms during his cuts.
Boost is the major tech right now for adidas across the board. Why wasn't it in this shoe?
The conversation with him and listening to what he wanted to incorporate in this shoe we felt the adiprene + was the perfect material. It allowed for getting a lot of energy off in the forefront allowing to maximize part of your cuts. Its also allowed you to cool out the material and provide a little more shape and sculpting for really good movement in the mid foot that goes along well with his playing style.
Boost is amazing and anybody that puts it on knows that it's amazing and our guys are spending a lot of time with it. So from here on out I think your going to continue to see us incorporate it where it makes the most sense and where it lines up with what the guys like. Every player is specific. Everybody has the favorite pair that they like and we are excited because we have the kind of technology for them to pick from that we know are excellent. Then they get to tune their shoe and build it to how they deem fit.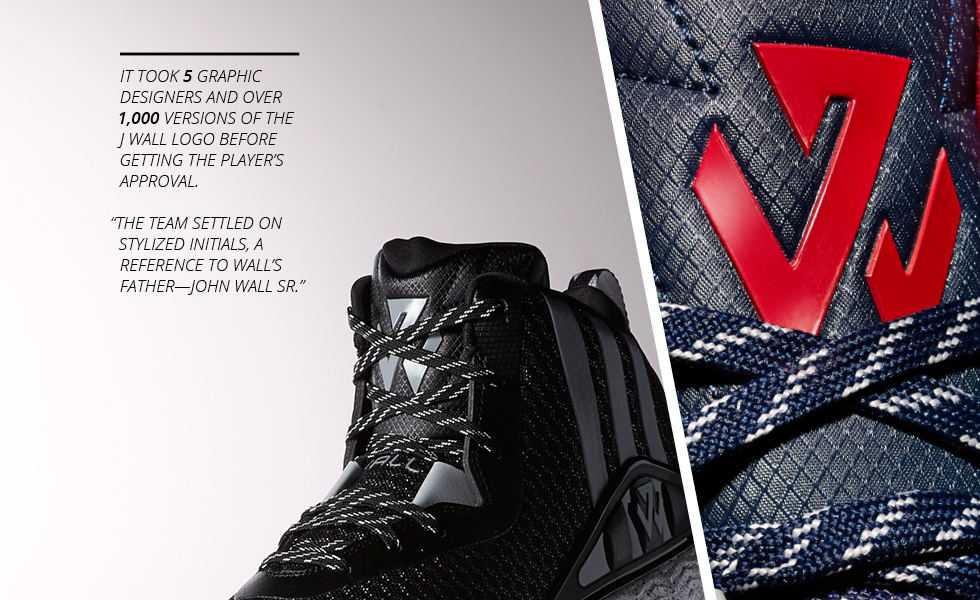 The JW logo is obviously a first. How do the team come up with that branding?
A team of like five graphic designers just got going at it and taking inspirations off him and his style of play, the brand direction of where were at and want to go, and how we want to be a part of this guy's story. I think this really felt like the right solution. It kind of blends all those things and then we make sure when we worked it into the shoe we put it into a pretty prominent place. So kind of aligning it with the branding and having it shelf out is just a good foundation for the range. This is the genre one, there will be a two, three, four, five, six, as he continues to excel and play so well on court. This is the first shoe and it makes sure anybody that walks into the store makes that connection with John Wall. We're excited to continue to go into that in the future.
What's next for the J Wall line? Where do you go from here?
You'll see a ton of more colors and stories throughout the season. We definitely have a lot of stories to tell about this guy and we are not done yet. We look at different constructions, ways to continue the color textiles stories, but ways of making it a little more technical. You'll see something around March Madness he'll definitely will be that guy to push the envelope and try a bunch of different materials and its uses.
Gerald Flores is Editor-in-Chief of Sole Collector and you can follow him on Twitter here.