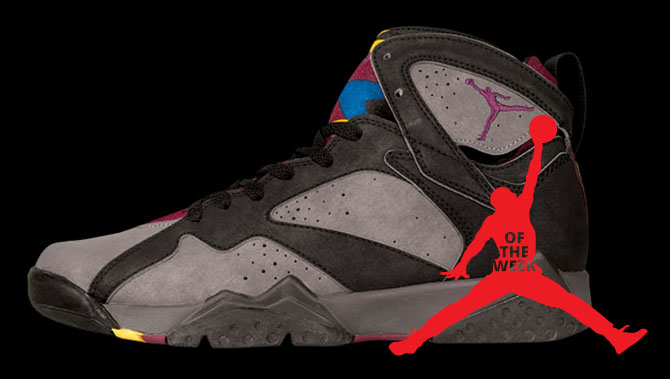 Shoe: Air Jordan VII– Black / Light Graphite / Bordeaux
Original Retail Price: $125
Original Release: 1992
#1 Movie: Aladdin
#1 Song: Boyz II Men – End Of The Road
Times Retroed: 1
Current Average Retro Selling Price: $349
For years, the Bordeaux VII near, or at, the top of the list that Air Jordan fans wanted to see retroed. It took almost 20 years, but that day finally came on April 16th of 2011. Unsurprisingly, the shoe was an instant sell out, and immediately climbed in resale value, which has held strong even today. What was so special about that shoe though?
Well, lots actually. For one thing, it was on MJ's feet for the 1992 All Star Game, where he faced off against the returning Magic Johnson. Jordan also wore it when he guest starred in the Jam music video, with the "other" MJ – Michael Jackson. That, combined with the uniqueness of the colorway, made it one of the most significant original Air Jordans of the era. Check out the gallery of shots, both original and retro, below, and let us know what you think of the Bordeaux VIIs.