Brand loyalty is impossible.
The Internet (I use that term loosely) went nuts over images of Kanye West playing ball in adidas shoes and Nike gear. 



Who cares? 
Brands are not like sports team gear, where wearing an L.A. Lakers hat and Boston Celtics jersey is considered the highest form of treachery. In fact, the NBA is a prime example of how brands cross paths every night. LeBron, KD, and Kobe do it every night of the season. The official apparel and uniform provider the league is adidas, and, obviously, not every player in the NBA wears adidas sneakers. 
Consumers are not contracted employees of brands. (Whether Kanye West is one is debatable.) We have the choice to wear whatever we want. You want to rock adidas soccer pants with Air Jordans? Go for it—it's actually one of the biggest trend in New York.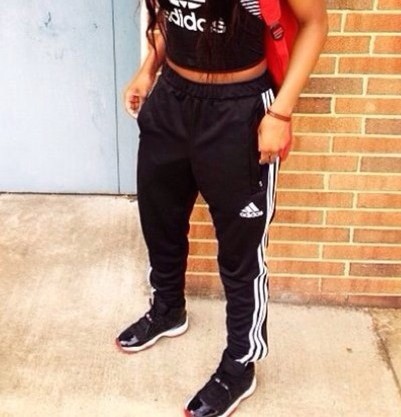 How big? The desire for adidas soccer pants is so fevered that Modell's stores regularly put up handwritten signs announcing new deliveries. The rationale for interest isn't too difficult to fathom: adidas offers something people want, tapered athletic pants, at a price point, $45.00, that competitors do not. Style trumps rivalries, and thus, in consumers' minds, a natural, harmonious mingling of labels blossoms.
Kanye West might technically be an adidas employee, but it's impossible to erase the fact that he was also in Nike's stable for a number of years, and has often gone on the record about growing up with a love for the Swoosh. Michael Jordan himself talked about being a fan of adidas growing up before signing his Nike deal.
As sneaker fans, you don't grow up idolizing just one brand. We can't hold luminaries of culture to some insane standard of unwritten rules. Sometimes, as with the above example, style will simply supercede all else. At other times, like with socks, personal comfort might sway allegiances. Circumstances dictate dress too. 
Kanye, on tour, may have actually had to borrow shorts to play ball...clearly he hadn't packed hoop shoes.
Gerald Flores is Editor-in-Chief of Sole Collector. You can follow him on Twitter here.