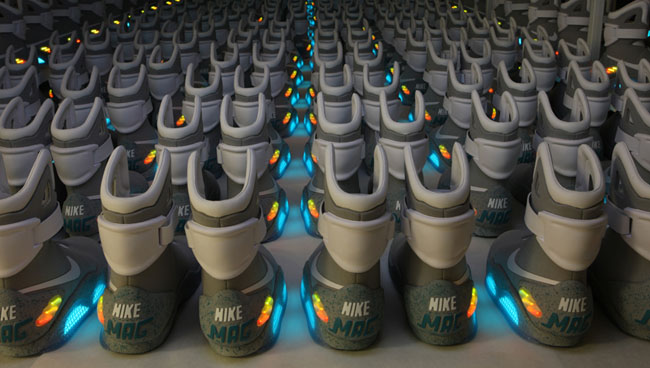 words // Zac Dubasik
When a shoe as desirable as the Air Yeezy launches, it's virtually guaranteed to go up in value, thanks to its relatively affordable retail price. Sure, it's more expensive than a retro Jordan, but if you like the Air Yeezy, it wasn't the $250 that held you back. It was the hype and demand that made them so hard to acquire. And that's the exact reason their value was ensured to increase. It's also why even if you didn't like shoe, few would have passed on them for retail, knowing the potential profits to be made.
This is the typical situation with sneakers. A highly desirable shoe, obtained for retail, more than likely will rise in value. But there's an important shoe that breaks that mold: the Nike MAG.
The MAG was never sold at retail. Literally every pair was launched at auction, so there was never an opportunity to "buy low." Essentially, everyone that purchased one of the original auctions was buying high, at the height of the hype.
That means that while these people were giving money to a great cause, there was no guarantee Mags were a great sneaker investment. It doesn't mean they were a total loss either though. The sneaker landscape has changed greatly in the four years since the launch. You can barely get a pair of Red Octobers for the original average Mag auction price now.
Today, in honor of the anniversary of the Mag launch, we're taking a look at where prices are today, and how they compare to where they started. If you were fortunate enough to win one of those original auctions, then chances are, you've done very well with your investment.
Original auction averages: approximately $3800
Current eBay average selling price: $8,100
Most recent to sell as an auction: $8,200
Current high BIN: $11,000
Current low BIN: $7,500
Number of pairs currently available on eBay: 8
Average price of pairs currently listed: $8,025
Let us know your thoughts in the comments. Were you able to grab a pair? Do you think the prices will continue to rise? Do you think whatever ends up releasing in 2015 will have an impact on the value?