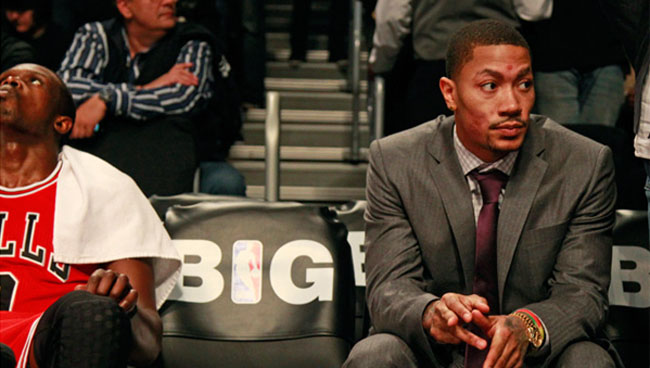 (image via Chicago Tribune)
words // Zac Dubasik
The World Basketball Festival kicked off last week, which means the 2014 FIBA World Cup is just around the corner. And unfortunately, the majority of news coming out of the weeks leading up to the tournament has revolved around who won't be playing.
Kevin Love withdrew from the team due to his ongoing contract and trade situation. Kevin Durant's pending mega-dollars endorsement is keeping him away. And Paul George suffered an injury so severe that I still refuse to watch it.
So when news hit this week that Derrick Rose would be sitting out of the Wednesday's exhibition game against the Dominican Republic due to knee pain, it seemed like more bad news for Team USA. And it is. While the team is well-stocked at the point guard position, Rose easily brings the most star power. But for Derrick Rose, the situation is much bigger than Team USA. This should be the final warning to get off a team he should have never attempted to be on in the first place.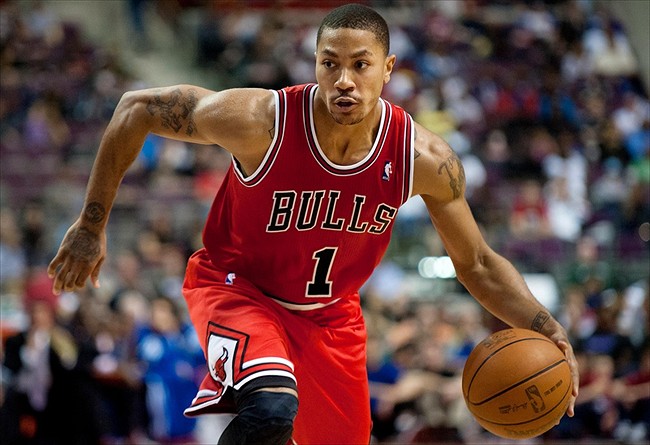 In the past two seasons, Derrick Rose has played exactly 10 regular season games. In the past three seasons, he's played exactly 1 playoff game (while the Bulls have made the postseason every year). A torn ACL suffered during Game 1 of the first round of the 2011-12 NBA playoffs kept him out the entire 2012-13 season. Then, just 10 games into the 2013-14 campaign, Rose suffered a season-ending meniscus tear.
I've had injuries myself, including two torn ACLs, so while I am obviously not anywhere near DRose's level of athlete, I can somewhat relate to that desire to come back. Sure, my injuries certainly didn't carry the stakes that DRose's does now, but that's exactly the point. I didn't have a career on the line. I didn't have a multi-million dollar endorsement deal on the line. I didn't have an entire city anxiously awaiting my return.
By competing in the 2014 World Cup, Derrick Rose has a lot to lose, but not that much to gain. A gold medal? Sure. But he already has one from Turkey's 2010 tournament. And he'll have a shot in two years at the much more prestigious Olympic Gold. His confidence? This is potentially much more valuable than the gold, but the NBA season is a long one. If Derrick is able to stay healthy, he'll have more than enough time to get his groove back by playoff time.
As for what he has to lose, the list is much longer. In December of 2011, Rose signed a five-year extension worth $94.8 million. He'll collect that regardless, and is probably already set for life. But it's entirely possibly that at his best days are already behind him. Not only have injuries taken a toll on his body, but he's lost prime years of experience and evolution to his game. That's not to say he can't be a superstar player anymore, but chances are he'll never realize his full potential.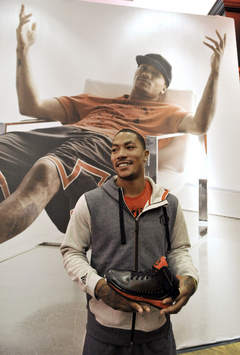 His adidas contract is another point of interest. While reportedly locking in for 13 years with the brand, there surely are incentives needed to hit the rumored $200 million mark, which probably will involve his presence on the court. And in his absence, we've seen adidas build their point guard stable up even more, with players like John Wall and Damian Lillard's on-court success giving the brand more exposure than Rose has been able these past few seasons.
And then there're the fans of Chicago, who have whole-heartedly put their faith in DRose. Just last week, I witnessed this for myself. At a Nike event, held on a court freshly refurbished by the brand, I saw kid after kid wearing not Air Jordans (although there were some), but adidas. And not just any adidas. Rose 3s. Rose 773s. Rose 4s. They want to see him on the court. Badly. But in a Bulls uniform. It would be an even bigger tragedy to these fans if he were to miss another season, before he even got to put that red, white and black jersey back on.
And then there are his coach and teammates, who have somehow, some way, held things together these past few seasons - even managing respectable NBA Playoff showings, despite their star's absence. The haven't put this work in to possibly lose their teammate to another team.
And that's why someone needs to step in. Derrick himself obviously wants to play. But for his city, his money, and his future, someone needs to talk him out of it. It's almost time for DRose to return- again. The 2014 FIBA World Cup is just not the time.