words // Nick Schonberger
Popular opinions be damned: Tinker Hatfield's best shoe isn't the Air Jordan III. His greatest hit isn't the Air Max 1 either. Or, for sake of argument, the Jordan XI, Air Max 93, etc., etc. etc. Hatfield's most successful work shares a net and a court with MJ's flagship models, but in the realm of blog-approved footwear, hasn't been properly recognized. Basketball and running sure are populist, but Tinker Hatfield's mastery of sport shines brightest on the tennis court.
Funnily enough, a training shoe is best known as a Tinker tennis treat. Remember the Air Trainer 1? Yup, the one Bo Jackson wore while reinventing the very idea of cross training. John McEnroe wore it on a tennis court, so did a young Andre Agassi (yes, seriously), and the shoe, with its tasty chlorophyll accent color, pushed the sport past its traditional color boundaries.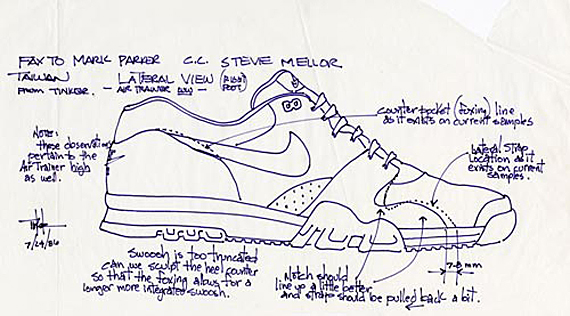 The Air Trainer 1 released in 1987. The Jordan III became famous in 1988. This week, Nike celebrates Tinker Hatfield's gifts to tennis with a mashup—fusing the shoe MJ leapt from the foul line in with Rodger Federer's Vapor 9 Tour, another Tinker design. Why? With so many great Tinker x Tennis stories to spin, we're granted a base Instagram-ready shoe with surface-only substance, instead of presenting an under-explored element of an incredible career in design.
Most blog-fueled sneakerheads are aware that Tinker Hatfield designed Agassi's '89-era Air Tech Challenge II. The shoe, thanks to Mr. West, has resurged as an alternate choice for Jordan fans. Rightfully so, it has a strong identity—produced for a baseliner with flare, a player who defied traditional definitions, and was well suited to progressing the sport style hinted at in the Air Trainer 1. The design is certified classic, the perfect blend of athletic and street, and a testament to Hatfield's aesthetic acumen.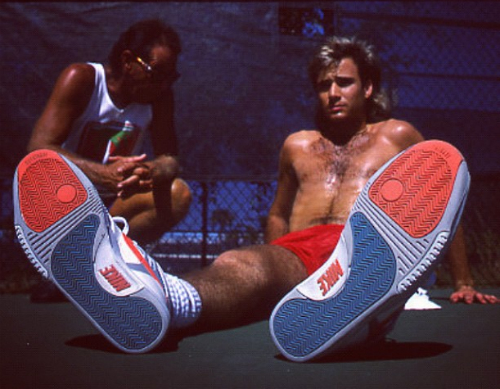 Hatfield didn't stop tinkering with tennis there.
Prior to its 1996 release, Hatfield worked in near clandestine fashion to design Pete Sampras' signature Air Oscillate. Pete, famously fastidious, wasn't looking for a new shoe. After all, he'd played a full career (near enough) with the same racket. Change, in the world of Sampras, isn't a requisite for success. Undeterred, Hatfield tested his design with other pros, and using a game of pickup basketball as a ploy, introduced the shoe to Pete. Surprisingly, Sampras conceded and wore the Oscillate first at the Australian open. He won. Then, Sampras wore the Oscillate for 7 consecutive years. One might posit, then, that Hatfield's risk was a success. And, in its understated lines, Hatfield cemented (no pun intended) a true legacy in the sport of king's.
Roger Federer, like Sampras, doesn't shift about when it comes to equipment. His latest, the Zoom Vapor 9 Tour, debuted in May of 2012. In a world in which some signature athletes wear two distinct designs a season, it is almost unfathomable to think a top-flight tennis shoe would go unchanged for so long. But, again, that is testament to Tinker Hatfield.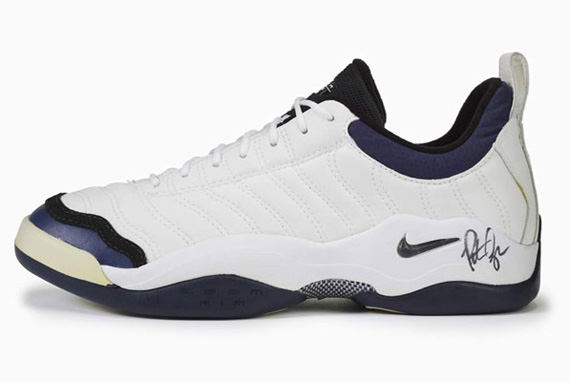 Hatfield, much like artist David Hockney, has gravitated towards an iPad in his later years. The Zoom Vapor 9 Tour was initially sketched on the device, its beautiful lines balancing contemporary tech sensibilities with the heart and soul of traditional, hand-drawn designs. It is, undoubtedly, one of the best shoes of the past decade. And, while limited edition versions have been snipped swiftly, the Zoom Vapor 9 Tour still hasn't received its due respect.
The Zoom Vapor 9 "Air Jordan III" won't really help. Nor will it properly celebrate Tinker Hatfield's astounding contributions to tennis. Instead, the mashup will remind simply that Hatfield's had his fingers in a lot of pies, through a number of decades, and impacted several generations of athletes.
Instead of conflating that history, we should treat the contemporary with the same vision as sneaker culture festishises the past. If Tinker had stopped in '88, we'd have missed out on the Air Tech Challenge II, the Air Oscillate, and the Vapor 9 Tour. Rather than sweat a ode to a tired past (Jordan IIIs are reaching cliche), wait with baited breath for Hatfield to, once again, reinvent tennis.
Fingers crossed, Nadal will come calling soon enough.
Nick Schonberger is a Deputy Editor for Complex Media. You can follow him on Twitter here.