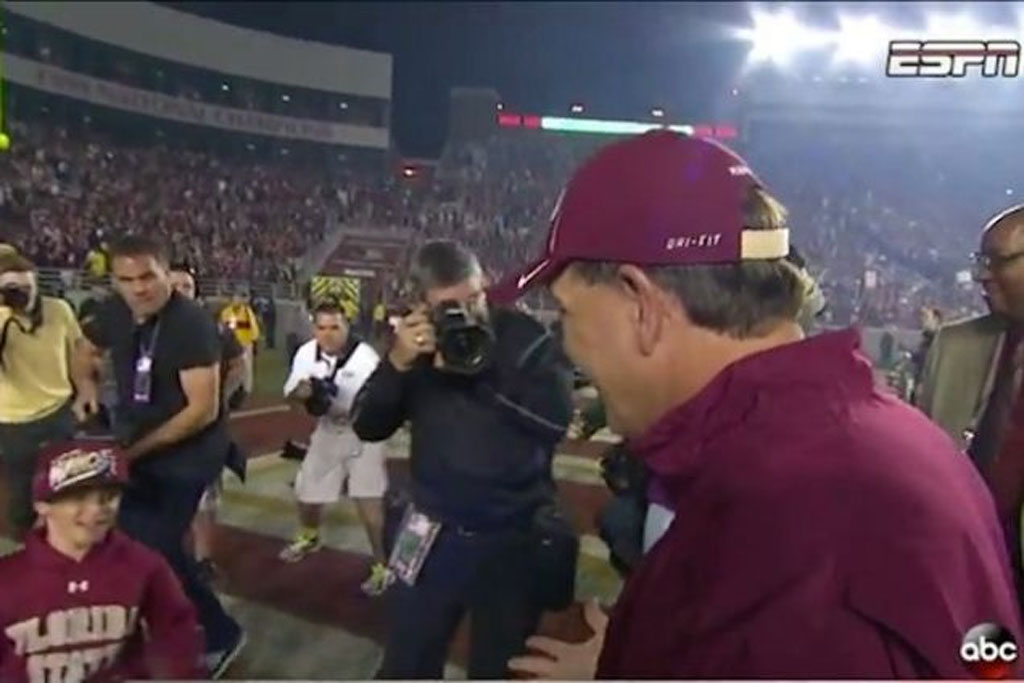 words // Steve Jaconetta
Minutes after Florida State defeated Miami on November of 2013, FSU head coach was greeted by his son on-field. However, there was a slight problem with this moment, which was aired on live television, the 9-year-olds sweatshirt.
Florida State University is a Nike sponsored school, therefore all players and staff of their athletic department are required to wear Nike branded apparel. Even though the relationship doesn't include members of the family, its clear that it should be an unwritten rule. As Fisher was celebrating, his son Ethan ran up to him and was clearly seen by millions of viewers sporting an Under Armour branded sweatshirt. Ut-oh. While that was almost nine months ago, the Wall Street Journal recently got their hands on an e-mail from Nike's assistant director for football sports marketing, Mark Dupes, to FSU's athletic department. In the e-mail you can clearly see how the Swoosh felt about this 'poor' display of branding.
"Hey got a text from the USA Director of Sports Marketing last night telling me of how good things look w FSU and our players and sideline staff, exposure for the Brand was exceptional. Then 5 min later I rec a new message…Said ABC cameras were on Jimbo and his Son ad end of the game…His son was Wearing Under Armour FSU sweatshirt! Ouch. Can we please ask Jimbo to eliminate that from the son's wardrobe in the future! Let me know if I can help w anything. Thx guys. MD"
What are your thoughts on the whole thing? Do you agree with Nike and that the e-mail was warranted? Or, do you feel they should've just let it slide?