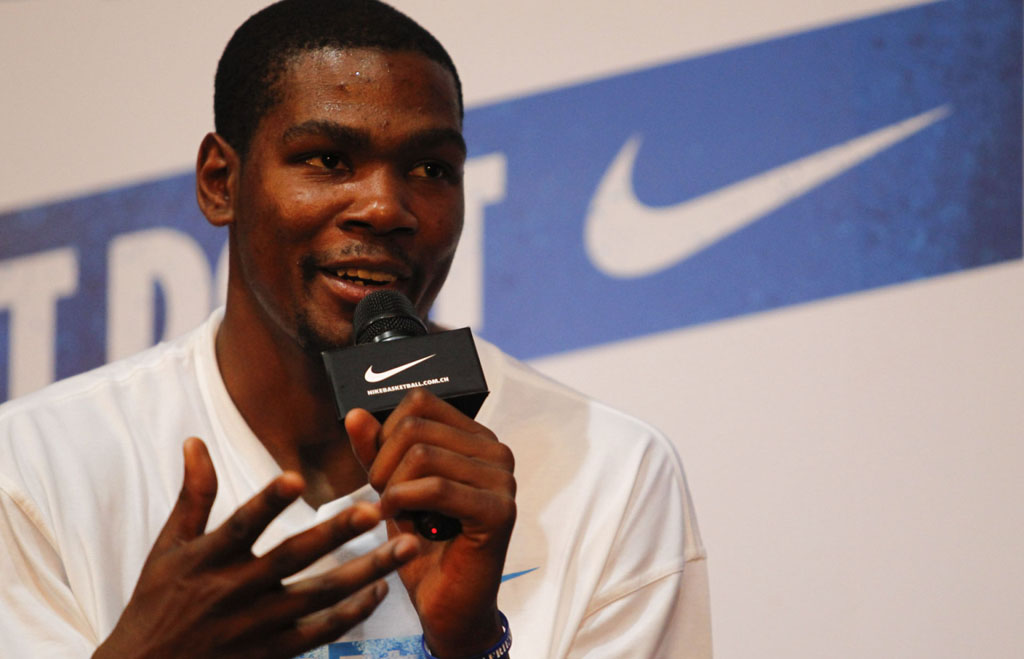 words // Brandon Richard
Despite the fact that Nike just dropped his brand new signature shoe, Kevin Durant's future with the brand is uncertain. As his Nike contract nears expiration, and the word is that he's looking to cash in big on his next deal.
According to ESPN's Darren Rovell, one of Durant's potential suitors is Under Armour, who operates out of Baltimore. Instead of just throwing a big money offer on the table, they'll attempt to appeal to Durant's emotional ties to the D.C. and Maryland area with their pitch.
Last year, Durant signed with Jay Z's Roc Nation sports agency. The company has a recent history of securing big money deals for its clients. Last month, they landed Durant a lucrative endorsement deal with Sparkling Ice.
Nike will likely pony up the money necessary to hold on to Durant. With Kobe Bryant on his way out of the league and LeBron James heading into the tail end of his prime, securing the next biggest endorser and reigning MVP is a priority for the brand.
Last September, Under Armour made their biggest splash in basketball to date when they landed Golden State Warriors sharpshooter Stephen Curry. Bringing in a guy of Durant's caliber would not only enhance Under Armour's basketball category, but strengthen their overall profile as brand.
How realistic are Under Armour's chances to land Durant? That isn't clear at the moment, and while being based out of Durant's home region is a plus, the money will matter. As of now, he endorses no fewer than 10 products, more than any other NBA player. Rovell reports that he's meeting with his partners in Vegas today.
Would you be excited to see one of the NBA's big three land with a new brand? How do you think it would impact the sneaker industry? Share your thoughts with us below and stick with Sole Collector for updates.
UPDATE 8/4: According to a Portland Business Journal report, Kevin Durant has canceled a scheduled three-day visit to Nike Headquarters in Beaverton this week. The visit included various basketball-related activities, including camps. As of now, it's unknown whether or not Durant's cancelation has anything to do with contract negotiations.
UPDATE 8/5: NY Daily News' Frank Isola reports that Durant could earn as much as $30 million annually from Under Armour, according to a person familiar with negotiations. That number, if true, probably includes several incentive-based boosters. In comparison, Forbes estimates LeBron James' annual Nike earnings at $20 million.
Also, ESPN's Darren Rovell has confirmed that Durant did not make his planned Nike visit this week due to ongoing negotiations.
UPDATE 8/7: Despite the fact that people didn't want to buy Under Armour as a legit suitor for Durant's services, new developments make the story more interesting than ever.
Jeff Errmann of InsideMDSports is reporting that a Durant to Under Armour deal is near completion. He adds that it could we worth $325 million over 10 years.
Basketball Insiders' Yannis Koutroupis confirms the $320 million+ offer, along with equity in the company. He's also reporting that Nike believes they've lost Durant.
These reports have not been directly confirmed by Under Armour or anybody in Durant's camp, so it's just information at the moment. However, if true, what pretty much amounts to multiple NBA max contracts and equity in the company is nearly impossible to pass on. Argue aesthetics and "coolness" if you'd like, but that kind of security trumps any popularity contest.
We'll continue to follow the story here at Sole Collector.
UPDATE 8/13: Several outlets, including ESPN's Darren Rovell, are confirming that Kevin Durant attended a meeting with Under Armour today to hear their pitch.

UPDATE 8/20: ESPN's Darren Rovell reports that Under Armour has officially made a 10-year, $285 million offer to Durant. See the details here.
UPDATE 8/26: Bloomberg Businessweek's Kyle Stock is reporting that Nike has until tomorrow to match Kevin Durant's mega offer from Under Armour. Stock reports that the deadline was imposed by Jay Z and Roc Nation Sports.
While the deadline (which we haven't confirmed) may be true, it seems unlikely that events unfolded this way. As originally reported, Nike has the right to match the offer of any suitor, preventing Durant from leaving. If this is indeed the case, it's hard to imagine that Nike didn't negotiate their own deadline into the contract when it was originally signed in 2007. Wednesday marks exactly two weeks since the August 13 meeting between Durant and Under Armour.
UPDATE 8/27: Clearing up yesterday's report, Darren Rovell confirms that Nike has until next Thursday at midnight to match Kevin Durant's mega offer from Under Armour. Reports of a completed deal with the Baltimore-based company made the rounds on social media earleir today, but they are not true. We'll continue to follow the story here at Sole Collector.