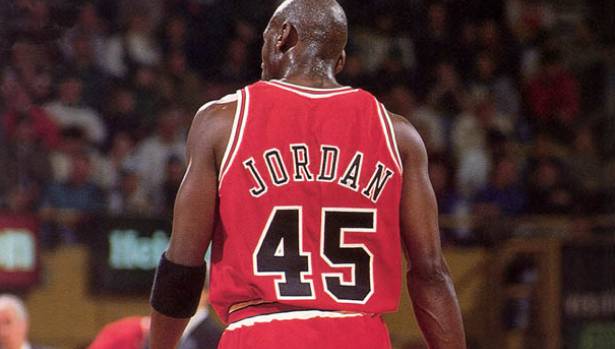 words // Brandon Richard
On March 18, 1995, Michael Jordan announced his return to the NBA in a way that only he could get away with - a two-word press release that simply stated "I'm Back." With his familiar number 23 hung in the rafters, Mike opted to don the number 45, which he wore as a member of the Birmingham Barons' minor league baseball team. The following day, he scored 19 points in a game against the Indiana Pacers, which ended up being the most viewed regular season NBA game since 1975.
The Bulls didn't get right back to their winning ways. Jordan's comeback propelled the team into the playoffs, where they advanced to the Eastern Conference semi-finals. After stealing the ball from Jordan to lead the Magic to a Game 1 win, Magic forward Nick Anderson famously said that he "didn't look like the old Michael Jordan." Afterwards, Michael went back to number 23 for the remainder of the series, averaging 31 points per game. However, behind the play of Shaquille O'Neal, Anfernee Hardaway and former Bull Horace Grant, the Magic would prevail in a 6-game series. That'd be the last time Chicago made an early playoff exit of any kind for another three years.
For majority of the 1994-1995 NBA season, Michael laced up the "Chicago" City Pack Air Jordan X. Also worn by Scottie Pippen earlier in the year when he summoned MJ to make his return, the "Chicago" X is white-based with black and red accenting. Michael Jordan's Player Exclusive version had the number 45 embroidered on the lateral ankle.
Next year, the "Chicago" Air Jordan 10 will make its second retro appearance, this time the '45' embroidered PE version in remastered quality. With the return of the classic sneaker, we thought it'd be a good idea to take a look back on when "Money" was actually wearing these bad boys on the court. Read on for several in-game MJ photos.