words // Zac Dubasik
Resellers are part of the sneaker world, whether we like it or not. On the positive side, thanks to them, we are able to get our hands on forgetten gems, still in deadstock condition. But on the negative side, sometimes those prices are shockingly high.
While Air Jordans remain the number one target for many resellers, things aren't limited to MJ. There are quite a few Kobes going for sky-high prices as well. Some are truly rare game relics, while others are sellers simply looking to capitalize on collaborative hype.
Today, we're looking at 10 of the most expensive Kobe's you'll ever see. For the sake of not repeating shoes over and over, we only included one of the many HTM Kobe 9s listed at outrageous prices, as this list could have practically been made up of those alone. Check them out, and let us know your thoughts. Would you pay any of these prices?

10 – Nike Zoom Kobe 8 System 'Duke PE'
: $2,799.99

9 – Nike Zoom Kobe 6 'Barcelona'
: $2,999.99

8 – Nike Zoom Kobe 6 'Sample PE'
: $3,350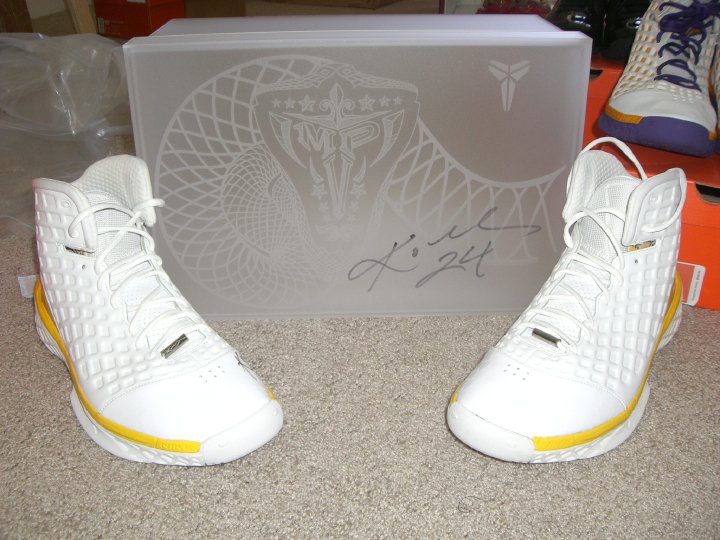 7 – Nike Zoom Kobe 3 'Autographed PE'
: $3,500

6 – Nike Zoom Kobe 5 'Da Vinci'
: $3849.99

5 – adidas KB8 2 'Autographed and Game Worn'
: $4,500

4 – Nike Zoom Kobe 6 'Vault Anniversary Package'
: $5,149.99

3 – Nike Zoom Kobe 6 'Rice Sample'
: $5,895

2 – Nike Kobe 9 Premium 'HTM'
: $7,799.99

1 – adidas KB8 'Autographed and Game Worn'
: $7,999