words // Zac Dubasik
If you're looking to celebrate the 4th of July through your footwear, there's certainly no shortage of red, white and blue options. Some have been created specifically for the event, like these LeBron 11s, and some just happen to match, like the True Blue Air Jordan 3s.
The purpose of this list though is to look at some less-traditional options. The following kicks may not be red white and blue, but they can each help you celebrate Independence Day in their own ways.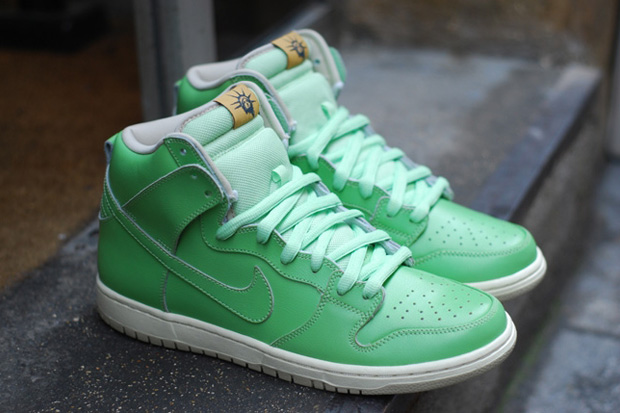 Nike Dunk SB: Statute Of Liberty
If you aren't going with red, white and blue, one of the most obvious choices to celebrate Independence Day via sneakers is the Statue of Liberty SBs. They even upped the accuracy with a paint job that, when worn, revealed a brownish layer underneath, mimicking the oxidation of the actual statue.

New Balance x Concepts: C-Note
New Balance and Concepts' C-Note collaboration is connected to Independence Day in two ways. First is the fact it was modeled off the new $100 bill, and what's more American than that? But there's also the fact, like many New Balance sneakers, that it was actually made in the U.S.A.

adidas Jeremy Scott x ASAP Rocky: Wings
From a few feet away, these look like your typical all-black sneakers with giant wings protruding from the heels. But upon closer inspection, the right shoe of this collaboration features black-on-black stars, while the left features black-on-black stripes.

Saucony x END. Shadow 5000: Burger
There's a good chance that at some after reading this today, you'll be heading to some type of picnic. And at that picnic, there's an equally good chance that hamburgers will be served. So, if you're looking to celebrate a traditional Fourth of July meal, there are few better options than this cookout-inspired Shadow 5000.
There's almost never a Fourth of July that passes without a story of fireworks-related injuries. This Dunk celebrates these light shows, but also carries a "Caution Flammable" warning right on their heels.