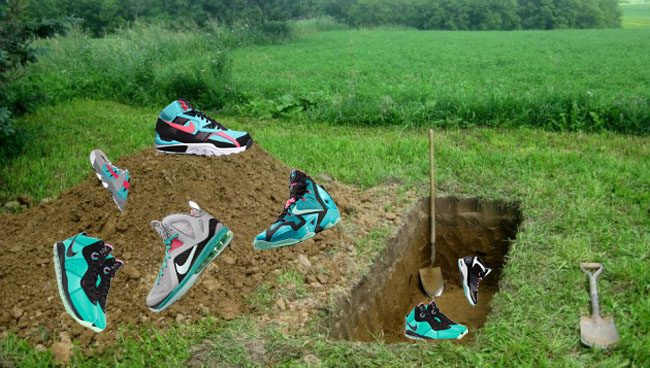 words // Zac Dubasik
Ironically, just as the news of LeBron James' return to Cleveland was hitting the world, and our homepage, a South Beach colorway of the Air Trainer SC High hit the site. On any other day, it wouldn't have been that interesting. In fact, it's become expected. But on the heels of the historic announcement, it holds a special significance.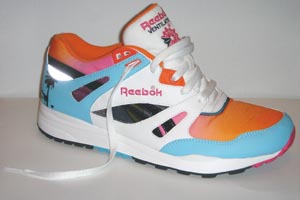 While credit (blame) for the explosion of the South Beach colorway is rightfully given to the LeBron 8, it's worth remembering that Reebok gave us a similarly colored Ventilator – complete with palm tree graphics – all the way back in 2006. Similar to the Kobe 4 not being the first, but the defining low-top signature hoops shoe, the LeBron 8 popularized the teal and pink color combo regardless of whether or not it was the first.
In less than four year since its launch, we've seen become one of, if not the most, influential colorways in modern sneakers. It's shown up on everything from trainers to slides, competing signature lines, and even casual Air Jordans.
Its impact goes deeper than just copycat colorways too. The shoe set a new bar for resale princes on a sneaker that wasn't even all that limited, and still sells for four-figures today. The South Beach LeBron 8 also helped introduce a new generation of collectors, to collecting.
We can readily admit the South Beach 8's importance, but it also has to shoulder some blame. The world really didn't need a South Beach Reebok Rail. Or a South Beach adidas Crazy 97. We most definitely didn't need a South Beach Nike Air Max Jr. And that South Beach Nike Air Trainer SC High I mentioned earlier? We certainly could have done without that.
So while there's quite a bit of excitement surrounding LeBron's return home, that's not the only thing to be happy about. We can also be optimistic that we may finally get to put the South Beach colorway on a well-deserved hiatus. Sure, we'll all be excited a decade from now when the LeBron 8s retro on a Black Friday, where some mall inevitably closes down over the riots the shoe causes. But in the meantime, we're going to enjoy the break.