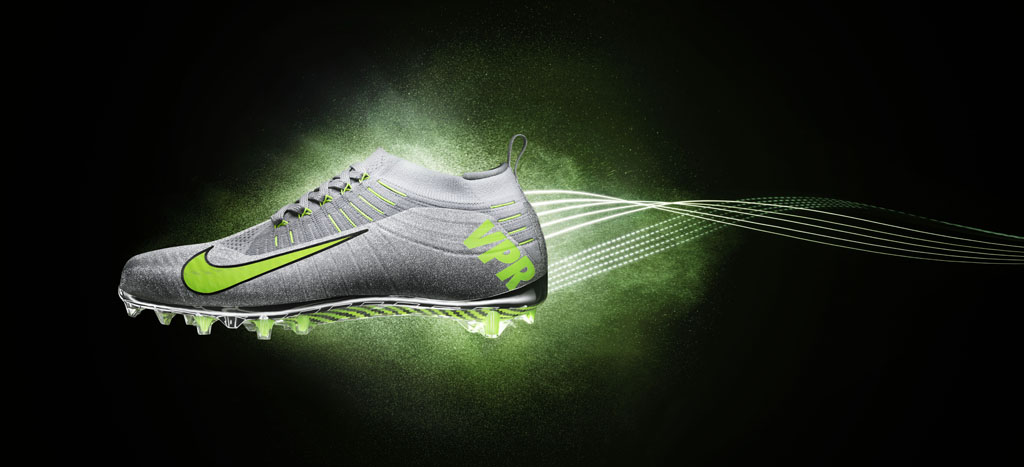 words // Brandon Richard
After redefining basketball, running, soccer and training footwear, Flyknit debuts in football as the game gets faster and more physical.
Creating a second skin feel around the foot, Flyknit is combined with Nike's latest game-changing cleat plate to form the Vapor Ultimate, a true extension of the foot, designed to allow the athlete to make faster split-second movements on the field without compromise.
The Vapor Ultimate delivers lightweight durability, lockdown fit and increased awareness of the bod's movements to meet pressures of the game and create Nike's fastest game cleat yet.
via Press Release
LIGHTWEIGHT STRENGTH ENGINEERED FOR THE FORCES OF FOOTBALL
Nike Flyknit debuted with the Nike Flyknit Racer in 2012 and more recently in the KOBE 9 Elite basketball shoe, Nike Magista soccer boot and Nike Mercurial Superfly.
This revolutionary technology defies conventional shoe manufacturing processes by creating an engineered one-piece upper that knits lightweight strength and durability directly into the cleat. For football, a new Nike Skin overlay material works in concert with the Flyknit, providing additional durability, strength, and protection in high-impact areas. Flywire cables, wrapping the arch of the foot, are also woven directly into the knit fabric to create a full one-piece upper engineered for strength and durability. The dynamic fit augments the natural motion of the Carbon V-plate.
DESIGNED FOR MULTIDIRECTIONAL SPEED
While the 40-yard dash is championed as football's defining speed metric, the game itself is all about multidirectional acceleration. The Nike Vapor Ultimate incorporates the Carbon V-Plate that debuted on the Nike Vapor Carbon 2014 Elite. The Carbon V-plate is the culmination of intense athlete-driven research into football-specific speed, and the first plate inspired by, and developed from, Nike's 3-D printing and testing facilities—accelerating development and testing timelines, pushing faster innovation and supporting faster athletes.
The groundbreaking studs on the Nike Vapor Ultimate are designed for zero-slip traction in both acceleration and breaking. The pattern allows for optimal ignition off the back foot, hitting the precision cuts to avoid a tackle, and the explosive propulsion required to make a critical catch. At the forefoot of the plate, an aggressive tri-star traction system allows for more confident movement overall.
The Nike Vapor Ultimate achieves the perfect balance of durability, power and speed. It is a cleat born from precision engineering, incorporating innovative technologies designed to match the forces generated by football's new breed of athletes.
Pre-Order the Vapor Ultimate for $250 at nike.com today.