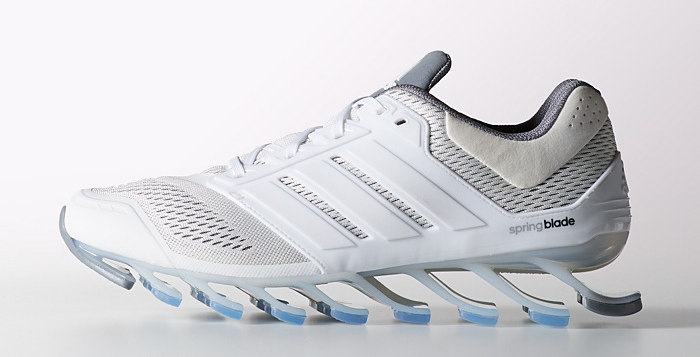 words // Nick Schonberger
In the pre-Instagram era, what you wore wasn't judged by "likes" alone. There was a tiered system of recognition: Nods from fellow connoisseurs and the ultimate, stranger's heads whipped swiftly round to catch a glimpse. Sometimes you'd get a "where'd you get those?" a phrase that seems dated against the current rash of Bot-riddled web launches and resellers. "Breaking necks" was the aim. Ridiculous really, but nonetheless entertaining when achieved.
Rare colorways. Vintage kicks in VNDS condition. "GRAILS." The types of shoes that "brake necks" are varied. However, these also fit into two categories—those that follow prevailing taste in sneaker culture (i.e. the F&F DQM AM90), and those that wow the general public. In either case, there's ample fun in generating attention; and, for the former, there's plenty of opportunity to celebrate outrageous design.
With the commonality of crazy colors—every kid on the corner has some version of a LeBron 11 or KD7—the weird and wonderful segment of sneakers gets little respect.
However, dismissing the potential of hyper-aggressive athletic footwear is symptomatic of near-sighted collecting. Experiments in tooling and upper design might not always yield the most aesthetically pleasing sneakers, and it's especially tough to introduce forward-looking styles amidst such broad retro selections. Yet, some of the latest models certainly serve the secondary category of "neck breaking" kicks. Among the best of these? The adidas Springblade.
With no discernable midsole, the Springblade looks like something derived from science fiction. It's ugly, undeniably so. And, by virtue of its inherent unattractiveness, the Springblade is also one of the most intriguing silhouettes of the last five years.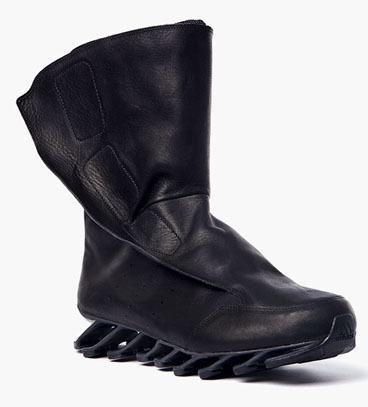 There's little mystery as to why Springblade appeals to Rick Owens. The tooling takes center stage in the designer's third adidas collection, finding form as a standard runner and way-out-there boot. The angularity of the singular blades mirrors Owen's asymmetrical zips. And, through considered oddness, the shoes stand out from the norm.
Don't forget, of course, that standing out from the norm was once standard sneakerhead life. Before "likes," and before pre-ordained nicknames, the culture was insular. The culture picked what shoes were acceptable, established (through word of mouth, and later message boards like the one on this very site) and codified rules and values, and ultimately created a hierarchy of cool.
As that system has been co-opted by a larger, wider group of consumers, it must be disrupted. It must face some shock. And, it must break some fucking necks.
Sounds stupid, right? Sounds as if I am some soured old 'head, regarding the current generation with great distrust. Perhaps that's true. Think beyond those accusations. Think beyond appealing strictly to your peers. Think about how you can get some old lady in the supermarket checkout line to look down and say with an air of bewilderment, "what are those?"
After all, we can't just wear shoes to appease the rules. It's too easy. Post some Red Octobers, you know you'll get a ton of emoticon-heavy response. Break out the box though, and you stand to shock a portion of the population who think 'Ye is just "the guy who married one of those Kardashian girls."
The new adidas Springblade Drive is available at Finishline.com.