words // Zac Dubasik
We all know fake sneakers are a major problem in the sneaker world, and it's gotten worse as of late, with the knockoffs getting better and better. While it's always been the safest move to buy from an authorized retailer, it's become even more important as its gets harder to tell the real from the fake. Unfortunately, it's also gotten harder and harder to cop real pairs, as things like bots have made it borderline impossible to score legit pairs online.
Today though, we are taking a look at some fake Air Jordans that you won't have any trouble discerning from real pairs. If you can't tell these from real deal, then bots are the least of your problems. But that doesn't mean they aren't funny to see. Take a look at these ridiculous Air Jordans, and let us know the worse ones you've seen in the comments.
A few years back, you may remember Dwyane Wade switching over to Jordan Brand after his initial run with Converse. While his tenure with JB was largely forgettable, he did have a couple signature models, as well helping to lead the Air Jordan 2010. One thing that didn't actually happen though was him getting his own Air Jordan 1 – especially not one with his full color portrait, a clear Swoosh, elephant print, and visible Air.
These Air Jordan 5s almost had us fooled for a second. (Or not.) But the outsole Jumpman's broken arm, the incorrect materials, and mesh not even vaguely reminiscent of the real deal gave away the fact that these are indeed fakes.
During the mid-2000s, Spongebob Squarepants was an extremely popular kids show, which had a lot of adult fans as well. We aren't exactly sure how it ended up becoming a popular graphic in the world of fake Air Jordans, but sometimes it's better to just appreciate things than over-analyze them.
While Air-filled Shox columns surprisingly do exist on actual Nike footwear, they've definitely never been seen on a legitimate Air Jordan. But while they may be fake, at least we can have a better idea of what a Vince Carter signature shoe may have looked like if he had been with Jordan Brand rather than Nike.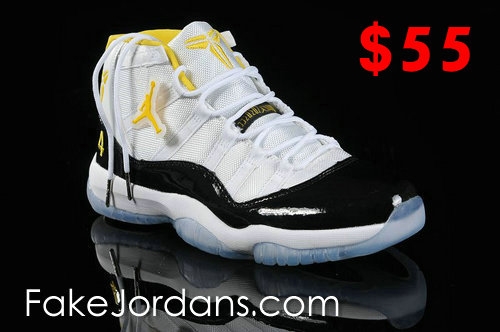 Air Jordan 11 'Concord Kobe PE'
As you probably know, during his period of sneaker free agency, Kobe Bryant received quite a few pairs of Air Jordan PEs. A number of clues give away the fact that these aren't from that era though, such as the fact his Nike-designed logo didn't yet exist, he had yet to switch to number 24, and the these are tagged with a $55 price from "FakeJordans.com."
There's a natural connection to a Galaxy colorway for the Air Jordan 11, considering the Space Jams had an intergalactic theme over 15 years before the 2012 All Star Game. But while a Galaxy 11 would undoubtedly set new levels of hype, it thankfully doesn't exist. Yet. We can only hope it stays that way, because if we ever do see such a shoe, you can bet a South Beach edition wouldn't be far behind.
There's no doubt that the 2008 election was a historic one. And what better way to celebrate such an event, than with a commemorative sneaker? The execution may not have been there, but the fake makers were just giving us what the real companies weren't. (Although they may have run into some issues regarding using the President's likeness.
While the Air Jordan 13 is undoubtedly a popular model, it's even more popular when it comes to outlandish fakes. But that's good news for anyone who's ever wished for a pair with red leopard fur.
We've seen fake clear editions of many Air Jordans, most notably 7s and 8s with see-through panels. This 13 takes things to the next level though, with a blue-tinted clear material covering the majority of the upper, even when backed with mesh.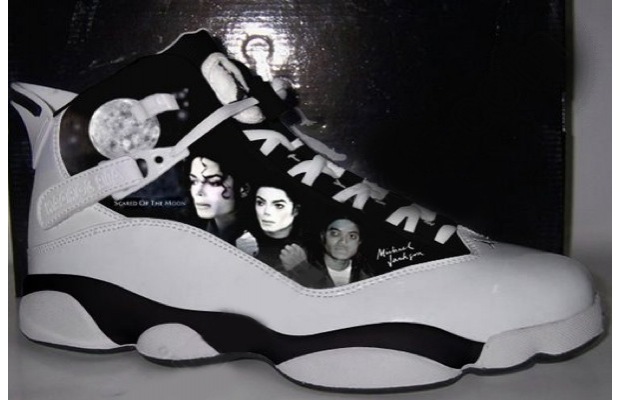 Air Jordan 6 Rings 'Michael Jackson'
In a similar vein to the Obama edition 11s, here we see an Air Jordan 13 unofficially honoring the King of Pop. Be sure to take note of the attention to detail displayed by the fake makers here, by showcasing the 'other MJ' in three different shades of skin.