words // Zac Dubasik
Although it hasn't even been four years since the launch of the South Beach LeBron 8, much has changed. In the time that's passed, LeBron has won 2 NBA Championships (and lost 2 more times in the Finals). The Yeezy 2 was launched and became the most hyped shoe on the planet. Galaxy print became a 'thing.' There was Red October, then Red February. Kanye left Nike for adidas. And all along, we saw the price and profile of the South Beach not only sustain, but increase.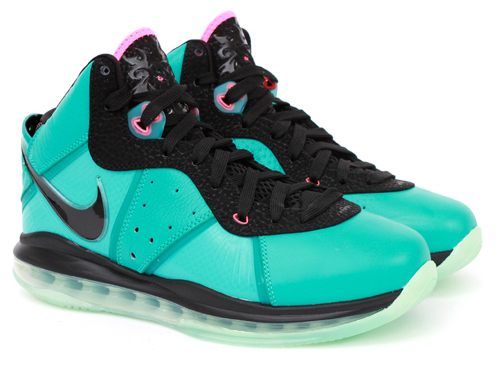 And that's not surprising considering how influential the shoe was. Were the South Beach 8s the first shoe in history to feature an aqua and pink colorway? Probably not. But it was the perfect colorway at the perfect time. LeBron's popularity was at its all-time low, on the heels of The Decision, the success of the 8 wasn't a sure thing considering how much negativity was directed at him.
But rather than the line falling off, the South Beach ignited a new era in sneakers – an era where a release that wasn't even all that limited could resell for four-figures. Not only did the South Beach set new precedents for resale pricing, it served as a catalyst for a new generation of fans to get into sneakers.
So, seeing how influential and popular the colorway was, it shouldn't come as a surprise that attempts were made to recreate the magic. It started off innocently enough. Sure, the South Beach Jordan CMFT 11 was bad, but you knew there'd be at least one of those. But then came the customs. And the Fly Wades. SUPRAs. LeBron South Beach Slides. Air Max Jrs. You get the picture.
And that brings us to this upcoming weekend, and the launch of the South Beach 11. And let's be fair. If there's any shoe that has the right to release in a South Beach colorway, it's a LeBron. It's only right that the line that launched the crazy would get to revisit it. Again.
But after all these years, and all these bad attempts, has the colorway lost its luster? I have no doubts that a retro of the South Beach 8 would sell out instantly. But has redoing it over and over left fans tired of it? Are you excited for the 11 like you were for the 8? Has the overdoing of the colorway even hurt the legacy of the original? Let us know your thoughts in the comments.