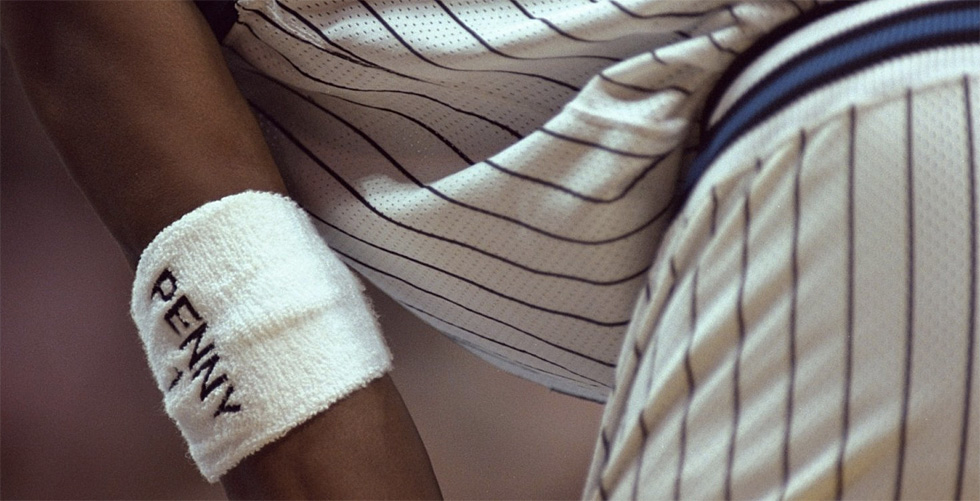 words & interview // Nick DePaula
For three decades now, Nike has set the industry standard for the way in which they involve their athletes in the signature design process. Whether it's pulling out insights and inspiration from the athlete, or the way in which the most iconic models can precisely mirror the personality and style of the player, the signature shoe has become a formula proven to continually inspire new fans.
While LeBron James, Kobe Bryant and Kevin Durant are the current headliners of Nike's on-court Basketball footwear, Penny Hardaway is still one of the most relevant NBA stars in sneakers, even twenty years after being drafted. He's still enjoying the success of his iconic Foamposite Retro launches, and has been working in tandem with Nike Sportswear over the past five years to add onto his signature legacy with the creation of new models like the Half Cent, Zoom Rookie and Air Penny V.
This Saturday, three colorways of his newest model, the Lil Penny Posite, will be launching nationwide, helping to retell the story of his much loved knee-high alter-ego Lil Penny. Designed by Marc Dolce, the shoe once again incorporates Foamposite into the upper, and features several cues of what's become Penny's iconic design language and styling.
To get his take on the new model and the legacy that Foamposite has built up over fifteen years after first launching, Sole Collector caught up with Penny Hardaway by phone yesterday for an exclusive interview.
Nick DePaula: You had five great signature sneakers during your playing days, and now the Lil Penny Posite is the fourth new model that you've had release during your retirement. What was your initial reaction when Marc Dolce told you he wanted to create another new shoe?
Penny Hardaway: I thought it was awesome! To be asked to do more shoes, for a shoe line that hasn't been there in awhile, is a blessing. I was very excited about it.
NDP: This one is for Lil Penny again, and his last shoe, the Half Cent, was a hybrid. Was there any particular direction or style you wanted to see them take with the Lil Penny Posite?
PH: I just wanted it to be comfortable. First of all, I wanted it to look good of course. You always will see the shoe first before putting it on, and in some crazy way for most basketball players, if they like the way the shoe looks enough, they'll play in it no matter what. With this one, the fit had to be right, and the shoe had to be comfortable.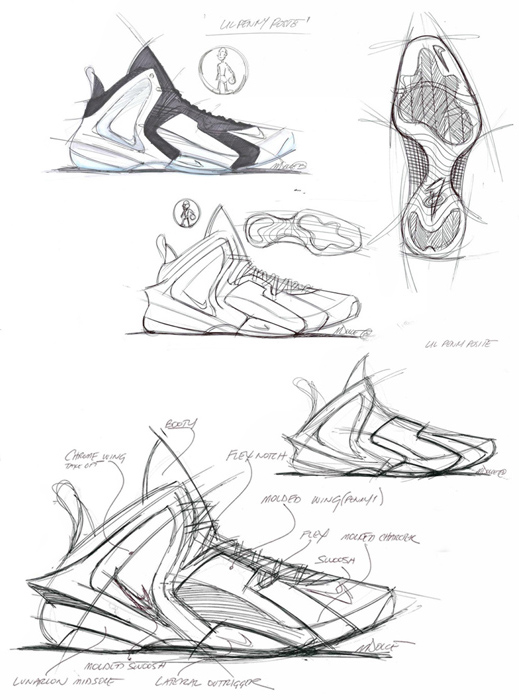 NDP: The shoe has a real clean flow and there are some cool lines on it. What were some of the things you thought about the design when Marc first showed you his early sketches?
PH: I just like how he always tries to add a wing or some element of Foamposite on there, so that you know it's my signature shoe. That's something that I'll always be known for, the Foamposite, and every new shoe will pretty much have a wing in some way.
NDP: I talked to Marc all about the shoe, and one of the things that he mentioned you being real vocal about was how you really wanted it to look good while you're wearing it, and how you were particular about the tongue. What was your input on that?
PH: One of the biggest things on a shoe when you're playing in it or wearing it, is you don't want the tongue to be moving around. One of the shoes I had, like on the Penny 1, you had to keep adjusting the shoe laces and the tongue back into the middle, and I didn't want that. I wanted the tongue to be more sturdy. Then also, I wanted it to look good for guys that don't play ball. It's a shoe that you can wear with a pair of jeans and it'll still look good.
NDP: I'm actually wearing a pair of Penny 1s today for the first time in a couple months, and I was noticing how the tongue is definitely a little short.
PH: Yeah, exactly. [laughs]
NDP: All of your past shoes have had either Zoom Air or Air Max, but the Lil Penny Posite is the first one that has Lunar foam in it. Obviously the Nike Basketball group is making current performance models for on-court, and these are more lifestyle driven being that they're by Nike Sportswear. Have you gotten a chance to wear them yet, and what'd you think about the Lunar?
PH: I love it! It's a great basketball shoe, on top of wearing it around, and I've been playing in in for the past month and a half actually. They're very comfortable and it's different from what I've had in the past, like you said. It feels really good and it looks good too.

NDP: With the Penny V, you had the Red Eagle color for your High School, Treadwell, and you had the Blue Tigers color for Memphis. What kinds of colors and themes were you hoping to see this time around for the Lil Penny Posite?
PH: With the V, I really wanted the Treadwell Eagle color and also the Lester Middle color. I really wanted those two specifically, because those were the high school and middle school that I am associated with, and they're both near and dear to my heart. The Memphis Tigers as well, for the University of Memphis. Those three colors were a definite for me, and we have the colors connect more to me on the signature ones. For the Lil Penny Posite, I was really talking more with Marc about what kinds of cars I've got, what kinds of bookbags I've been wearing, and things that I like that are sleek looking. The thing about the Lil Penny Posite, it's a sleek looking shoe. It's not bulky, and it's really sleek. It's clean and sleek, and that's what I like about it, and we wanted to have clean colors.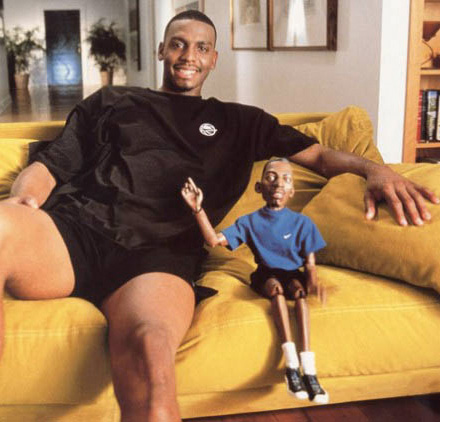 NDP: A big part of the Lil Penny story is of course the original commercials, which were a huge, huge hit with the involvement of Chris Rock. Did you guys ever talk about doing a new commercial or bringing him back in the fold somehow?
PH: You know what, I spoke to Chris last year or so on my radio show. I'm an executive producer on The Bottom Line Sports Show, and he said that if Nike contacted him, he would do another commercial. I've never really spoken to Nike about it, but he's on board with it.
NDP: Man, it sounds like you've gotta tell someone at Nike then!
PH: I know. [laughs] He was really on board with it, so we'll see.
NDP: That's a phone call that's worth making.
PH: For sure. [laughs]
NDP: It's been over fifteen years now since the original Foamposite first came out, and you're still seeing guys like LeBron and KD ask for Posite to be on their signature shoes. The LeBron 11 that came out for this season was a Foamposite – what's it like to still see Nike using Posite on their biggest basketball shoes?
PH: It's great! They understand that those guys respected my game, and they wore my shoes when they were younger. Now that their shoes are being built, and they know how important Foamposite was to my shoes, guys like LeBron are adding it to theirs. It's a huge compliment and an honor to have those guys want that in their shoes.
NDP: Have you gotten a chance to get a pair of the new LeBron 11s? What'd you think of those?
PH: I love the LeBron 11! I don't play ball in 'em, and I just wear them around, but I wear all of his shoes. Him and KD. I don't play in a mid-cut or Low shoe like Kobe's or KD's, but I'll sport them around or wear them while I'm coaching my team's practice.

NDP: One of the real cool things with the Lil Penny Posite was how you guys launched it with the "Shooting Stars" Pack. What was it like to have your first pack, and how did that all come together?
PH: Yeah! Man, it was unbelievable to have my own pack, because of course we've seen Jordans be brought out in a pack before. It's a creation with the Shooting Stars that I know I created. I told Marc, "This is exactly what I want for Orlando." I asked for the stars and everything, and said, "Hey, this is what I want." It was the perfect shoe, and everyone else thought the same thing.
I just really wanted something unique for Orlando's All-Star Weekend, because I knew I was going to be playing in the Celebrity game. It all worked out. The Penny Posite we did in blue and black too, because of the Magic. It fit with the theme to have that colorway with it in the pack, and it made it even better. The way that they designed the box was unbelievable as well. They did an unbelievable job on the pack!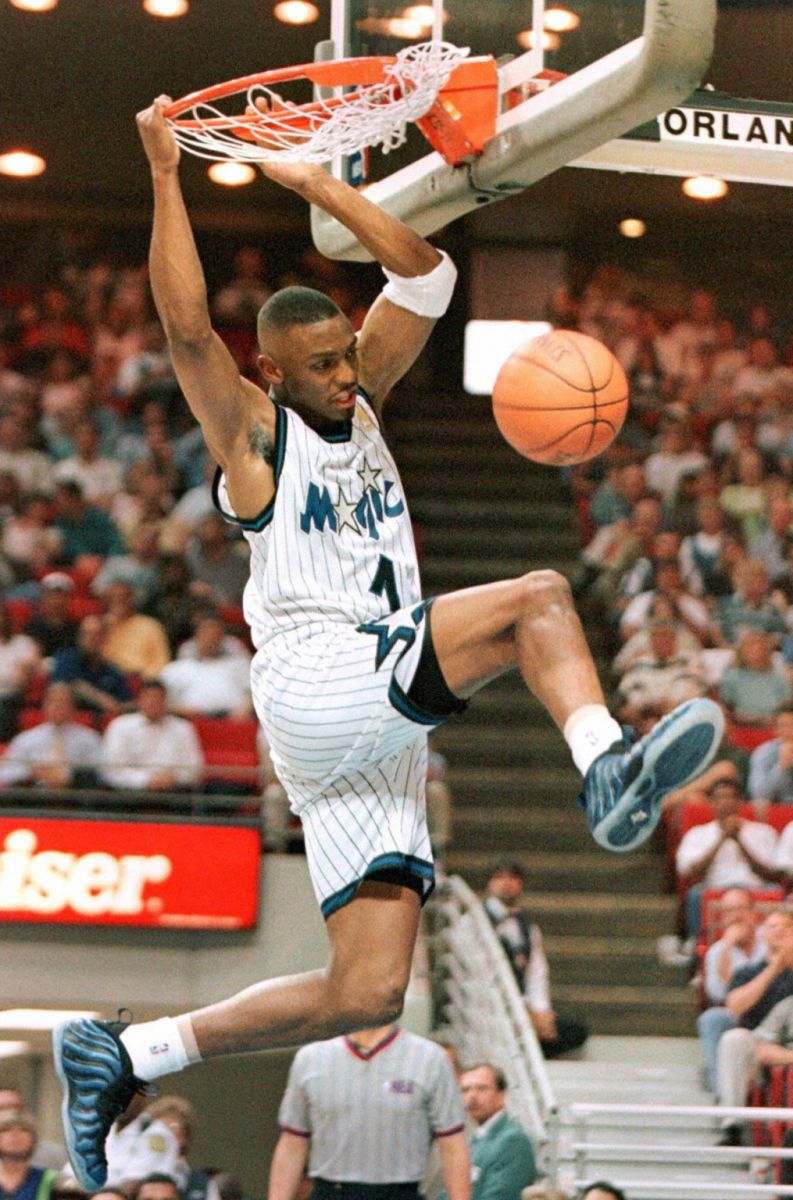 NDP: The box was definitely super sick. You mentioned the Jordan packs, and they've done Countdown Packs and also Defining Moments Packs for MJ's biggest games. Have you ever given much thought to a similar pack, with some of what your defining moments as a player were?
PH: You know what, it would be nice, and I have thought about it. When I hit the 40+ points in back-to-back games against Miami in the playoffs, everybody remembers that playoffs. Maybe something around that series could be a pack.
Being MVP of the first Rookie All-Star Game, probably mixed in with the Olympic Team in '96, that could be a pack too. I don't know, but something crazy like how they do the "What The" LeBrons now would be cool, like a "What If?" Penny Posite in Golden State colors.
NDP: You've really been thinking about this!
PH: Yeah! [laughs] I haven't talked to Marc about it yet, but it's something that I've thought about a lot just recently.
NDP: They've been doing graphics and themes for the Foamposite and Penny V, but I'd like to see more themes on the Penny 1 and 2 too, whether it's around the All-Star jerseys for those or something else. They've mostly done more clean colorways on those two models.
PH: Yeah man, that would be real nice.
NDP: With all of the Foams that they've done, is there a graphic or color you'd still like to see them do?
PH: I'm still on that Golden State thing, for whatever reason. Me and Wale were talking about it actually, and he's of course a huge shoe fan. I thought about it before he even said anything to me, but almost a year ago, he said, "Man, you need to come out with a Golden State Foamposite. Everyone would go nuts." You could put the year of the Draft on the back of it or something, and it'd be a cool collector's item. I got drafted by Golden State, and a lot of people don't know that.
NDP: Even now, I still remember how you were saying that before the Draft, you had played with Shaq on the set of Blue Chips, and how he was telling the Orlando front office that they should try and trade for you because you guys had great chemistry.
PH: It's pretty funny, because Golden State and Blue Chips almost have the same colors too. I don't know how all of the rights work, but a Golden State and a Blue Chips shoe would be stupid. With Blue Chips, 22 was my number, and it could be crazy. I've been thinking a lot. [laughs]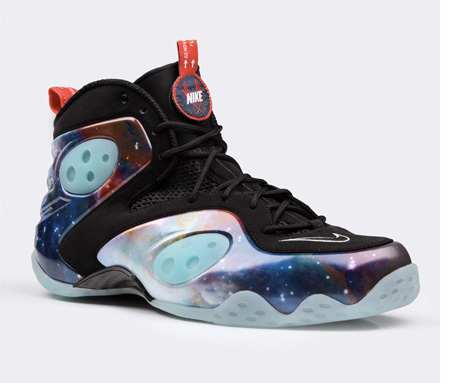 NDP: Other than your own models, what are some shoes that you've been wearing around lately?
PH: Lately, I've been wearing my own stuff. I've just been playing ball in the Lil Penny Posites, and then both of the Galaxy Rookies too, the black pod and the Sole Collector ones.
NDP: That's cool to hear. How often are you playing these days?
PH: I play two times a week right now, and I'm about to turn it up to three times a week.
NDP: Marc was talking about your line in terms of it being a trilogy. You guys have the models that you wore before you got your own shoe, then your signature series, and now all of these new models you guys are creating. What's next for the line, and what can we expect to see in the future from you guys?
PH: Well, I think the line will keep going. We might go from a Penny 5 to a future one. [laughs] You're going to see some different things with the Foams. The new colorways they've been doing are great. Kids like colors, and I like colors, and it's just a good looking shoe that you can do so much with. Some shoes will be pleasing some East coast people, and some shoes will be pleasing some West coast people. It's going to be fun and some fun colors.