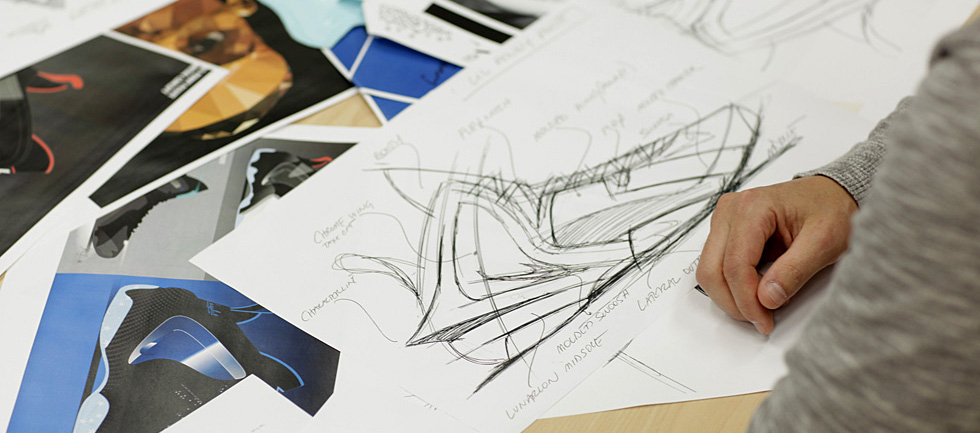 words & interview // Nick DePaula
images // Yulia Nidbalskaya
While Penny Hardaway might've only had five official signature shoes during the All-NBA prime of his career in the late 1990's, the new Lil Penny Posite from Nike Sportswear will actually be the ninth sneaker to feature his iconic 1 Cent logo. The fact that he's not only remained relevant all these years after his playing days, but arguably just as important and impactful as ever, is a credit to both NSW's continued emphasis on his line and Hardaway's constant involvement in the process.
He's long been one of the most beloved signature athletes in Nike's entire brand history, and a large key to that nostalgia that still lives on today can be traced back to the classic "Lil Penny" ad campaigns. Voiced by Chris Rock, the knee-high alter-ego and Penny broke new ground in footwear commercials with a string of the funniest spots to ever hit television.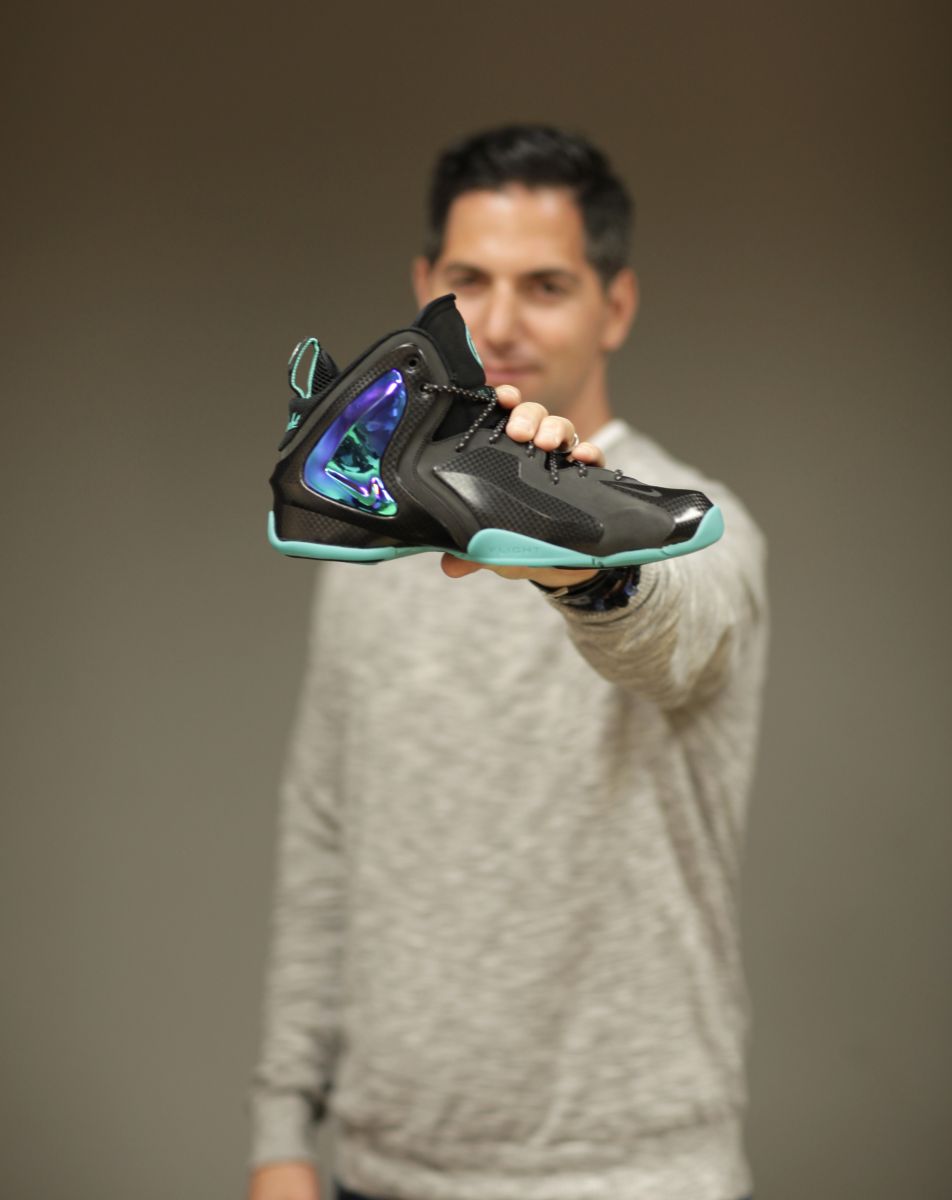 Whether they were rolling through Beverly Hills in a Range Rover and hollering at Tyra Banks, throwing a wild Super Bowl party with endless cameos or just kicking back on a couch, the duo's chemistry and comedic timing was undeniable.
Once Penny officially retired from the league in the mid-2000s, Nike Sportswear's Design Director Marc Dolce began the early concept stages for a tribute to Lil Penny, with his very own signature shoe, dubbed the Half Cent.
Released in early 2009, it's been five years since we last saw a sneaker inspired by Lil P, and this weekend, his new Lil Penny Posite will be dropping nationwide in three colorways that tie back to the duo's history together and their recent travels.
To hear all about the design process, Penny's involvement and the changes throughout, we recently caught up with Marc Dolce for an exclusive interview to detail the new Lil Penny Posite.
Nick DePaula: You've had the Half Cent and Rookie as past new models for Penny, and the Air Up also played a part in the design process here. Can you walk me through some of the early design inspirations and ideas for this new Lil Penny Posite?
Marc Dolce: I think we had a great run with Lil Penny in 2009 with the Half Cent. For us, we want to elaborate and continue the story. The one thing that's really important about how we build out the Penny line, is that we look at it as a trilogy. Think of it as three different parts, and we have the pre-signature, signature, and post-signature shoes.
He wore a lot of amazing shoes before he got his first signature shoe, like the Air Up, LWP and Flight One, and I think that's something really special. Then, he got his own signature collection with the Penny 1 through 4, and Foamposite One. That was at the height of his career, and later, he wore a lot of other great shoes, like the Flightposite and Huarache 2K4.
Penny has always been an innovator with his footwear, and he brought forward the idea of having the molded wing in the shoe for lateral support. His signature shoes all had a distinct DNA. The Penny 1 had the molded wing and the Penny 2 through 4 continued that with variations of the wing that wrapped up. The way we look at the line, we think that there's a way to look at things before, during his signatures, and after.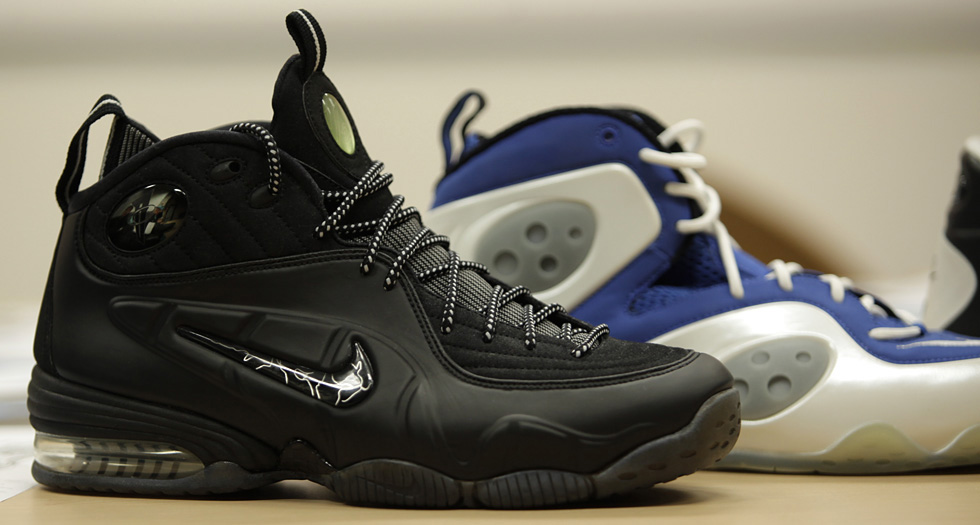 NDP: The Half Cent was more of a true hybrid, and this new model is the second of the Lil Penny line. Was the idea ever toyed around with to look through a hybrid lens again, or what led you down the path of making it a modern shoe?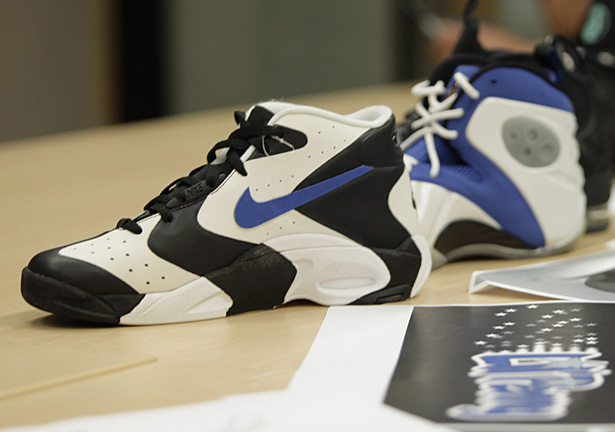 MD: For Sportswear, the most important thing for our new models is to still base it off of the past DNA of our shoes. There's a consumer that looks at the way that we create product, and it's not necessarily with a blank sheet of paper. There's a richness and an important quality to be able to curate those kinds of details from our past shoes.
For us, we weren't necessarily going out to make the shoe read as the Air Up or be a modern version of the Air Up. We wanted to find the subtle cues from that shoe though. The way we built it, we looked at the bold block that the Air Up had, and then we reversed the lines and made the lines facing more aggressively towards the forefoot.
The shoe blocks a little bit differently than the Air Up and is facing forward now. We also have a reflective overlay through the upper, and the biggest thing to me is just being able to recognize the shoe from across the street. Construction wise, we just wanted to carry over the forefoot and heel podular Foamposite construction that we used on the Rookie.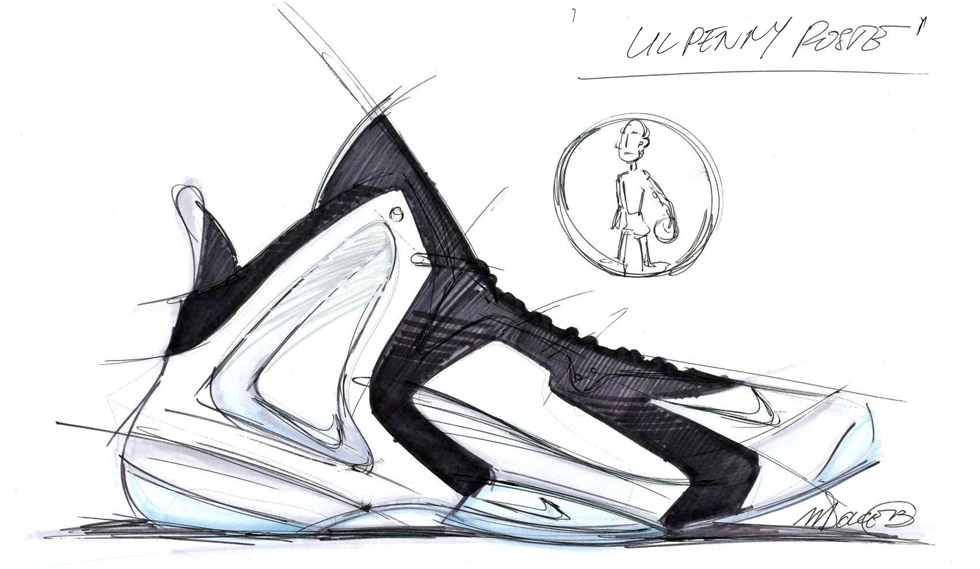 NDP: You always talk about the Penny 1 and its iconic wing. What were some of the first broad stroke things that you designed into this shoe to give it an iconic trait?
MD: The initial gesture of the shoe started with the molded collar pod and the rest of the lines complimented it. We went with a lightweight Foamposite construction, and it's different than the traditional Foamposite. Following up on the Zoom Rookie, there were a lot of things that I learned about the way that the shoe was built and some things we wanted to improve on. Initially the brief for the Lil Penny Posite was really to look at the consumer and how they need everyday comfort. When I spoke with the product team, we all said, "We want a shoe that you can wear all day and it'll be comfortable on your foot."
We talked about the Zoom Rookie construction as a version of Foamposite that could lend itself to being the lightest weight. Then, we wanted to use a full-length Lunar drop-in for cushioning, and we were thinking of it as a Lunar Posite.
The first step was figuring out the problem we were trying to solve, and that was doing this in a way that's lightweight and comfortable. We're always being hyperfocused on what the big idea is and then the concept of "Innovation for Life." Secondly, how I do apply that aesthetic and design that around the shoe.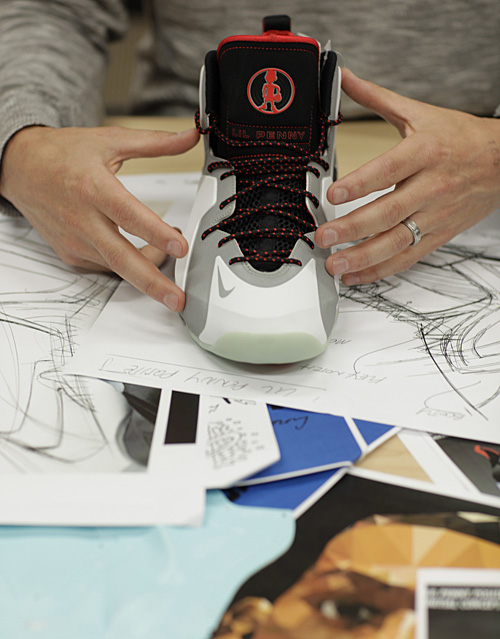 NDP: We've been around Penny and you when you guys are in those meetings and working on the shoes together, and he's always real engaged and has his own ideas. What were some of the first things that he mentioned as inspiration points, or some of his initial feedback to the idea?
MD: The thing that we always talk about is what he's wearing. He talked a lot about how he really liked the way certain shoes look, but maybe they didn't provide him with the right support in the arch or have the right tongue height. The thing he always likes is the bootie construction with the internal sleeve.
He's said that he'd like that in all of his shoes. That was really helpful as we started to build it from the inside out. Then, we started to talk about some of the heights of tongues and different detailing, and how it fits when you wear it with a pair of jeans.
We're not creating product that's on-court, and it has to look good when you're just wearing it every day. One of the things he said was, "I want to make sure that the tongue stays in place." The Penny 1 tongue was a little too short to him. Even when he played, he mentioned how it moved around on him, and he wanted something that was a little taller and stayed in place. I think it really works well here.
NDP: You kind of briefly touched on the Lunar element of the shoe, but this is the first time that's been incorporated into his series. His past shoes have used Zoom and Air Max, so how did the conversations around cushioning units go?
MD: When we did the Rookie in 2011, we didn't have the option at that point in time to use Lunar like we're using it here. When we started to design and work on the second one, we looked at things like full-length Zoom, to heel Zoom and Lunar, and we felt like Lunar was probably the best option for us. It's a contained technology, so you can't see it, and it's not like in our Air Force 1 CMFT where the cushioning is embedded in the insole. It's underneath the footbed, and the construction is a double-lasted technique.
It's full-length Lunar, and we also wanted to make sure that there's an element of Air, so we also included a heel Zoom bag for responsiveness. The Lunar has better recovery throughout the day, and that's probably the biggest difference between us and the performance group in Nike Basketball. We're building shoes that consumers are wearing for ten to sixteen hours a day, as opposed to wearing them on-court for two to three hours with much more impact and forces. We're trying to solve different problems, and with full-length Lunar, it really allowed us to focus on that all day comfort and rebound feel.

NDP: Something the Penny line is known for is having really subtle branding, like how it's just on the eyestay on the Foamposite. Can you talk about the subtleness of where you placed the Swoosh here?
MD: That's another difference between Sportswear and performance too. It's in the lineage of Penny's shoes. The Penny 1 had a bigger Swoosh on the wing, but then the 2 got a bit smaller, and the III was really subtle along the heel. Over the course of his shoes, those Swooshes got smaller. We wanted to play with that concept and incorporated the logo and built it into the heel wing here. You'll notice it if it's painted, but on some colorways, it's just tonal.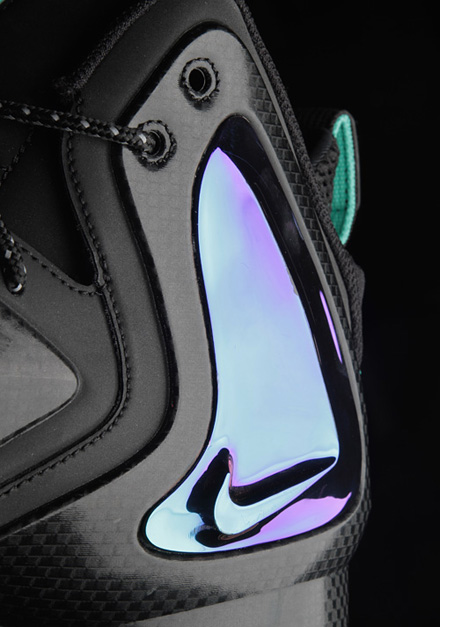 A lot of people might not even notice it at first until you pick it up. It's more about the discovery of the details. I really try and design a shoe that's iconic enough, that it doesn't necessarily even need the logo, like what the Foamposite One was. If you design the shoe to be beautiful first, then you can find the appropriate place to put the logo. That's the way we've gone about it.
NDP: And since it's a Foam, there's no mistaking what brand made it. That's always the way I thought of the original blue Foamposite. It was just so recognizable as being a Nike regardless of how small the Swoosh was.
MD: I think the best signature shoes that Jordan has ever had are like that too and had minimal branding. You let the Swoosh be the accent of the shoe, because that's really what it is. It's a beautiful mark, and you try and find a clever spot to put it in. It's on the toe too, but it's just a nice little accent.
There's so many other great marks with Penny's shoes that we're able to leverage too, whether it's the 1 Cent logo, the Flight logo on the heel, or even bringing the Lil Penny logo onto the shoe. Sometimes the first thing you'll notice on the shoe is actually the tongue logo, because it's more dominant here.
NDP: As I'm looking through all of your sketches, there's quite a few shifts on some of the toe lines and the upper. What were some of the biggest changes along the way?
MD: For me, it's trying to find that right balance of being modern but also familiar, and I learned that from Tinker. It's something I always say –
NDP: Oh, I know. I've heard you say it in every interview we've ever done.
[everyone laughs]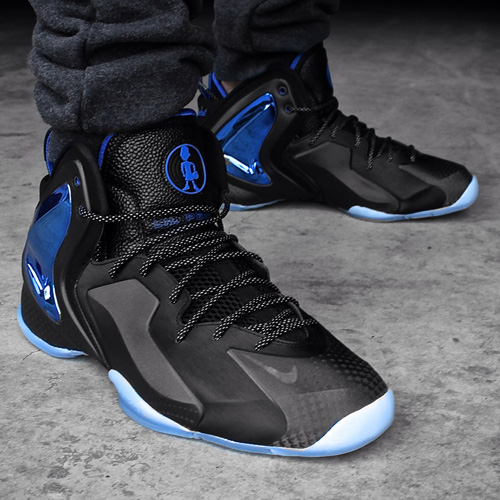 MD: But it's true! [laughs] The toe shape, to me, is so important. It's been cool to see the responses on this shoe so far, and what I've been seeing is that a lot of people are surprised by how good they look on foot, and like them more when they're being worn, as compared to just a shoe sitting on a table. That's the way I try and design. I want to make the shoe look good from the toe down, and that's what you see every day. That's something I learned from looking at car companies.
They end up spending more time than you'd imagine focusing on the backs of cars, because that's what you see when you're in traffic or at a stop light. It's interesting, and a lot of car designers always talk about how the most iconic element can be the back. It's underappreciated in terms of how you'd think about it, but it's something you see daily. For me, with shoes, it's the toe down, and it's all about finding that right balance between something that's familiar, but yet still new.
The other key thing with the upper is what I'm calling this "character line." Penny and I sat in his garage in Memphis and he was showing me his cars, and he was talking about some of the finishing details on them. Everything had great attention to detail and beautiful craftsmanship. For us, this one character line starts in the heel, goes through the wing, and then it comes through the forefoot and around the toe. It has an interesting gesture, and the goal was to play up the dramatic qualities that the shoe can have in different lighting. In some angles, it can look really dramatic and have a very muscular stance and approach. There's a nice blend of organic and natural shapes on this one.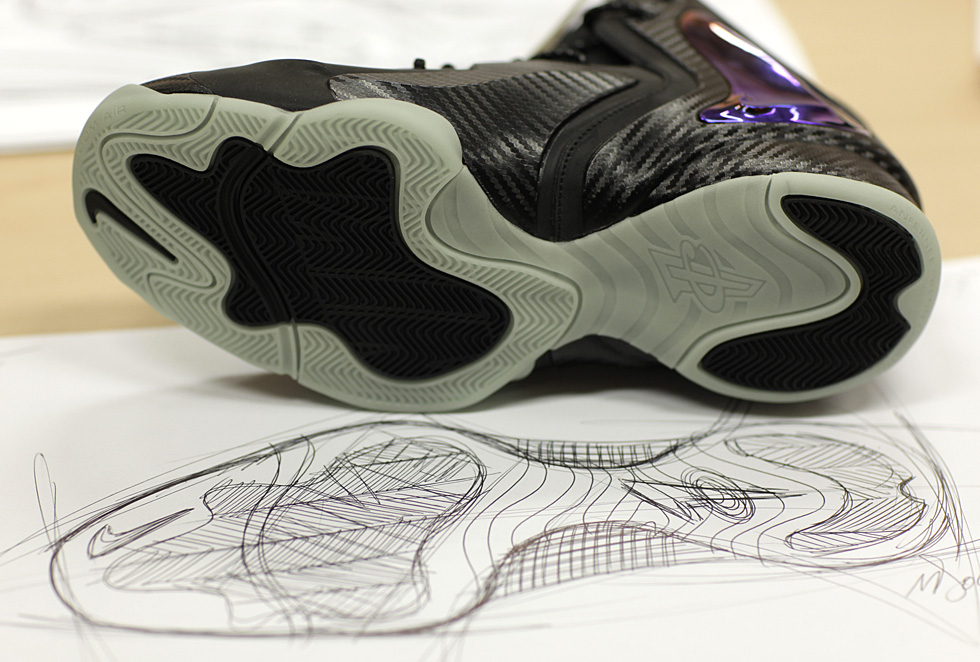 NDP: And what about the outsole? That part seems to have gone through the most changes.
MD: I always like to accentuate the arch, and then make sure there's enough traction in the forefoot and the heel. Even if you're just using the shoe for everyday use, it's important to have that traction pad in the forefoot. If you look at the Rookie and this shoe, they're very similar. Look at the heel crash pad, and there's a DNA and language between the two. On the Rookie, we had some more exaggerated lines on the outsole, which were inspired by the GO LWP, and then the Lil Penny Posite is a little more playful. I think with the outsole, there's an ability to have fun with it, like we did with the Barkley Posite when we wrote "Not A Role Model" on it. The upper is so engineered and aggressive, and I want the bottoms to just be a color splat. There's a hidden "NIKE" font in the forefoot herringbone, and that's what was so interesting about the '90s, is all of the discovery elements they had.
NDP: The Rookie was $190 at retail, and the Lil Penny Posite is $180 now. You were comparing the outsoles just now, and I couldn't help but notice that the Rookie had the carbon fiber shank, and this one doesn't. Was that something that had to go by the wayside as you guys looked to bring the price down a little?
MD: There's not much on the shoe that I had to sacrifice. There were a couple of reasons why we didn't use the carbon shank. We ended up feeling like that could've competed on the lateral side with the collar wing. The wing was more of the icon for us. The shank provides structure, support and stability, but with this shoe, in the weartesting we were doing, we felt like we didn't really need it. Looking back, it's a nice detail that we maybe could've had on the medial side, but I like where we ended up with the shoe.
NDP: You mentioned the tongue being a strong point of emphasis for Penny, just in terms of having that stance and firmness. You also have "LIL PENNY POSITE" spelled out there, which is the first time Lil Penny's name has been spelled out. Were there any other details or insights that Penny was looking for with the shoe?
MD: For me, I wanted to have a lot of discovery elements here. If you have the product, maybe a week later you'll still have more details to discover. There's the "LIL PENNY" text on the tongue, which sometimes gets covered up by the laces. The tongue was actually inspired by Penny and one of his cars, and it's got some stitch detailing inspired by the headrests. Another thing we wanted to add was giving some color to the underside of the upper. Usually that part is just white, but we did it in different accent colors to add a pop near the tongue. We also have a "Zoom Air" call-out on the outsole, it reads "Anfernee 'Penny' Hardaway" along the heel rubber edge, and there's the 5 dots from the Alpha Project on the heel.
NDP: Well, I guess you gave away all of the discovery elements for everyone now.
MD: Yeah, I guess so. [laughs] On occasion, we'll play with the sockliners too. The Half Cent each had different graphics depending on the colorways, and here, the right and left sockliners are different. This one says "LIL PENNY POSITE" and then it's signed by Penny to show the relationship between the two. Even though it's called the Lil Penny Posite, it's also obviously endorsed by Penny Hardaway and he was very involved.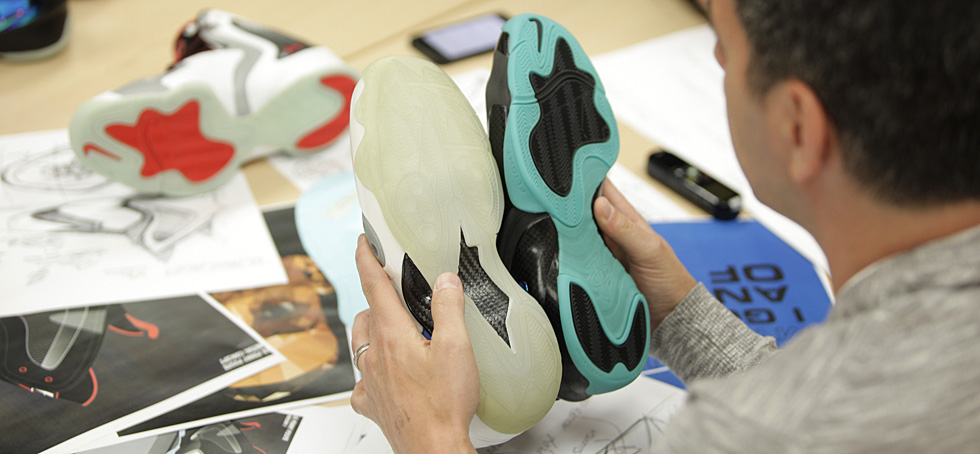 NDP: How did the naming process go? There was the Rookie before, and at one point I'm noticing that this shoe was even called the Sophomore on some of these sample tags.
MD: The Rookie was the first lightweight Foamposite, and it was obviously inspired by the shoes he wore in his rookie and second year. As we started developing the second one, well, after your rookie year is your sophomore year, but really, that was just the code name for us. We use things like that all the time at Nike. The most famous one is probably the Dub Zero, which was really just to throw people off from the Air Jordan XX. The code name was originally "Sophomore" on these, and that was really just to keep people on their toes.
That's probably why the shoe didn't leak too early. The shoe didn't leak until about a week before All-Star, and that's when people started to see pairs. We didn't put the "Lil Penny" in the model name until the very last minute, and that can be a fun part of it. It's really nice to be able to surprise kids nowadays. Before the internet, you would see shoes for the first time when you went to the store. Now, consumers see stuff so early that we're working on, and I'd love for people to go, "Wow! I didn't even know this was coming."
NDP: We just all wrote stories a few weeks ago about our first Jordans, and mine was the Black / Blue 1s from 2001 actually. I went to Foot Locker that day to buy the "all white" Jordan 1s that I saw in SLAM, but when I got to the store, they were actually Grey and Metallic Silver. The SLAM photo was just real off and I thought they were white.
MD: I thought you hated white shoes?
NDP: I do! [laughs] That was a different era man. But by the time I got to the store, I just ended up getting the black and blue pair instead. Now, you know everything usually at least six or eight months ahead of time.
MD: Exactly. And it was really fun to see things for the first time that way.
NDP: Now that the Half Cent and Lil Penny Posite are really helping to bring some awareness around Lil Penny to a new generation, have you guys began discussing expanding on his franchise of models?
MD: We feel like there should be more chapters to this story. When you look at Penny's collection in parts, there's the early chapters, the key ones during his career, and then some extra chapters that get added to the end. It's amazing to think, and even Penny says this himself, he's just so thankful for what he has and how consumers still appreciate him. He's one of the most loved sports icons, and he's up there with MJ and now LeBron, Kobe and KD. He's in that top 5, and there's consumers that are 16 years-old that never even saw Michael or Penny play. It's our job at Nike to bring those stories back to life. That could be through bringing back old posters, models or graphics, or by storytelling through new shoes. That's what's made the Penny and MJ lines be so coveted through the years, is people can connect to the stories of each shoe.

NDP: When we talked to Penny about the Penny V about two years ago, one of the things he mentioned was that he wanted them to be available in Kids sizes.
MD: We actually have some Penny Vs coming out for Kids soon too. We've also done a few Foamposites in infant and GS sizes recently too.
NDP: Will we be seeing this model then too?
MD: Not this model yet, but I think because of our ability to do Retros, there's the possibility that we might be doing some of his signature shoes again for Kids in the future. The grade school Foamposites are doing really well, so we see that there's an appetite for that. Being a dad –
NDP: You mean, being a dad with kids who have their own Instagram accounts where they post their shoes.
[everyone laughs]
MD: There's something so cool about having your kids wear the same shoes you have though. [laughs] I've actually learned from them, and been able to take insights into things like everyday use. But that's the way I am, and we'll try and do full family #WDDolceWT "what did you wear" photos too. [laughs] There's something really special about that, and family is really important. I've always been excited to have my kids rock the coolest shoes, so that's something we're excited to bring into Penny's line.

NDP: Your Sportswear group has really become known lately for doing a lot of amplified colors and storytelling themes. What are some of the ones you're most excited for with the Lil Penny Posite?
MD: One of the ones we have coming up that I really like is the White / Wolf Grey / Hyper Pink, which is our connection to Lil Penny and the bubble gum from the "Frozen Moment" commercial. We think there's always a way to build out that history. Copper and Atlantic Blue are known for Penny, and we're trying to make pink be known for Lil Penny. The White / Reflective Silver / Red version ties back to one of the original Air Up colorways, which I've always really liked.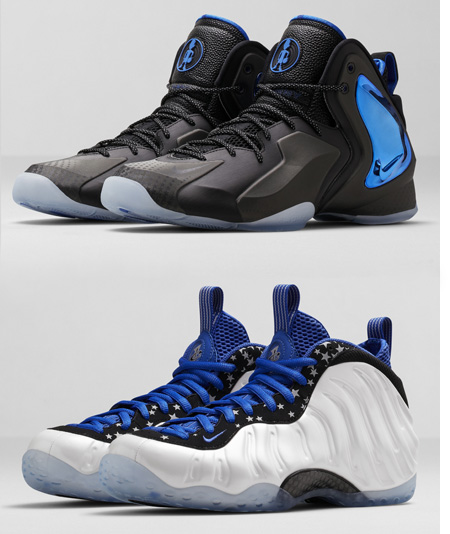 There's a Red / Black colorway that's on the way that's a connection to Penny's High School. We also have a version that ties into Penny's travels to Asia. He recently went there to play in an exhibition game and had a great time. We wanted to do a Hyper Jade version to tie into Penny's travels abroad and help highlight that region, which has a lot of huge Penny fans.
NDP: The shoe is releasing on its own this weekend in the three colors, but a few weeks ago it first dropped as part of the "Shooting Stars" Pack. How did all of that come about, and how'd you guys decide to launch the shoe in a pack?
MD: We talked to Penny and said, "We've given you quite a few PEs over the years. What's your favorite one and which one do you think people have been asking you about the most?" He said the "Shooting Stars" Foamposite was by far the one. He had worn them a few times himself, and then he actually lent them to Chris Crawford at Memphis, who wore them in a game. Penny said it was one of his favorite ones, and he's been really influential in being able to pick his own colors. When we all went down to Miami in 2011 to meet with him and show him our first ideas for the Vegas Sole Collector Pack, I was also showing him concepts for the Rookie, and he said, "I want a version that's all red, all blue, all white and all black of the Rookie." So he can be pretty vocal, and we ended up doing all of those pairs just for him.
The "Shooting Stars" Foamposite was a direct request just like that. He called me and said, "I'm playing in the Celebrity Game at All-Star Weekend, and I want to see if there's a way that you can turn something really quick for me." I asked him what colors he'd want, and he said, "I'm not really sure, but it's in Orlando, so give me a home colorway with white Foamposite and then Magic colors." I asked him about any of the details he'd like to see, and he said, "Lets put some stars on it." I was like, "Do you want the stars, are you sure?" [laughs] And he said, "Yeah." It was a great story of how we even got them to him.
NDP: Man...
MD: You remember that right?
NDP: Definitely. You were staying at the main player hotel by the Convention Center in Orlando. Penny's Celeb Game was at 7 that Friday night, and we were gonna go to the game together. So you got in a cab and picked me up at my hotel and then we headed to the Amway Center. We got there at like 6:15, and you run up to the side gate that says "Player Entrance" with the orange sample box in your hands. There's a security guard over there, and you pull your Nike badge out and go, "I'm with Nike and I have some shoes for Penny Hardaway."
MD: The guy is like, "You're here for who?"..."I'm here to see Penny Hardaway!"
NDP: "Penny Hardaway? He's not playing in the Rookie game."
You go, "Yeah, he's in the Celebrity Game."
"Oh, well the Celebrity Game is at the Convention Center."
Dude, your face...
[everyone laughs]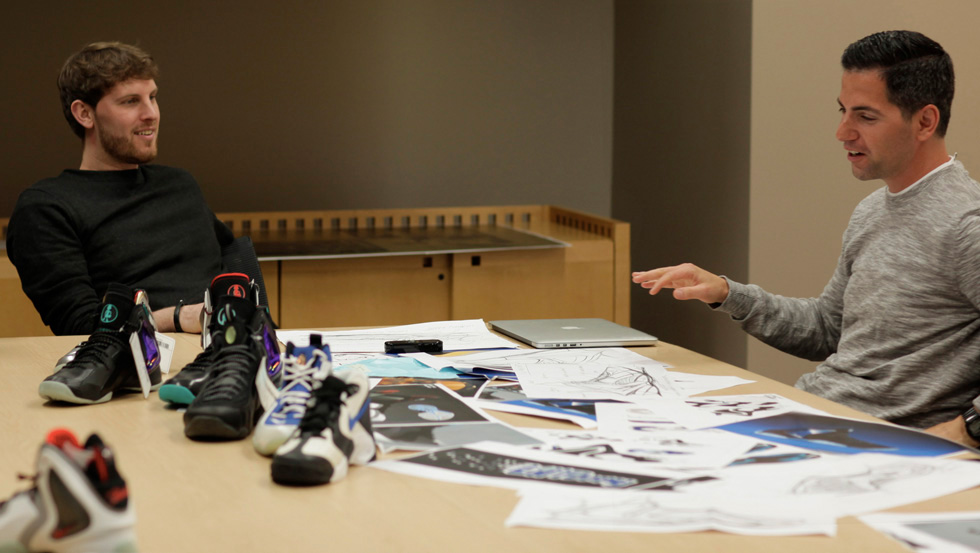 NDP: And of course, the Convention Center is directly next to your hotel. There's a long hallway that you walk down and then you're right there. They're connected.
MD: Getting a cab from the arena to there was impossible too.
NDP: We finally got one after like twenty minutes and got to the game right as the 1st Half was ending. We see Penny, and he's got this big smile on his face cause he knows he's about to get some shoes. And it ended up working out fine anyways, cause he wore the Galaxy Foams for the 1st Half, which released that weekend, and then switched to the "Shooting Stars" Foams for the 2nd Half.
MD: That was such a great time, even though it wasn't ideal obviously. [laughs] When we talked to Penny about his favorite PEs, that was definitely his pick, and we just thought it'd be perfect timing to combine the two and link it back. It was reminiscent of the commercial where they're both on the couch together too, and Lil Penny goes, "Hey Penny, when am I going to get my own shoe?" We were able to tell the story of Penny and Lil Penny, and it was a nice moment to have the detail and graphics on the box, and the quote on the lid inside.
NDP: For each different Penny shoe, you always have the one main detail that you really like. Do you have a favorite detail here on these?
MD: I think it's definitely the collar wing piece. If you look at it from the heel from behind, you can see that both sides are molded to your ankle. The medial and lateral sides are different, and it's based on ergonomics and foot form. It has the most complex curves and surfaces, and hiding the little Swoosh in there is pretty interesting. The ability to utilize different finishes, from anodized, matte and carbon fiber, it's definitely the hero to me.
Another thing that I like, and when I talked to Tinker he called this out as well, is the eyestay shape is pretty cool. Foamposite is traditionally a little stiff and bulky, so he liked the fact that we incorporated the flex notch. The shape that you're getting and the geometry of it is different. I really like how dramatic some of the angles on the shoe are in the collar and toe because of that character line, and hopefully people appreciate these as the newest addition to the Penny series.