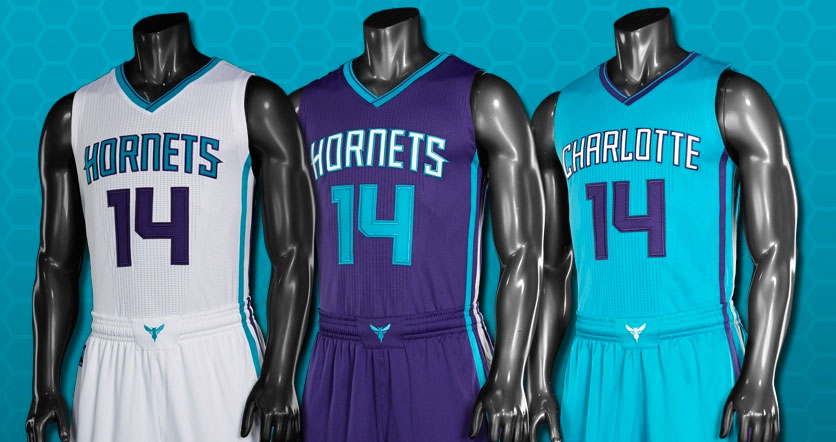 words // Brandon Richard
Today, the Charlotte Hornets took the next step in assuming their old identity, officially unveiling the team's new uniforms for the 2014-2015 season.
The team will wear white uniforms at home and purple uniforms on the road, along with a teal alternate that can be worn in either location.
Both the home and road uniforms feature the word 'Hornets' on the front, while 'Charlotte' adorns the chest of the alternate. Each uniform brings back several elements tied to the uniforms worn by the original Hornets, including the use of stripes. The stripes appear on the left side of the uniform only in purple, teal, light blue and grey.
The shorts bear the Hornets' one-color silhouette logo on the waistband and a cell pattern on the bottom left leg with either a secondary or alternate logo. On the bottom right leg, tone-on-tone lettering that says' Charlotte' on the home and road uniforms and 'Hornets' on the alternate.
"It was important for us that our new uniforms reflect the heritage and history of the original Hornets both visually and philosophically, while also having aspects of the evolution to a new brand," said Hornets Sports & Entertainment President & COO Fred Whitfield. "We wanted a look that was sharp and precise, echoing the attributes of our team. We are elated to unveil our new look to our fans and hope they are as excited by the uniforms as we are."
Fans will be able to pre-order the new jerseys at the Hornets fan shop in August, with availability expected in late September. Read more about the new uniforms at Hornets.com.