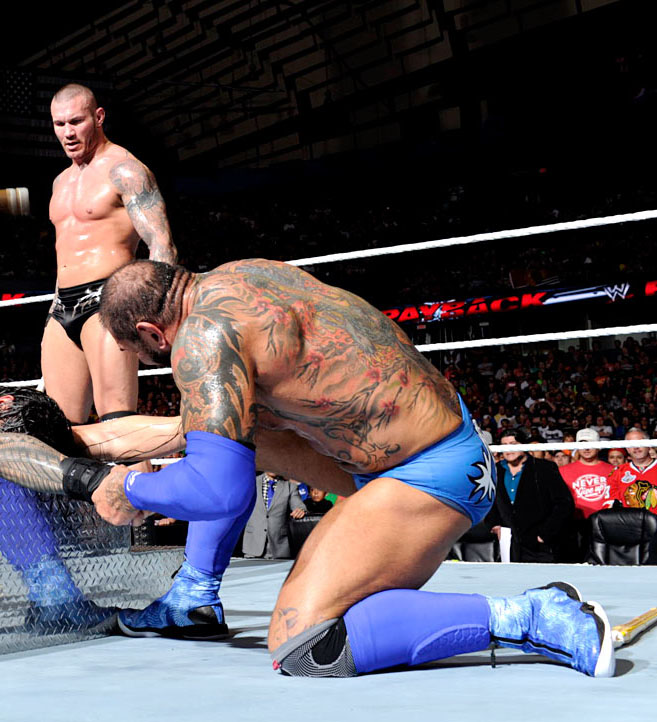 Most of you probably don't care about WWE, and that's okay. However, you have to admit there's something cool about a wrestler who 1) regularly competes in different colorways of the boot-like Air Jordan XX8 and 2) makes sure he has ring gear to match all of those colorways. Last night, the WWE held their Payback pay-per-view in Chicago, where Batista wrestled in another colorway of last season's flagship.
For the three-on-three main event between Evolution and The Shield, Batista laced up the photo blue XX8 from the 'Camo Pack.' He also wore all-blue attire, standing out from his black-clad team and drawing loud 'Bluetista' chants (it's trending on Twitter) from the vocal Chicago crowd. Unfortunately, he got his ass kicked, lost the match and "quit" on tonight's episode of Raw.
After an extended absence, Batista returned to the WWE earlier this year and won the Royal Rumble in the 'Oak Hill' Air Jordan XX8. His walk-out on tonight's show is a scripted vacation, as he will be busy promoting his new movie Guardians of the Galaxy over the summer. Guess that's the end of the Air Jordan XX8 in the ring...for now.