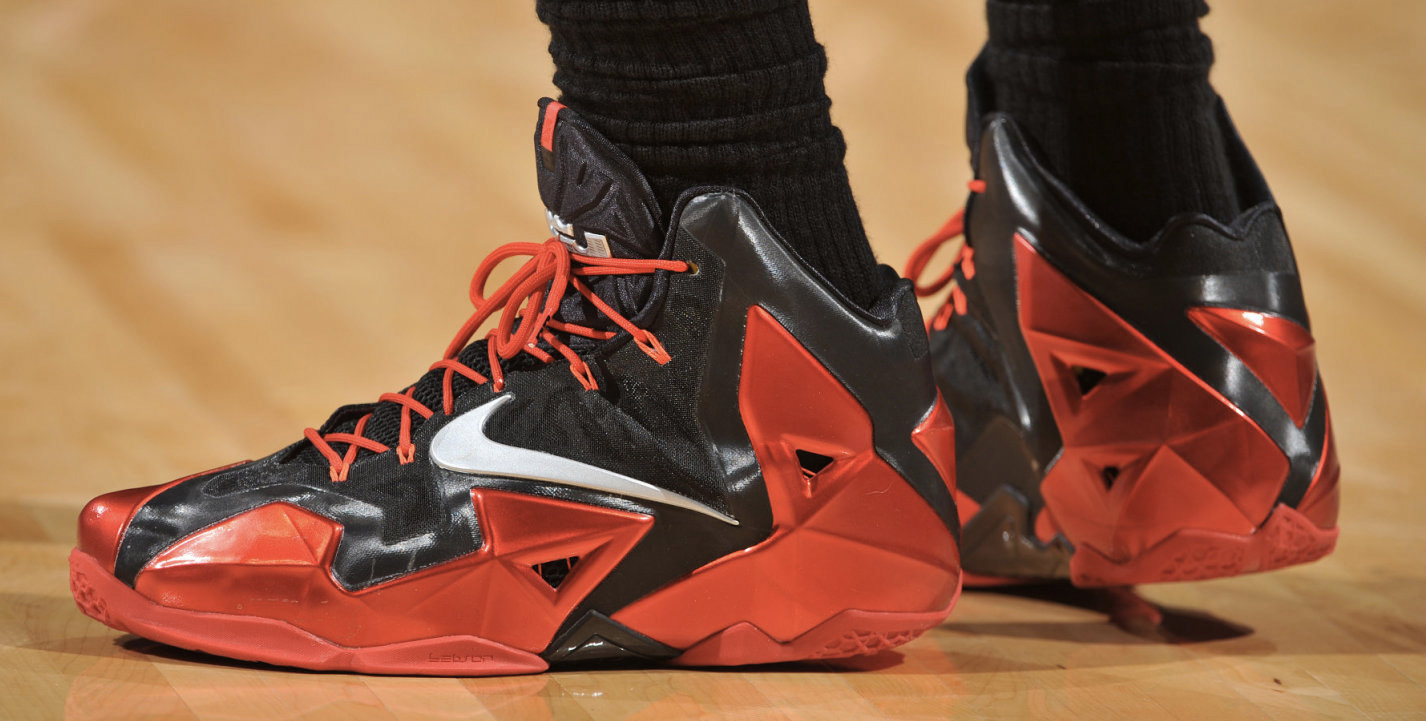 words // Nick DePaula
All throughout the 2013-2014 NBA season, one of the biggest storylines as it related to sneakers was LeBron James' reluctance to wear his very own signature shoe on a nightly basis.
It was a story that everyone from our fellow sneaker blogs, to ESPN and even the Wall Street Journal eventually picked up on, and it hardly went away, as LeBron routinely opted for other shoes as the season progressed.
During the months of November and December, he could often be seen in last year's LeBron X and LeBron X Elite as the Heat began their quest for a three-peat. As the calendar turned to 2014, in perhaps as a bit of a compromise to wear a current model that was available at retail, James switched to the $125 Zoom Soldier 7 for nights that he wasn't wearing the $200 LeBron 11.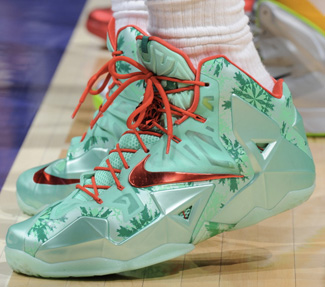 James would wear the 11 for extra high-visibility games, like the annual prime-time Christmas matchup with the Lakers or this year's All-Star Game, but even for early season nights at Madison Square Garden or basic home games against lowly opponents, he wore what he felt was most comfortable.
"I just want to be able to wear them," James told ESPN.com back in December. "It has been a frustrating process. But obviously, I know that Nike wants to do what's best. They're not going to put me out there in harm's way.
"So we're redefining the shoe to fit what's best for my foot," he continued. "I could wear them, but they don't feel as great as I want them to feel. So we're redefining them, and I feel like this next round is going to be perfect."
Unfortunately, that next round never was quite right, and James appeared to be wearing a modified version on Christmas, but didn't stick with the model much through January or beyond.
While many have speculated what may have been the cause of his discomfort with the 11, not only was the Foamposite-based upper less pliable and more firm through the shoe's flex zones, but the Zoom-embedded insole most likely also didn't work in concert with James' historically thick and firm orthotics. If he were to remove the insole, he'd lose the cushioning.
The complicated construction of the shoe, which he had similar issues with in 2007 when the LeBron IV also incorporated a Zoom-embedded insole, didn't allow for James to simply rip the sockliner right on out and drop his orthotics in, like most athletes do.
That didn't seem to harm sales much, as the design itself was near-universally loved, and by mid December, sales of LeBron's signature model were actually up 18%, according to SportsOneSource, compared to last year's LeBron X at the same point of the season.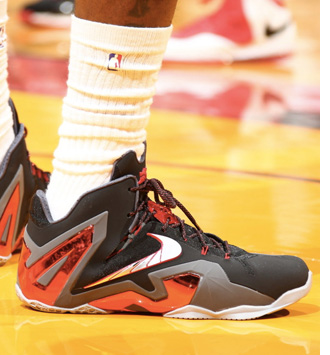 To be completely honest, the story had dominated so much of the season's nightly sneaker watches across all of the sneaker blogs, that my guess before looking up every single game of the season was that he wore the LeBron 11 around 15 times or so.
As it turns out, it was around twice that.
Over the span of 77 regular season and 20 playoff game appearances, James wore the LeBron 11 a total of 35 times. In 9 of those games, he actually switched out to the X Elite or Soldier 7 after the 1st or 2nd quarters. For a few games, he could even be seen switching into a different colorway of the 11 at halftime.
He noticeably never got quite comfortable in the model, and as March and April came after the All-Star break, he started wearing the playoff-specific 11 Elite version. This was well before rarely wearing them in the actual playoffs. He wore Soldier 7s and even X Elites during the recent NBA Finals.
For games that he wore the LeBron 11 or 11 Elite, James put up averages of 25.2 points, 6.9 rebounds and 6.4 assists per. That's pretty much one bucket short of being dead on with his season averages of 27.1 points, 6.9 rebounds and 6.4 assists.
He put up a 25-9 record for Heat games in which he wore the LeBron 11, a .735 winning percentage that is actually better than the 41-26 record (.612%) for Heat games that he wasn't wearing the 11.
So, is it the shoes anyway?
Check out all of the times LeBron was spotted in his 11th shoe below, and let us know if you think his inconsistent wearing of the signature shoe will damage its historic legacy.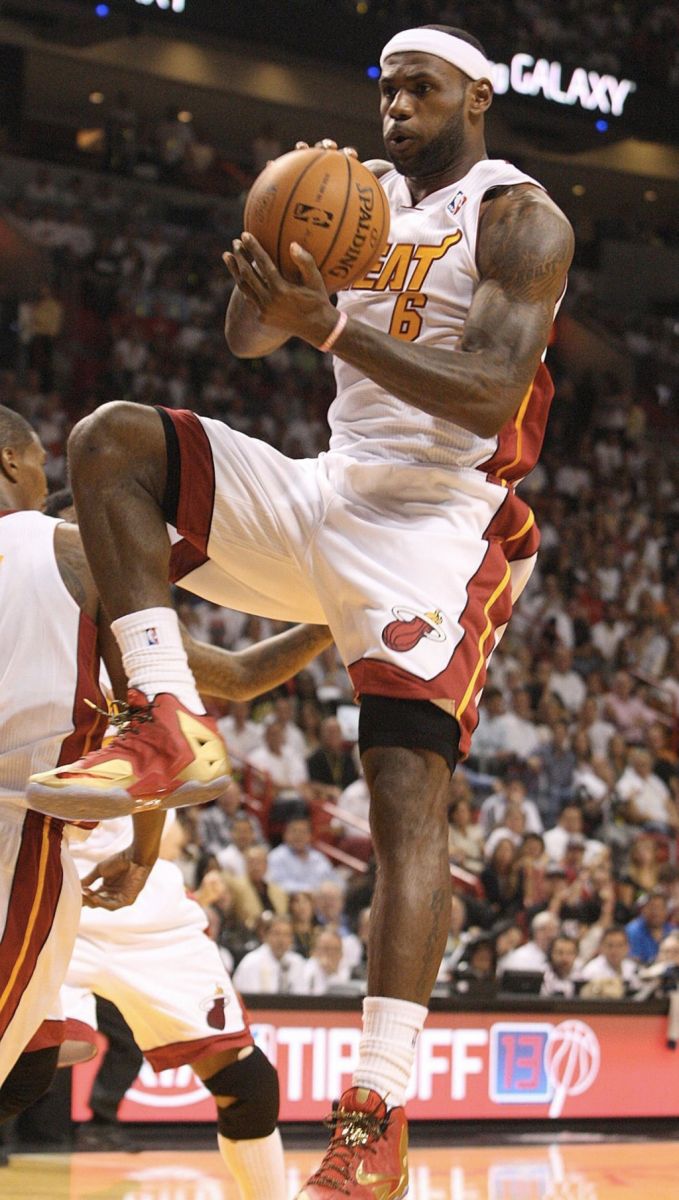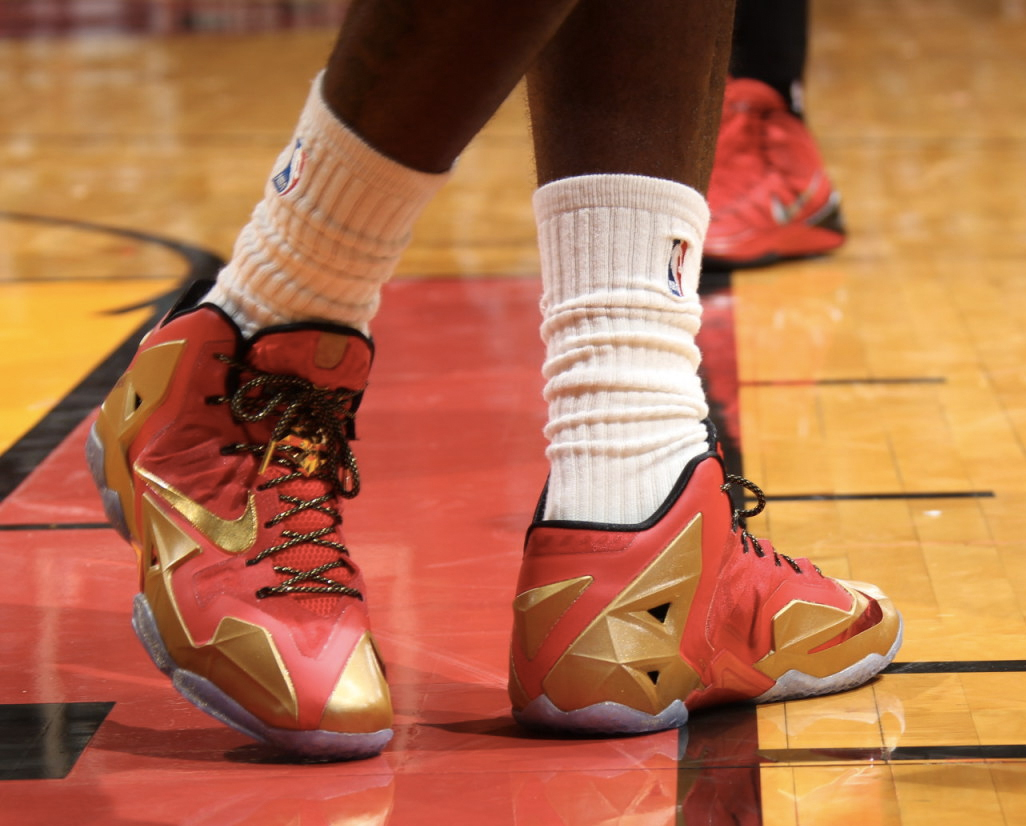 When: October 29th, 2013 vs Chicago Bulls
Colorway: Red / Gold "Ring Night"
Stats: 17 points / 6 rebounds / 8 assists
Score: 107-95 Heat win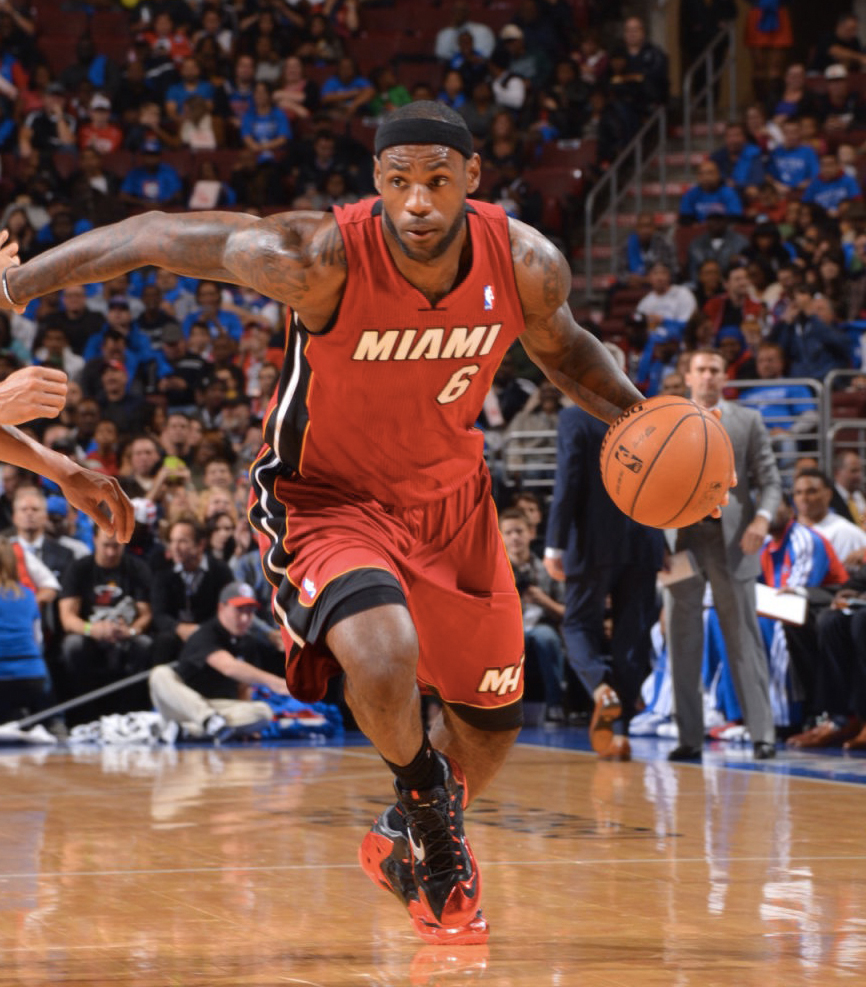 When: October 30th, 2013 vs Philadelphia 76ers (Switched Out To X Elite)
Colorway: Black / Varsity Red
Stats: 25 points / 4 rebounds / 13 assists:
Score: 110-114 Heat loss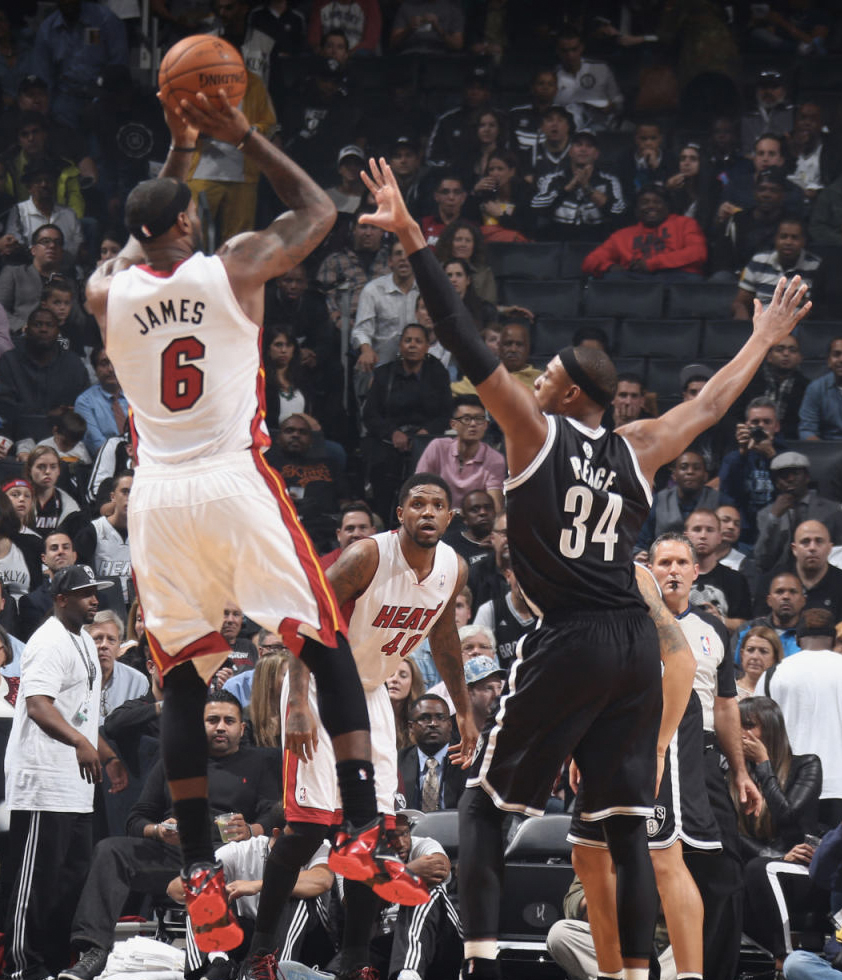 When: November 1, 2013 vs Brooklyn Nets (Switched Out To X Elite)
Colorway: Black / Varsity Red
Stats: 26 points / 7 rebounds / 6 assists
Score: 101-100 Heat loss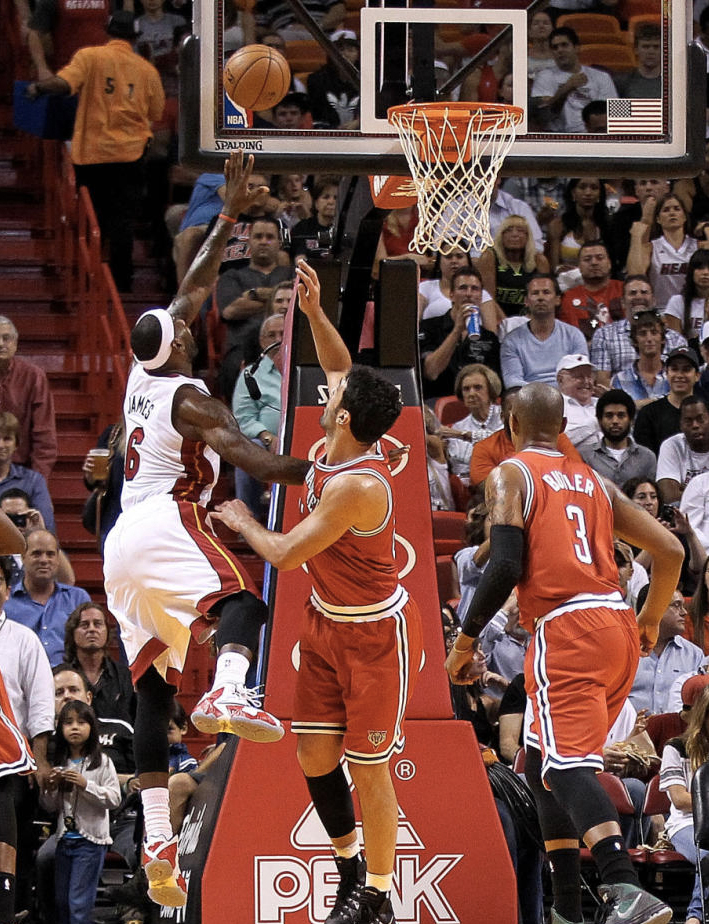 When: November 12, 2013 vs Milwaukee Bucks (Switched Out To X Elite)
Colorway: White / Varsity Red Speckle (PE)
Stats: 33 points / 3 rebounds / 2 assists
Score: 118-95 Heat win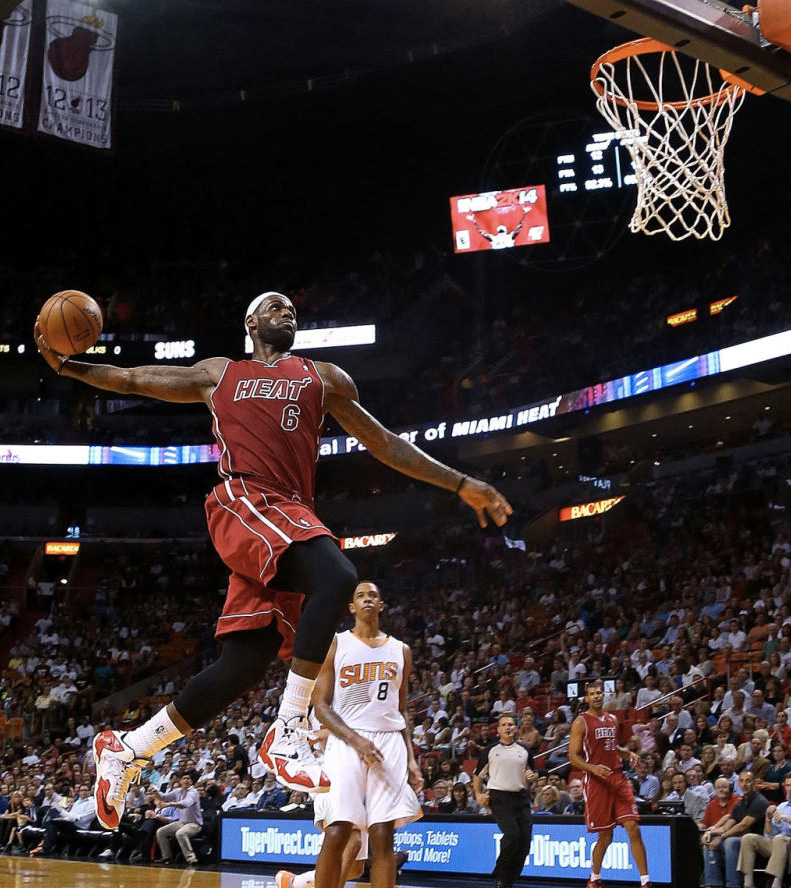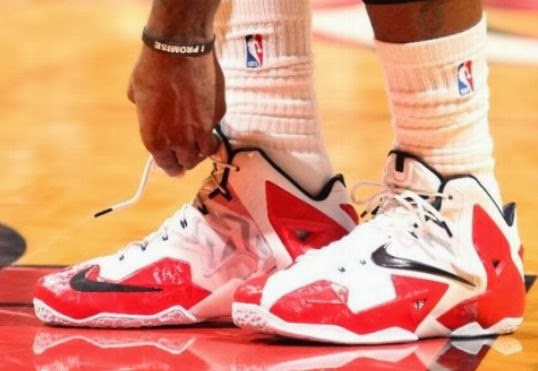 When: November 25, 2013 vs Phoenix Suns
Colorway: White / Varsity Red / Black (PE)
Stats: 35 points / 5 rebounds / 4 assists
Score: 107-92 Heat win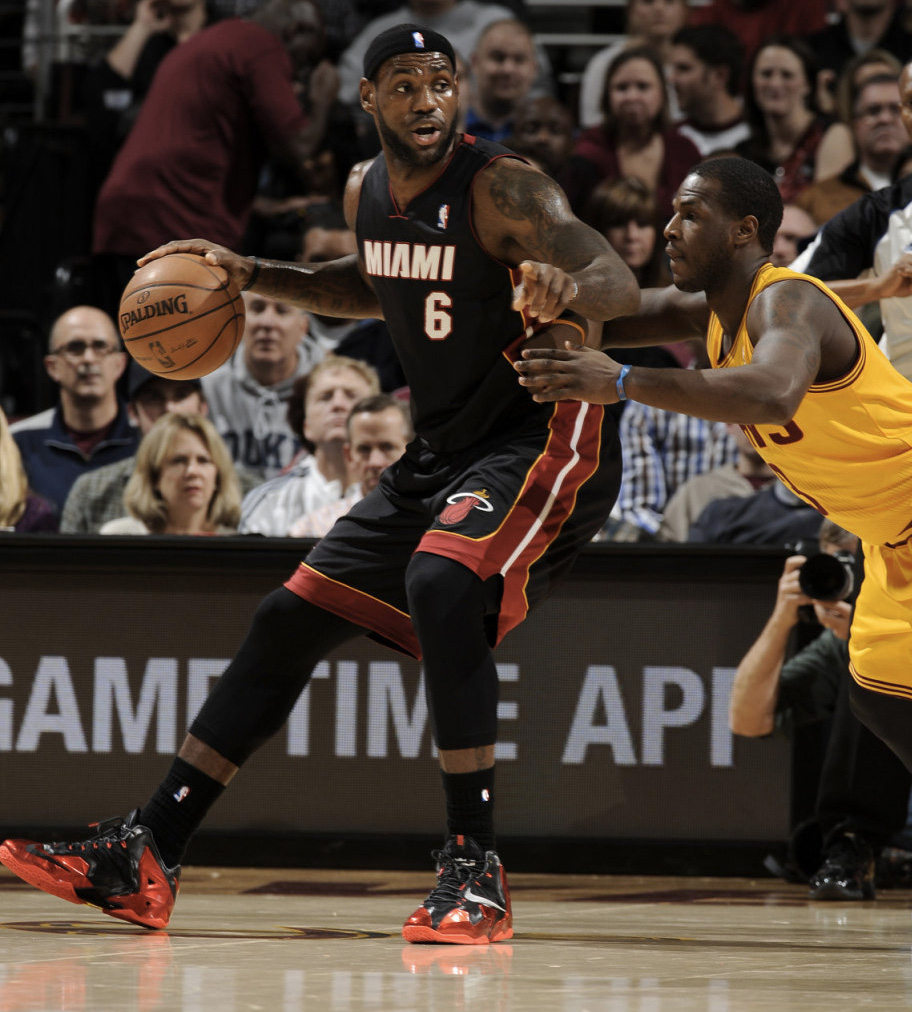 When: November 27, 2013 vs Cleveland Cavaliers (Switched Out To X Elite)
Colorway: Black / Varsity Red
Stats: 28 points / 8 rebounds / 8 assists
Score: 95-84 Heat win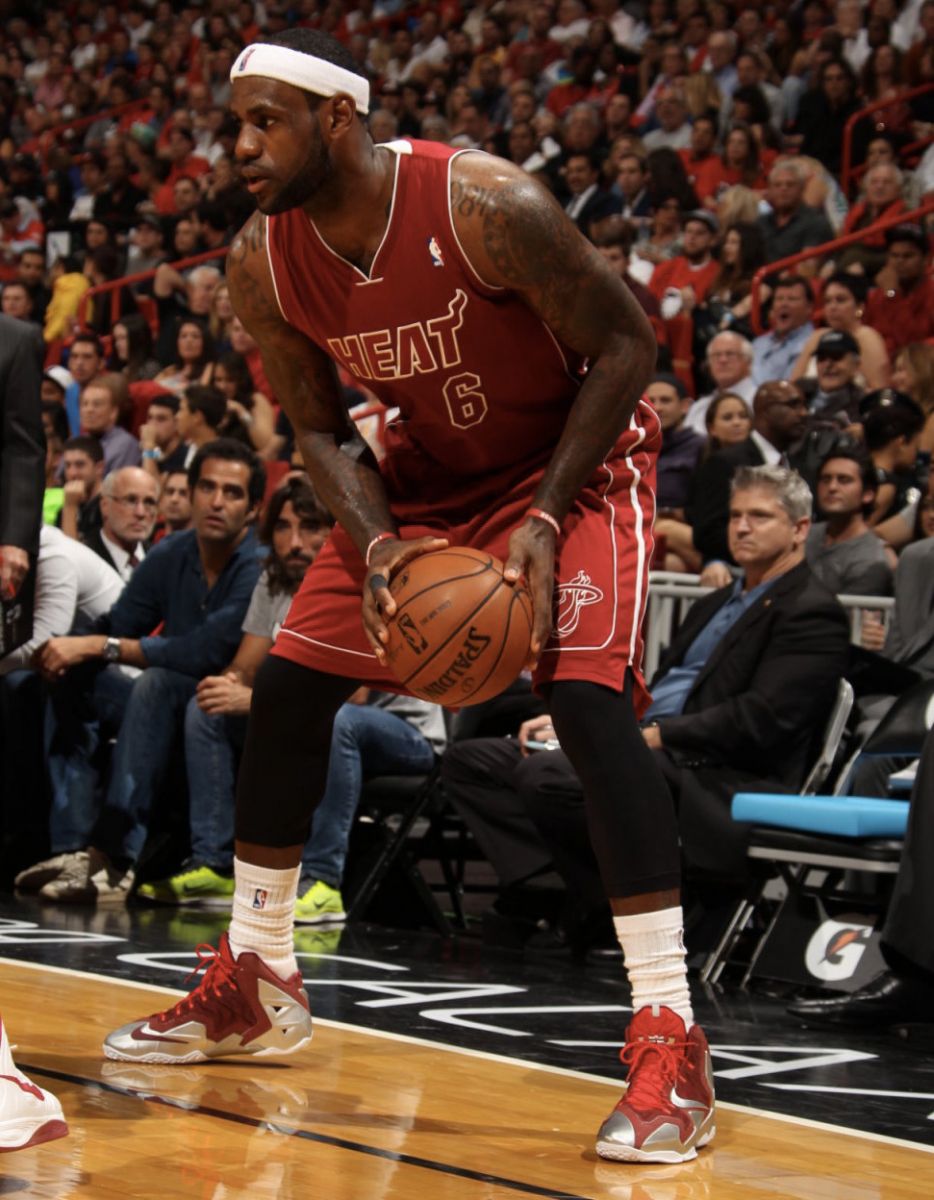 When: December 14, 2013 vs Cleveland Cavaliers
Colorway: Red / Silver (PE)
Stats: 25 points / 9 rebounds / 9 assists
Score: 114-107 Heat win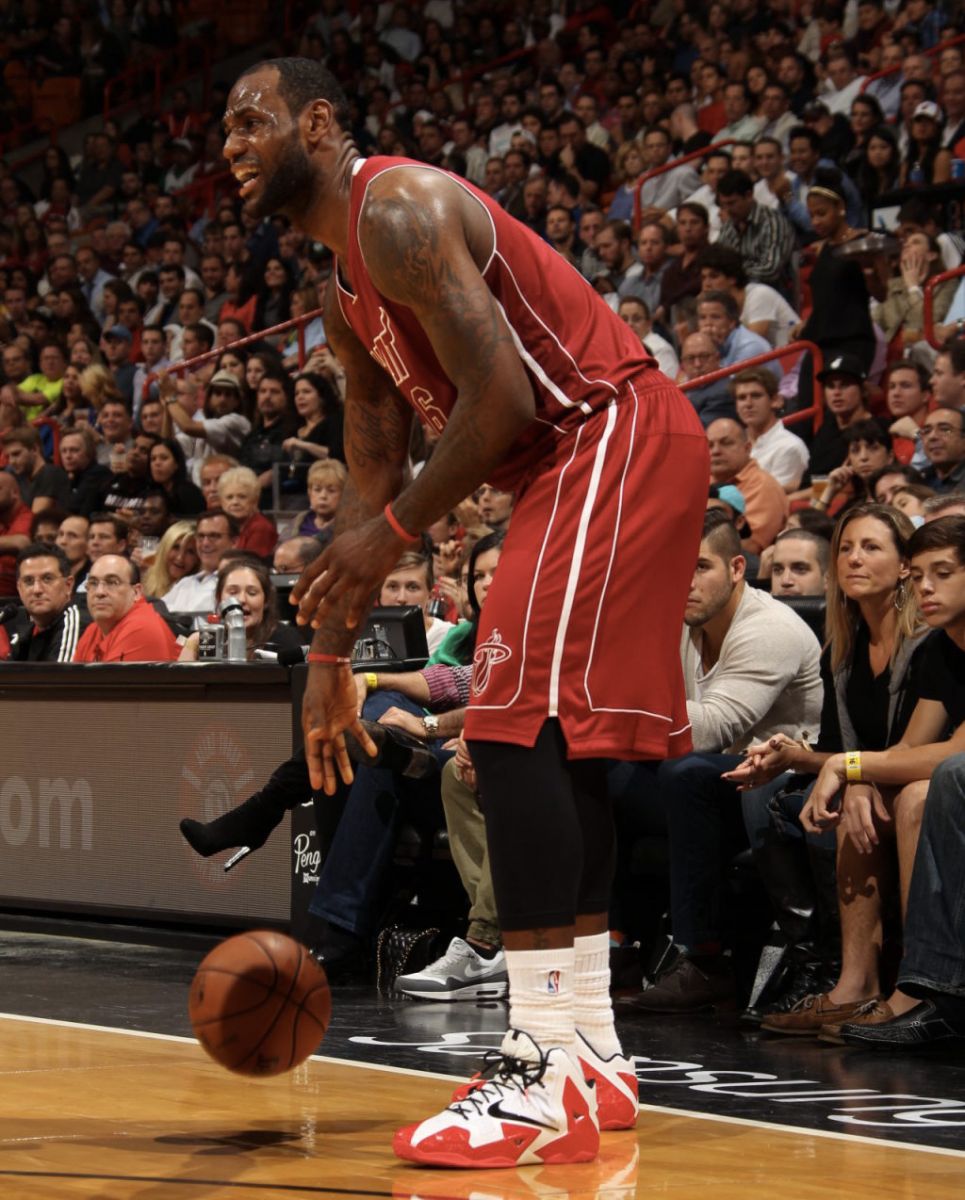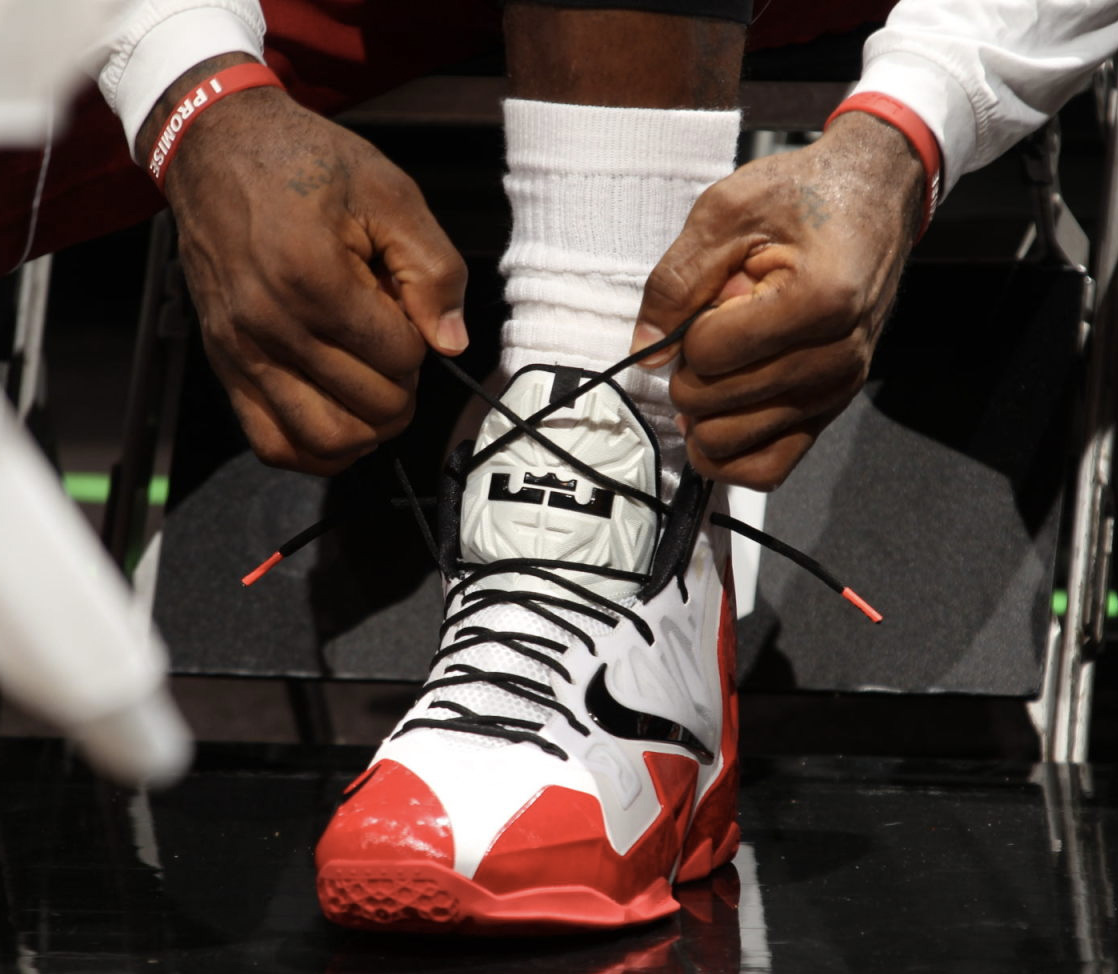 When: December 16, 2013 vs Utah Jazz
Colorway: White / Red / Black (PE)
Stats: 30 points / 9 rebounds / 9 assists
Score: 117-94 Heat win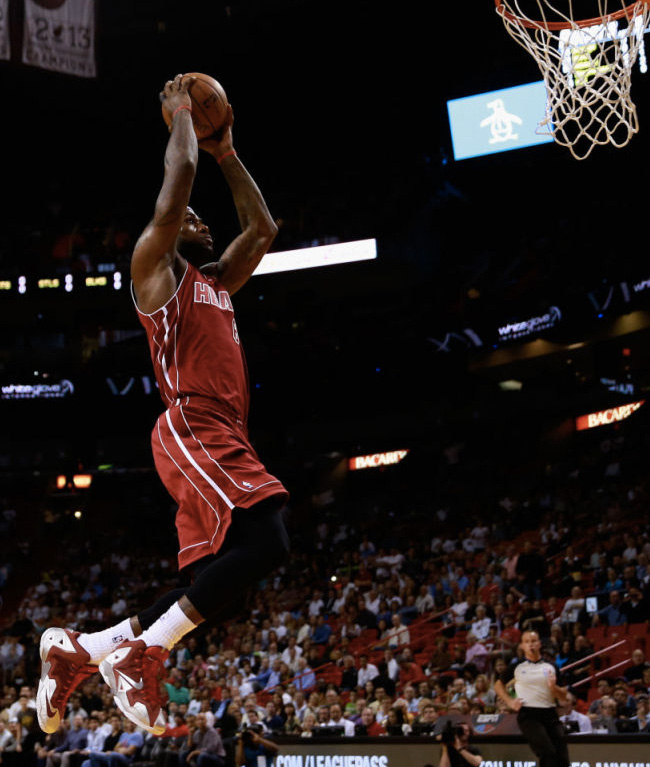 When: December 18, 2013 vs Indiana Pacers
Colorway: Red / Silver (PE)
Stats: 24 points / 9 rebounds / 7 assists
Score: 97-94 Heat win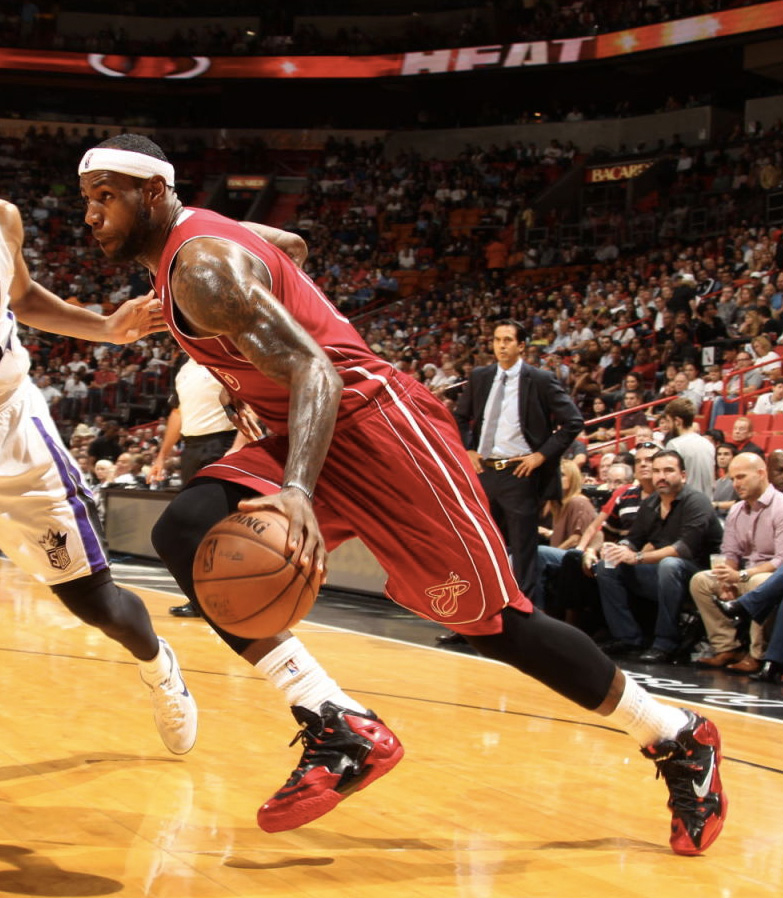 When: December 20, 2013 vs Sacramento Kings
Colorway: Black / Red
Stats: 18 points / 6 rebounds / 8 assists
Score: 122-103 Heat win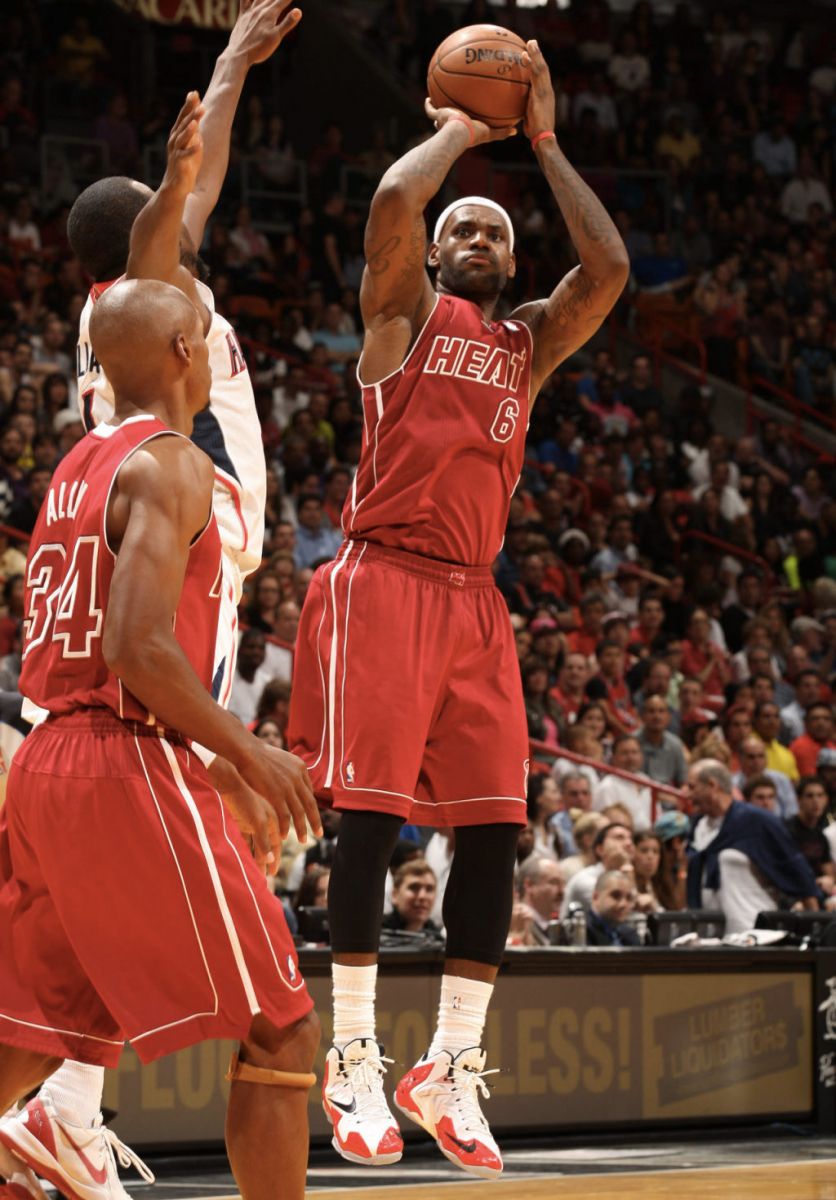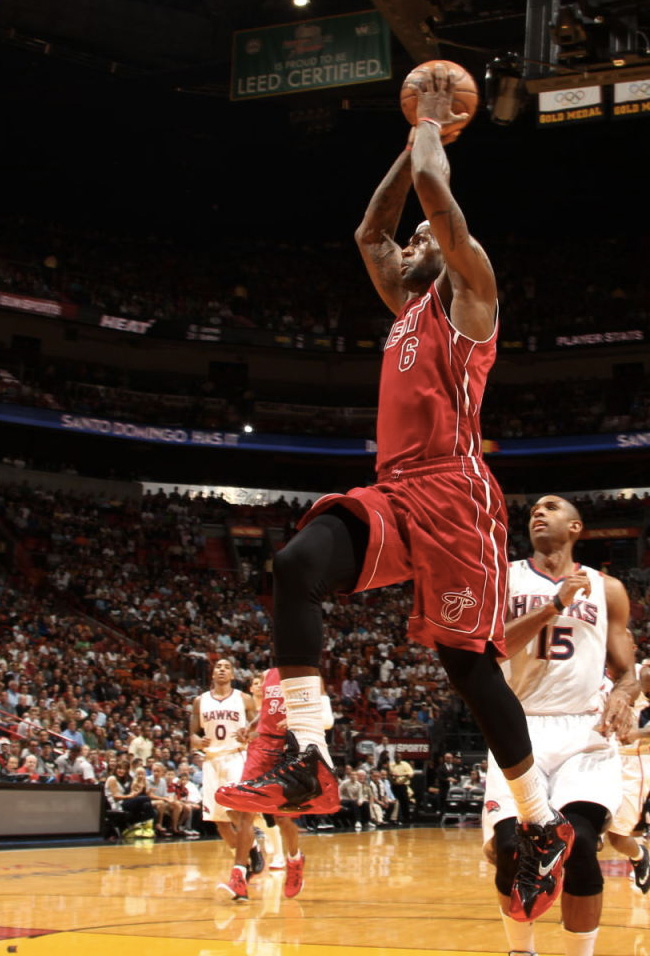 When: December 23, 2013 vs Atlanta Hawks (Switched To Black/Red, Then Switched To X Elite)
Colorway: White / Red / Black (PE)
Stats: 38 points / 8 rebounds / 6 assists
Score: 121-119 Heat win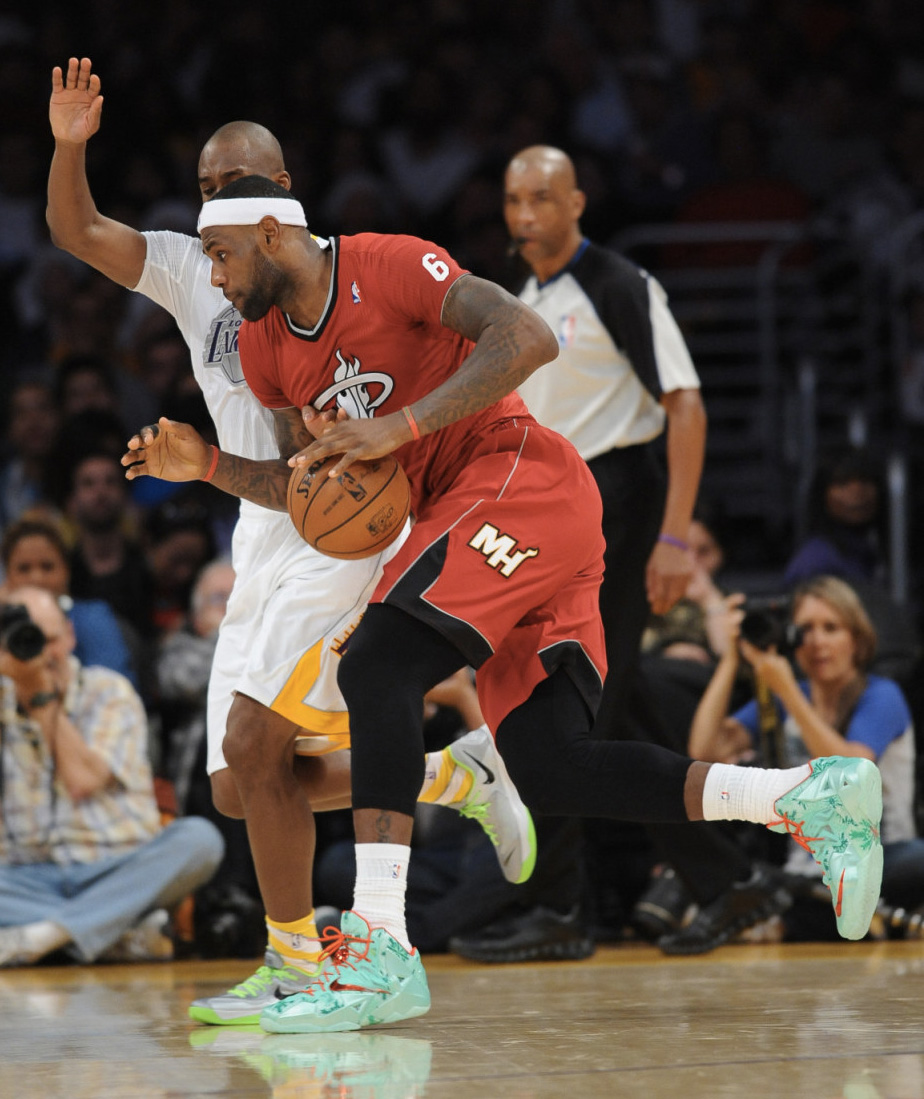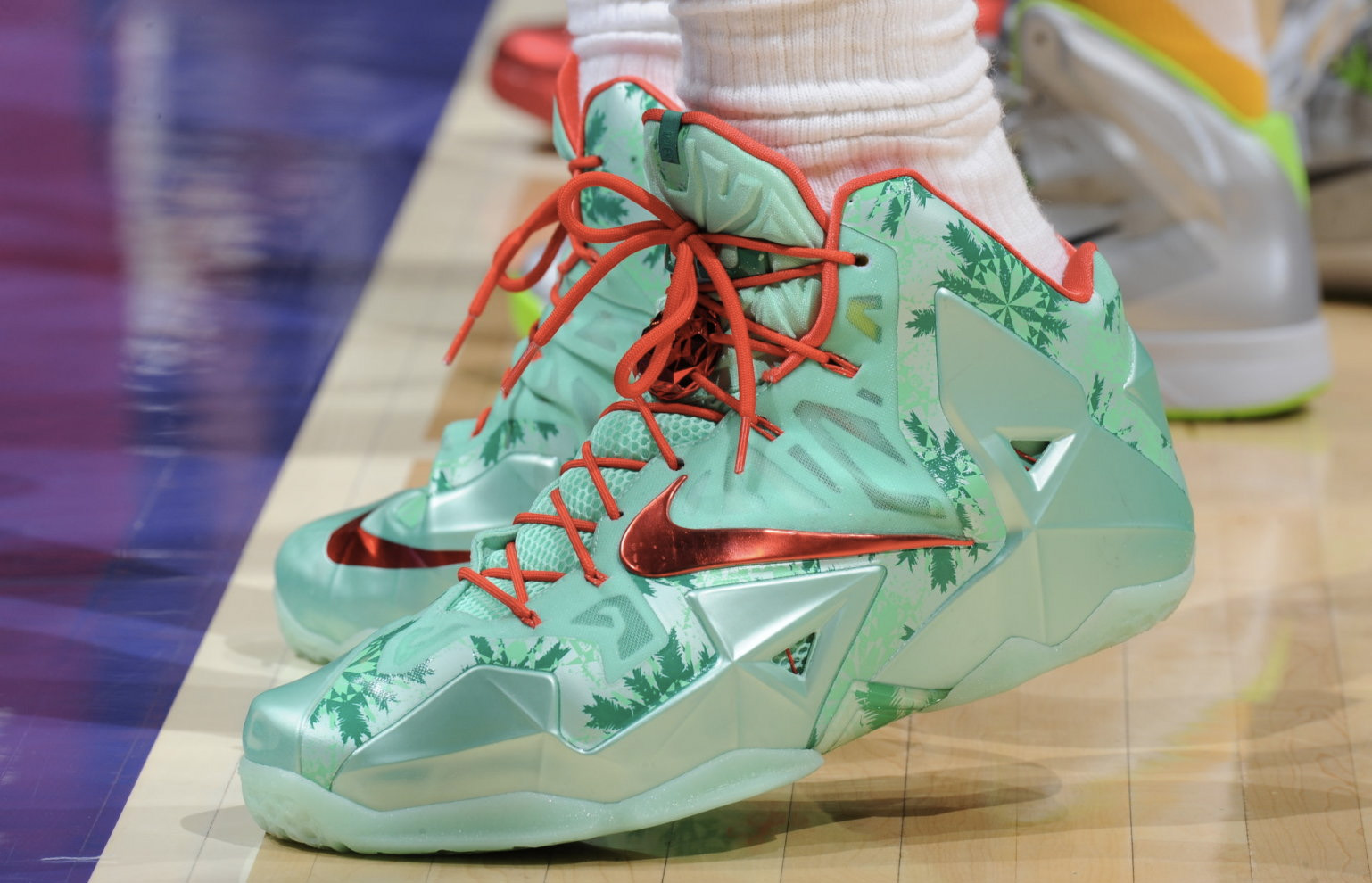 When: December 25, 2013 vs Los Angeles Lakers
Colorway: Christmas
Stats: 19 points / 8 rebounds / 4 assists
Score: 101-95 Heat win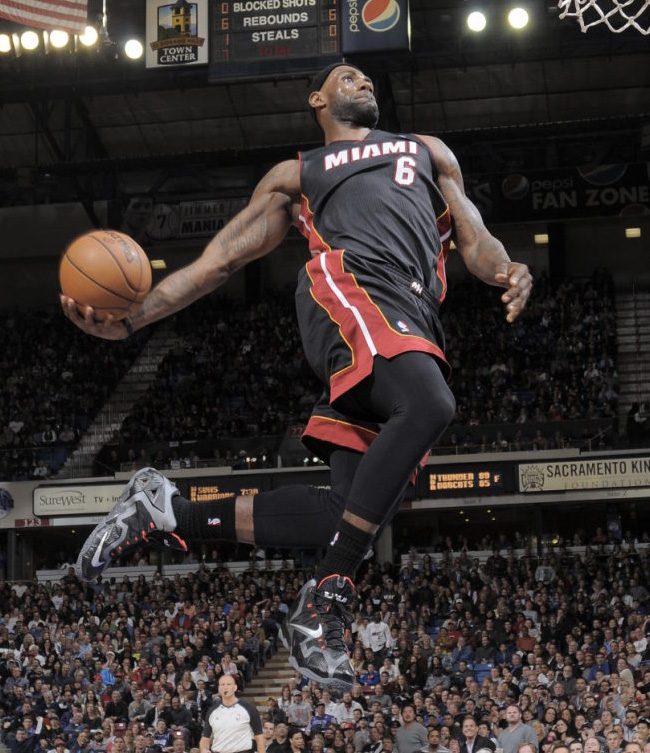 When: December 27, 2013 vs Sacramento Kings
Colorway: Miami Nights
Stats: 33 points / 8 rebounds / 8 assists
Score: 103-108 Heat loss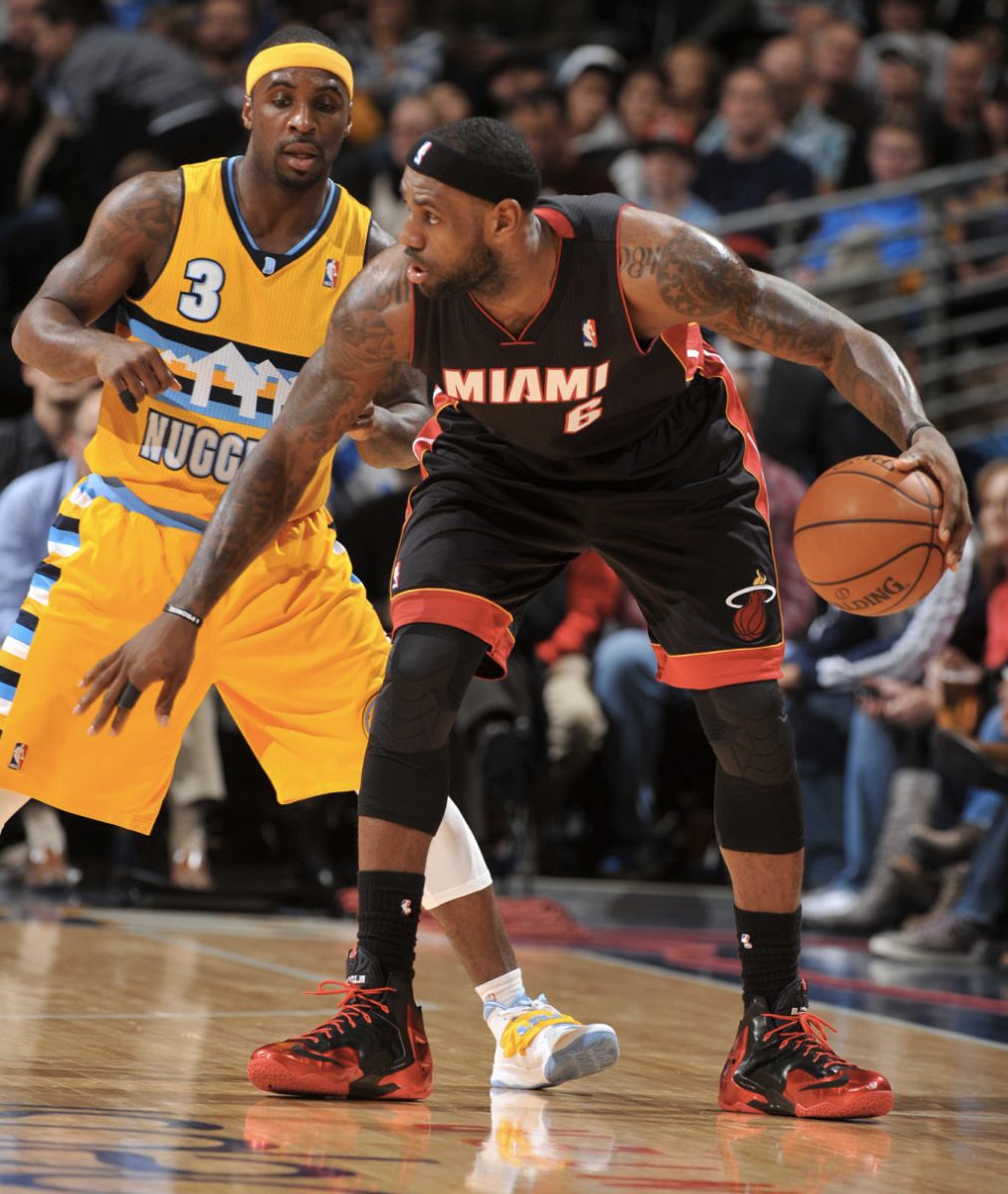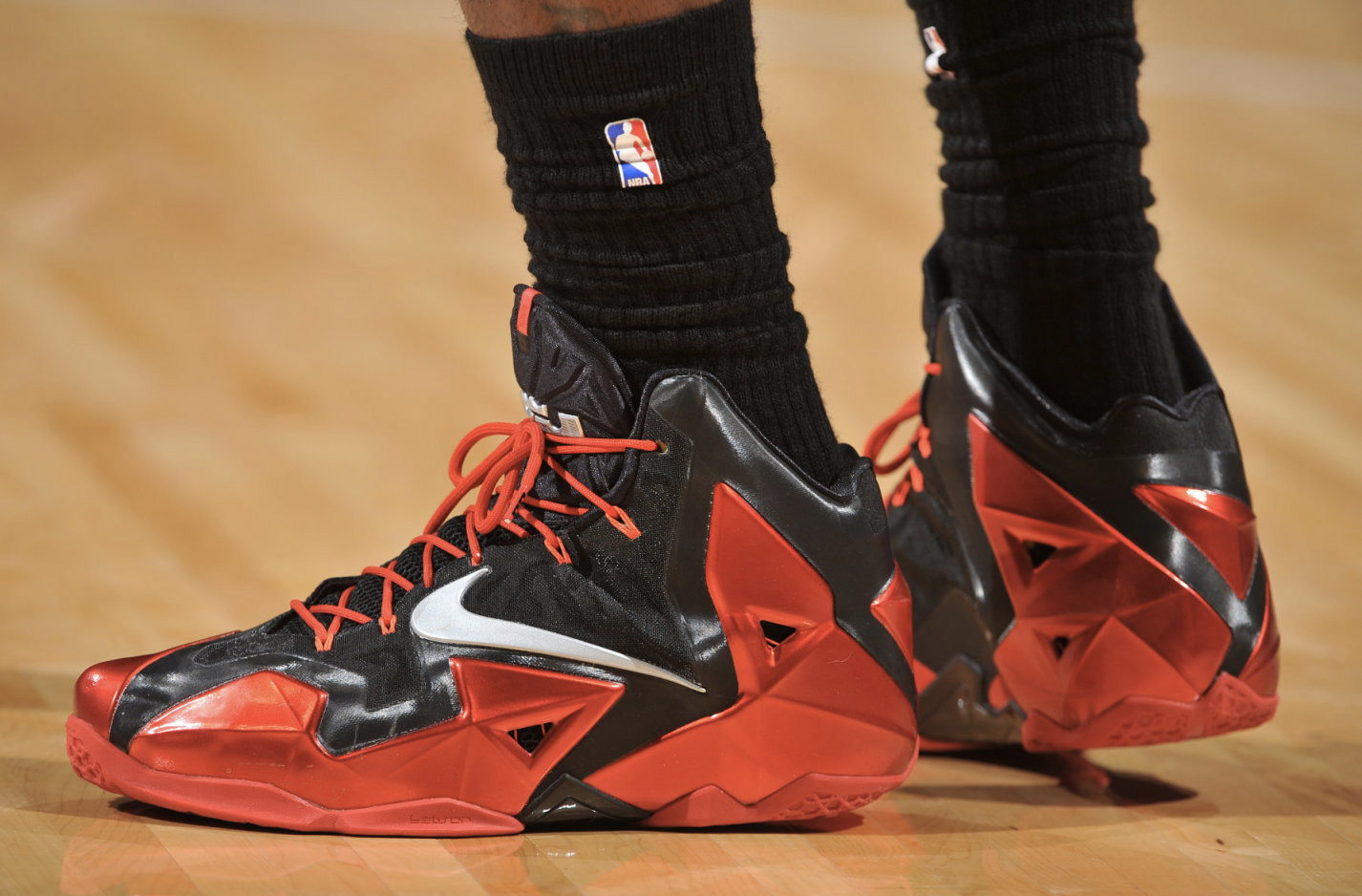 When: December 30, 2013 vs Denver Nuggets
Colorway: Black / Varsity Red
Stats: 26 points / 6 rebounds / 10 assists
Score: 97-94 Heat win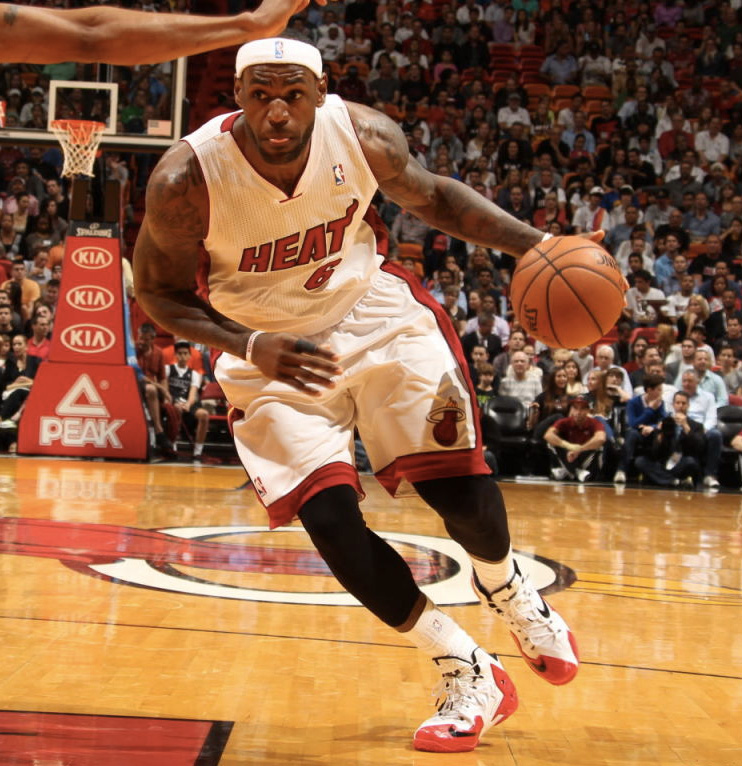 When: January 2, 2014 vs Golden State Warriors
Colorway: White / Red / Black (PE)
Stats: 26 points / 5 rebounds / 5 assists
Score: 114-123 Heat loss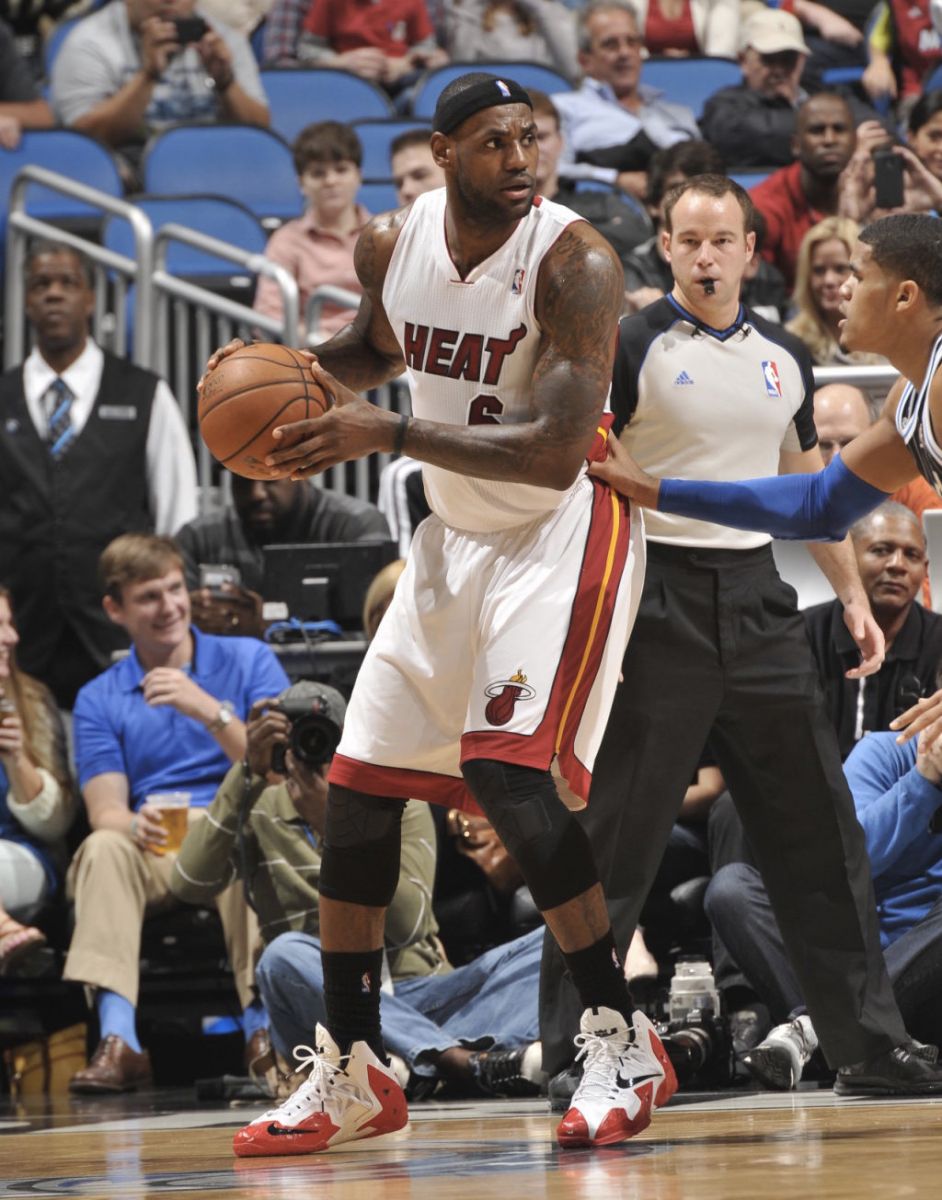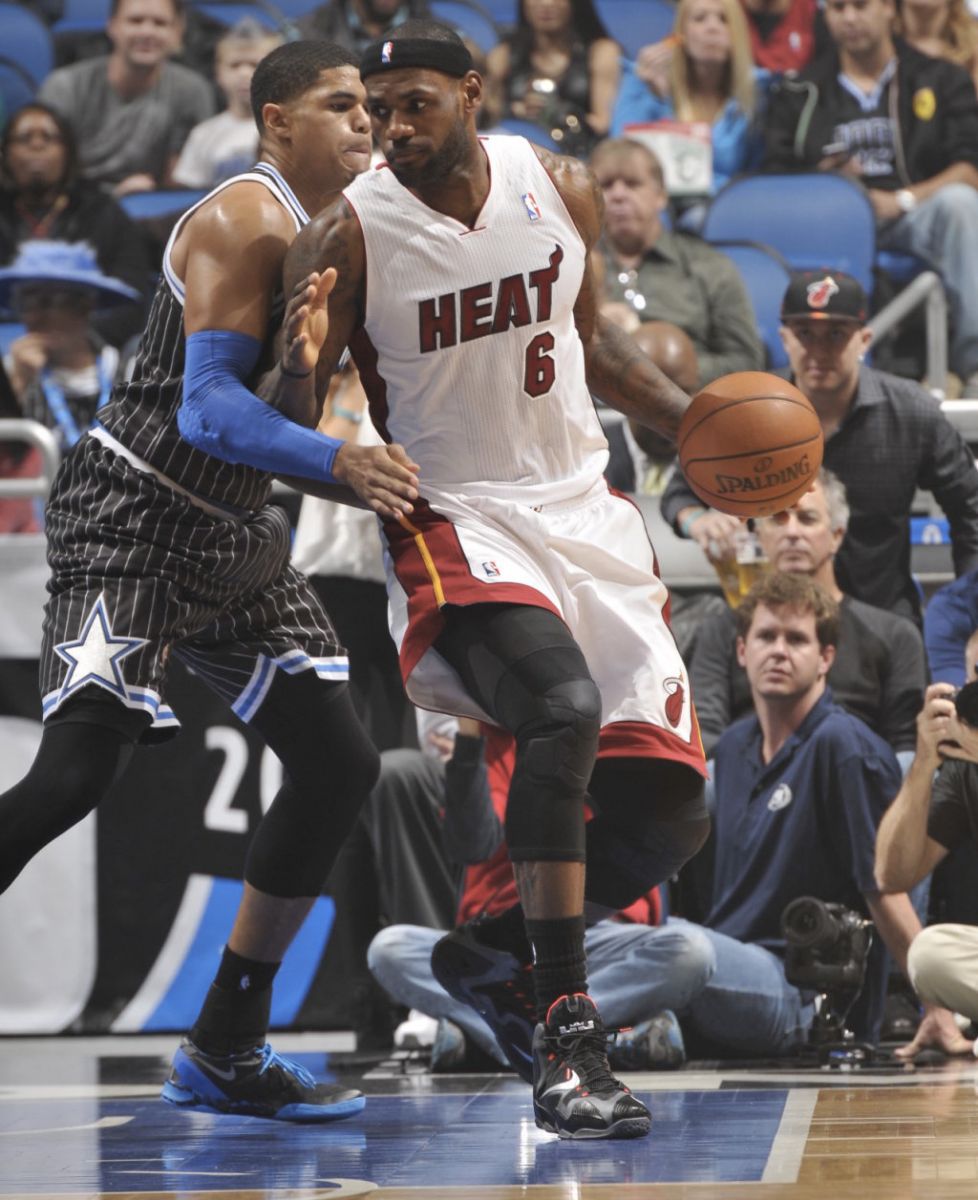 When: January 4, 2014 vs Orlando Magic
Colorway: Miami Nights, then switched into White / Red / Black (PE)
Stats: 15 points / 8 rebounds / 8 assists
Score: 110-94 Heat win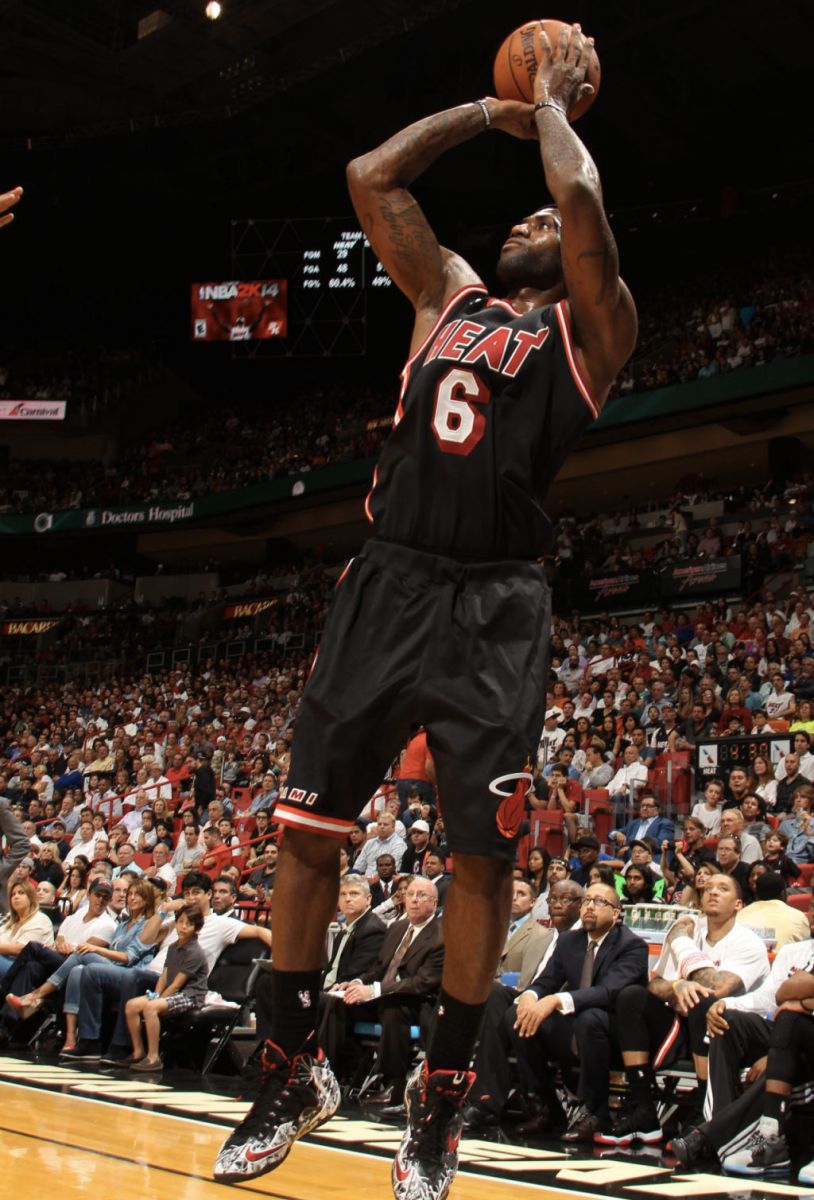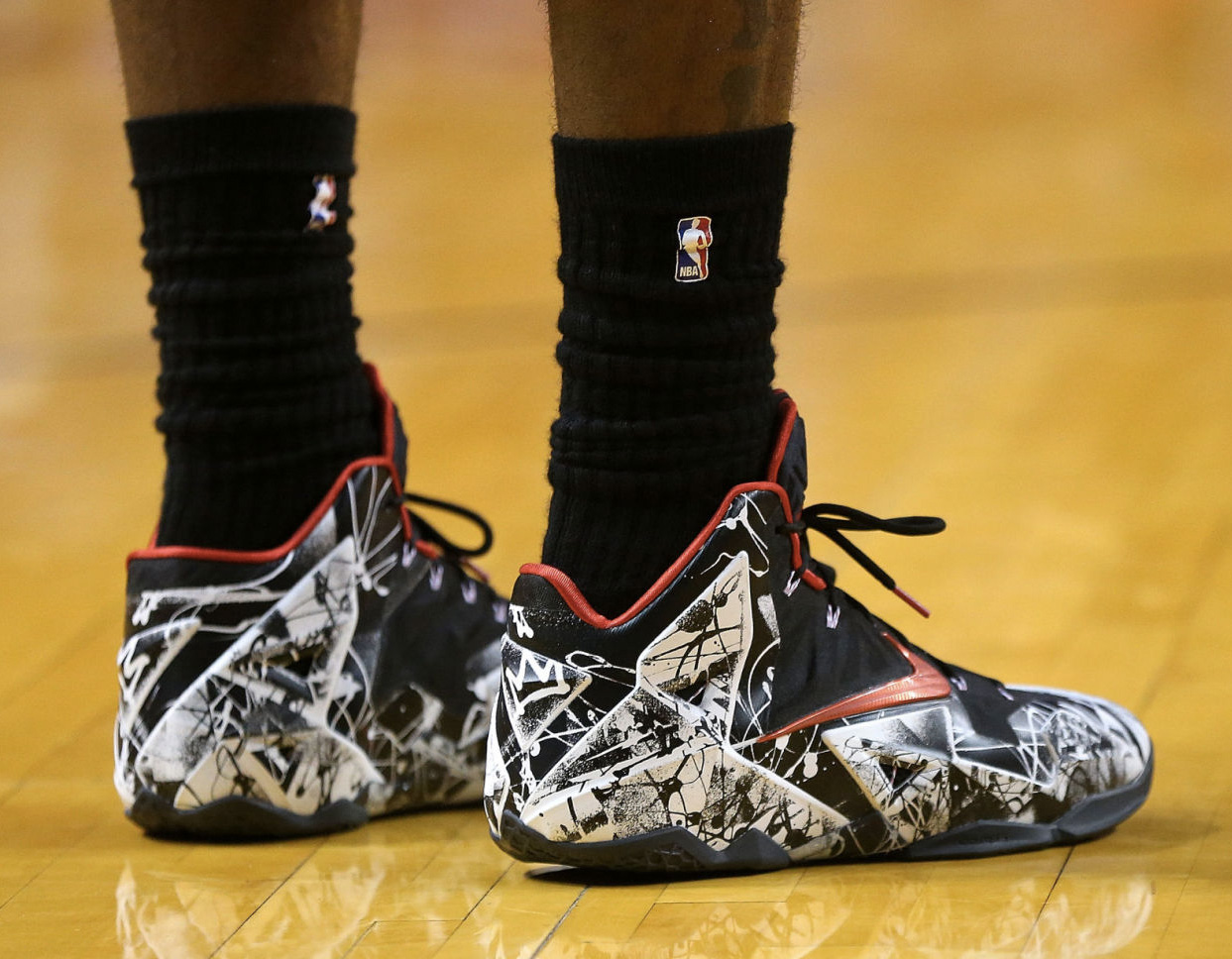 When: January 26, 2014 vs San Antonio Spurs
Colorway: Graffiti
Stats: 18 points / 7 rebounds / 6 assists
Score: 113-101 Heat win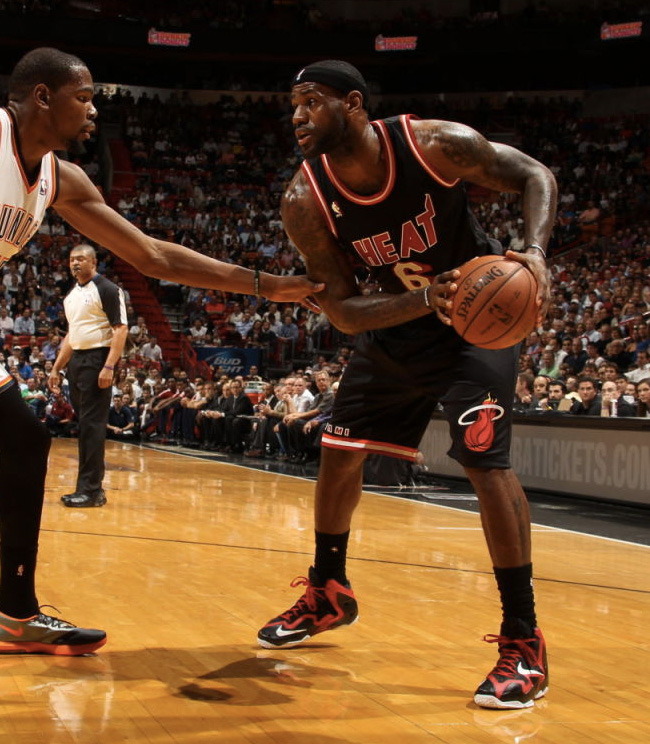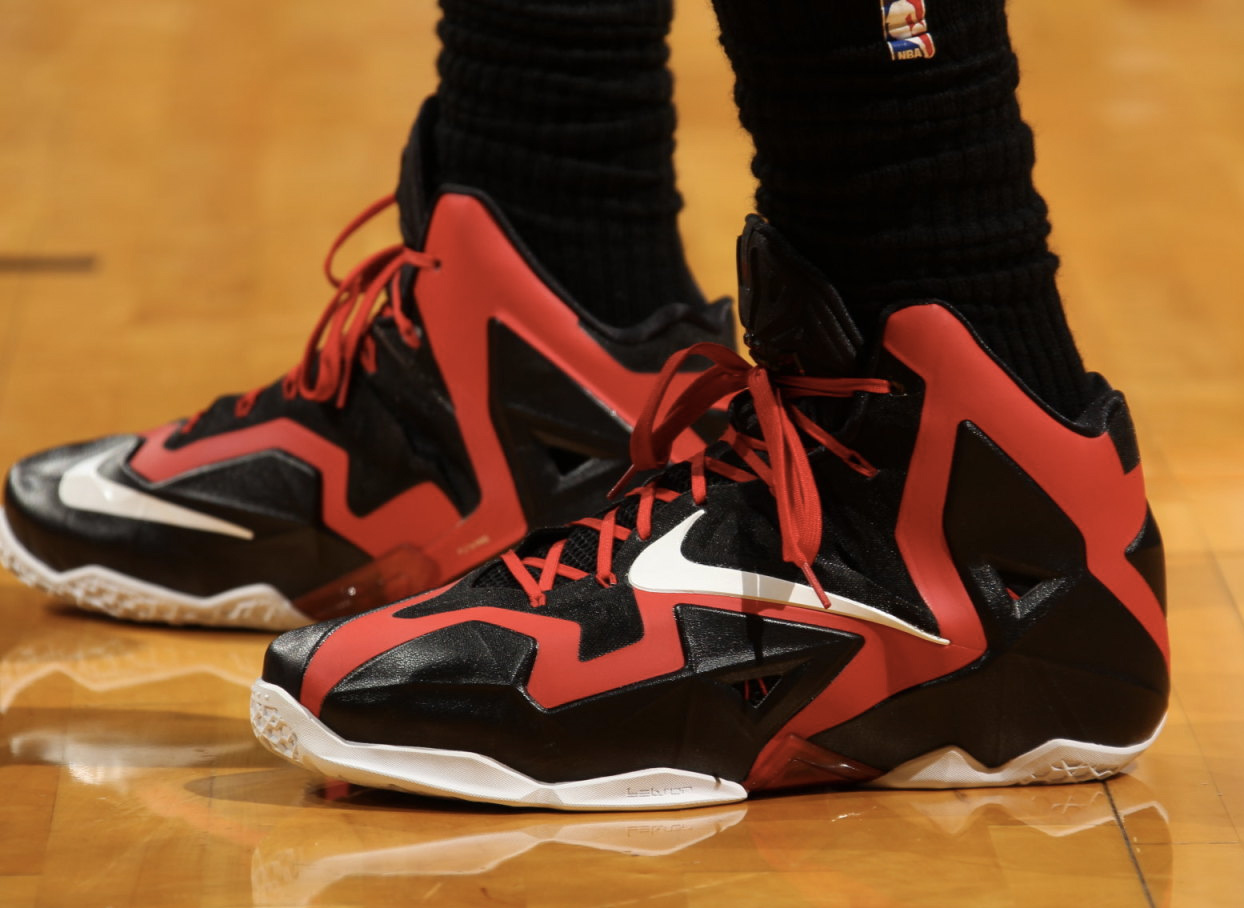 When: January 29, 2014 vs Oklahoma City Thunder (Switched Out To Soldier 7)
Colorway: Black / Red (PE)
Stats: 34 points / 3 rebounds / 3 assists
Score: 95-112 Heat loss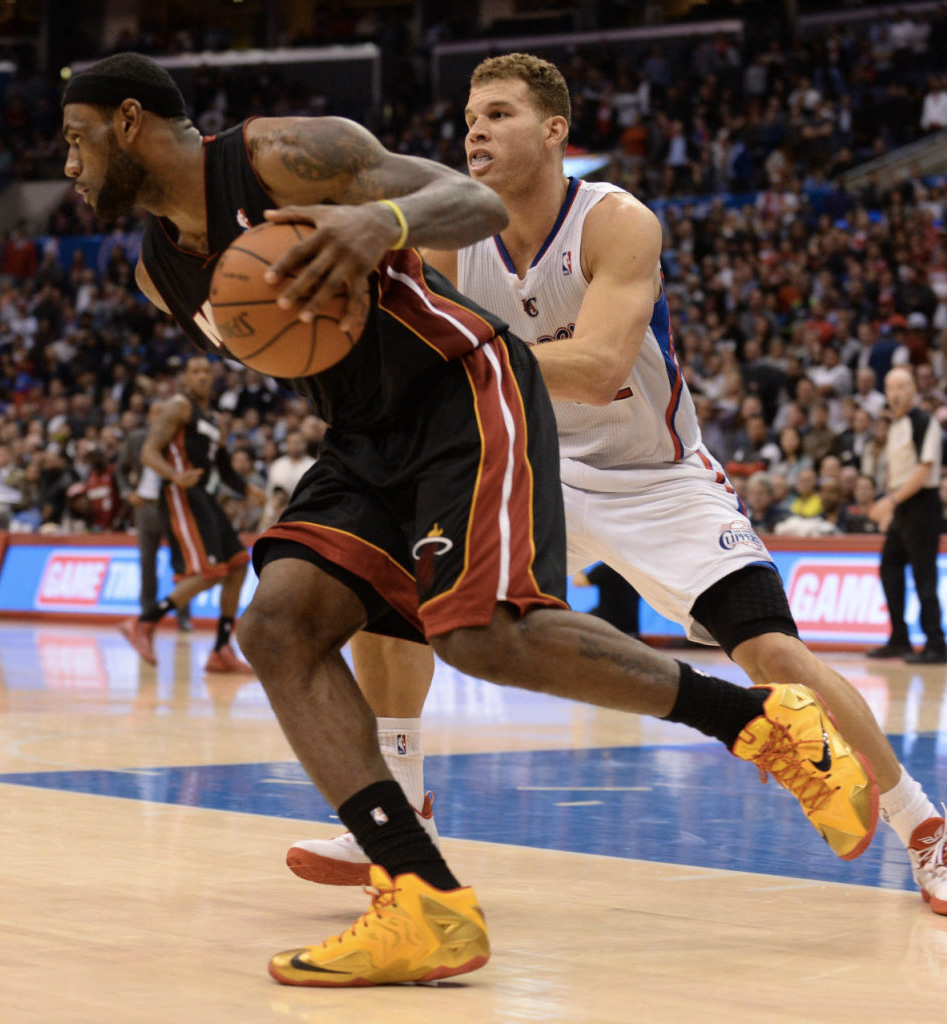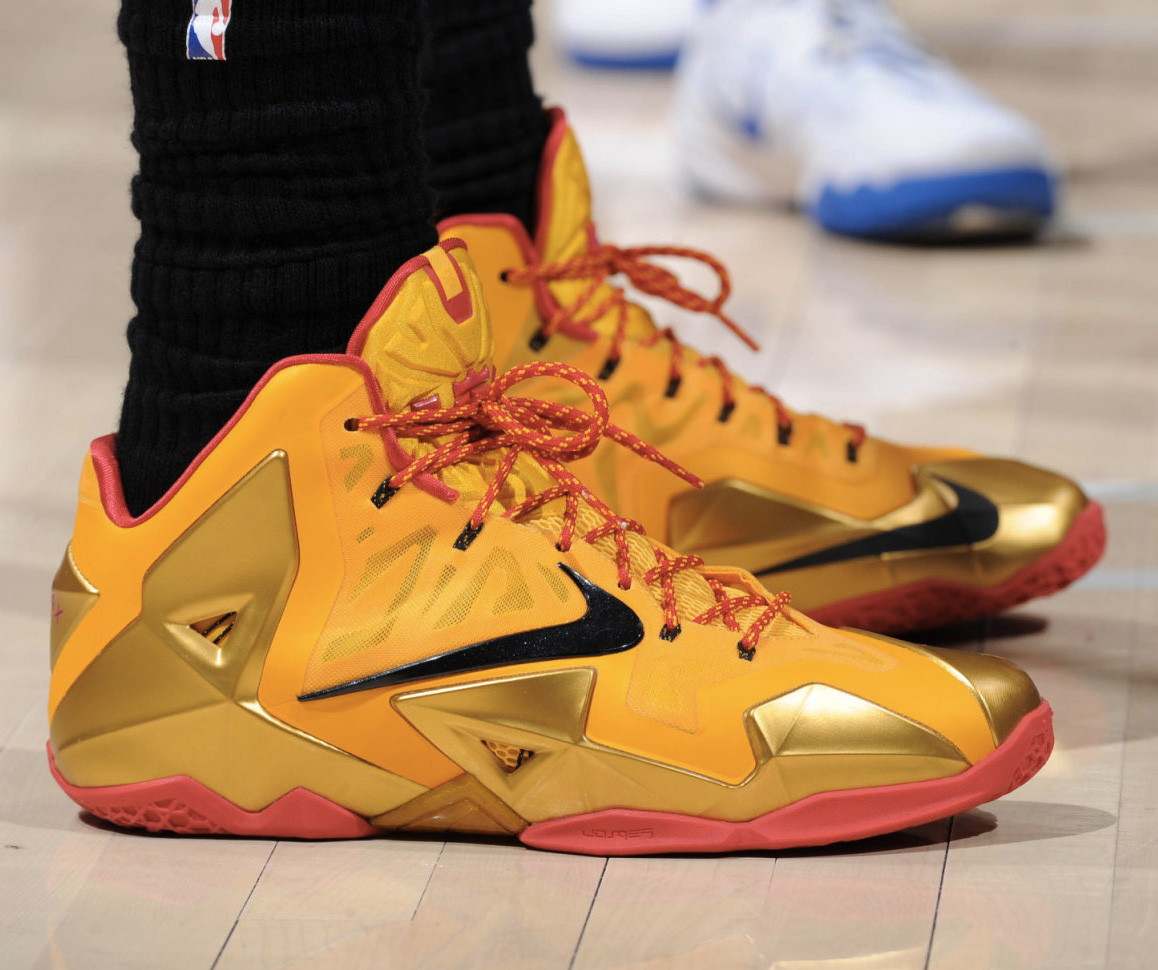 When: February 4, 2014 vs Los Angeles Clippers
Colorway: Yellow / Red (PE)
Stats: 31 points / 8 rebounds / 12 assists
Score: 116-112 Heat win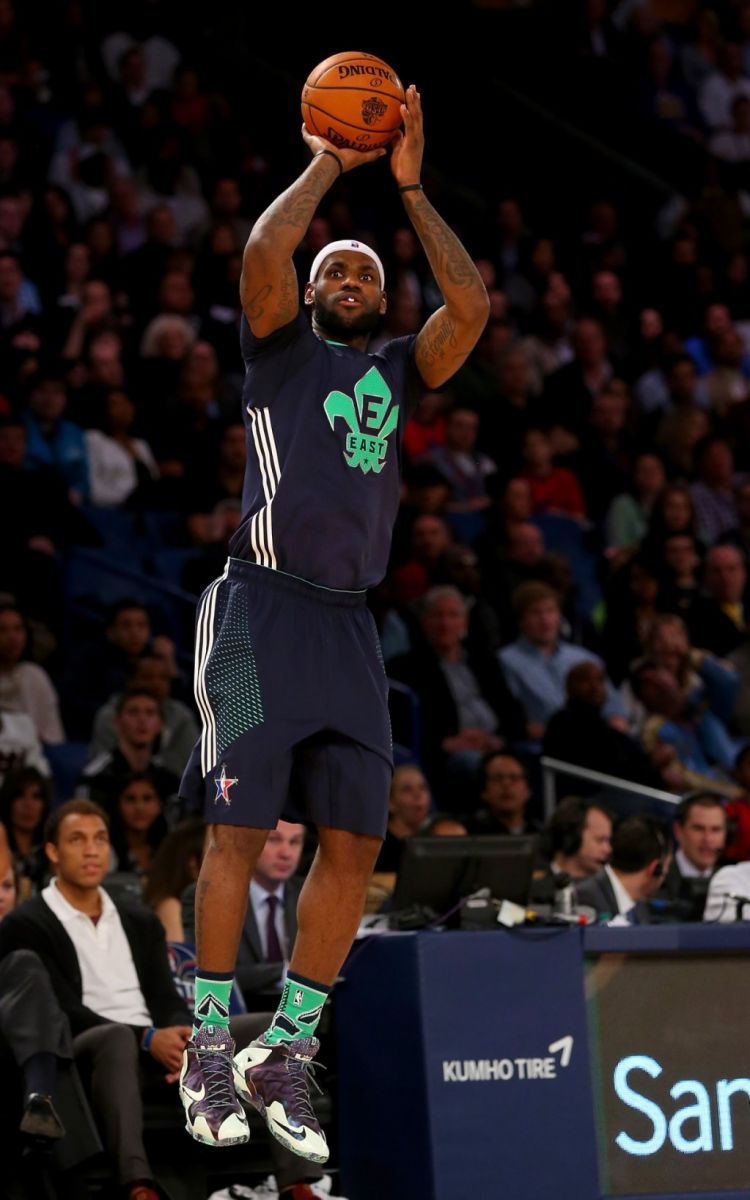 When: February 16, 2014 at the NBA All-Star Game
Colorway: Gumbo League
Stats: 22 points / 7 rebounds / 7 assists
Score: 163-155 East win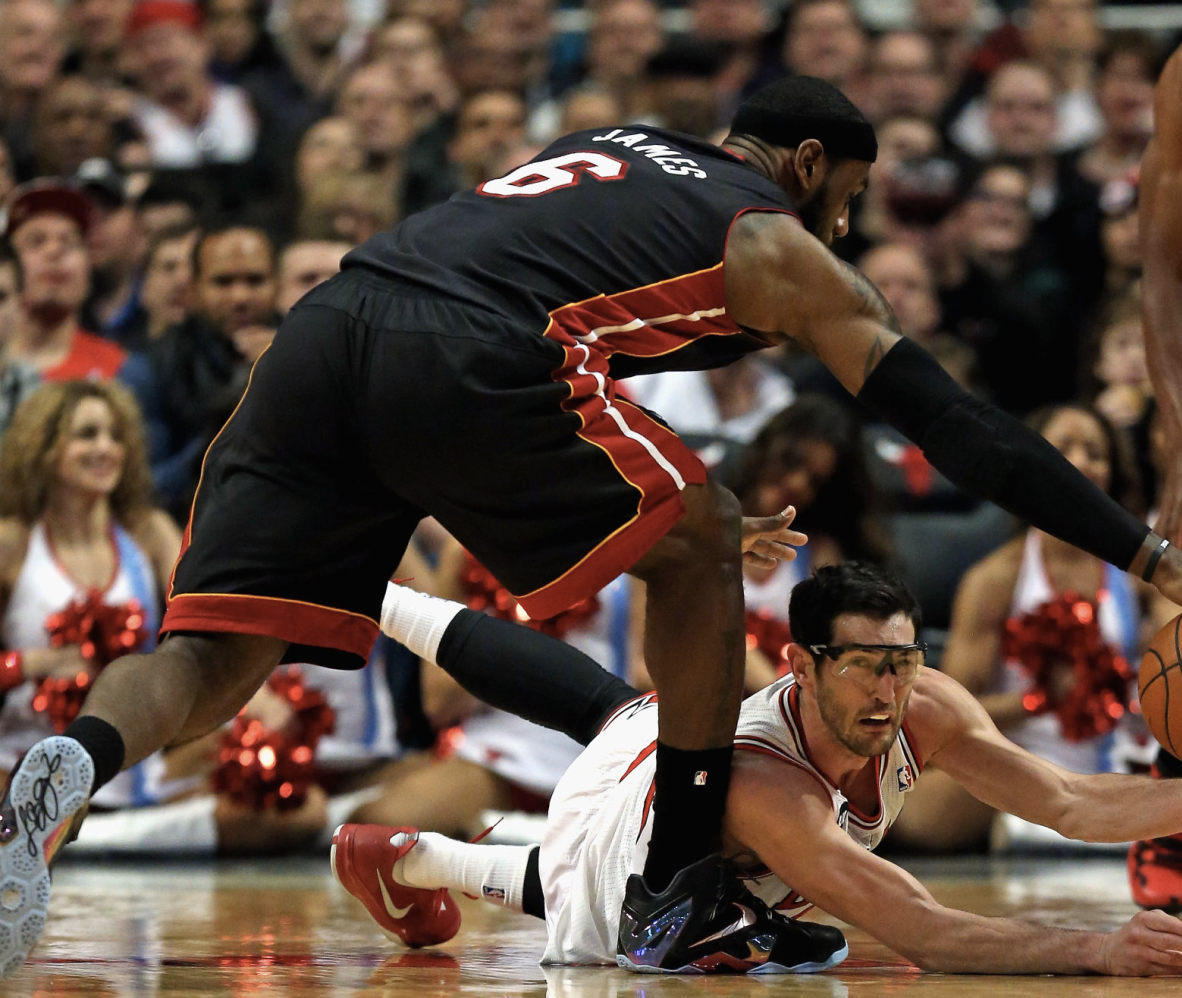 When: March 9, 2014 vs Chicago Bulls
Colorway: Black / Grey / Irridescent (PE)
Stats: 17 points / 9 rebounds / 8 assists
Score: 88-95 Heat loss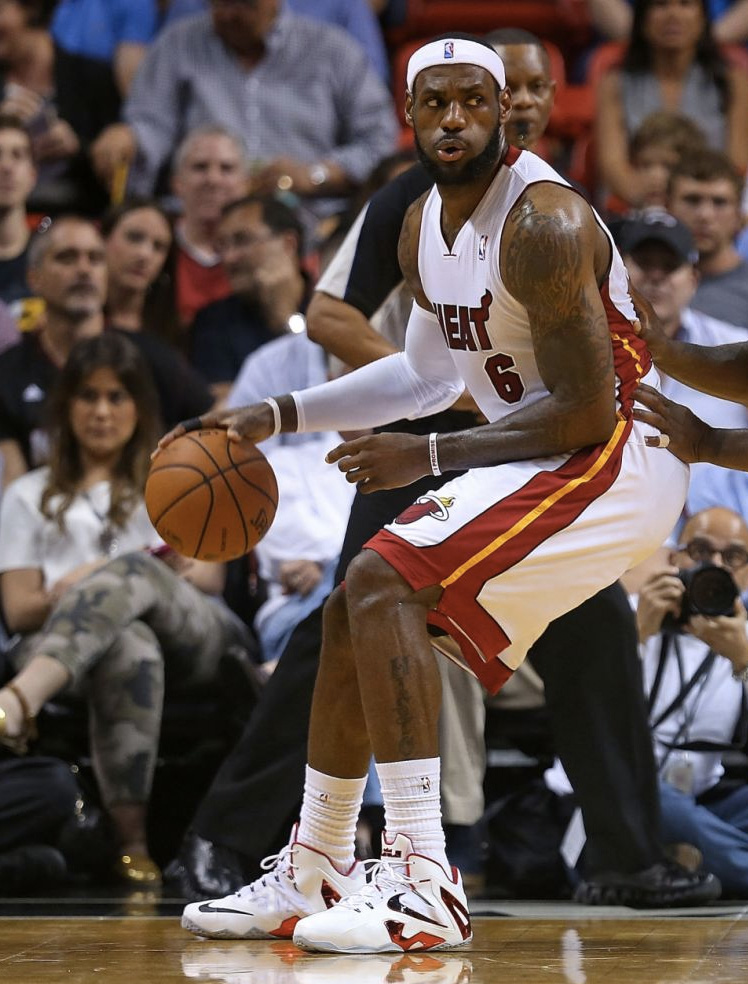 When: March 12, 2014 vs Brooklyn Nets (Switched Out To Soldier 7)
Colorway: White / Red Elite (PE)
Stats: 19 points / 5 rebounds / 7 assists
Score: 95-96 Heat loss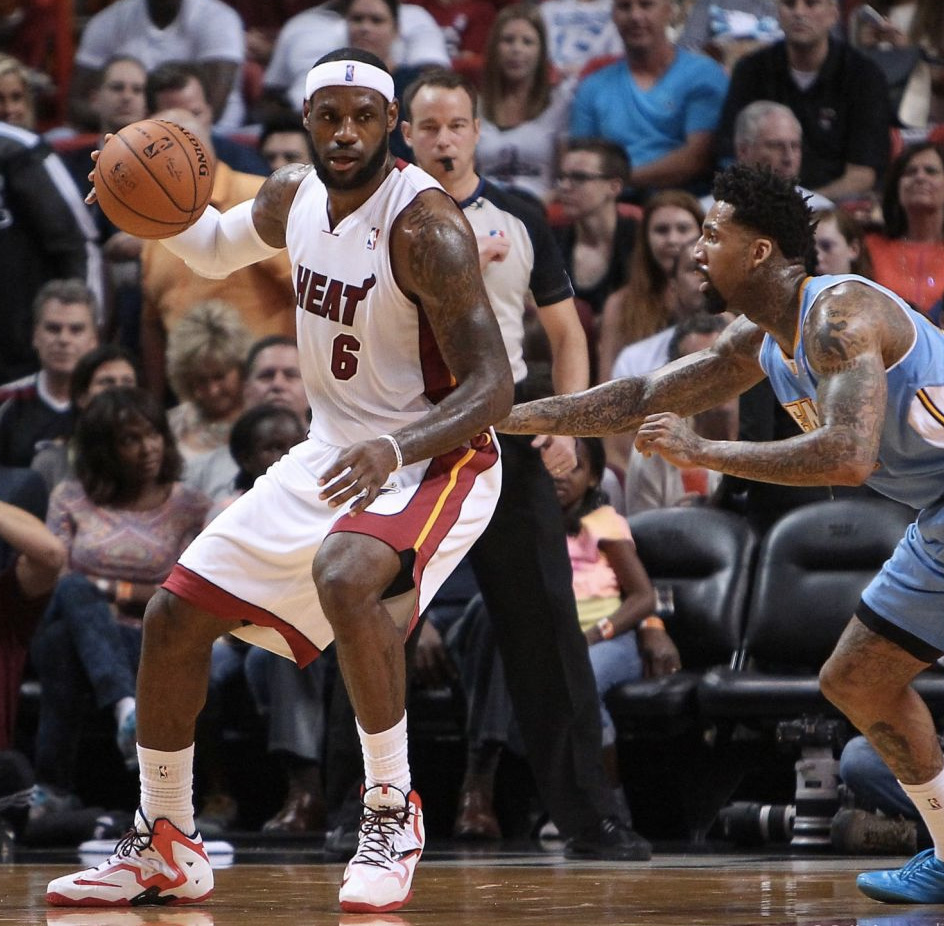 When: March 16, 2014 vs Denver Nuggets
Colorway: White / Red / Black (PE)
Stats: 21 points / 6 rebounds / 6 assists
Score: 101-107 Heat loss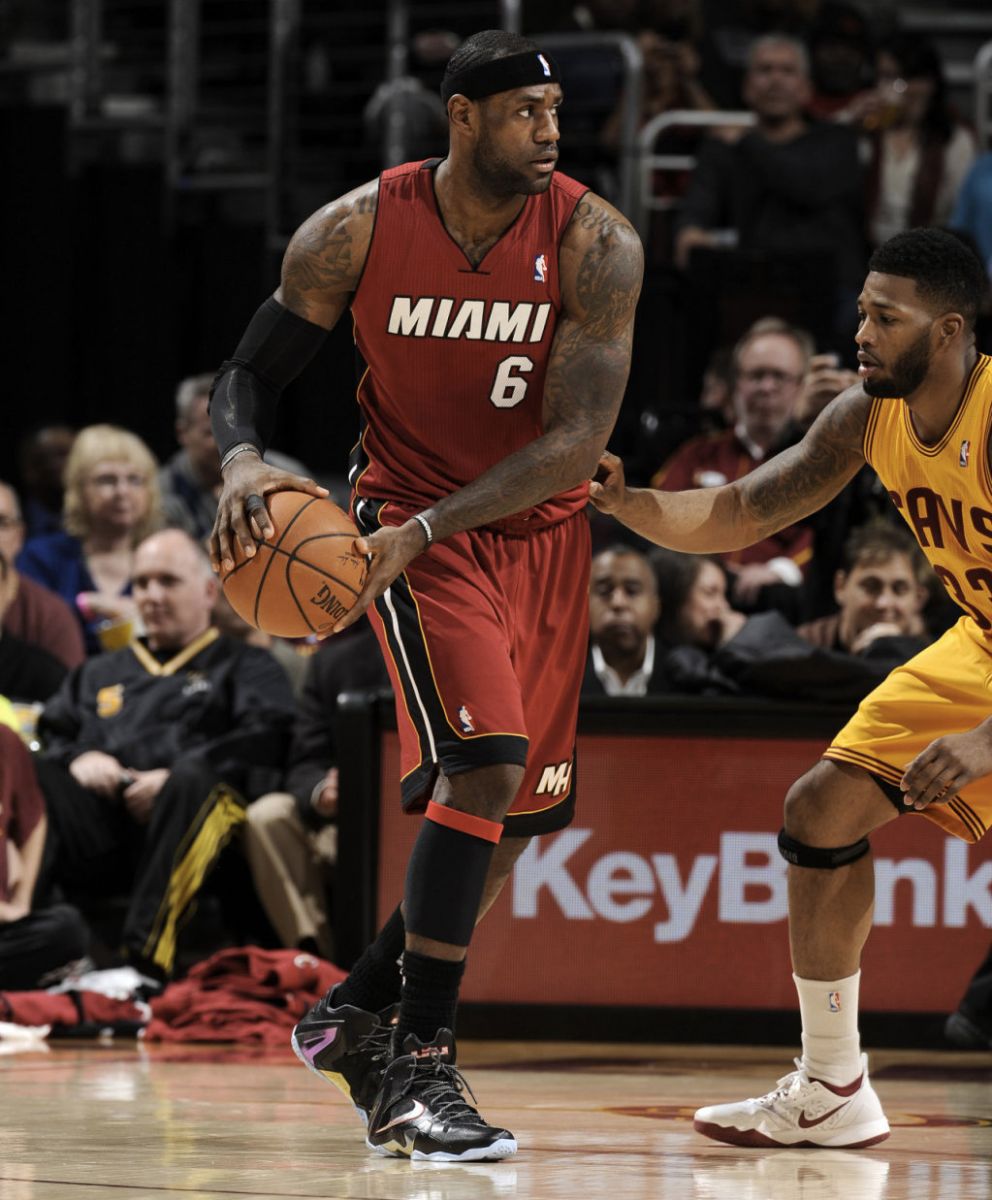 When: March 18, 2014 vs Cleveland Cavaliers
Colorway: Black / Grey / Irridescent (PE)
Stats: 43 points / 6 rebounds / 4 assists
Score: 100-96 Heat win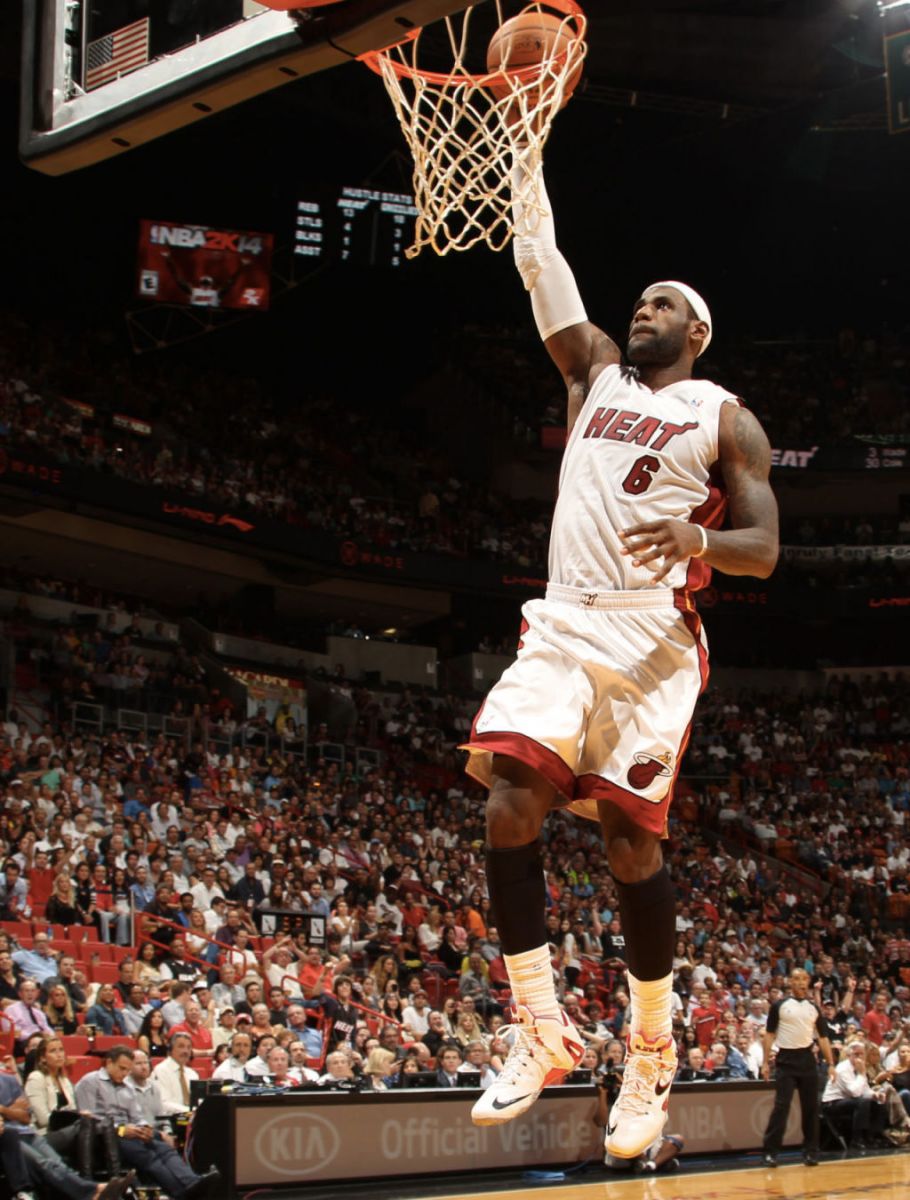 When: March 21, 2014 vs Memphis Grizzlies
Colorway: White / Red 11 Elite (PE)
Stats: 15 points / 6 rebounds / 7 assists
Score: 91-86 Heat win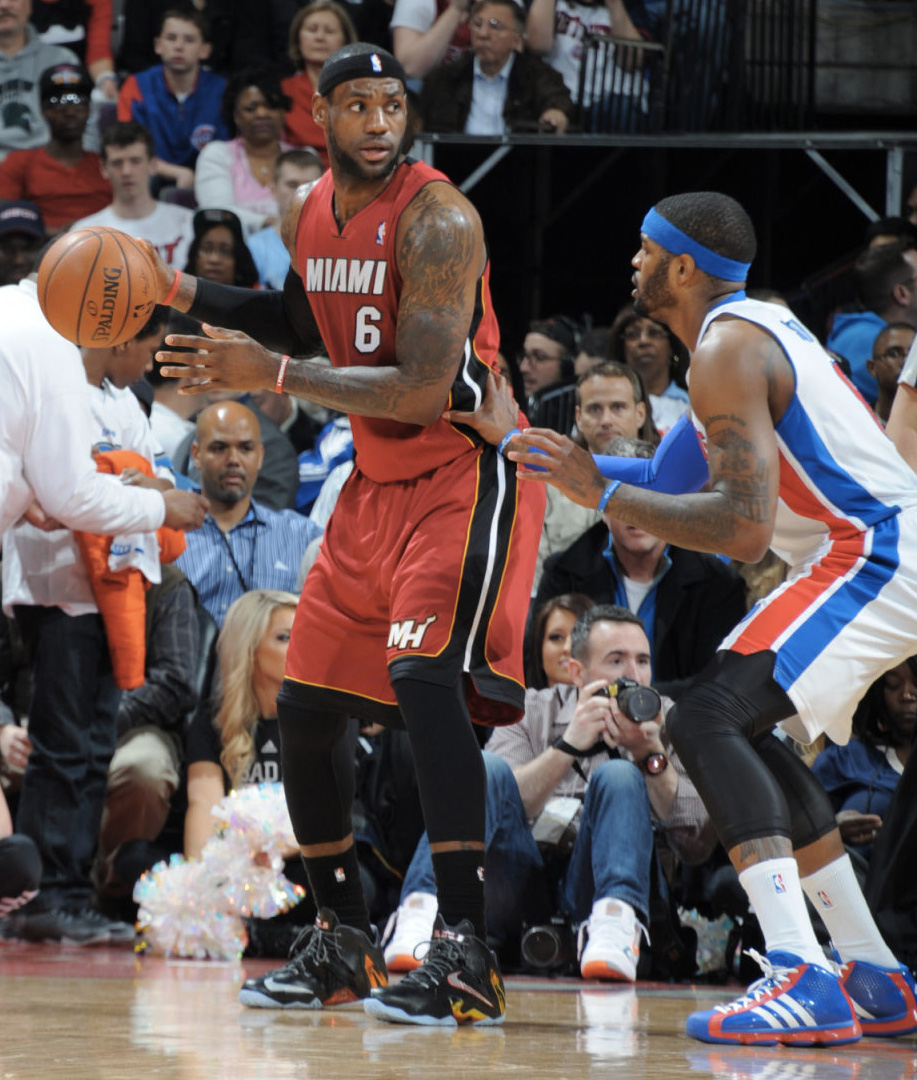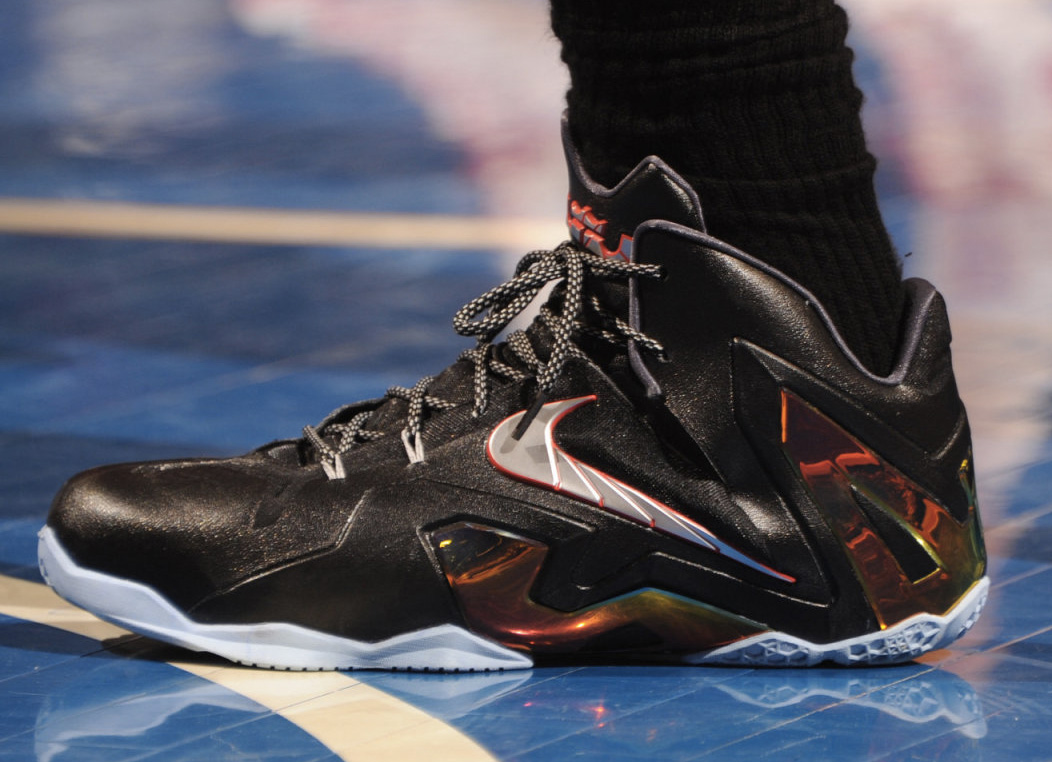 When: March 28, 2014 vs Detroit Pistons
Colorway: Black / Grey / Irridescent 11 Elite (PE)
Stats: 17 points / 12 rebounds / 10 assists
Score: 110-78 Heat win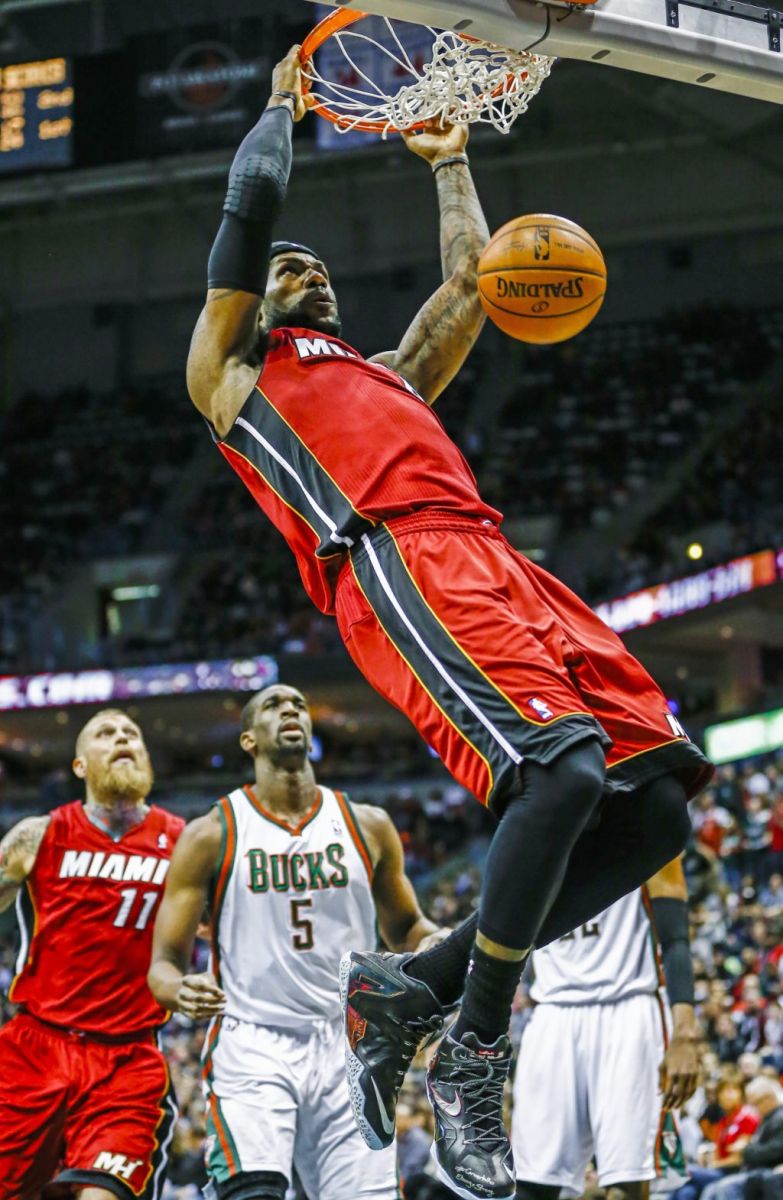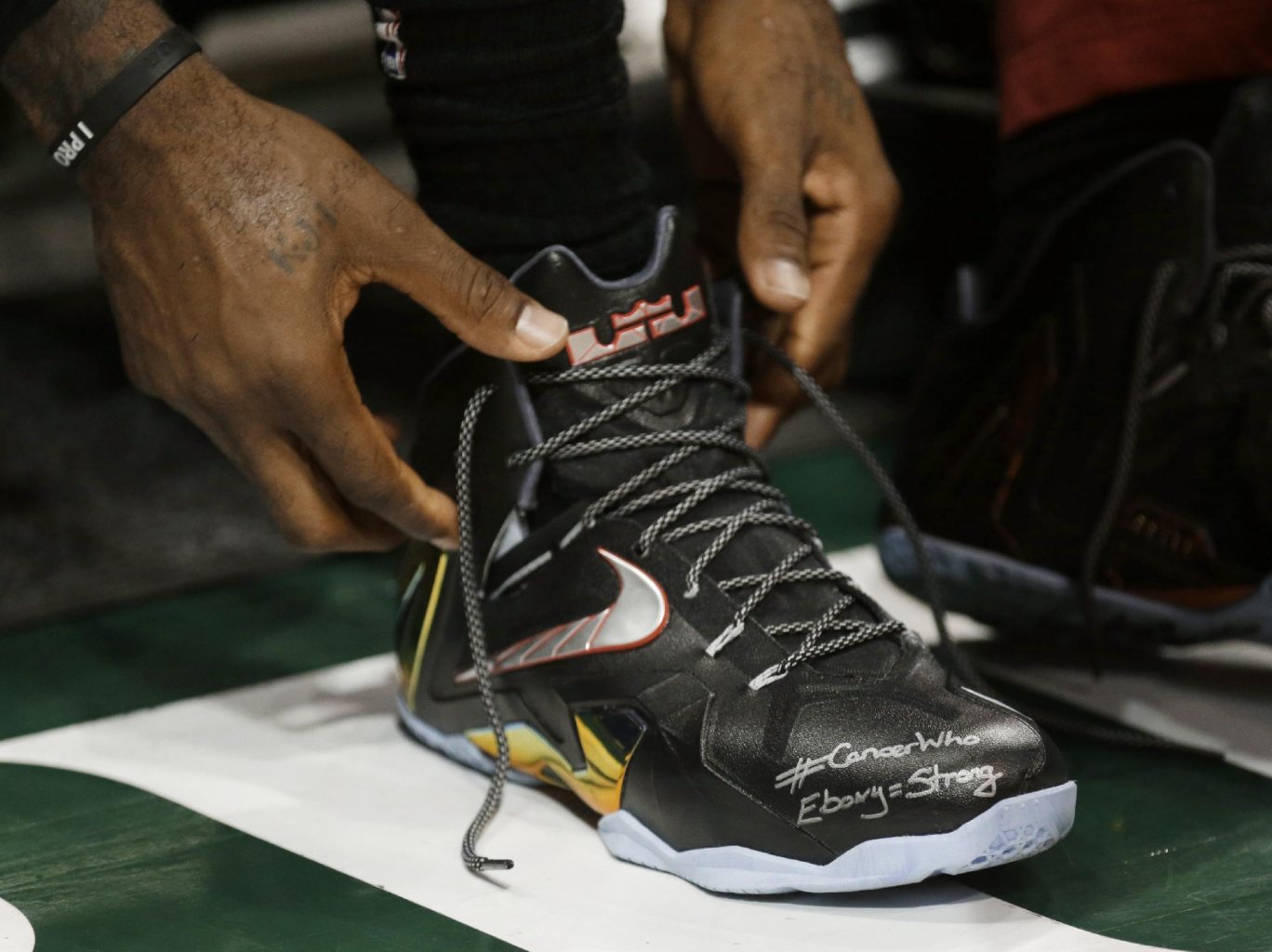 When: March 29, 2014 vs Milwaukee Bucks
Colorway: Black / Grey / Irridescent (PE)
Stats: 13 points / 7 rebounds / 2 assists
Score: 88-67 Heat win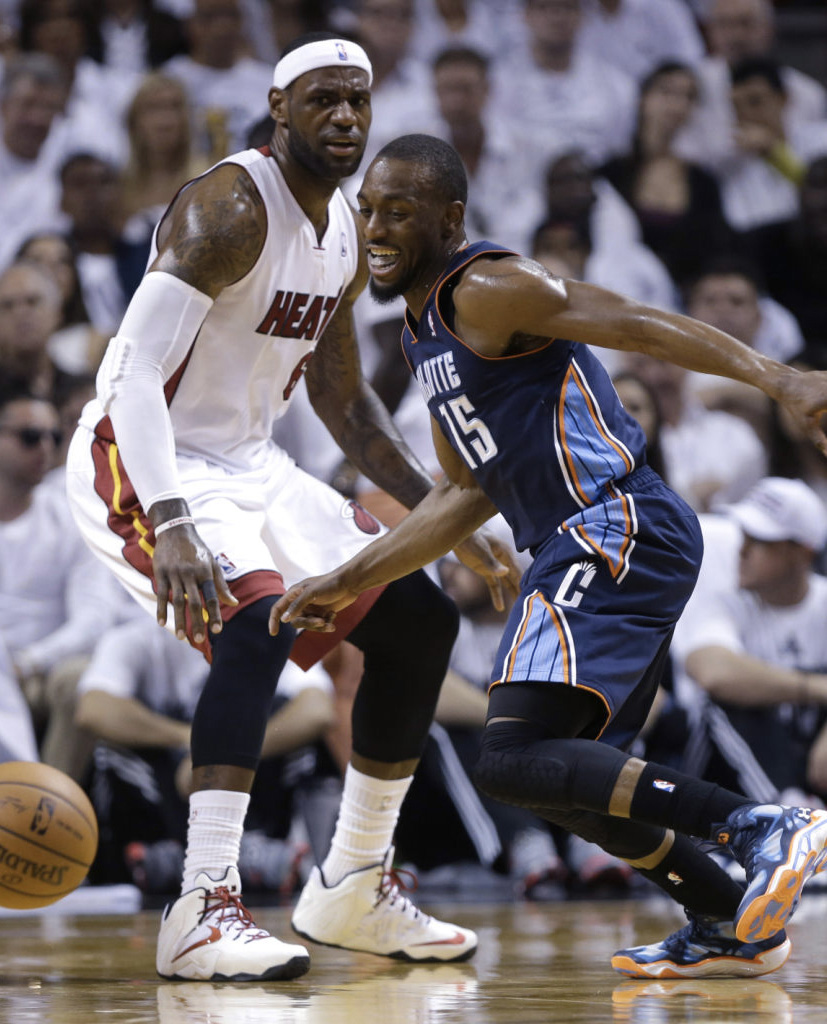 When: April 20, 2014 vs Charlotte Bobcats (Game 1)
Colorway: White / Red / Black 11 Elite (PE)
Stats: 27 points / 9 rebounds / 1 assist
Score: 99-88 Heat win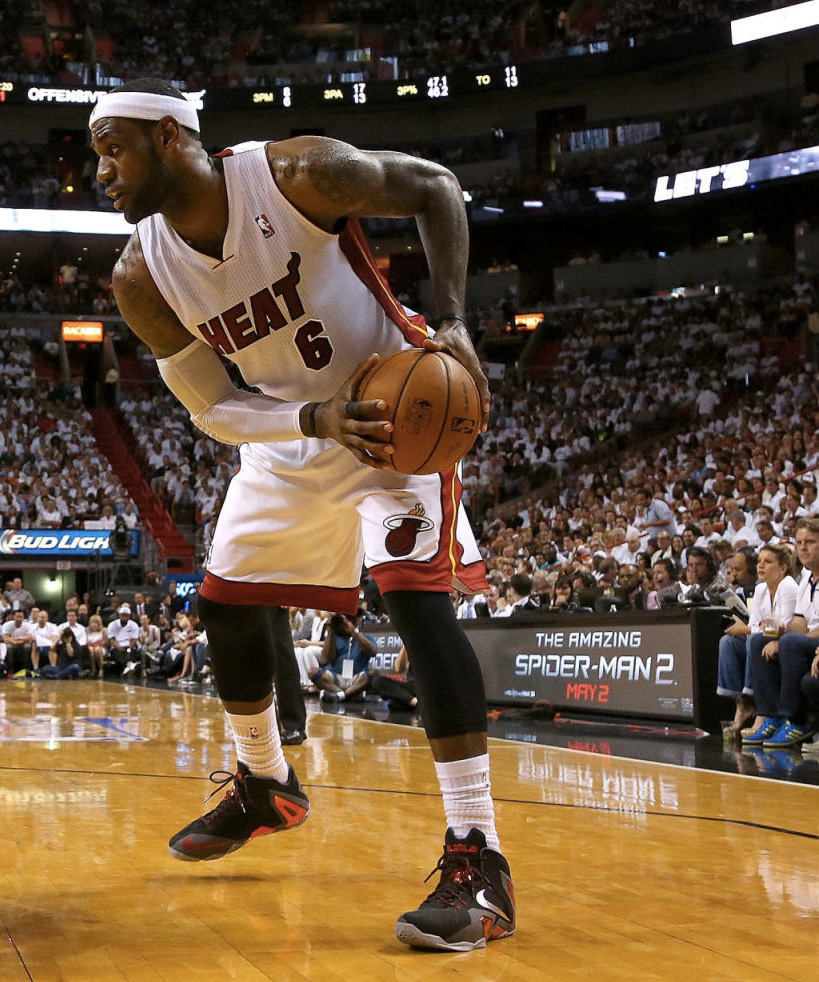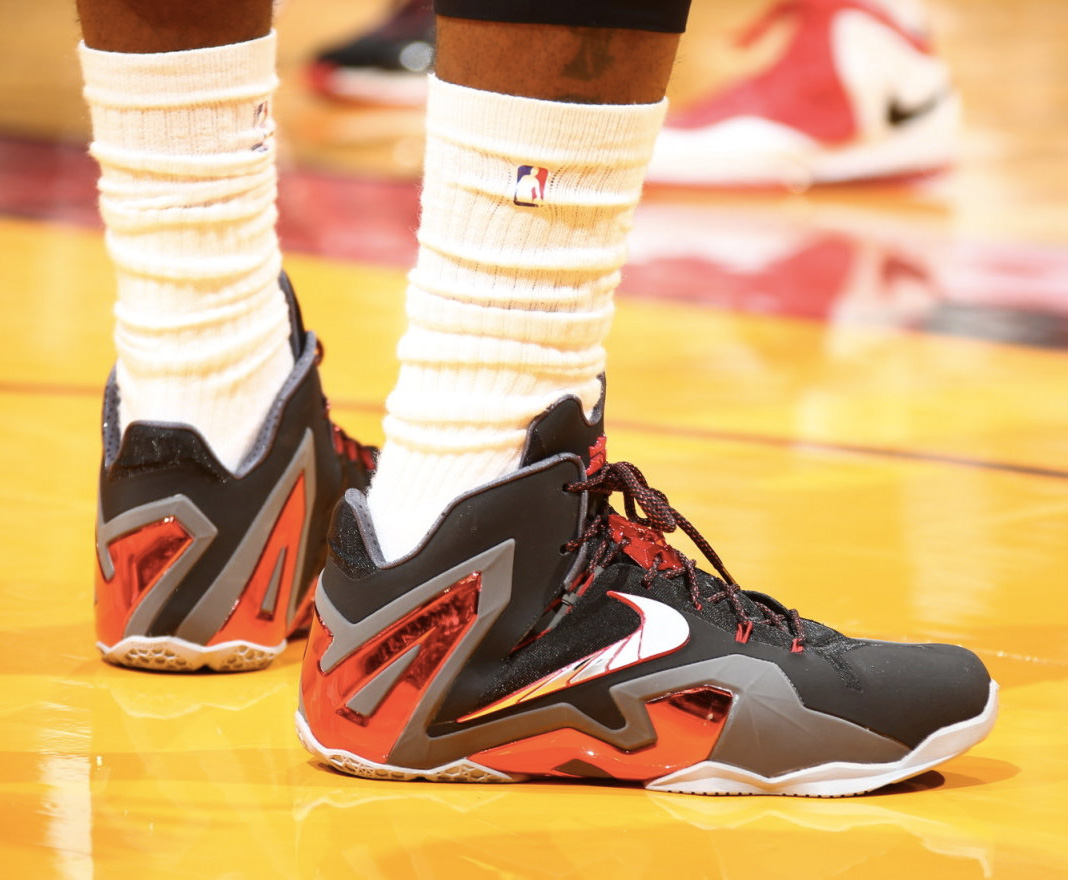 When: April 23, 2014 vs Charlotte Bobcats (Game 2)
Colorway: Black / Grey / Red 11 Elite (PE)
Stats: 32 points / 6 rebounds / 4 assists
Score: 101-97 Heat win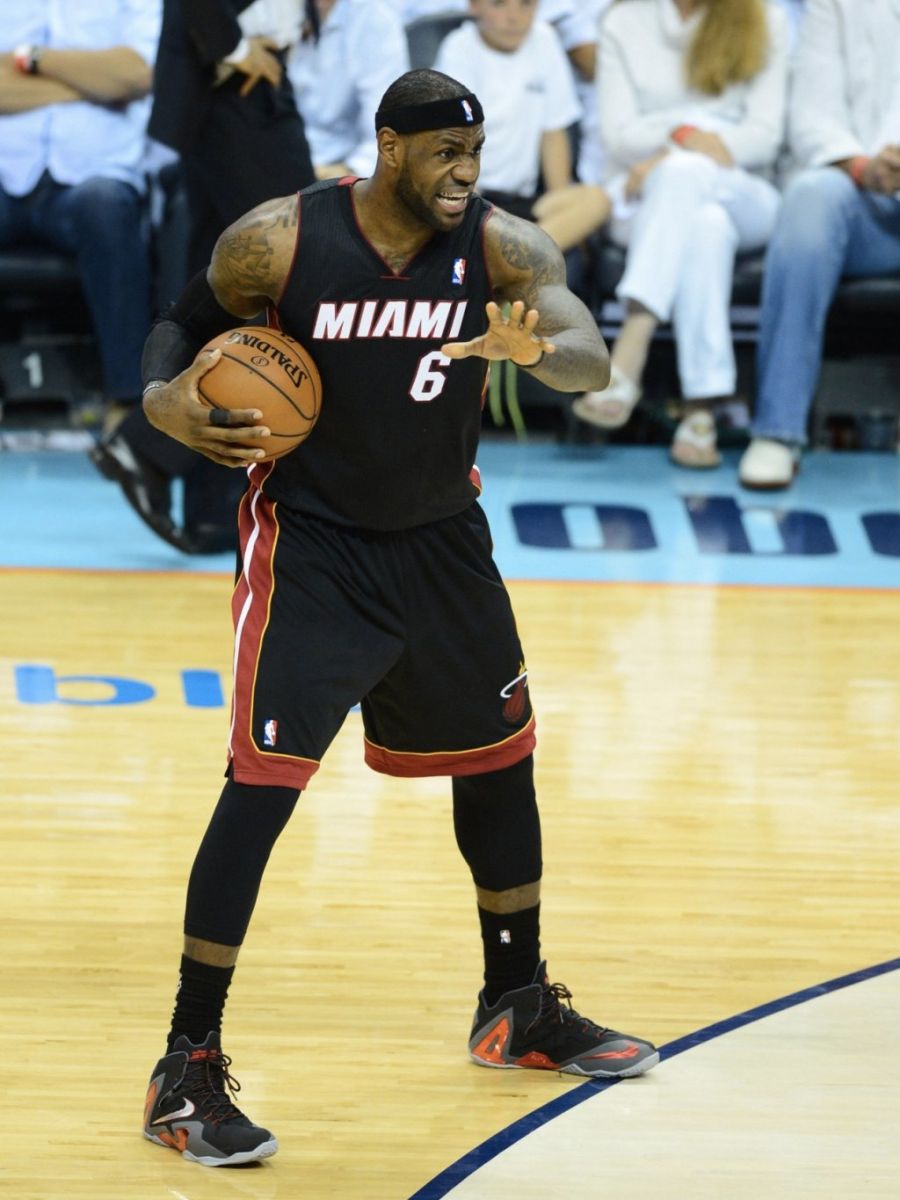 When: April 26, 2014 vs Charlotte Bobcats (Game 3)
Colorway: Black / Grey / Red (PE)
Stats: 30 points / 10 rebounds / 6 assists
Score: 98-85 Heat win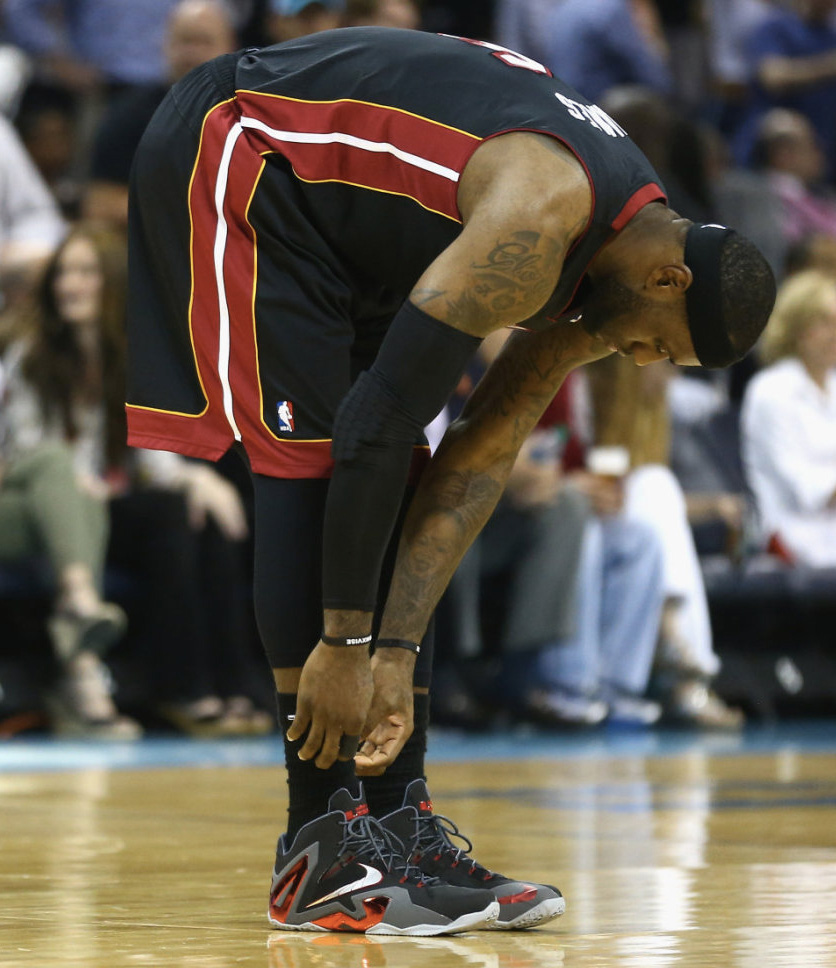 When: April 28, 2014 vs Charlotte Bobcats (Switched To Soldier 7 After 1st Quarter)
Colorway: Black / Grey / Red 11 Elite (PE)
Stats: 31 points / 7 rebounds / 9 assists
Score: 109-98 Heat win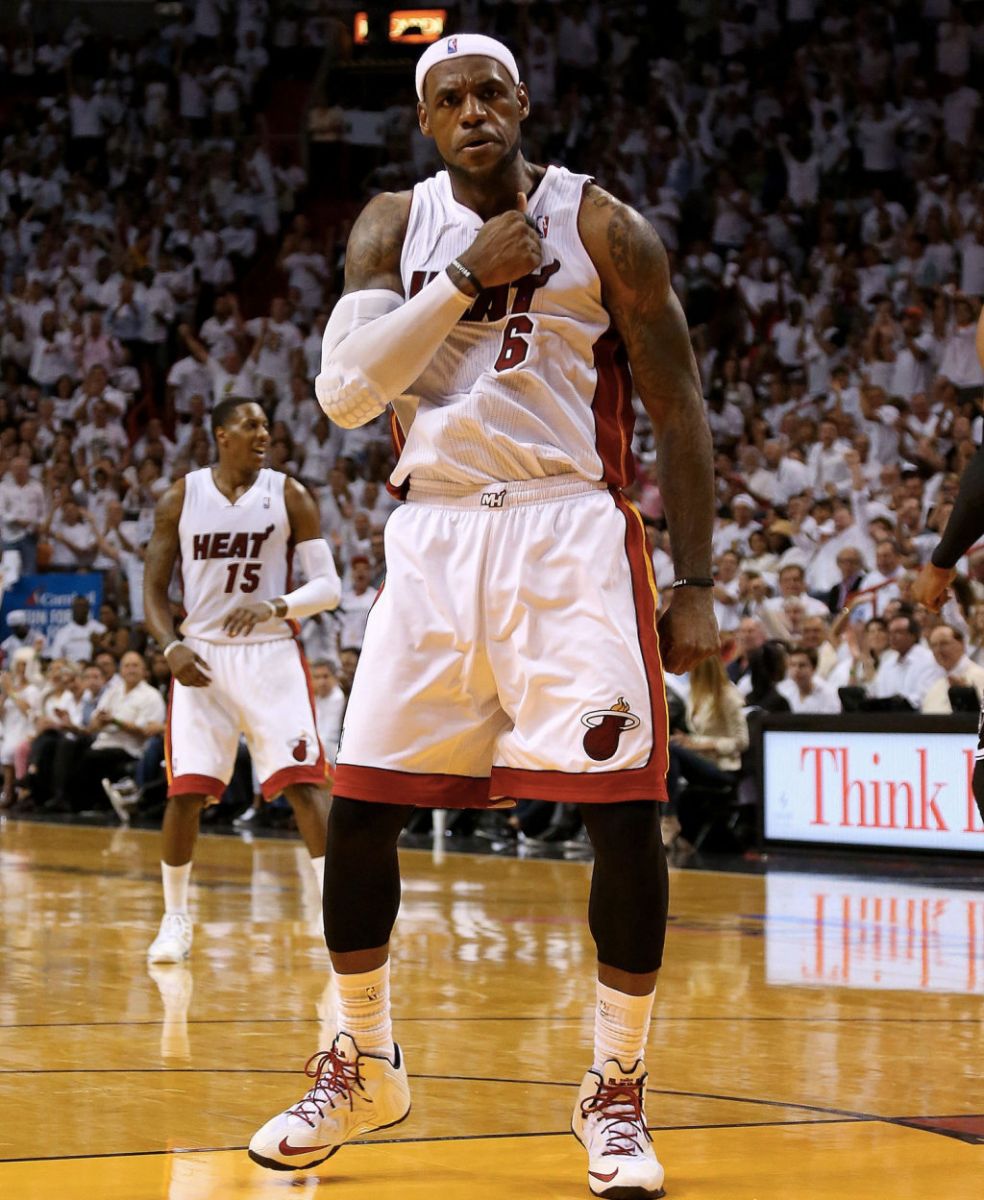 When: May 6, 2014 vs Brooklyn Nets (Game 1)
Colorway: White / Red / Black 11 Elite (PE)
Stats: 22 points / 5 rebounds / 3 assists
Score: 107-86 Heat win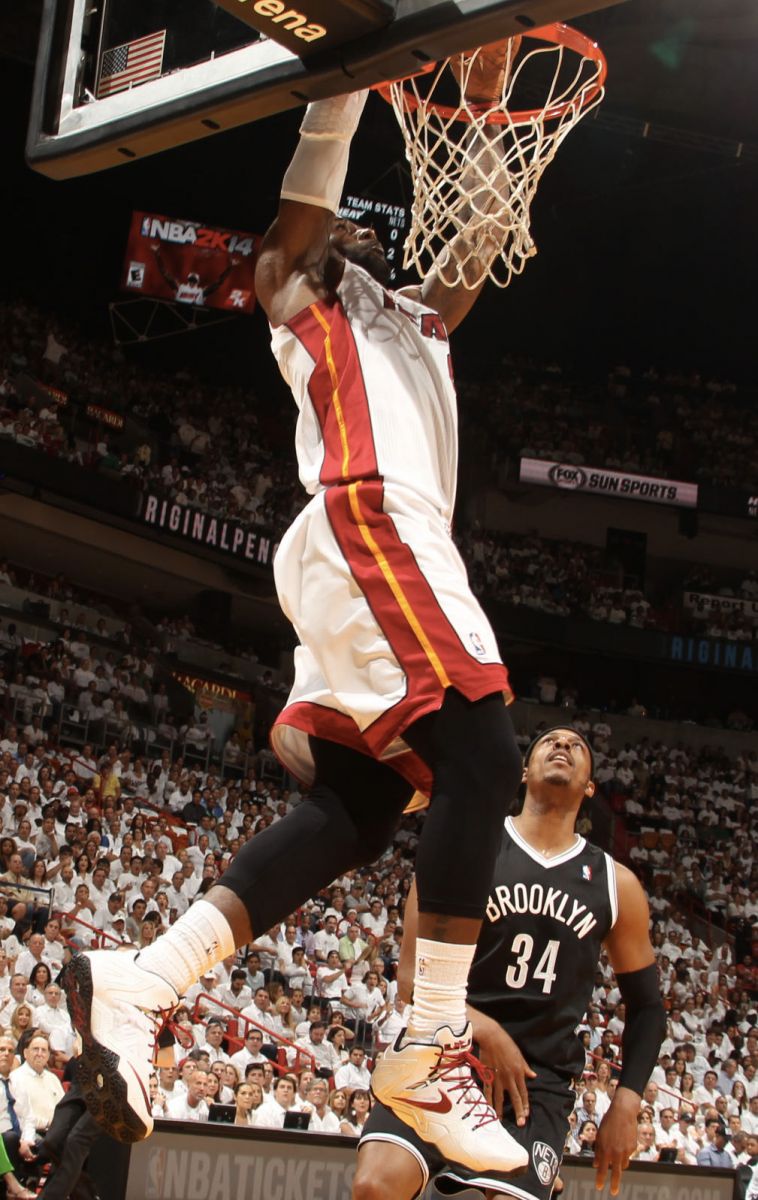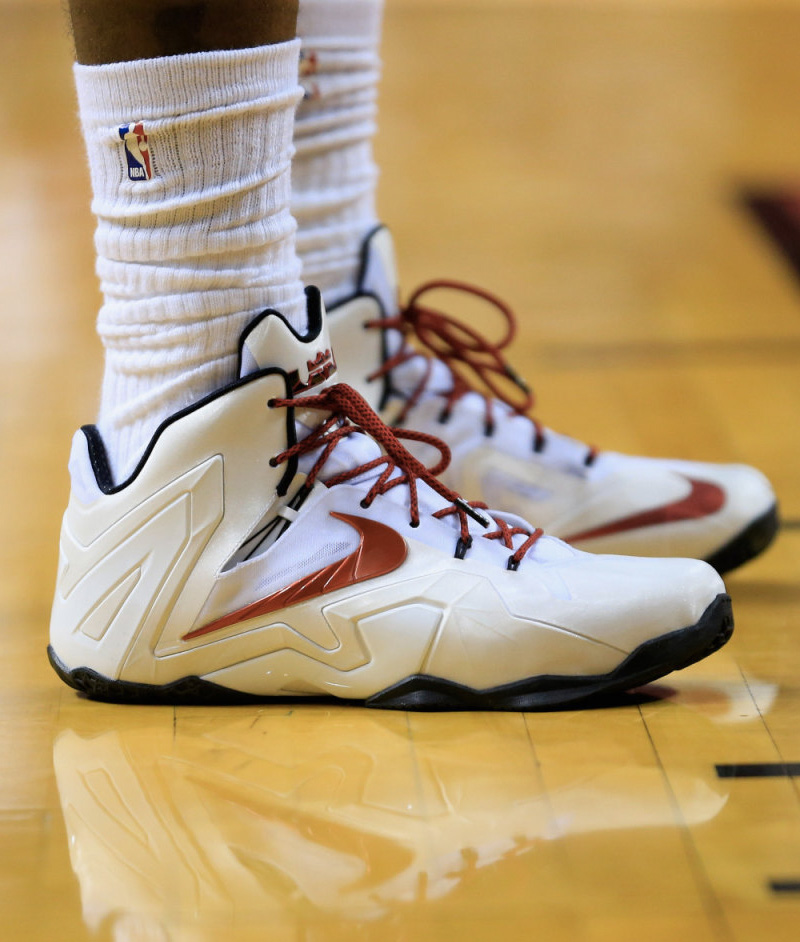 When: May 8, 2014 vs Brooklyn Nets (Game 2)
Colorway: White / Red / Black 11 Elite (PE)
Stats: 22 points / 4 rebounds / 3 assists
Score: 94-82 Heat win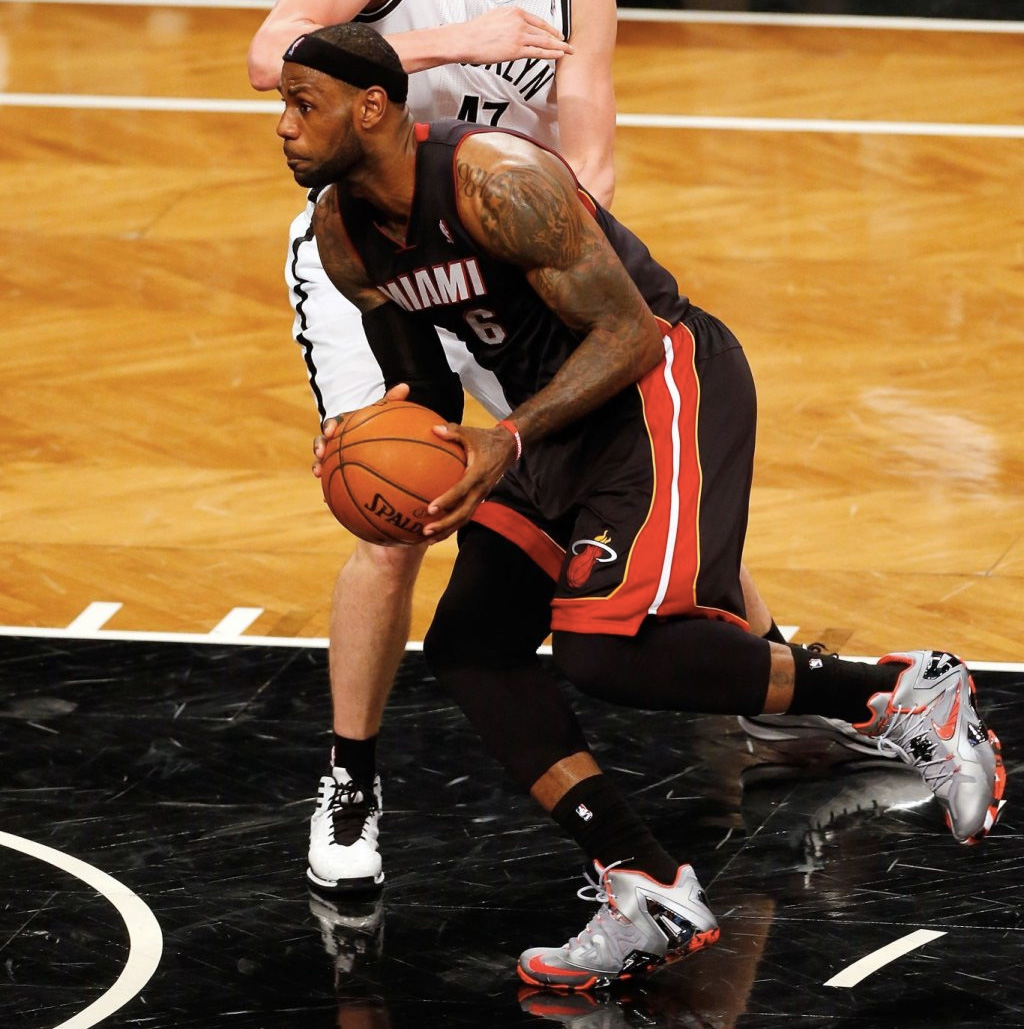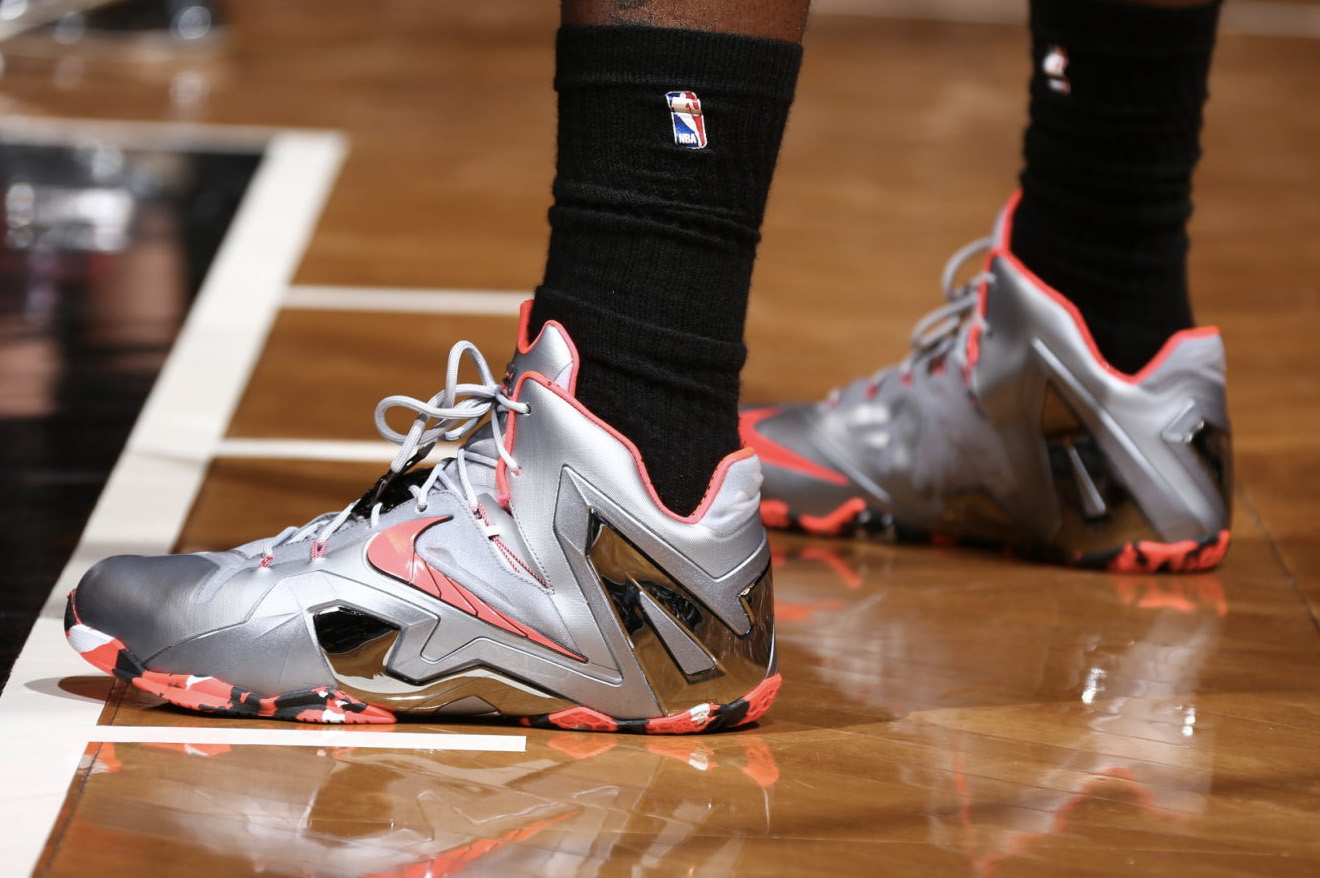 When: May 10, 2014 vs Brooklyn Nets (Game 3)
Colorway: Grey / Red "Elite Team"
Stats: 28 points / 8 rebounds / 5 assists
Score: 90-104 Heat loss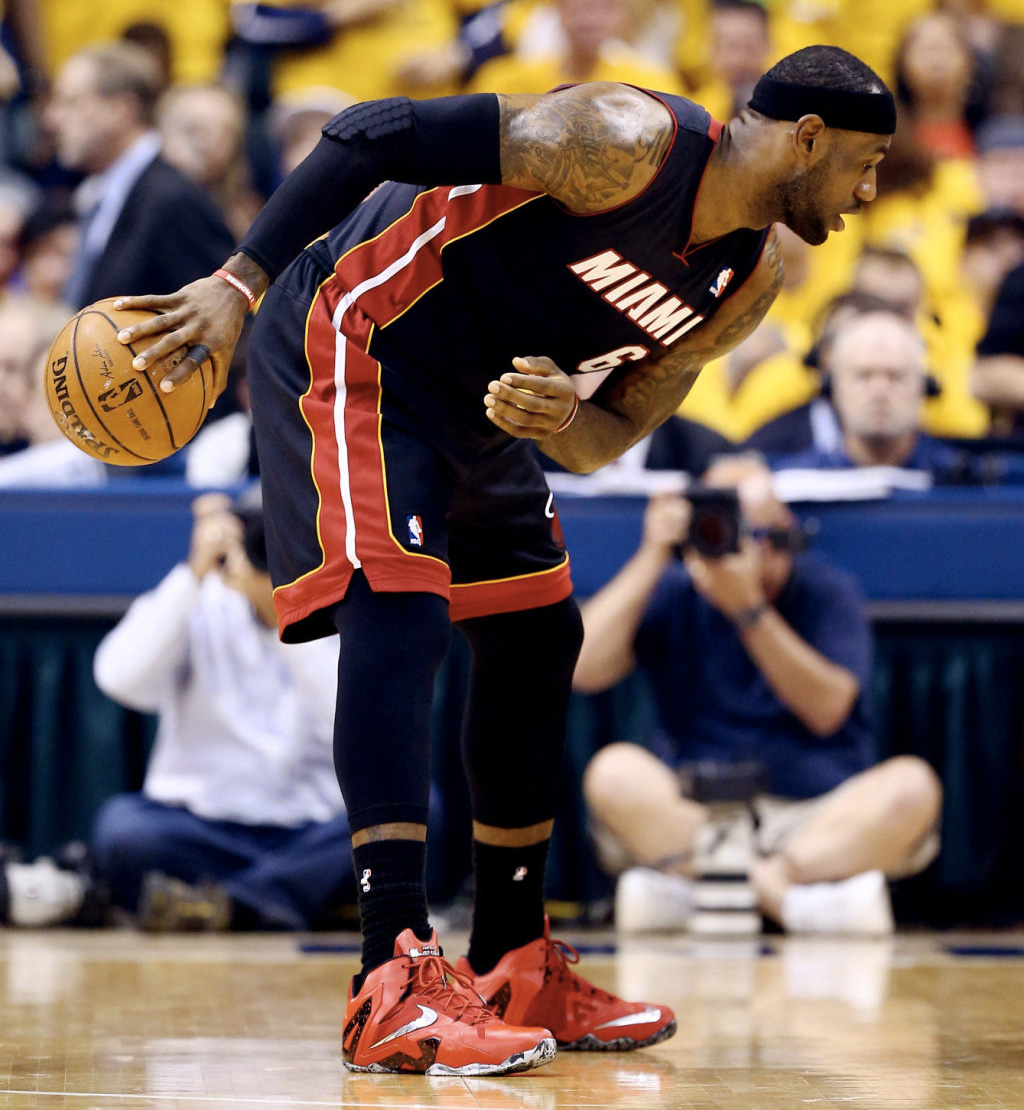 When: May 20, 2014 vs Indiana Pacers Game 2 (Switched To Soldier 7 After 1st Quarter)
Colorway: Red / Black / Silver (PE)
Stats: 22 points / 7 rebounds / 6 assists
Score: 87-83 Heat win