words // Nick Schonberger
For the next month, all eyes are on Brazil. 32 nations are competing with one goal in mind: Lifting the World Cup. And, in that, the rewards are also high for the brands that outfit players with their most essential tool, their boots. Adidas' athletes will wear their respective favored boots—either the adizero F50, Predator Instinct, Nitrocharge, or 11Pro—in a distinctive black and white scheme under the Battle Pack banner.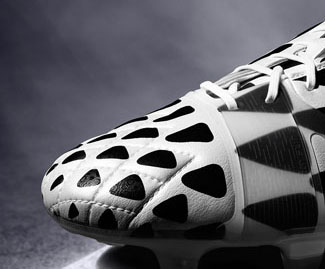 "Battle Pack is really a story about the World Cup. It is the biggest soccer stage, there is no higher stakes game in the realm of soccer. We wanted to tap into that emotion," explained Peter Hong, adidas' Merchandise Manager. "Every match is do or die. That is where we get the black and white theme on each shoe. We're giving each boot a specific war paint. All the stripes are solar gold, which references the tournament trophy."
Mesut Ozil, Dani Alves, Luis Suarez, Oscar, Philipp Lahm, Karim Benzema, Javi Martinez, and the U.S.'s Jozy Altidore are some of the players who will don the bold designs. Adidas' superstar, Argentina's Lionel Messi, is the only player with his own signature boot for World Cup. He'll wear a special F50 with a custom leopard print, part of which is rendered in Argentina blue.
"The development of these shoes have been a long, long process. Typically, the design of soccer boots is done in Germany, but the Battle Pack was a true collaboration between the Portland and Germany design centers," said Hong. "The World Cup is a global event, and this was a great collaboration to create a truly global product range."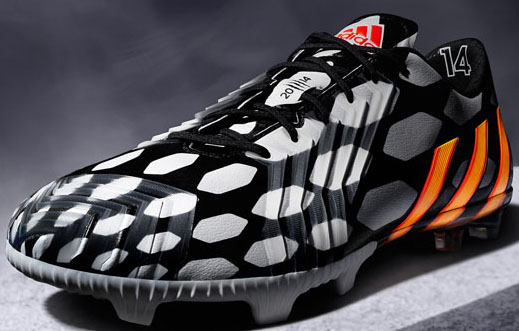 At core are the boots. The Predator Instinct (pictured at left), the 20th anniversary model of adidas' hallmark boot, is built for control. The F50, on the other hand, is designed for speed and born from critical analysis of the contemporary game. "We looked at acceleration, we have a new SprintFrame 2.0 outsole, said Hong."Players are not just sprinting in one direction, they are moving in 360 degrees."
In memorable colorways, the Battle Pack is immediately recognizable on pitch, and also functions as a call to more casual fans. "We want to tap into the excitement. We know the World Cup is not just for die-hard soccer fans. This is a wide ranging event," noted Hong. "It captures everyone's attention. We created an originals line, including the Samba and Stan Smith, and some running product to tell the soccer story that originates in Battle Pack and extends off-pitch." The patterns are also notable on adidas' new PureBoost, which integrates advances in performance with lifestyle focused design. And, for basketball, Battle Pack extends to the CrazyQuick 2. Soccer leads, the rest follows in step.
"This is a adidas soccer, this is our heritage, our legacy sport," said Hong of Battle Pack. "We're setting the stage for innovation. We're going to continue after the World Cup to shock and awe."

adidas Nitrocharge Battle Pack

adidas adiZero F50 Battle Pack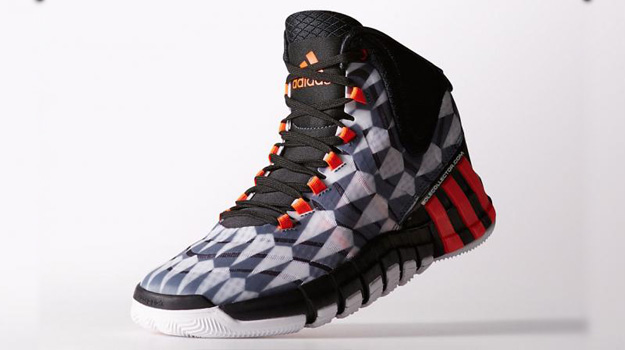 adidas Crazyquick 2 Battle Pack

adidas Samba Super Battle Pack

adidas Superstar 80s Battle Pack